Shelby announces $4 million in critical opioid treatment grants for Alabama community health centers
U.S. Senator Richard Shelby (R-Alabama) announced that 15 community health centers located in Alabama have received a total of $4,038,000 in federal grant funding from the U.S. Department of Health and Human Services (HHS) to support increased treatment and prevention for opioid and substance abuse.
"It is of the utmost importance that we work to fund the fight against the national opioid crisis," said Senator Shelby. "Nearly every county in Alabama is affected by this growing problem. These HHS grants will allow community health centers across the state to provide treatment to patients with opioid and substance abuse and support addiction prevention programs, helping our communities tackle this widespread epidemic."
The grants were awarded to community health centers in: Bayou La Batre, Birmingham, Centreville, Gadsden, Huntsville, Mobile, Montgomery, Parrish, Selma, Scottsboro, Troy, and Tuscaloosa.
64,000 Americans were killed from drug overdoses in 2016, more than were killed in a decade of fighting in the Vietnam War. More than 300,000 Americans have been killed by opioids since 2000. In 2016 more than 20.1 million Americans were addicted to prescription painkillers and/or illicit opioids.
Responding to the unprecedented drug crisis has been a priority of the administration of President Donald J. Trump (R).
"We are already distributing nearly $1 billion in grants for addiction prevention and treatment, and more than $50 million to support law enforcement programs that assist those facing prison and facing addiction," the President said. "We have also launched an $81 million partnership to research better pain management techniques for our incredible veterans."
The President's proposed Federal Budget requested $3 billion in new funding in 2018 and $10 billion in 2019 for the Department of Health and Human Services (HHS) to combat the opioid epidemic by expanding access to prevention, treatment, and recovery support services. The funding would also go toward addressing mental health concerns.
On September 19, HHS awarded nearly $352 million to 1,232 community health centers across the nation, including the 15 in Alabama, through the Expanding Access to Quality Substance Use Disorder and Mental Health Services (SUD-MH) awards. The SUD-MH awards support health centers in implementing and advancing evidence-based strategies that best meet the substance use disorder and mental health needs of the populations they serve.
The following 15 community health centers in Alabama will receive the $4,038,000 in grant funding:
Bayou La Batre Area Health Development Board, Inc., Bayou La Batre – $285,000
Christ Health Center, Inc., Birmingham – $285,000
Alabama Regional Medical Services, Birmingham – $285,000
Aletheia House, Inc., Birmingham – $201,750
Cahaba Medical Care Foundation, Centreville – $296,000
Quality of Life Services, Inc., Gadsden – $293,000
Central North Alabama Health, Huntsville – $285,000
Health Services, Inc., Montgomery – $285,000
Franklin Primary Health Center, Inc., Mobile – $285,000
Mobile County Health Department, Mobile – $285,000
Capstone Rural Health Center, Parrish – $287,250
Rural Health Medical Program, Inc., Selma – $285,000
Northeast Alabama Health Services, Inc., Scottsboro – $110,000
S.E. Alabama Rural Health Associates, Troy – $285,000
Whatley Health Services, Inc., Tuscaloosa – $285,000
"Addressing the opioid crisis with all the resources possible and the best science we have is a top priority for President Trump and for everyone at HHS," said HHS Secretary Alex Azar. "The more than $1 billion in additional funding that we provided this week will build on progress we have seen in tackling this epidemic through empowering communities and families on the frontlines."
"This week, HHS updated its strategic framework for tackling the opioid crisis, which uses science as a foundation for our comprehensive strategy," said Admiral Brett Giroir, Assistant Secretary for Health and Senior Advisor for Opioid Policy. "With these new funds, states, tribes, and communities across America will be able to advance our strategy and continue making progress against this crisis."
Earlier this week, Senator Shelby voted to pass "The Opioid Crisis Response Act of 2018," which was a bipartisan effort of over 70 U.S. Senators and includes proposals from the Senate Committees on: Health, Education, Labor, and Pensions; Finance; Judiciary; Commerce, Science, and Transportation; and Banking, Housing, and Urban Affairs.
The legislation would improve detection of illegal drugs at the border, improves the sharing of Prescription Drug Monitoring Programs data between states, and aims to reduce the use and supply of dangerous drugs.
Senator Richard Shelby is the Chairman of the powerful Senate Appropriations Committee.
Print this piece
Opponents accuse Tuberville of supporting amnesty for undocumented immigrants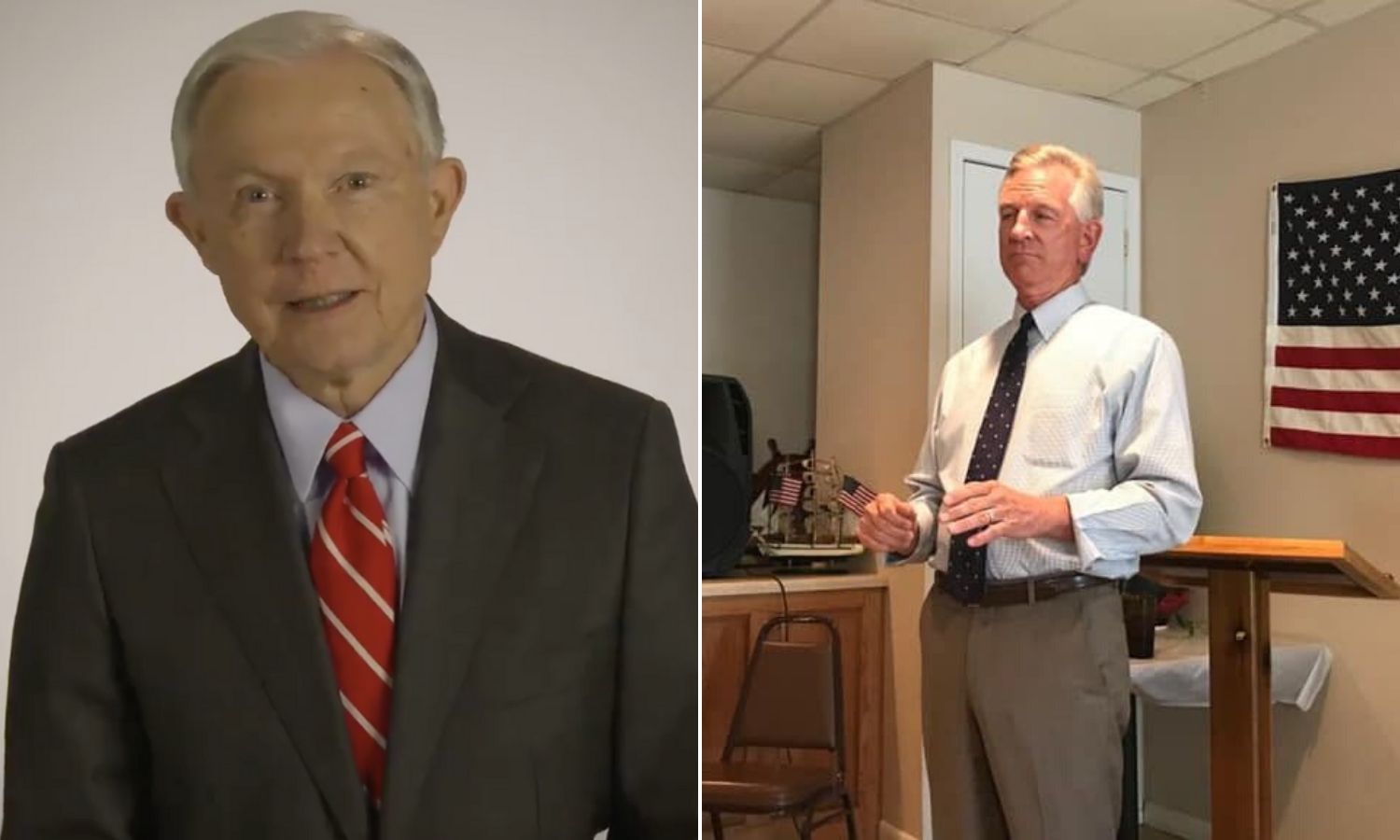 The Senate campaign is heating up as the top three candidates are all going negative. Former Auburn head football coach Tommy Tuberville has attacked Congressman Bradley Byrne (R-Montrose) and former Attorney General and Senator Jeff Sessions of being career politicians. Both Byrne and Tuberville have attacked Sessions for not having adequately served President Donald J. Trump (R) while Attorney General. Byrne has even attacked Tuberville's coaching abilities. The latest attacks on Tuberville accuse him of supporting amnesty for illegal aliens. Sessions even accused Tuberville of being a "tourist."
Wednesday, Sessions announced a new television ad called "Tuberville for Amnesty."
Byrne and Tuberville point to an August speech by Coach Tuberville when he said: "There are people coming across the border that need jobs… and we want them to come over here… Let em' come in and become citizens like we all became citizens."
The Tuberville campaign called the attack "fake news" on Twitter.
Sessions' campaign manager Jon Jones said, "Tuberville is claiming that his own words are 'fake news.' All of them? Tommy Tuberville needs to read the transcript. It is clear that Tuberville supports immigration amnesty, and he is attempting to trick Alabama voters to believe otherwise. In contrast, Jeff Sessions has done more than just say he wants to fix the border – he has already worked alongside President Trump to stop illegal immigration."
The new Sessions ad reads: "Tuberville is trying to trick you, hiding his support for immigration amnesty." Then plays an audio clip of the Tuberville comment from August
Tuesday, Byrne told reporters in Trussville: "I can tell you right now this issue about Tommy Tuberville's position on amnesty is a key issue. And so we're going to keep telling people about his position on that and let him explain why he doesn't think that's amnesty."
"Let em' come in and become citizens like we all became citizens," Tuberville is quoted in the ad.
Tuberville has denied supporting amnesty and says that he supports President Trump's immigration agenda.
The Sessions ad further charges: "And Tuberville's not even from Alabama, he's a tourist here. He lives, pays taxes and even votes in Florida."
On Tuesday, the Tuberville campaign responded with an attack ad of their own.
"The career politicians are desperate to hang on to their paychecks and power, so they have started airing negative ads full of false attacks and baseless distortions," Tuberville said. "Our new commercial allows us to respond with some hard truths about which candidate wants to drain the D.C. swamp and is tough enough to actually help President Trump get the job done."
The Tuberville ad has Byrne with former Secretary Hillary Clinton and Sessions with Congressman Adam Schiff (D-California) who led the impeachment effort against President Trump. The ad even connects Sessions and Byrne with Sen. Mitt Romney (the only Republican in either House of Congress who found that the President did anything wrong.)
State Representative Arnold Mooney, former Chief Justice Roy Moore, Ruth Page Nelson, and businessman Stanley Adair are also running for the Republican nomination for the Senate seat currently held by Doug Jones (D).
The Republican primary is March 3.
Print this piece