Shelby announces $4 million in critical opioid treatment grants for Alabama community health centers
U.S. Senator Richard Shelby (R-Alabama) announced that 15 community health centers located in Alabama have received a total of $4,038,000 in federal grant funding from the U.S. Department of Health and Human Services (HHS) to support increased treatment and prevention for opioid and substance abuse.
"It is of the utmost importance that we work to fund the fight against the national opioid crisis," said Senator Shelby. "Nearly every county in Alabama is affected by this growing problem. These HHS grants will allow community health centers across the state to provide treatment to patients with opioid and substance abuse and support addiction prevention programs, helping our communities tackle this widespread epidemic."
The grants were awarded to community health centers in: Bayou La Batre, Birmingham, Centreville, Gadsden, Huntsville, Mobile, Montgomery, Parrish, Selma, Scottsboro, Troy, and Tuscaloosa.
64,000 Americans were killed from drug overdoses in 2016, more than were killed in a decade of fighting in the Vietnam War. More than 300,000 Americans have been killed by opioids since 2000. In 2016 more than 20.1 million Americans were addicted to prescription painkillers and/or illicit opioids.
Responding to the unprecedented drug crisis has been a priority of the administration of President Donald J. Trump (R).
"We are already distributing nearly $1 billion in grants for addiction prevention and treatment, and more than $50 million to support law enforcement programs that assist those facing prison and facing addiction," the President said. "We have also launched an $81 million partnership to research better pain management techniques for our incredible veterans."
The President's proposed Federal Budget requested $3 billion in new funding in 2018 and $10 billion in 2019 for the Department of Health and Human Services (HHS) to combat the opioid epidemic by expanding access to prevention, treatment, and recovery support services. The funding would also go toward addressing mental health concerns.
On September 19, HHS awarded nearly $352 million to 1,232 community health centers across the nation, including the 15 in Alabama, through the Expanding Access to Quality Substance Use Disorder and Mental Health Services (SUD-MH) awards. The SUD-MH awards support health centers in implementing and advancing evidence-based strategies that best meet the substance use disorder and mental health needs of the populations they serve.
The following 15 community health centers in Alabama will receive the $4,038,000 in grant funding:
Bayou La Batre Area Health Development Board, Inc., Bayou La Batre – $285,000
Christ Health Center, Inc., Birmingham – $285,000
Alabama Regional Medical Services, Birmingham – $285,000
Aletheia House, Inc., Birmingham – $201,750
Cahaba Medical Care Foundation, Centreville – $296,000
Quality of Life Services, Inc., Gadsden – $293,000
Central North Alabama Health, Huntsville – $285,000
Health Services, Inc., Montgomery – $285,000
Franklin Primary Health Center, Inc., Mobile – $285,000
Mobile County Health Department, Mobile – $285,000
Capstone Rural Health Center, Parrish – $287,250
Rural Health Medical Program, Inc., Selma – $285,000
Northeast Alabama Health Services, Inc., Scottsboro – $110,000
S.E. Alabama Rural Health Associates, Troy – $285,000
Whatley Health Services, Inc., Tuscaloosa – $285,000
"Addressing the opioid crisis with all the resources possible and the best science we have is a top priority for President Trump and for everyone at HHS," said HHS Secretary Alex Azar. "The more than $1 billion in additional funding that we provided this week will build on progress we have seen in tackling this epidemic through empowering communities and families on the frontlines."
"This week, HHS updated its strategic framework for tackling the opioid crisis, which uses science as a foundation for our comprehensive strategy," said Admiral Brett Giroir, Assistant Secretary for Health and Senior Advisor for Opioid Policy. "With these new funds, states, tribes, and communities across America will be able to advance our strategy and continue making progress against this crisis."
Earlier this week, Senator Shelby voted to pass "The Opioid Crisis Response Act of 2018," which was a bipartisan effort of over 70 U.S. Senators and includes proposals from the Senate Committees on: Health, Education, Labor, and Pensions; Finance; Judiciary; Commerce, Science, and Transportation; and Banking, Housing, and Urban Affairs.
The legislation would improve detection of illegal drugs at the border, improves the sharing of Prescription Drug Monitoring Programs data between states, and aims to reduce the use and supply of dangerous drugs.
Senator Richard Shelby is the Chairman of the powerful Senate Appropriations Committee.
Jones introduces bill to encourage investments in minority-serving banks
"One of the biggest hurdles for minority entrepreneurs is access to capital," Jones said.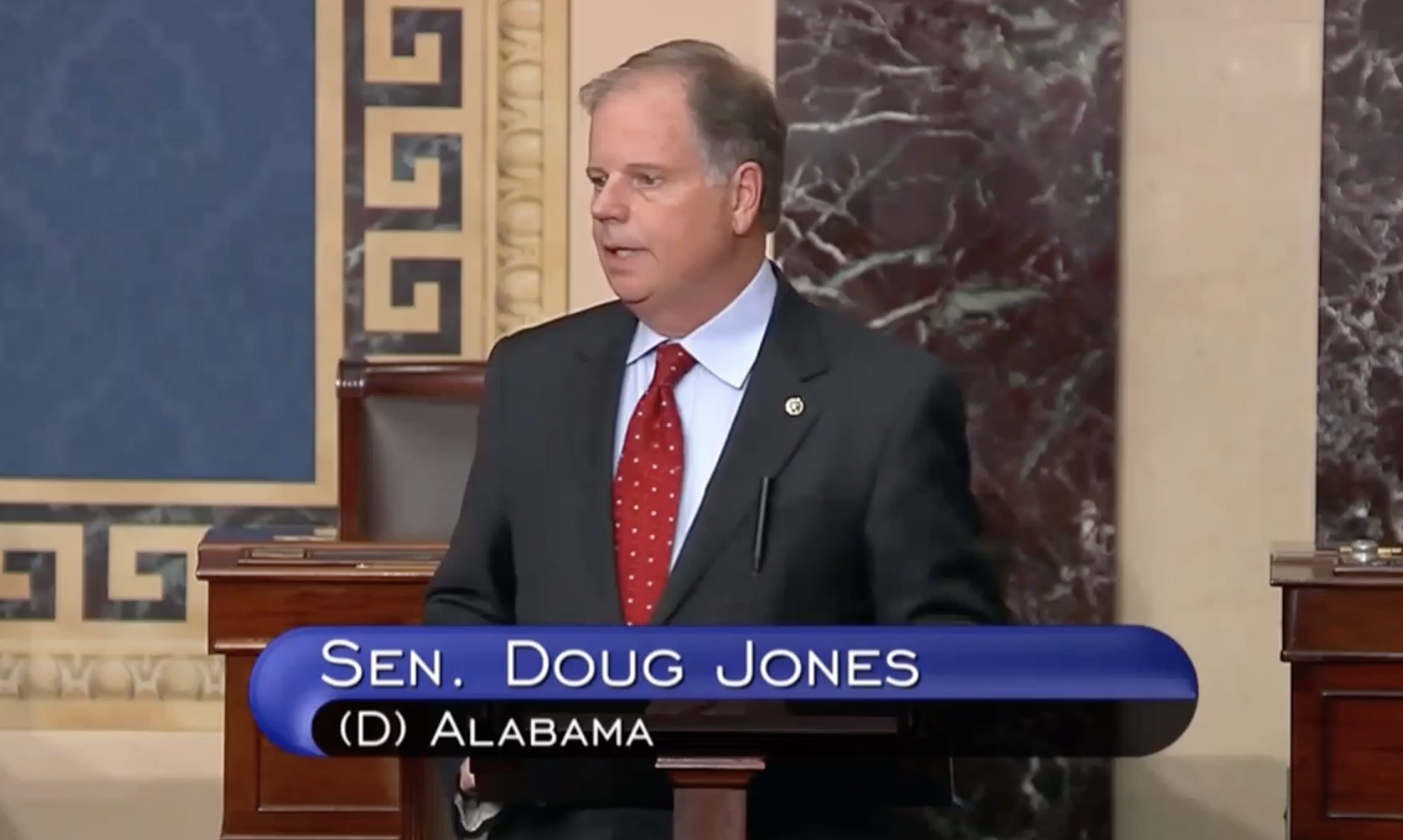 Alabama U.S. Sen. Doug Jones, D-Alabama, on Tuesday introduced legislation that would encourage investments in banks that serve minority communities.
"One of the biggest hurdles for minority entrepreneurs is access to capital," Jones said in a statement. "That's why this bill is so important. Increasing access to capital at the banks that serve minority communities will help expand financial opportunities for individuals and business owners in those communities."
Jones, a member of the Senate Banking Committee, in April urged the Federal Reserve and the U.S. Treasury to support Community Development Financial Institutions and minority-owned banks disproportionately affected by the COVID-19 pandemic, and he threw his support behind more federal funding for small community banks, minority-owned banks and CDFIs during the recent Paycheck Protection Program replenishment.
According to a press release from Jones's office, the bill would attract investments to those financial institutions by changing rules to allow "minority-owned banks, community banks with under $10 billion in deposits" and CDFIs to accept brokered deposits, or investments with high interest rates, thereby bolstering those institutions and encourage them to invest and lend in their communities.
It would also allow low-income and minority credit unions to access the National Credit Union Administration's Community Development Revolving Loan Fund.
"Commonwealth National Bank would like to thank Senator Jones for his leadership in introducing the Minority Depository Institution and Community Bank Deposit Access Act. As a small Alabama home grown institution, this proposal will allow us to accept needed deposits without the current limitations that hinder our ability to better serve the historically underserved communities that our institutions were created to serve. We support your efforts and encourage you to keep fighting the good fight for all of America," said Sidney King, president and CEO of Commonwealth National Bank, in a statement.
"The Minority Depository Institution and Community Bank Deposit Access Act is a welcomed first step in helping Minority Depository Institutions like our National Bankers Association member banks develop the kinds of national deposit networks that allow our institutions to compete for deposits with larger banks and to better meet the credit needs of the communities we serve. The National Bankers Association commends Senator Jones' leadership on this issue, and we look forward to continuing to engage with him on the ultimate passage of this proposal," said Kenneth Kelly, chairman of the National Bankers Association, in a statement.
A recent report by the Brookings Institute highlighted problems minority-owned businesses had accessing federal COVID-19 relief aid from PPP loans. Researchers found that it took seven days longer for small businesses with paid employees in majority Black zip codes to receive PPP loans, compared to majority-white communities. That gap grew to three weeks for non-employer minority-owned small businesses, the report notes.
The report also states that while minority-owned small businesses, many of which are unbanked or under banked, get approximately 80 percent of their loans from financial technology companies and online lending companies, fintechs weren't allowed under federal law to issue PPP loans until April 14.