Governor Ivey awards $1.89 million to help victims of domestic violence and elder abuse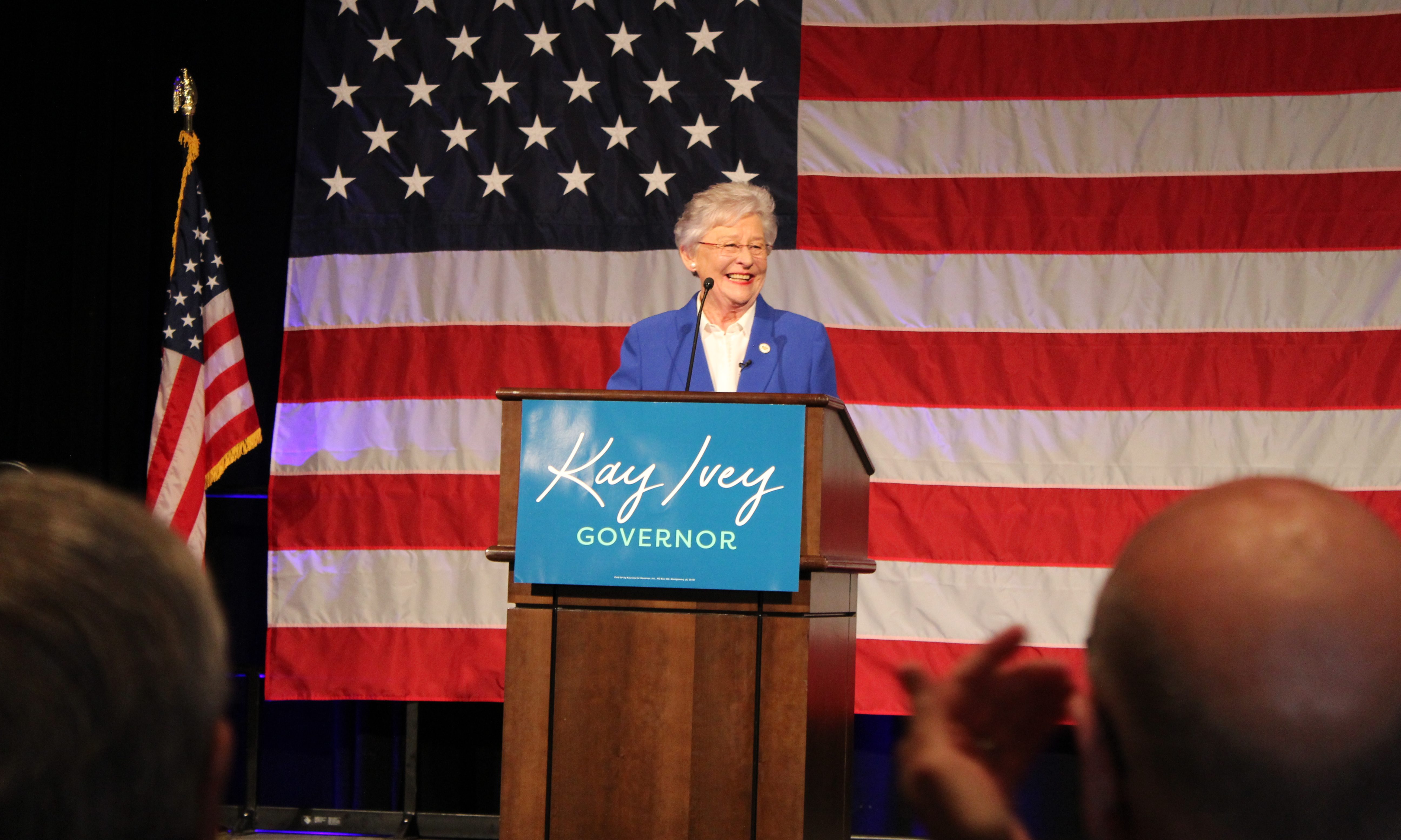 Alabama Governor Kay Ivey (R) announced awards of $1.89 million in grants to support organizations and programs that help victims of domestic violence and elder abuse throughout the state.
"No one should ever have to experience the horrors of domestic violence or elder abuse, but there is hope for those who unfortunately do become victims," Governor Ivey said. "The programs supported by these grants will help ensure that professional assistance is available and that justice is obtained for the survivors."
Ivey announced a $1.56 million grant awarded to the Alabama Department of Human Resources to support their Adult Protective Services division. DHR's Adult Protective Division provides emergency in-home services and temporary placement option for victims of abuse, neglect or exploitation.
Two grants totaling $250,781, were given to support the Alabama Coalition Against Domestic Violence. The Coalition serves their member programs and shelters throughout the state. The organization provides training, education and outreach on domestic violence issues, and their member shelters provide counseling, support groups and other vital services.
A grant of $80,000 was also allotted to help the Alabama Office of Prosecution Services to train law enforcement personnel, prosecutors, domestic violence shelter staff and other criminal justice agencies that investigate and prosecute abusers or assist victims of domestic violence.
The Alabama Department of Economic and Community Affairs (ADECA) is administering the grants from multiple funding sources, including the U.S. Department of Justice, the state of Alabama General Fund and the Domestic Violence Trust Fund, which was created through the state marriage license fee. Those funds are used to provide shelter for victims and to conduct educational and prevention programs.
"Gov. Ivey understands the important roles these agencies play in helping domestic violence and elder abuse victims," ADECA Director Kenneth Boswell said. "ADECA is pleased to join her in supporting these programs that provide important assistance to victims at a time they need it the most."
ADECA manages a wide range of programs that support law enforcement, economic development, water resource management, energy conservation and recreation development.
In 2013, there were 2,872 domestic violence aggravated assaults and 32,587 domestic violence simple assaults in Alabama. Nationally there are ten million domestic violence assaults annually.
Alabama Governor Kay Ivey is seeking her own term as Governor, after being elevated to the position from Lieutenant Governor in April 2017. Ivey is being challenged by Tuscaloosa Mayor Walter "Walt" Maddox (D).
Print this piece
How Alabama's government stays broken
It doesn't take a rocket scientist — or even any kind of scientist — to figure out that Alabama's state government is broken. 
I mean, really, just look around. At the poverty, the poor education, the racism, the arrested public officials, the in-your-face public corruption and the complete disregard for the welfare of the majority of the people in the state. 
But, while the overall awfulness of Alabama's governance might be easy to diagnose, the underlying causes — the daily examples that explain just how it stays so broken — are far harder to put your finger on. Because they are mostly wrapped up in mundane occurrences that take place within the walls of the State House or the capitol or the Supreme Court chambers or some other government building. 
Things like SB117/HB140. 
Those are the official names for a bill in both the senate and house that will "clarify existing law relating to disposal of solid waste." 
Sounds innocent enough, right? Just gonna get this minor landfill situation straightened out. No biggie. 
Ah, but see, SB117/HB140 is the prime example of Alabama's broken government. 
It is the prime example of how your lawmakers aren't working for you. It is the perfect encapsulation of everything that is wrong in this state.
Basically this landfill bill would make it OK to cover existing landfills with artificial covers, instead of the six inches of earth that is currently required. 
Now, this still doesn't sound like a big deal. And it won't be one if you don't mind third-world diseases, the smell of rotting meat, frequent fires, coyotes and feral dogs roaming your streets and rats. Lots and lots of rats. 
Applying six inches of earth each day to cover the garbage dumped at landfills prevents those things, the EPA figured out long ago. And it set those parameters in the rules it recommends to states. Alabama agreed, and the state adopted that rule, along with others, into law several years ago. 
Regular landfills have to cover with six inches of earth every day. Construction landfills have to do so once per week. 
This is a simple law. 
But if you operate a landfill, it's an expensive one. And a time consuming one. 
Ah, but luckily, those laws are environmental laws. And in Alabama, we figured out long ago that environmental laws can be cumbersome and expensive, so we set up a bit of a … let's just call it a workaround. 
The Alabama Department of Environmental Management. 
You'll find we do this a lot — set up an entity that lies somewhere between the laws and the enforcement of the laws whose only job it seems is to give free passes to the bigwigs and corporations who violate those specific laws. 
We do it with the Ethics Commission. With the Public Service Commission. And with ADEM. 
It's genius, really. The laws are still on the books and no one has to overtly roll back protections that would lead to rotting garbage attracting disease carrying rodents by the thousands. 
Instead, just get ADEM to quietly stop enforcing the law. 
Which is exactly what ADEM has done in this case. It was allowing landfills all over the state to cover garbage with tarps and various other materials. The tarps and other covers inevitably got holes in them, and a Noah's Ark-level of animals descended upon the landfills to dine and spread the garbage all over adjoining neighborhoods. 
The neighbors, tired of the smell and the disease and the roaming animals, sued, citing in their legal filing horror stories of living near these maggot farms that smelled like death. 
They sued ADEM for failing to do its job, and for essentially rewriting the law to allow businesses to do whatever they wanted to do. 
And lo and behold, the Alabama Court of Civil Appeals agreed with them. In a lengthy, detailed decision entered last October, the five-judge panel noted that ADEM didn't have the authority to rewrite the law. 
The case is now before the Alabama Supreme Court, but everyone knows that the Appeals Court judges are correct. 
But why bother with trying to win over judges when you can instead just change the laws through the crooks in the Alabama Legislature? 
And so, here we are, with a handful of lawmakers in both chambers of the legislature willing to attach their names to legislation that will allow businesses to ignore the standards imposed by the EPA, ignore the standards that are commonplace in most other states and change Alabama law to benefit a handful of landfill owners at the expense of thousands of Alabama citizens. 
And this, kids, is how Alabama's government stays broken. 
Print this piece