Aderholt expresses optimism ahead of midterm elections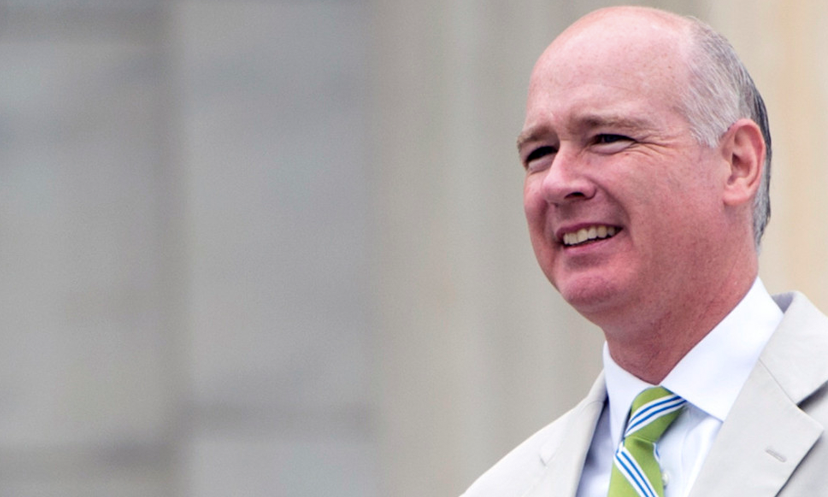 U.S. Rep. Robert Aderholt, R-Haleyville, was in Vestavia speaking to the Mid-Alabama Republican Club Saturday.
"While I don't represent Jefferson County I do represent a lot of the counties around Jefferson County," said Representative Aderholt. "Working with Gary Palmer is quite an honor. All seven of us feel that we represent the whole state without regard to those imaginary district lines that are out there."
"I represent a large area of Tuscaloosa County including part of the city of Tuscaloosa and Northport," Aderholt said. "I also represent Jasper in Walker County."
On the confirmation of Supreme Court Justice Brett M Kavanaugh, Aderholt said. "We are excited to have him on the Supreme Court he is the second justice that Trump has been able to put two on the Supreme Court."
Aderholt said that he did not know whether or not Kavanaugh would vote to finally overturn Roe versus Wade, but "I think he will vote in favor of stronger pro-life laws."
"What we are most proud of is the Tax Cuts and Jobs Act," Rep. Aderholt said. "It is the most substantive modification to our nation's tax code in 31 years."
"April 17, 2018 marked the last time that taxpayers will ever have to deal with the old tax code," Rep. Aderholt said. I am happy that we maintained the deduction for mortgage interest and charitable contributions.
Aderholt said that the Small Business Tax Cuts Act of 2018, HR 6760, which would make the tax cuts permanent has passed the House 222 to 191. The bill has been sent to the Senate but it has not been acted upon. The 60 votes Senate rule will make passing this difficult. I think we would see more legislation take place if Mitch McConnell would change the rules of the Senate to simple majority rules.
"I serve as Chairman of the Ag appropriations committee," Aderholt said. "Homeland Security will be the bill to watch because that is where the wall is funded."
"Total spending for 2017 was $4 trillion," Aderholt explained, "But only $1.2 trillion is discretionary spending."
Aderholt said that the House of Representatives currently has 240 Republicans and 195 Democrats. The Republicans could lose 31 seats in the midterms. A lot of it is because of the situation we have with the seats that are up are suburban. The rural districts are solidly red and behind President Trump. These are districts around major cities where soccer moms swing the district. "It is not going to be very easy to hold onto these."
"In the Senate there are 51 Republicans and 47 Democrats with 2 independents; but they caucus with the Democrats," Aderholt said. "I think after Kavanaugh we will pick up 2 or 3 seats in the Senate. They have 5 tossup seats we have four."
"You can never predict what is going to happen on election day," Aderholt said. "Two years at this time Hillary was essentially already the President according to the pundits. A lot of things can happen between now and November 6."
"Many of us in this room were convinced he (Donald Trump would not win," Aderholt stated. "A lot of people stood up on election day and that will continue to pay big dividends."
Aderholt expressed cautious optimism that the Republicans can hold on to Congress despite the polls.
A member of the audience asked if Donald Trump would come to Alabama for the Veterans Day parade.
"He loves Alabama," Aderholt said. "Alabama was the top performing state for Donald Trump and the fourth district was the highest performing out of the 435. It would be in keeping with his agenda."
A member of the audience asked Aderholt about the triple digit inflation in Venezuela.
"That goes hand in hand with what you have with a socialist type country," Aderholt responded.
Another member of the audience asked Aderholt what he thought of Jeff Sessions.
"I have nothing but the utmost respect for Jeff Sessions," Aderholt asked. "I have met with Jeff a couple of times since he has been in office. If he believes something is right in his heart, he will not budge on it. If you know Jeff Sessions, it does not matter what the political consequences are. Both men once they have their minds set they are not going to change it. He feels very strongly about his decision to recuse himself,"
Former State Representative Paul DeMarco is the President of the Mid-Alabama Republican Club. He presented Aderholt with a book about President McKinley by Carl Rove.
The general election will be November 6.
GOP candidate Tommy Tuberville leads Trump "boat parade" in Orange Beach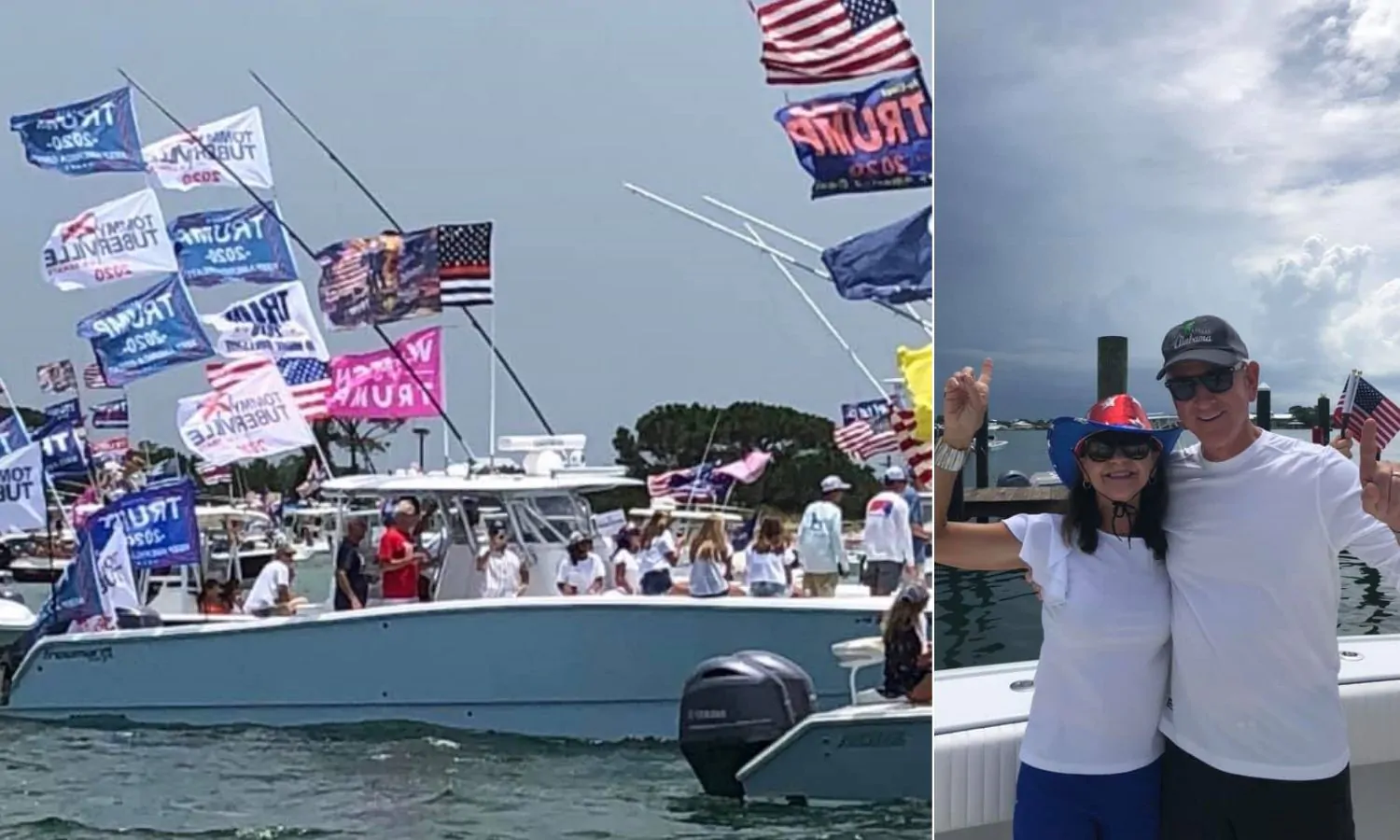 Senate candidate Tommy Tuberville rode in the lead boat in a "boat parade" on Sunday in Orange Beach, celebrating Independence Day and the launch of President Donald Trump's re-election campaign.
Hundreds of boats participated in the Trump parade in the Perdido Pass area. WKRG TV estimates that more than 8,000 people joined. Orange Beach and Gulf Shores boats joined boats from Pensacola and Dauphin Island.
Trump supporter and Alabama Republican Executive Committee member Perry Hooper Jr. was also present.
"It was Awesome having Coach Tommy Tuberville on The TRUMP Boat at Orange Beach Alabama," Hooper said. "Tommy was a Great Coach and he will be a Great US Senator. It's Great To Be A TRUMP/ TUBERVILLE AMERICAN. Everybody was so Happy cheering for The President and Tommy on! Fun Day!"
Hooper is a former state representative from Montgomery.
Tuberville is a former Auburn University head football coach. The Arkansas native lives in Auburn.
President Donald Trump spoke at Mount Rushmore in South Dakota on Friday.
"Today we pay tribute to the exceptional lives and extraordinary legacies of George Washington, Thomas Jefferson, Abraham Lincoln, and Teddy Roosevelt," Trump said. "I am here as your president to proclaim before the country and before the world, this monument will never be desecrated, these heroes will never be defamed, their legacy will never ever be destroyed, their achievements will never be forgotten, and Mount Rushmore will stand forever as an eternal tribute to our forefathers and to our freedom."
Trump accused opponents of trying to dismantle America.
"Make no mistake. This left-wing cultural revolution is designed to overthrow the American Revolution," Trump alleged. "In so doing they would destroy the very civilization that rescued billions from poverty, disease, violence, and hunger, and that lifted humanity to new heights of achievement, discovery, and progress. To make this possible, they are determined to tear down every statue, symbol, and memory of our national heritage."
"President Trump has given several good Speeches," Hooper said. "This Speech was by far his best! It was straight up AWESOME! His speech was all about the Greatness of America! President Trump loves our Country and its great History. President Reagan has given some of the best speeches ever. This speech topped Reagan's best. As for Perry O. Hooper Jr., I would get in a foxhole and fight for him to the end. God Bless President Donald J. Trump and GOD BLESS THE USA!"
Trump faces a stiff challenge from former Vice President Joe Biden, who is leading in the polling.
Tuberville has been endorsed by Trump in the July 14 Republican primary runoff for U.S. Senate. Tuberville faces former Sen. Jeff Sessions.