Shelby, Jones press Commerce Department to enforce anti-dumping laws to protect American catfish farmers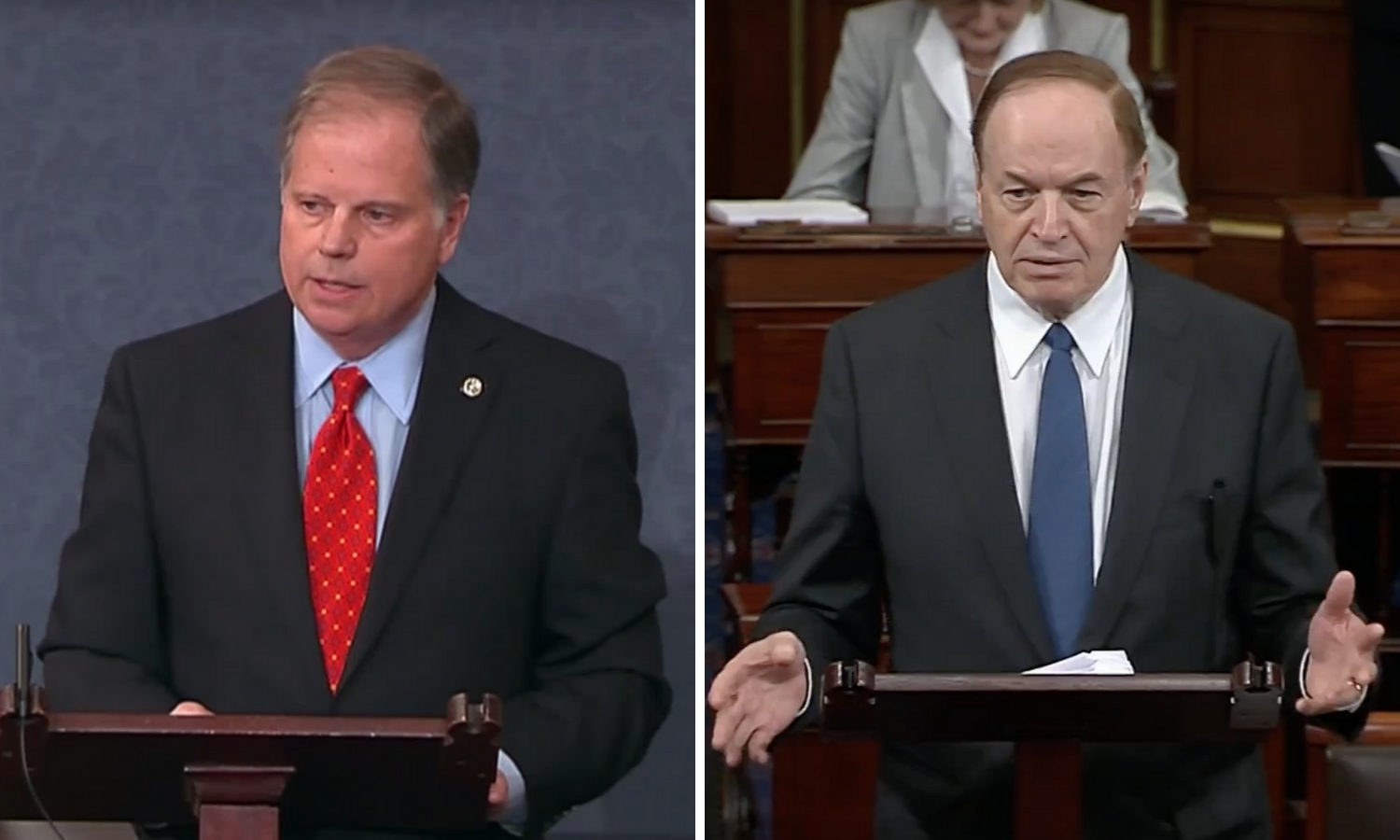 Alabama Senators Richard Shelby (R) and Doug Jones (D) were part of a group of eight U.S. Senators calling on Commerce Secretary Wilbur Ross to implement U.S. antidumping laws strongly and impartially to ensure U.S. catfish producers are competing on a level playing field.
Sens. Jones and Shelby joined Senators Cindy Hyde-Smith (R-Mississippi), Roger Wicker (R-Mississippi), John Boozman (R-Arkansas), Bill Cassidy (R-Louisiana), Tom Cotton (R-Arkansas), and John Kennedy (R-Louisiana) raised what they believe to be serious concerns over recent deferential actions by International Trade Administration (ITA) toward a Vietnamese catfish exporter, the Hung Vuong Group, which the Senators say could affect the critical process to determine whether Vietnam continues to violate U.S. antidumping laws.
---
SEE MORE: Read the letter.
---
"We are troubled by this series of events, as in recent years Commerce has consistently found significant dumping by Vietnamese fish fillet exporters, and has determined repeatedly that many exporters have been uncooperative in responding to the Department's questionnaires," the Senators wrote. "The decision by Commerce to consent to a Vietnamese Embassy official's request to allow uncooperative Vietnamese parties to impede your Department's proceeding with further delays will have a catastrophic effect on the domestic industry. Our catfish farmers rely on strong enforcement of U.S. antidumping laws to ensure they can compete on a level playing field."
"Vietnamese respondents or any other parties that fail to comply with requests for timely and accurate information, do not deserve more favorable treatment than U.S. catfish producers," the Southern Senators wrote. "We hope your Department will remain committed to strong implementation of U.S. antidumping laws, and that procedural rules will be applied to all parties in an impartial manner."
The Senators argue that ITA, a Commerce Department agency, in recent months has deviated from standard practices to grant the Hung Vuong Group (HVG), a leading Vietnamese exporter, extensions to provide evidence of its compliance with U.S. antidumping laws. The Senators charge that the agency actions contradicted its own earlier actions to reject incomplete HVG data and to apply standard dumping margins to HGV products.
Since 2003, ITA has found that frozen fish fillets from Vietnam have been sold in the United States at less than fair market value, resulting in economic damage to U.S. catfish producers.
The Senators also met with USDA Food Safety Inspection Services (FSIS) Administrator Carmen Rottenberg recently to receive an update on her agency's catfish inspection program for both domestic and foreign products.
The Senators point out that FSIS inspections in FY2017 and FY2018 resulted in more than six million pounds of catfish being rejected for not meeting U.S. food safety standards. As the FSIS has worked to fully implement the inspection program, the number of eligible exporters has dropped from more than 90 in 2017 to 27 in 2018.
The Senators wrote, "To express serious concern over a recent action by the International Trade Administration to reverse an earlier decision in the antidumping proceeding involving frozen fish fillets from the Socialist Republic of Vietnam. This reversal will adversely impact catfish farmers and processors in our states, and is inconsistent with this Administration's commitment to strong enforcement of U.S. trade laws."
"We have been informed that an official from the Embassy of Vietnam met with Commerce Department officials on May 15, 2018," the Senators stated. "The following week, Commerce reversed its decision and allowed HVG to refile its untimely response. Commerce then compounded the negative effect of its decision on American catfish farmers by extending the deadline for its preliminary finding, allowing HVG more time to justify the data in its late filing. As a result, HVG received a preliminary finding of no dumping."
"As Commerce officials travel to Vietnam in the near future to verify HVG reported data, we respectfully request that you strongly urge them to conduct this verification rigorously, and not tolerate further delays or obstruction from HVG or other Vietnamese officials," the Senators asked.
94 percent of American catfish is raised in Mississippi, Alabama, Arkansas, and Louisiana. Sixty to seventy percent of the catfish sold in the U.S. is imported, much of it from Vietnam.
Sen. Doug Jones won't support SCOTUS nominee before Nov. 3 election
"Certainly, power grabs are not uncommon in our political system, but few are accompanied by such blatant hypocrisy as we are witnessing now," Jones said.
Sen. Doug Jones, D-Alabama, on Friday said he would not support any nominee to the U.S. Supreme Court before the outcome of the Nov. 3 election is determined. 
Speaking during a livestreamed briefing, Jones said that while Republicans appear to have enough votes to replace the late Justice Ruth Bader Ginsburg, he will not be a party to denying the people a voice in the process in the election of the next president "in just under 44 days." 
President Donald Trump said Saturday that he plans to nominate Amy Coney Barrett to replace Ginsburg, who on Friday became the first woman, and first Jewish person, to lie in state at the U.S. Capitol. 
Several Republicans who voiced opposition to President Barack Obama's nomination of Judge Merrick Garland to the Supreme Court more than 10 months before the 2016 election have reversed course, and now say they support Trump nominating a selection with election day just a little more than a month away. 
"Certainly, power grabs are not uncommon in our political system, but few are accompanied by such blatant hypocrisy as we are witnessing now," Jones said. "In fact, I believe that the level and intensity of hypocrisy being displayed by Senator McConnell and the president, with regard to the rush to confirm Justice Ginsburg's successor, is unmatched in the history of our constitutional government." 
Jones said what McConnell and other Republicans should be focusing on instead is getting another round of much-needed COVID-19 aid to small businesses and people impacted by the pandemic. 
"Rather than pushing this confirmation to the top of the Senate calendar, the majority leader should turn his focus instead to protecting the lives and livelihoods of the American people. We should pass a new bipartisan COVID-19 stimulus package to give Americans and businesses the relief that they desperately need, and that economists say if required to shore up the economy now," Jones said. 
Jones expressed concern as well for what medical experts are warning could be a new spike in COVID-19 nationwide. 
"There could be an even greater urgency, if our health care professionals' warnings come to pass," Jones said. "And that is as temperature drops and people go indoors that this virus spikes, and we see another surge." 
Asked why his opponent, Tommy Tuberville, won't debate Jones, he said, "It's pretty simple. He doesn't know what he's talking about."  
"He has no clue. He is Coach Clueless," Jones said. 
Jones noted that when asked recently on his thoughts on extending the John R. Lewis Voting Rights Act of 2020, Tuberville stumbled through an answer that indicated he wasn't sure what the Voting Rights Act was.
"He had no earthly idea," Jones said. 
Jones said Tuberville isn't going to debate him because Tuberville doesn't want to talk about issues.
"He doesn't want to talk about a plan. His plan is simply this: Whatever Donald Trump says, I'm good," Jones said, "and if Donald Trump says or does something that is not good, it's crickets coming from Coach Tuberville." 
Jones noted that after multiple news outlets, including Fox News, confirmed reporting that Trump had said disparaging things about veterans who died in combat, Tuberville has not spoken out against Trump's comments. 
Jennifer Griffin, senior national security correspondent for Fox News, reported that she has spoken to senior U.S. officials who backed up reporting by The Atlantic, and said Trump said of the Vietnam War "anyone who went was a sucker." 
"He has not said a thing about what was confirmed by Fox News about the president's comment," Jones said of Tuberville. "That's just disgraceful."