Montgomery attorneys ask DA to investigate AG Steve Marshall
Two Montgomery attorneys on Thursday asked Montgomery District Attorney Daryl Bailey to investigate Alabama Attorney General Steve Marshall's acceptance of campaign donations that appear to violate state law.
Julian McPhillips and Melissa Isaak have submitted a letter to Bailey outlining the $735,000 in donations to Marshall from the Republican Attorneys General Association and illustrating how those donations violate the state's ban on transfers between political action committees (PACs). They've asked Bailey to present the case to a grand jury.
"We believe the violation is clear and someone needs to act or we're going to be left in the same predicament we were with (Robert Bentley and Mike Hubbard)," said McPhillips, a longtime Montgomery attorney who has been active in the state's Democratic Party for a number of years. Isaak is best known for her representation in recent years of former Alabama Supreme Court Chief Justice Roy Moore.
The issue of the donations from RAGA to Marshall has been a hot topic in the race for AG since the Republican primary, when former AG Troy King, who was challenging Marshall, first filed an Alabama Ethics Commission complaint about them. That was in June, and the Ethics Commission has not taken up the matter.
And at least by the letter of the law, the donations appear to violate Alabama law.
That law, passed by Republicans in 2010, makes it illegal for PACs to transfer money between each other — a method used to obscure the original source of campaign contributions.
Marshall has repeatedly claimed the law doesn't apply to federal PACs and that enforcing Alabama law on a federal PAC would be impossible.
However, the PAC-to-PAC ban specifically states that it applies to both in-state and out-of-state PACs, and it puts the responsibility on the candidate to relinquish those funds within 10 days or face criminal penalty.
A similar issue arose with former AG Luther Strange, who accepted RAGA donations in 2014. But Strange returned the money.
Additionally, when the law was challenged in federal court, Marshall argued in court briefs that the ban was "the only legal protection standing between Alabama voters and the reality or appearance of quid pro quo corruption."
On Thursday, in response to McPhillips and Isaak asking that he be investigated for violating that law, Marshall, in a statement, called it a "stunt" and oddly blamed everything on "paid bloggers" and "liberal activist lawyers."
Both Bentley and Hubbard used similar rhetoric before they were convicted of violating state laws. Bentley, specifically, was forced to plead guilty to violations of campaign finance laws — a fate that McPhillips, Isaak and numerous other attorneys around the state have argued that Marshall will ultimately face.
Print this piece
Sessions attacks Tuberville's views on China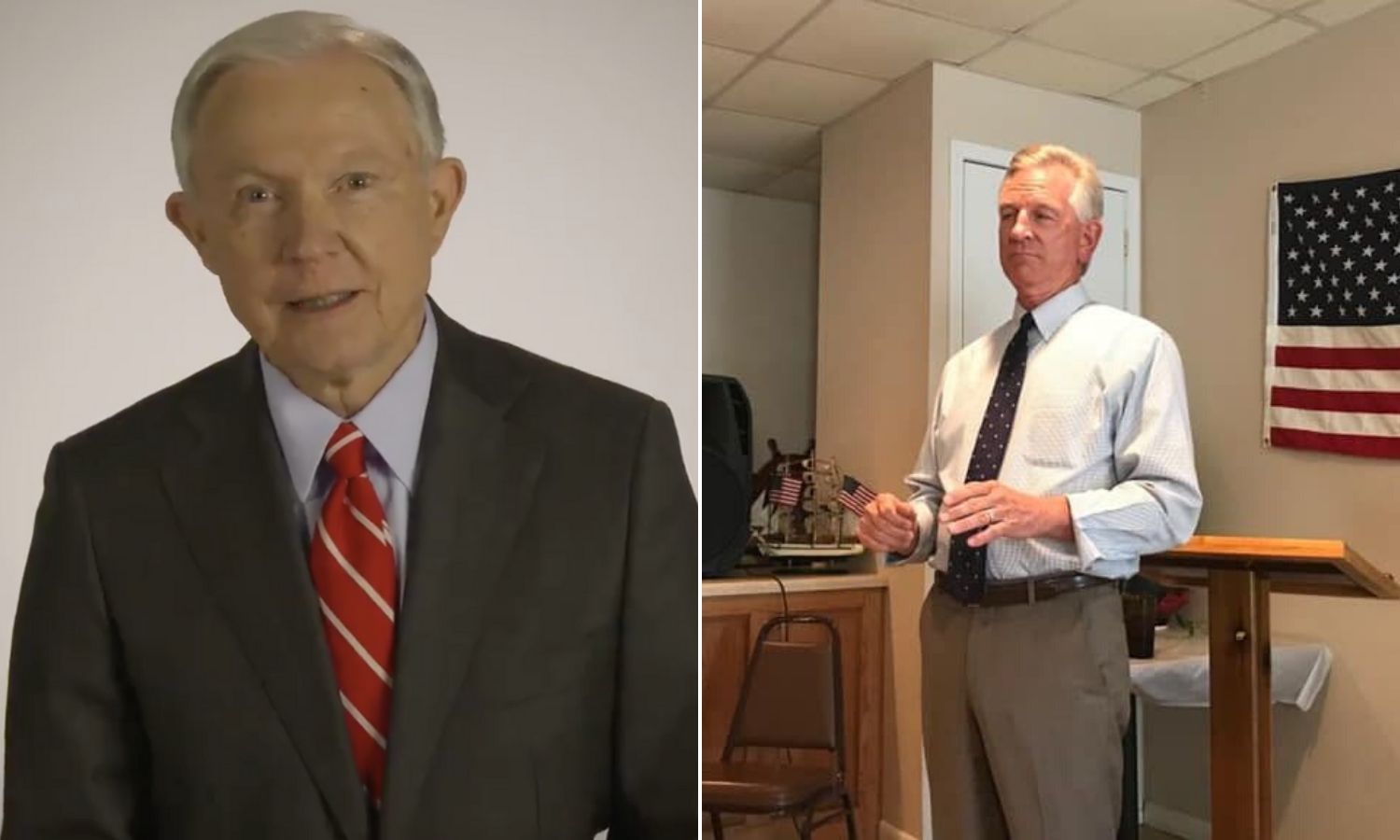 Former Sen. Jeff Sessions, R-Alabama, rolled out an ambitious, comprehensive plan to hold the Chinese government accountable for what Sessions called a cover-up of the coronavirus that has killed tens of thousands of people and devastated economies worldwide.
In an interview Thursday on the Matt & Aunie radio show on Talk 99.5 in Birmingham, for Auburn head football Coach and current GOP Senate candidate Tommy Tuberville expressed his views on China.
Matt Murphy asked: What do you see happening with China?
"Well, we can't worry about China right now…" Tuberville responded.
"You say you don't need to worry about China, but this came from China and our economy depends on China," Murphy asked on follow up. "Specifically how to overcome some of that dependence on Chinese goods and specifically in the pharmaceutical industry because right now we're dependent on the country that covered this up."
"Now we're seeing firsthand the results of letting everything go to China," Tuberville said. "The good thing about this is we'll have manufacturing come back and drugs and all those things….we're headed in that direction, just the simple fact that we can't control our own destiny. Everything's controlled by China. But that'll take care of itself."
During the show, Tuberville also characterized the Wuhan Virus, which has killed over 53,000 people and infected more than 1 million people across the globe, which then including over 1,300 people in Alabama, as "just a virus."
Jeff Sessions issued a statement critical of Tuberville on Friday in response.
"Amazingly, Tommy Tuberville said yesterday, 'We can't worry about China right now,"" Sessions quoted. "China is where the virus is from, and their deliberate lies hid the danger and resulted in a pandemic that never should have happened. We must take on China now and win, not run scared like Tommy Tuberville."
"There are over 1 million infected with the Wuhan Virus, and more than 1,300 in Alabama already," Sessions continued. "This is serious. But Tommy Tuberville said yesterday that 'this is just a virus.' What planet is he on? Tuberville is clueless. No wonder he's scared to debate me. We must stop relying on China for our critical medicines and equipment. I have a detailed plan to fix it. Amazingly, Tuberville also said yesterday, 'Everything's controlled by China, but that'll take care of itself.' Wrong! We must lead with action, this will not 'take care of itself.'"
On Thursday, a U.S. intelligence report claimed that China understated the damage that the coronavirus was doing in their country.
"Alabama's next Senator must be a leader who has the drive and determination to push a Congress that is too often unwilling to confront the critical issues of our time," Sessions continued. "I have proven my willingness and preparedness to lead from Day One. Tuberville is weak: all talk and no action."
Sessions is a former Senator, U.S. Attorney General, Alabama Attorney General, Chairman of the Alabama Republican Party, U.S. Attorney, asst. U.S. Attorney, and U.S. Army Captain.
The Republican primary runoff has been moved to July by Alabama Governor Kay Ivey (R) due to fears of the coronavirus. The virus is believed to have originated in Wuhan City, Hubei Province, China in late 2019.
As of press time, 10,943 Americans have died from COVID-19 including 53 Alabamians. 367,650 Americans have been diagnosed with COVID-19, including 2,006 Alabamians. At this point, only 240 Alabamians are confirmed hospitalized with COVID-19.
COVID-19 is the medical condition caused by a strain of coronavirus first identified late last year in Wuhan City, Hubei Province China, SARS-CoV-2. Since then it has spread across the globe infecting 1,346,566 persons that we are aware of killing 74,697 people.
The winner of the Republican primary runoff will then face Senator Doug Jones (D-Alabama) in the November election.
Print this piece