Democratic gubernatorial candidate Walt Maddox told a crowd gathered at Auburn University Monday night that next week's election is winnable if he and other Democrats are able to garner turnout similar to that in last year's special election for U.S. Senate.
Speaking to the Auburn University College Democrats, Maddox said his campaign's internal data and his observations over the last few weeks of the campaign make him optimistic going into the final week before voters head to the polls on Nov. 6.
"We have to have a base turnout similar to Doug Jones in 2017. Without that, we can't win, but I believe we can," Maddox said. "I'm beginning to see signs."
With little to no public polling, it's nearly impossible to say which direction the election is heading, but recent elections and fundraising numbers suggest Republicans dominating the race. Maddox would be Alabama's first Democratic governor in more than a decade.
Weekly campaign finance reports filed Monday night show Republican incumbent Gov. Kay Ivey maintaining a sizeable fundraising lead. Maddox raised only $45,465 to Ivey's $146,413. Ivey also outspent Maddox more than three-to-one last week. Ivey reported spending $212,304 last week. Maddox spent $62,325.
Maddox, on the other hand, has reported far more individual donors to his campaign than Ivey over the course of the last three weeks. And he encouraged the college students to volunteer for Democratic candidates, saying people power is more important than money.
The Democratic nominee said he has seen a backlash to Ivey's refusal to engage in a public debate with him.
"Alabamians, by our very nature, we rise to every challenge, and we don't run away from it," Maddox said. "I think a lot of Alabamians have a lot of concern about that. … I think it's very winnable."
Maddox said he believes Ivey won't debate him because she doesn't have answers for issues like Medicaid expansion and an education lottery.
Maddox has favored Medicaid expansion while Ivey has not. And while Ivey has said she would support a public referendum on a lottery, she has largely punted the issue to the state Legislature.
The Republican-dominated Legislature would have to authorize such a referendum to alter the state's Constitution, which currently prohibits a lottery, but Maddox has said he would call a special session to force the Legislature to take up the issue.
"There's no answer for Medicaid expansion. There's no answer for not wanting to support a lottery," Maddox said. "And there's no answer for the continued corruption."
The state government has continued to pay former Gov. Robert Bentley's legal bills after he resigned from office in April 2017. He pleaded guilty misdemeanor campaign finance violations but continues to face a civil lawsuit brought by former ALEA Secretary Spencer Collier.
Maddox cited the payment of Bentley's legal bills as an example of enabling corruption.
"Why are we continuing to pay over $400,000 in legal fees?" Maddox said. "It's all these questions that can't be answered. If you're not transparent now, just imagine what happens if you're elected to the office. I don't think answering those questions is something she wanted to do."
Maddox repeated his calls for the state to expand Medicaid to individuals making up to $16,753 and families of three making $28,676. Alabama's Medicaid requirements are currently some of the strictest in the country, and the program is limited to children, those with disabilities and the elderly. Adults without children rarely qualify and those with kids only receive benefits if they make less than 18 percent of the poverty line. That's less than $4,000 a year for a family of three.
Republicans have resisted expanding Medicaid since the state became eligible to receive federal matching money six years ago. Republican state legislators have refused to expand the program because of a state match that would be required. Although federal money would have covered nearly all of the expansion costs over the past six years, federal matches have now dropped to about 90 percent, where they are expected to stay.
Meanwhile, Democrats have largely championed such an expansion. The Democratic nominee for governor said he would sign an executive order on day one to expand Medicaid. Either way, the Legislature would need to approve the expansion and they would have to handle the budget reverberations that would follow.
The state's hospitals, which have suffered budget cuts and closures over the past decade, have sought expansion to keep hospitals, particularly those in rural areas, open.
Maddox said the state could pay for the expansion without having to raise taxes.
"The state of Louisiana is paying for their Medicaid expansion through the savings they've generated through their existing Medicaid program. In fact, it was $199 million in Fiscal Year 2017," Maddox said.
While he said he wouldn't budget for those savings if he's elected, he said expanding the program would provide an economic boon for the state, which could provide new revenues to pay for the program.
"How we want to propose paying for the Medicaid expansion is the 30,000 new jobs that are created," Maddox said. "We want to do similar to other economic development projects and take the payroll taxes and income taxes generated by those 30,000 jobs and escrow them into an account that would offset the state share of the Medicaid expansion."
Maddox spent the majority of his time on Auburn's campus touting his plans for an education lottery, telling students that were gathered to hear him speak that they stand to benefit most if his plan is enacted.
The Maddox campaign estimates an education lottery would generate $300 million in revenues that could be put toward public schools and college scholarships.
Maddox's talk Monday comes after the second-largest lottery jackpot and the fourth-largest jackpot in history. Both jackpots — $1.537 billion and $687.8 — were won in the course of a week.
"The only losers from last week's Mega Millions and Powerball were the students in the state of Alabama, because students elsewhere, they got their scholarship programs increased and they got their pre-K programs enhanced, and we didn't do anything in Alabama," Maddox said.
Print this piece
Sessions attacks Tuberville's views on China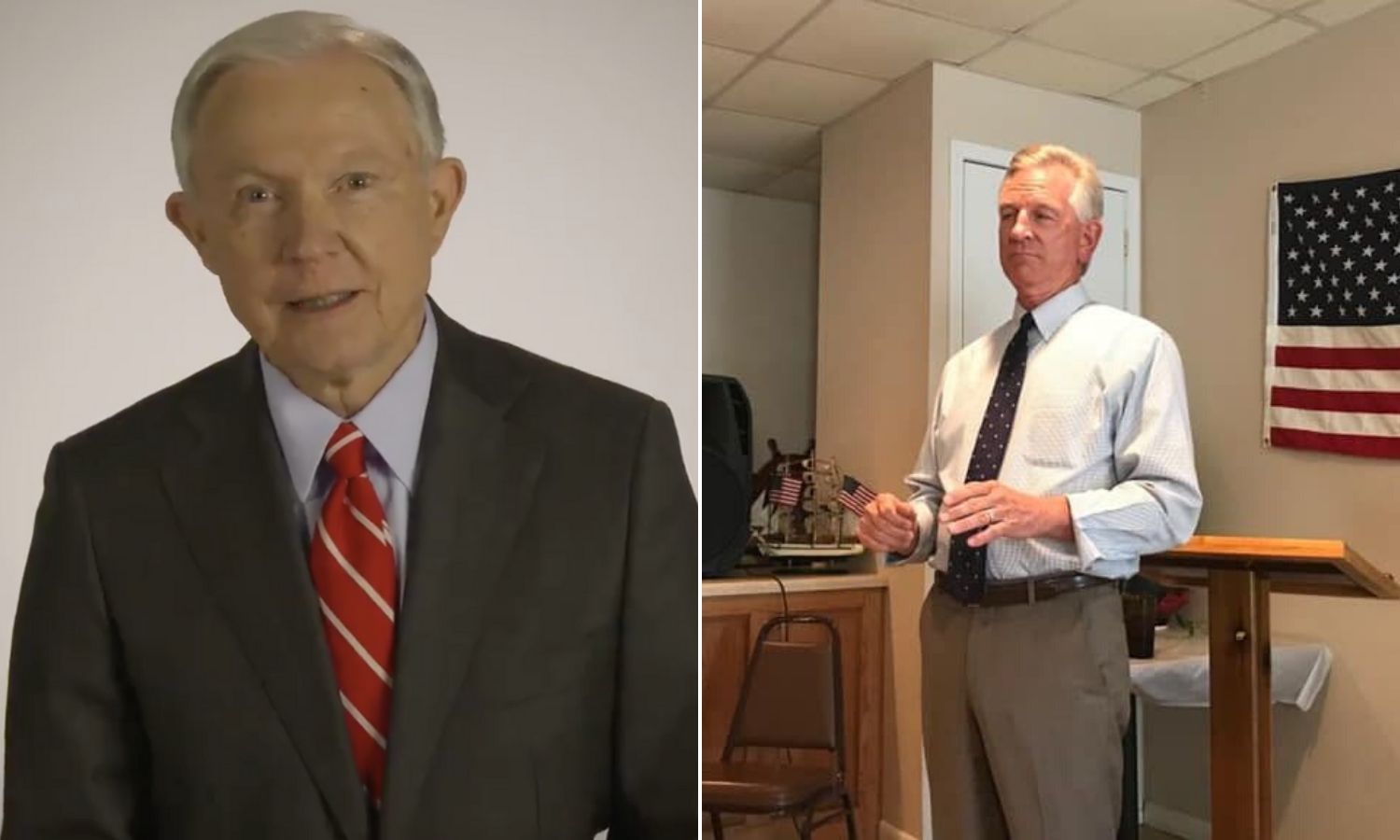 Former Sen. Jeff Sessions, R-Alabama, rolled out an ambitious, comprehensive plan to hold the Chinese government accountable for what Sessions called a cover-up of the coronavirus that has killed tens of thousands of people and devastated economies worldwide.
In an interview Thursday on the Matt & Aunie radio show on Talk 99.5 in Birmingham, for Auburn head football Coach and current GOP Senate candidate Tommy Tuberville expressed his views on China.
Matt Murphy asked: What do you see happening with China?
"Well, we can't worry about China right now…" Tuberville responded.
"You say you don't need to worry about China, but this came from China and our economy depends on China," Murphy asked on follow up. "Specifically how to overcome some of that dependence on Chinese goods and specifically in the pharmaceutical industry because right now we're dependent on the country that covered this up."
"Now we're seeing firsthand the results of letting everything go to China," Tuberville said. "The good thing about this is we'll have manufacturing come back and drugs and all those things….we're headed in that direction, just the simple fact that we can't control our own destiny. Everything's controlled by China. But that'll take care of itself."
During the show, Tuberville also characterized the Wuhan Virus, which has killed over 53,000 people and infected more than 1 million people across the globe, which then including over 1,300 people in Alabama, as "just a virus."
Jeff Sessions issued a statement critical of Tuberville on Friday in response.
"Amazingly, Tommy Tuberville said yesterday, 'We can't worry about China right now,"" Sessions quoted. "China is where the virus is from, and their deliberate lies hid the danger and resulted in a pandemic that never should have happened. We must take on China now and win, not run scared like Tommy Tuberville."
"There are over 1 million infected with the Wuhan Virus, and more than 1,300 in Alabama already," Sessions continued. "This is serious. But Tommy Tuberville said yesterday that 'this is just a virus.' What planet is he on? Tuberville is clueless. No wonder he's scared to debate me. We must stop relying on China for our critical medicines and equipment. I have a detailed plan to fix it. Amazingly, Tuberville also said yesterday, 'Everything's controlled by China, but that'll take care of itself.' Wrong! We must lead with action, this will not 'take care of itself.'"
On Thursday, a U.S. intelligence report claimed that China understated the damage that the coronavirus was doing in their country.
"Alabama's next Senator must be a leader who has the drive and determination to push a Congress that is too often unwilling to confront the critical issues of our time," Sessions continued. "I have proven my willingness and preparedness to lead from Day One. Tuberville is weak: all talk and no action."
Sessions is a former Senator, U.S. Attorney General, Alabama Attorney General, Chairman of the Alabama Republican Party, U.S. Attorney, asst. U.S. Attorney, and U.S. Army Captain.
The Republican primary runoff has been moved to July by Alabama Governor Kay Ivey (R) due to fears of the coronavirus. The virus is believed to have originated in Wuhan City, Hubei Province, China in late 2019.
As of press time, 10,943 Americans have died from COVID-19 including 53 Alabamians. 367,650 Americans have been diagnosed with COVID-19, including 2,006 Alabamians. At this point, only 240 Alabamians are confirmed hospitalized with COVID-19.
COVID-19 is the medical condition caused by a strain of coronavirus first identified late last year in Wuhan City, Hubei Province China, SARS-CoV-2. Since then it has spread across the globe infecting 1,346,566 persons that we are aware of killing 74,697 people.
The winner of the Republican primary runoff will then face Senator Doug Jones (D-Alabama) in the November election.
Print this piece