NASA to retire Kepler Space Telescope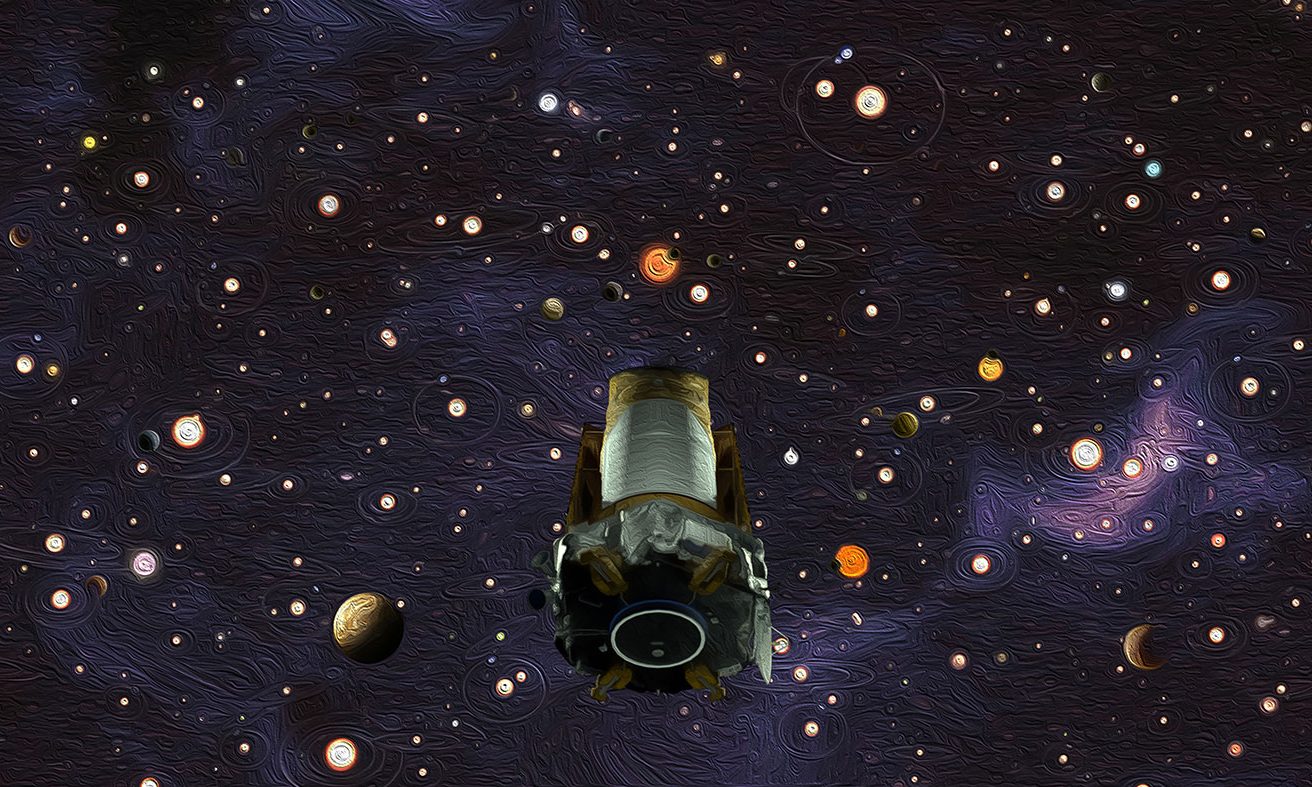 Tuesday, October 30 NASA announced in a statement that after nine years in deep space discovering thousands of alien planets NASA's Kepler Space Telescope has run out of fuel and will be retired from further science operations. Kepler's nine-year mission collected data that indicates that our sky is filled with billions of hidden planets, more planets even than stars. NASA made the decision to retire the spacecraft within its current, safe orbit, away from Earth. Kepler has discovered more than 2,600 planets outside our solar system, many of which could be promising places for life.
Thomas Zurbuchen is the associate administrator of NASA's Science Mission Directorate in Washington D.C.
"As NASA's first planet-hunting mission, Kepler has wildly exceeded all our expectations and paved the way for our exploration and search for life in the solar system and beyond," said Zurbuchen. "Not only did it show us how many planets could be out there, it sparked an entirely new and robust field of research that has taken the science community by storm. Its discoveries have shed a new light on our place in the universe, and illuminated the tantalizing mysteries and possibilities among the stars."
The most recent analysis of the Kepler data concluded that 20 to 50 percent of the stars visible in the night sky are likely to have small, possibly rocky, planets similar in size to Earth, and located within the habitable zone of their parent stars. That means they're located at distances from their parent stars where liquid water, essential to life as we know it, might pool on the planet surface.
Kepler found that the most common size of planet doesn't even exist in our solar system. They are worlds between the size of Earth and Neptune. More research is needed about that class of planets. Kepler also found that there are some system more packed with planets than our own. In some cases, with so many planets orbiting close to their parent stars that our own inner solar system looks sparse by comparison.
William Borucki was the Kepler mission's founding principal investigator. He is now retired from NASA's Ames Research Center in California.
"When we started conceiving this mission 35 years ago we didn't know of a single planet outside our solar system," said Borucki. "Now that we know planets are everywhere, Kepler has set us on a new course that's full of promise for future generations to explore our galaxy."
Kepler was launched on March 6, 2009. The Kepler space telescope combined cutting-edge techniques in measuring stellar brightness with the largest digital camera outfitted for outer space observations at that time. Originally positioned to stare continuously at 150,000 stars in one star-studded patch of the sky in the constellation Cygnus, Kepler took the first survey of planets in our galaxy and became the agency's first mission to detect Earth-size planets in the habitable zones of their stars.
Leslie Livesay is the director for astronomy and physics at NASA's Jet Propulsion Laboratory. She served as Kepler project manager during mission development.
"The Kepler mission was based on a very innovative design," Livesay said. "It was an extremely clever approach to doing this kind of science. There were definitely challenges, but Kepler had an extremely talented team of scientists and engineers who overcame them."
The primary mission objectives were all accomplished during the first four years of the mission. Mechanical failures temporarily halted observations. The mission team, however, was able to devise a fix, switching the spacecraft's field of view roughly every three months. This enabled an extended mission for the spacecraft, dubbed K2, which lasted as long as the first mission and bumped Kepler's count of surveyed stars up to more than 500,000.
The observation of so many stars has allowed scientists to better understand stellar behaviors and properties, which is critical information in studying the planets that orbit them. New research into stars with Kepler data also is furthering other areas of astronomy, such as the history of our Milky Way galaxy and the beginning stages of exploding stars called supernovae that are used to study how fast the universe is expanding. The data from the extended mission were also made available to the public and science community immediately, allowing discoveries to be made at an incredible pace and setting a high bar for other missions. Scientists are expected to spend a decade or more in search of new discoveries in the treasure trove of data Kepler provided.
Jessie Dotson is Kepler's project scientist at NASA's Ames Research Center.
"We know the spacecraft's retirement isn't the end of Kepler's discoveries," said Dotson. "I'm excited about the diverse discoveries that are yet to come from our data and how future missions will build upon Kepler's results."
Before retiring the spacecraft, scientists pushed Kepler to its full potential, successfully completing multiple observation campaigns and downloading valuable science data even after initial warnings of low fuel.
In April NASA launched it's newest planet hunter, the Transiting Exoplanet Survey Satellite (TESS). TESS builds on Kepler's foundation with fresh batches of data in its search of planets orbiting some 200,000 of the brightest and nearest stars to the Earth, worlds that can later be explored for signs of life by missions, such as NASA's James Webb Space Telescope.
NASA's Ames Research Center in California's Silicon Valley manages the Kepler and K2 missions for NASA's Science Mission Directorate. NASA's Jet Propulsion Laboratory in Pasadena, California, managed Kepler mission development. Ball Aerospace & Technologies Corporation in Boulder, Colorado, operates the flight system with support from the Laboratory for Atmospheric and Space Physics at the University of Colorado in Boulder.
According to NASA's Exoplanet Science Institute, there are 3,826 known exoplanets in addition to the 8 accepted planets in our own solar system (the classification of Pluto as a dwarf planet remains controversial). Kepler leaves 2,426 project candidates that are yet to be confirmed.
Data from the Kepler mission indicates that 22 percent of earth like stars have small rocky planets in the "goldilocks zone" where they are so close to their stars that it is too hot to support life like Mercury or too far away from their star thus too cold like Pluto. From that it has been extrapolated that there are over two billion planets in our galaxy that could, in theory, support life.
There is a word of warning in that from our own system, which actually has three planets in the goldilocks zone. Earth has plenty of life. Mars is smaller than earth thus its molten core cooled off more rapidly than our own planet did causing it to lose most of its magnetic field which means that most of the water in the Martian atmosphere has been lost to space drying out the surface. Venus on the other hand is more geologically active than Earth. All of those volcanos constantly erupting has filled its atmosphere with so much volcanic material that the planet has heated up far beyond the point that liquid water can remain on the surface. Both might have had life in the distant past, but little (if any) of that life has survived to the present. There may be over two billion goldilocks zone planets in the galaxy; but how many of them are at a point in their planetary life cycles where they do actually support life. What we do know is that there is no shortage of goldilocks zone planets. We also know, from our exploration of our own system is that water exists in massive quantities. Most of the water in this system is on moons around Jupiter and Saturn or out in icy Kuiper belt objects and comets likely extending out into the Oort cloud. Only a small fraction of the water in the system is in Earth's oceans, lakes, and rivers.
Original reporting by Physics.org contributed to this report.
CDC confirmed expanded "close contact" definition to Alabama officials in August
It is unclear why the CDC waited until late October to update or clarify its public-facing guidance on its website.
New federal guidance on how a person is determined to have been in close contact with someone infected by COVID-19 won't impact how Alabama works to mitigate the disease, said the state's top health official. That's because the state was already aware of the expanded definition in August before the change was made public last week.
It is unclear why the CDC waited until late October to update or clarify its public-facing guidance on its website when it was giving more precise definitions to at least one state health department and receiving questions from public health officials about the definition.
The delay in announcing the change is raising questions about how state health officials nationwide have been determining the public's possible exposure to the deadly disease and if contact tracing and mitigation efforts will be made more time- and resource-intensive with the more inclusive definition in place.
The CDC on Wednesday expanded the definition of "close contact" to mean a person can be at risk of contracting COVID-19 if that person is within six feet of an infected person for a period of at least 15 minutes over a 24-hour period.
The previous definition stated a person should quarantine if they were within six feet of an infected person for at least 15 minutes. Alternately, in other areas of the CDC's website, the language stated "a total of 15 minutes" in the definition of close contact.
"What they changed their definition to is something they had verbally confirmed to us months ago, and we have always been using that definition," said Alabama State Health Officer Dr. Scott Harris, speaking to APR on Friday.
Harris said a support team from the CDC was in Alabama in July as the Alabama Department of Public Health was preparing plans to reopen schools. Harris said the question was asked of CDC staff because his department was getting questions on the definition of close contact from school officials.
APDH staff took the definition then of "a total of 15 minutes" to mean that there could be several exposures over a period of time equaling that 15 minute threshold, so they asked CDC to clarify that assertion.
"When those folks were here we asked the CDC people directly. Can you confirm for us what that means, and they said, it adds up to a total of 15 minutes in a 24-hour period," Harris said. "And we even got somebody to commit to that in an email somewhere."
Melissa Morrison, CDC's career epidemiology field officer working at the ADPH in Montgomery, in an Aug. 13 email to ADPH's director of the office of governmental affairs, quotes a statement Morrison attributes to her CDC colleague, CDC public health advisor Kelly Bishop. Harris shared the email with APR.
"Yes, I did get a response from the contact tracing team. The 15 minutes for a close contact is cumulative, and they said 'The time period for the cumulative exposure should start from 2 days before the cases' illness onset (or, for asymptomatic patients, 2 days prior to positive specimen collection date) until the time the patient is isolated," Morrison quotes Bishop in the email.
In the August email, Bishop goes on to say, as attributed by Morrison, that "as of now there is no established upper limit on the time period (i.e. 48, 72 hours etc)."
The CDC's expanded definition was reflected in an Aug. 20 statement from the Alabama Department of Public Health.
"The 15-minute time is a cumulative period of time. For example, a close contact might be within 6 feet of a COVID-19 positive person for 5 minutes each at 8 a.m., noon and 5 p.m. This is a standard based on guidance from the CDC," the statement reads.
In an email to APR on Friday, Harris said he'd discussed the matter with Morrison on Friday who "emphasized that the guidance this week from CDC was NOT a change but rather a clarification. They simply used the MMWR corrections story as a convenient time to make the point."
Harris was referring to a CDC's Morbidity and Mortality Weekly Report released Wednesday that detailed findings by Vermont health officials showing that a prison worker contracted COVID-19 during an eight-hour shift in which the worker had 22 close contacts with an infected inmate totaling 17 minutes.
The CDC in statements to numerous news outlets, and to APR, cite that Vermont study in connection to Wednesday's definition change.
"That's kind of why they said it out loud," Harris said of the study and the Wednesday announcement. "But I have to say, when I saw that updated guidance I thought, 'I can't believe anybody ever thought otherwise.'"
Different pages on the CDC's website on Saturday defined close contact as both being "a total of 15 minutes or more" and "a total of 15 minutes or more over a 24-hour period," confusing the matter further, and numerous other state health departments had not yet updated their websites Saturday to reflect the CDC's expanded definition.
A CDC spokesman in an email to APR on Wednesday noted the Vermont study on the prison worker and said "CDC clarified the amount of time it would take for someone to be considered a close contact exposed to a person with COVID-19."
"The CDC website now defines a close contact as someone who was within 6 feet of an infected person for a total of 15 minutes or more over a 24-hour period. Previous language defined a close contact as someone who spent at least 15 minutes within 6 feet of a confirmed case," CDC spokesman Scott Pauley told APR by email Wednesday.
Pauley didn't respond to APR's question on Friday asking why the CDC waited until Wednesday to update its guidance online, given that ADPH had confirmed the definition of close contact in August. He also didn't respond to a request to verify the statement Morrison attributed to her CDC colleague in the August email.
"To us, we thought if it says a total, that means you must be adding up smaller amounts to get to 15 minutes, or you wouldn't use the word total," Harris said. "When they changed it this week, I don't know the details of why that happened, but I think, obviously, everybody didn't have the same message everywhere."
Dr. Bertha Hidalgo, an epidemiologist and assistant professor at UAB's Department of Epidemiology, told APR on Friday that her understanding prior to Wednesday's expanded definition was that a contact was defined as someone who was exposed to the COVID-19 positive individual for at least 15 min or more at a time and explained that the updated guidance complicates how public health officials will engage in contact tracing.
"This means significant efforts for contact tracing moving forward, in effect needing to identify every person that person came into contact with during the possible exposure timeframe," she said.
It was unclear Monday how the definition change impacts Alabama's Guidesafe COVID-19 exposure notification app, which notifies a user if they come into close contact with an infected person. The app was developed by ADPH and University of Alabama at Birmingham, thanks to a partnership between Apple and Google's combined development of the technology, and alerts users to possible exposure while keeping all users' identities anonymous.
Sue Feldman, professor of health informatics, UAB School of Health Professions, in a message to APR on Friday said that due to the anonymity of the app, it would be difficult, but not impossible, to update the app to take into consideration the CDC's expanded guidance.
"We are taking this into consideration for our next update," Feldman said in the message.
Also unclear is how many other states that have similar exposure notification apps, also using Google and Apple's technology, aren't yet using the expanded definition of a "close contact." Colorado is to roll out that state's app on Sunday, and according to Colorado Public Radio News the app will notify a user that they've been exposed if they come "within six feet of the phone of someone who tested positive for at least ten minutes."
New York's exposure notification app also appears to use the old CDC guidance, and will alert users if they come "within 6 feet of your phone for longer than 10 minutes," according to the state's website.
The updated definition, which health departments refer to when conducting contact tracing, is likely to have a serious impact on schools, workplaces and other group settings where personal contact may stretch over longer periods of time including multiple interactions.
It greatly expands the pool of people considered at risk of transmission. "It's easy to accumulate 15 minutes in small increments when you spend all day together — a few minutes at the water cooler, a few minutes in the elevator, and so on," Johns Hopkins Center for Health Security epidemiologist Caitlin Rivers told The Washington Post. "I expect this will result in many more people being identified as close contacts."
The clarification comes as cases and hospitalizations are rising both in Alabama and nationwide. Alabama's 14-day average of cases has increased 41.2 percent over the past two weeks. The percentage of tests that are positive has increased from roughly 13 percent to more than 20 percent over the past 14 days. The U.S. average of new daily infections is now at its highest point of the pandemic, with 481,372 cases reported in a week, according to CNN and Johns Hopkins University.