Trump holds rallies in Pensacola and Chattanooga
While President Donald J. Trump (R) has not held any campaign rallies in Alabama this election he was just across the state line this weekend. Saturday the President was in Pensacola campaigning for Rick Scott and Ron DeSantis. On Sunday, he was in Chattanooga campaigning for Marsha Blackburn.
"This election is about safety and it's about prosperity," President Trump said in Chattanooga. "For years you watched as we let foreign countries plunder and drain our wealth, shutter our factories and steal our jobs, but those days are over Tennessee. Those days are over we've added nearly half a million manufacturing jobs since the election."
President Trump and Governor Kay Ivey (R) are both promoting the incredible job growth under Republican governance in the final days before the election.
"Last month alone, we added another 33 think of this 33,000 manufacturing jobs," Pres. Trump said. "One thousand each day. Remember the previous administration we're never going to have manufacturing jobs anymore by the way they're. Among the best jobs we have in our whole country and very important jobs, the magic wand, you need a magic wand to bring them back."
"We have seen 16,000 new jobs created since I took office and $16 billion in investments announced," Gov. Ivey told the Alabama Automotive Manufacturers Association. "Alabama now has more people working than ever before in our history and Alabama's automotive industry is powering that momentum."
"So many companies coming back into the United States are all coming back," Trump continued. "They want the action plus our new deal makes it extremely hard for companies to fire all their workers and leave it. So we're not having that anymore, and I talked about that during the campaign not going to happen. Where they fire workers they move to Mexico or another country, they'd build their cars, and then they sell them back here, no tax, no, nothing! We end up with no jobs and empty factories."
Gov. Ivey said that when companies come to Alabama, "They can expect hard work, growth, and success," Ivey added that manufacturers. "Want to be made in Alabama."
Democrats have been attacking Republicans on healthcare. This is not lost on President Trump.
"We've taken bold action to reduce the price of prescription drugs – that's happening," the Pres. Said. "You see it thanks to our aggressive measures to drive down the price of health insurance this year. Premiums on the exchange in Tennessee are plummeting by an average of 26 percent, and we got rid of the individual mandate, which was a disaster."
The President promoted his increase in defense spending.
"You know what was happening to our military," Trump said. "It was depleted, it was tired, it was exhausted, the planes were old, everything was tired, we are rebuilding, America's military might like it's never been rebuilt before and hopefully we'll never have to use it, but I can tell you the stronger we become the less likely it Is that we will have to use it? Ok and we are building it at a level that has never been done before: $700 billion and $716 billion the following year."
Of course, President Trump also promoted his border security policies.
"No nation can allow its borders to be overrun and that's an invasion," Trump stated. "I don't care what they say. I don't care what the fake media says. That's an invasion of our thank you and you're right and we started the war. We have $1.6 billion and we just got another $1.6 billion s and we're getting yet another 1.6, but we want to build it all at one time. We want to get it done and it's happening. It's all happening. It's all happening, but we need Republicans or the Democrats have to start voting for this, because this is the worst immigration laws anywhere in the world. The world laughs at us. The world sees this stuff catch and release they come onto our land."
The President always brings it back to the economy, though.
"We've lifted 4.3 million Americans off of food stamps and the unemployment rate just fell to the lowest level in over 50 years," the President emphasized. "More Americans are working today than ever before. Think of that in the history of our country. We have more people working today than ever before. Nearly 100 hundred fifty-seven million Americans now have a job. African American Hispanic, American Asian American unemployment's, all of them all of these groups have all reached their lowest level in the history of our country. Poverty is plummeting, wages, are rising, incomes are soaring and the confidence level of our businesses and our people is at an all time, high."
President Trump continues to hit back at Democrats.
"The Democrats are going to be raising your taxes and not cutting your tax, so I have to put a little caveat: we've got to win Congress got to win the House," Trump told the crowd in Chattanooga. "A vote for any Democrat on Tuesday is a vote to hand power to cry and Chuck Schumer nancy Pelosi and, of course, the legendary Maxine Waters and to Maxine to judge your bank."
"This is one of the most important elections of our time," Trump said. "I don't know if I rate it more important than the last election '16, but it's almost it's right there. This is really one of the most important elections that we will ever have the privilege of voting in and for this is a big one. It will decide whether we build on the extraordinary prosperity that we've achieved for our nation or whether we let the radical Democrats take control of Congress and take a giant wrecking ball to our economy and to our future."
"I think we're doing great in the house," Trump predicted. "I think we're doing great in the Senate, but who knows right? Who knows? You've got to get out to vote, but I will say there is that electricity in the air, the likes of which I and you have not seen since the 60s."
The polls will be open today, November 6, at 7:00 a.m. and close at 7:00 p.m.
U.S. Supreme Court rules Alabama can ban curbside voting
"The District Court's modest injunction is a reasonable accommodation, given the short time before the election," the three dissenting justices wrote.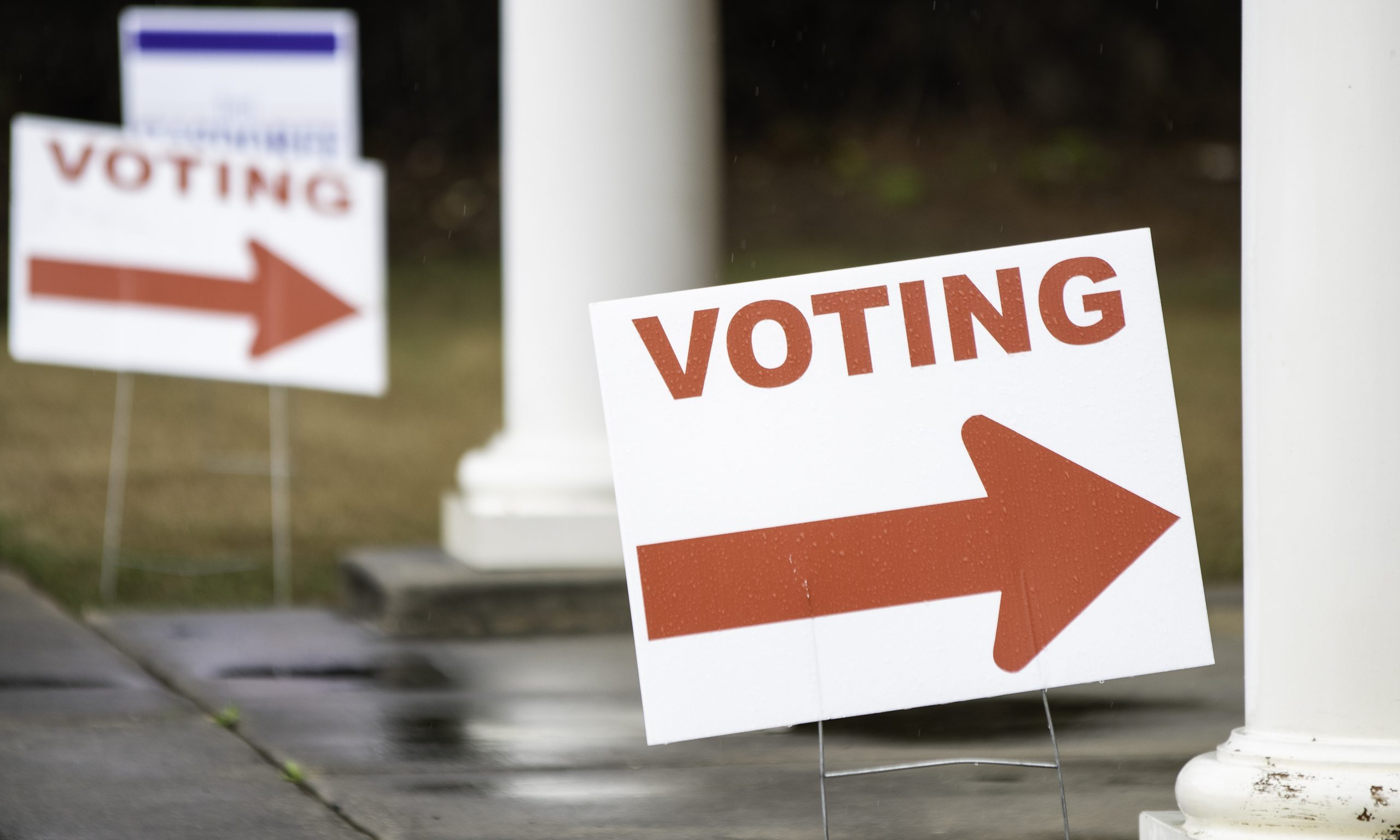 The Supreme Court, in a 5-3 decision, allowed Alabama Secretary of State John Merrill to ban curbside voting, staying a district court injunction that had allowed some counties to offer curbside voting in the Nov. 3 election amid the COVID-19 pandemic.
The Supreme Court's majority in its order declined to write an opinion, but Justices Stephen Breyer, Elena Kagan and Sonya Sotomayor's five-page dissent is included.

The lawsuit — filed by the NAACP Legal Defense and Educational Fund, Southern Poverty Law Center, American Civil Liberties Union, ACLU of Alabama and Alabama Disabilities Advocacy Program — was brought on behalf of several older Alabamians with underlying medical conditions.
"The District Court's modest injunction is a reasonable accommodation, given the short time before the election," the three dissenting justices wrote. 
Sotomayor, who wrote the dissent, closed using the words of one of the plaintiffs in the case. 
"Plaintiff Howard Porter Jr., a Black man in his seventies with asthma and Parkinson's disease, told the District Court, '[So] many of my [ancestors] even died to vote. And while I don't mind dying to vote, I think we're past that – We're past that time,'" Sotomayor wrote. 
Alabama Secretary of State John Merrill on Wednesday applauded the Supreme Court's decision. 
"I am proud to report the U.S. Supreme Court has now blocked a lower court's order allowing the fraudulent practice of curbside voting in the State of Alabama," Merrill said in a statement. "During the COVID-19 pandemic, we have worked diligently with local election officials in all 67 counties to offer safe and secure voting methods – including through the in-person and mail-in processes. I am glad the Supreme Court has recognized our actions to expand absentee voting, while also maintaining the safeguards put into place by the state Legislature."
"The fact that we have already shattered voter participation records with the election still being 13 days away is proof that our current voting options are easy, efficient, and accessible for all of Alabama's voters," Merrill continued. "Tonight's ruling in favor of election integrity and security is once again a win for the people of Alabama."
Sherrilyn Ifill, president and director-counsel of the NAACP Legal Defense and Education Fund, expressed frustration after the ruling in a tweet.
"Another devastating loss for voters and a blow for our team fighting to ensure safe voting for Black and disabled voters in Alabama. With no explanation, the SCOTUS allows Alabama to continue making it as hard as possible for COVID-vulnerable voters," Ifill wrote.
Curbside voting is not explicitly banned by state law in Alabama, but Merrill has argued that because the practice is not addressed in the law, he believes it to be illegal. 
A panel of federal appeals court judges on Oct. 13 reversed parts of U.S. District Judge Abdul Kallon's Sept. 30 order ruling regarding absentee voting in the upcoming Nov. 3 elections, but the judges let the previous ruling allowing curbside voting to stand. 
In his Sept. 30 ruling, Kallon wrote that "the plaintiffs have proved that their fears are justified" and the voting provisions challenged in the lawsuit "unduly burden the fundamental Constitutional rights of Alabama's most vulnerable voters and violate federal laws designed to protect America's most marginalized citizens."
Caren Short, SPLC's senior staff attorney, in a statement said the Supreme Court's decision has curtailed the voting rights of vulnerable Alabamians.
"Once again, the Supreme Court's 'shadow docket' – where orders are issued without written explanation – has curtailed the voting rights of vulnerable citizens amidst a once-in-a-century public health crisis. After a two-week trial, a federal judge allowed counties in Alabama to implement curbside voting so that high-risk voters could avoid crowded polling locations," Short said. "Tonight's order prevents Alabama counties from even making that decision for themselves. Already common in states across the South and the country before 2020, curbside voting is a practice now encouraged by the Centers for Disease Control and Prevention (CDC). It should be a no-brainer to implement everywhere during a pandemic; the Alabama Secretary of State unfortunately disagrees, as does the Supreme Court of the United States."