The Lodge at Gulf State Park opens on schedule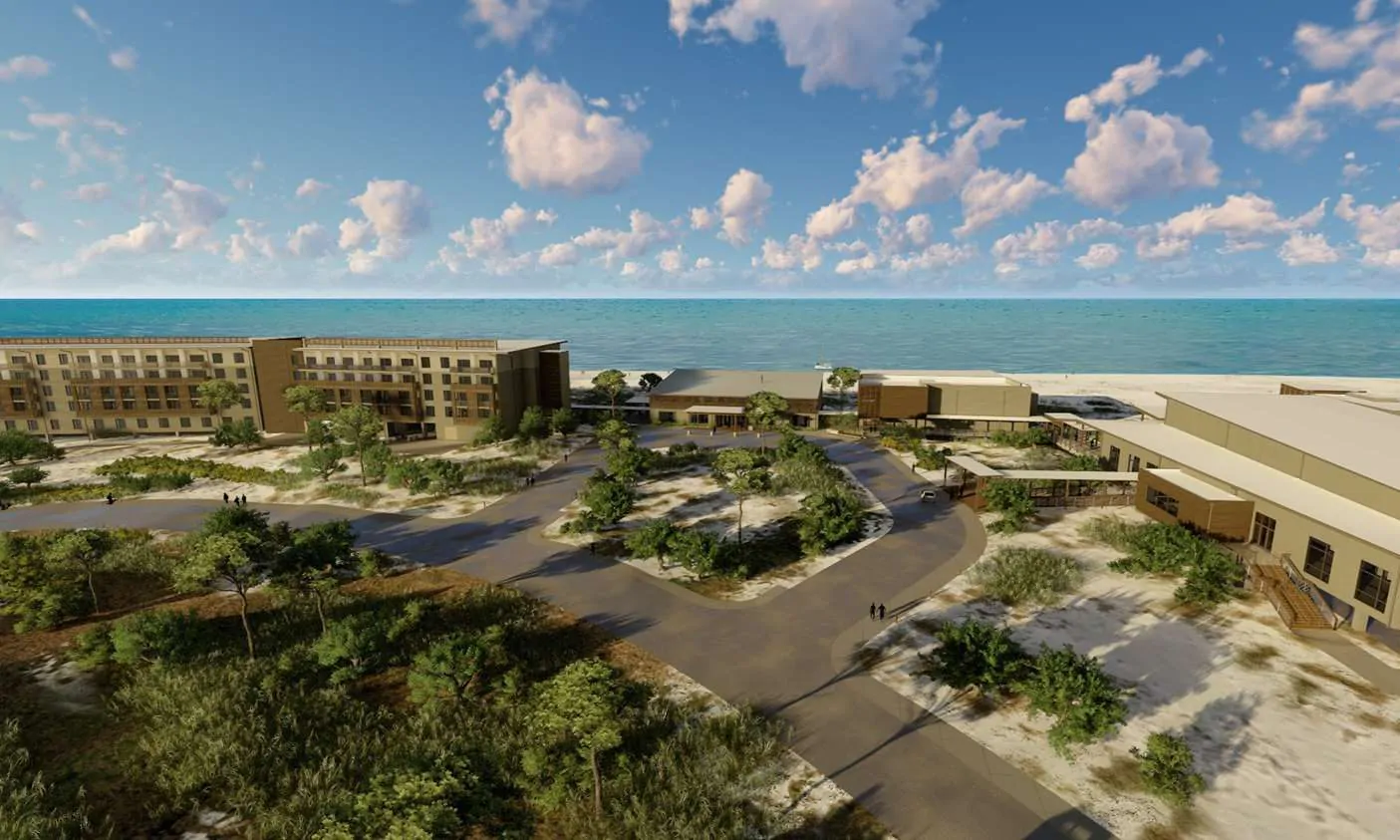 Friday, November 2 the Alabama Department of Conservation and Natural Resources held a ribbon-cutting ceremony to officially open The Lodge at Gulf State Park, a Hilton Hotel. Alabama Governor Kay Ivey (R) was on hand for the event.
"I'm thrilled to be here to have this grand opening that we've been waiting a long time to have," said Governor Ivey. "There's just no more beautiful place than Alabama's Gulf Coast with the white sand and sparkling waters. That's why I made it my mission to protect this part of the state and grow it. In 2004, Hurricane Ivan came through and damaged parts of our great state. It also destroyed a very special spot on the Gulf Coast – the lodge. However, in the resilient spirit of Alabama, we find a way to make good out of a bad situation.
"I am proud to be with you for the ribbon-cutting for The Lodge at Gulf State Park," Gov. Ivey said. "This will be a centerpiece for this area but also for the great state of Alabama. We're located on the doorstep of the Gulf, and this will be a way to show a piece of Alabama to the world. Creating a new conference center has long been a part of discussions throughout numerous administrations. As Lieutenant Governor, I was a member of the Gulf State Park Committee. Today, I'm proud to take us across the finish line."
"Gulf State Park will be a world-class place to visit, and it will be the crown jewel of tourism," said Gov. Ivey. "People from around the world will want to come experience what we have in Alabama. I look forward to continued growth in the tourism industry. Thank you for allowing me to join you for this great event. May God continue to bless each of you and the great state of Alabama."
Chris Blankenship, Commissioner of the Alabama Department of Conservation and Natural Resources, said the decision was made to forego the typical soft opening that new facilities hold before a general opening.
"Many of us were not sure if this day would ever come," Blankenship said. "It has been a long journey, and I'm so glad to share this with you as we celebrate the work of so many who made the opening of this lodge a reality. This is truly a spectacular place. With the project's high visibility and excitement in this community for the return of The Lodge, we wanted to open it as soon as possible to give the communities an opportunity to participate in the rebirth of this place. So, we opened the doors at the first possible moment."
"When the resort was here, and the lodge was up and running it was an economic engine to help all our state parks," said Speaker of the Alabama House of Representatives Mac McCutcheon (R-Monrovia). "So, when we lost this facility, it had a huge impact on our parks. When we came for a tour of the construction site, we walked out on the dunes, and I remember my children being there on the edge of the water when they were very, very little. Deb and I made a trip down here, and we stayed at the lodge that was here at the time. That was the first time my children got to feel the sand between their toes and feel the waves wash up on them. We built sandcastles. That was the first time for children who were raised in red land cotton fields to see what it was like to stand on the side of the Gulf of Mexico. That's a great memory. Our best days are ahead of us in Alabama, and this great facility is symbolic of that."
Economic Developer Nicole Jones told the Alabama Political Reporter, "Aimed to appeal to both business and leisure travelers, The Lodge at Gulf State Park features 350 rooms, over 40,000 square feet of indoor and outdoor meeting space, a ballroom that can accommodate up to 1,000 guests, on-site restaurants, a gulf-front infinity pool, a 900-acre freshwater fishing lake, and direct access to over 6,150 acres of trails and activities within Gulf State Park. The partnership with Hilton Hotels and Valor Hospitality will establish a world-class environment that guests can count on, which should generate repeat visits to a beautiful area of our state and a tremendous economic boost for the local economy and Alabama."
For many years the Lodge at Gulf State Park was the most profitable lodge in the entire Alabama State Park System. That was until Hurricane Ivan destroyed it. Then Governor Bob Riley (R) wanted to build something much more elaborate than the old Lodge. Efforts to fund the new conference center and lodge ultimately were undone by the Great Recession. Eventually Governor Robert Bentley (R), after fighting a lengthy law suit opposing the project, funded the new Lodge with the help of BP oil spill money and a bond issue. Gov. Ivey built the new lodge after being elevated to governor in April of 2017
Nicole Jones shared, "On a more sentimental note, Gulf State Park is part of a tradition many of us grew up with. Now that The Lodge is up and running again, new generations will be able to create memories similar to the ones we all hold dear. Thank you to all who collaborated to bring this project to fruition."
(Original reporting by the Alabama Department of Conservation and Natural Resources's David Rainer contributed to this report.)
Trump Truck and boat parades this weekend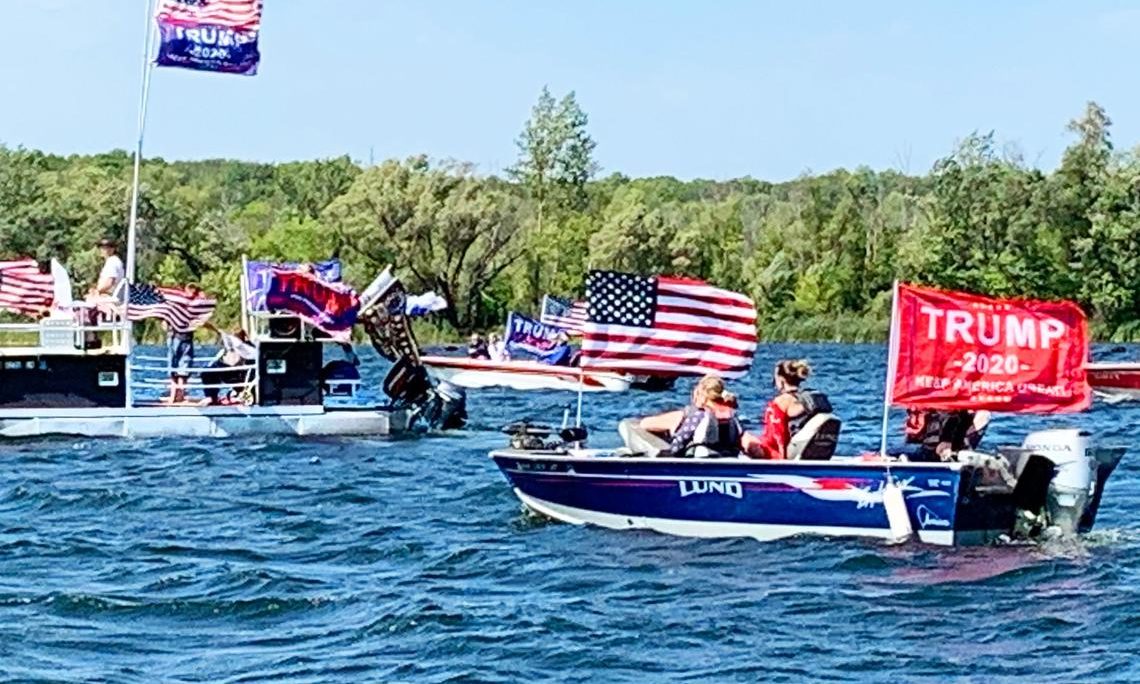 As Election Day draws near, Alabama Republicans are excited about promoting the re-election of Donald J. Trump as President and the election of Tommy Tuberville for U.S. Senate. This weekend two pro-President Trump events are happening in the state. There will be a truck parade from Ashland to Phenix City on Saturday sponsored by the Clay County Republican Party, while there will also be a boat parade on Wilson Lake in the Shoals sponsored by the Colbert County Republican Party on Sunday.
The pickup trucks will assemble at the Ashland Industrial Park in Clay County, 8240 Hwy 9, Ashland. There is a pre-departure rally at 10:00 a.m. central standard time. The trucks will depart at 11:00 a.m. and then proceed on a parade route that will take them into the bitterly contested swing state of Georgia. The Trump Pickup Parade will wind through east Alabama and West Georgia traveling through LaGrange and Columbus before concluding near the Alabama/Georgia line in Phenix City, 332 Woodland Drive, Phenix City at approximately 2:00 p.m. central time. Speakers will begin at 3:00. Trump flags will be on sale at the event.
The Phenix Motorsports Park will be hosting what sponsor hope could possibly the world's largest Pickup Tuck parade in U.S. history that is routing over 50 mile through Georgia in effort to "pickup" President Trump's numbers in GA.
A number dignitaries have been invited to address the Phenix City rally, including Coach Tuberville. Former State Sen. Shadrack McGill, Trump Victory Finance Committee member former State Rep. Perry O. Hooper Jr., and Paul Wellborn, the President and CEO of the largest Family owned Kitchen Cabinet manufacture in the USA are among the featured speakers who have committed to speak at the event.
Entertainment will be provided by: Charity Bowden, an up and coming country music singer who was the runner up on "The Voice". Charity will sing 'I am Proud to be an American' as well as songs from her Voice performances. The McGill Girls will also perform. The three beautiful and talented sisters will be singing patriotic songs in three part harmony. Geoff Carlisle, a professional DJ will be keeping the crowd pumped with music and entertainment.
Following the speakers and the entertainment there will Trump truck-vs- Joe Bidden truck races down the drag strip for the finale.
The Northwest Alabama boat parade will be on Sunday. The boats will gather at 2:00 p.m. near Turtle Point and then the flotilla will parade around the open waters of Wilson Lake til 3_00 p.m.. There will be a contest for best decorated Trump boats.
Trump supporters have held a number of large boat parades across the state to show their support for the re-election of Pres. Trump.
Boat parade sponsors say that this parade will be: pro-American, pro-law enforcement, pro-military.