Opinion | Sellouts are running Alabama's environmental agencies. Why don't you care?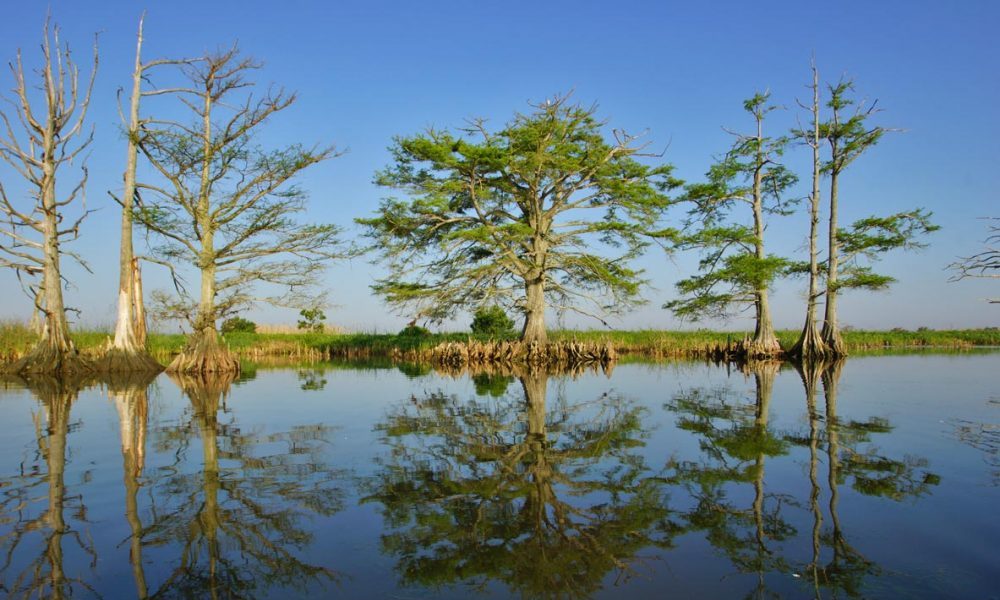 There is contaminated tap water in north Alabama.
There are no oysters in the Gulf.
There is poison soil in Birmingham.
There are polluted lakes and rivers throughout the state.
There have been coal ash spills and a stalled poop train and imported toxic waste too dangerous for other states to allow.
There's a poison plume running under all of downtown Montgomery.
This is Alabama Outdoors.
In a state where at least 90 percent of the males hunt or fish with some regularity, and state law requires at least every third car have a "Salt Life" back window sticker, we don't seem to give two good damns about the actual environment that make those things possible.
And we sure don't seem to care much about the people who are supposed to be in charge of protecting those things.
If you did, you would know that two of those people were indicted this week on ethics charges. There are serious — and widely known and widely believed and widely supported with a mountain of evidence — allegations that Trey Glenn, the current head of the EPA's southeastern region, and Scott Phillips, a former commissioner with the Alabama Environmental Management Commission, accepted bribes from polluters to actively work against cleaning up pollution and holding those polluters responsible.
Or to put that more simply: They sold out.
They sold out you.
They sold out the environment.
They sold out their oaths.
(Allegedly, of course.)
And these two aren't the first ones. If you paid the least bit of attention to the recent trial involving a former Balch & Bingham attorney and a former Drummond Co. executive, you heard of all sorts of shady dealings flowing back and forth between companies highly suspected of polluting our soil, air and water and the agencies — Alabama Department of Environmental Management (ADEM), EPA and AEMC — that are supposed to stand in the gap between us regular folk and big business.
Instead, it seems, these guys have spent most of their time standing in big businesses' pockets.
In addition to Phillips to Glenn, ADEM head Lance LeFleur was accused of having a cozy relationship with Drummond, and once wrote a letter opposing the EPA's listing of a pollution area in north Birmingham as a superfund site. In court testimony, attorneys openly questioned if that letter was written at the encouragement of Drummond and its attorney.
A few weeks after the trial, 12 environmental groups sent a letter to AEMC demanding that LeFleur be removed and cited examples of his department's failures and compromises. LeFleur denied the allegations, calling them "mean-spirited" and "untrue."
But the problems don't even end there.
Former Gov. Robert Bentley was actively writing — or signing his name to letters pre-written by Drummond's attorneys — to stop the superfund site and cleanup.
Former attorney general Luther Strange signed off on pre-written letters from his office to the EPA demanding that the site not be listed on the superfund registry and proclaiming that the state would provide no funds for cleanup.
Think about that.
That's the guy whose main job is consumer protection.
You're the consumer. We're all the consumers.
So, why, why, why do you not care?
I'm begging someone to explain this to me. Why do you not care that you can't eat fish out of the Tennessee River? That you can't swim in Wheeler Lake? That you can't drink the tap water in Courtland? That there will literally be NO oysters harvested from the Gulf this year? That poor people in one of the poorest areas of this state have dealt with constant illnesses? That your "salt life" and your "lake life" and your hunting and your fishing and your kids swimming and your just everyday existing is being jeopardized by sellouts?
Why don't you care?
And I know you don't care, because you just voted 60-40 to put the same people back in charge who put all of these people in charge of protecting our environment and natural resources.
And those same people you put back in office are taking your indifference seriously. When I sent a question to the governor's office today asking for a comment on the sad state of Alabama environmental management programs, they didn't even bother to respond.
Because Kay Ivey knows you don't care.
There wasn't a peep from any state lawmakers, because they also know you don't care.
You know, I hear people ask all the time how Alabama — in the middle of the Bible Belt and with a church on every corner — could have a government that's so corrupt, so filled with people willing to take bribes and sell out their constituents.
This is how: You stop paying attention.
Opinion | Tommy, can you hear me?
That Morning Consult poll of Alabama voters that showed Republican Tommy Tuberville with a 17-point lead over incumbent Democratic Sen. Doug Jones for the U.S. Senate was such a stunner, a Jones campaign aide rushed out an email fundraiser trying to quell any panic.
Until now, most polls have shown Jones to be competitive against an unnamed Republican and, specifically, Tuberville, the former Auburn football coach who defeated Jeff Sessions to win the Republican nomination.
"I would never respond to an outside poll, but a new poll is out there showing Doug Jones losing by … wait for it … 17 points," writes Joe Trippi, senior adviser for the Doug Jones for Senate campaign.
"Here is my comment," Trippi writes. "No way."
Unfortunately, in Alabama, there is a way.
Republicans in the state tend to vote straight ticket in overwhelming numbers. Alabama is one of a handful of states that even allows straight-ticket voting, but the reality is, it does. So voters who want to cast their ballot for, say, Donald Trump in November, but who also like Jones, will have to split their ticket.
The Morning Consult poll showed that a large number of independent voters are undecided, and that could swing the election toward Jones. But straight-party voting can be a hope killer.
Not yet, though. It's still early. The election is still nearly three months away. We've not seen Tuberville do much of anything but bow before Trump, who endorsed him over his former attorney general. But that's Trump loyalty for you.
Indeed, the country is going so poorly right now, one wonders other than the hard-core racists, who still supports Trump.
I know, I know: Alabama is different (plus, we still have more than our share of hard-core racists). But c'mon, folks, more than 157,300 Americans are dead from the COVID-19 pandemic, completely mismanaged by the Trump administration. There have been more than 4.7 million cases. In Alabama, there have been more than 90,000 cases and more than 1,600 deaths.
Meanwhile, the U.S. and Alabama economies are in shambles and getting worse, not better. Trump has sided with Confederate statues and flags over eliminating the systemic racism found in police departments and other government agencies. Plus, most recently, Trump sent his secret army of unidentified goons to sweep protesters off the streets in American cities.
Trump is nobody's friend but his own.
Then there's Tuberville. A decent if mediocre football coach, Tuberville certainly is no Nick Saban. Tuberville isn't even a Gus Malzahn.
Sessions tried to argue that Tuberville wasn't a resident of Alabama, either, but that's not fair. Where Sessions is concerned, unfair is a character trait.
While Tuberville does maintain properties in Florida, he and his wife have owned a home in Auburn for at least three years. Too, they both are registered voters in Alabama, though Sessions said Tuberville cast his ballot in Florida during the 2018 midterms.
What's more important is where Tuberville stands on the issues. And that, we don't know much about. We know Jones is a moderate who works with members of both parties. He clearly represents Alabama's best interests as well as any U.S. senator who has served from Alabama.
Though the loons try to paint Jones as a liberal-socialist-communist bogeyman, he's nowhere close. Certainly, he's different from Sessions, who held that Senate seat for two decades before becoming Trump's attorney general. He's different from Sessions in that he actually gets legislation through the Senate. Sessions mainly interfered with progress while a senator.
The first U.S. senator to support Trump's candidacy, Sessions identified with Trump most likely because they're both die-hard racists. Trump rewarded that loyalty by back-stabbing Sessions out of Washington.
At some point, though, Tuberville must make his positions clear, and not simply that he'll support anything Trump does. That would be a disaster for Alabama, as much as Trump is a disaster for the United States.
The former Auburn University football coach can't just continue being a sycophant for Trump, whose own poll numbers are tanking and who is likely not going to win re-election.
Should Alabama send a Republican to represent the state with a Democratic president, a likely Democratic Senate and a solidly Democratic House? That would be useless.
But Trippi, in his email, did show how Tuberville wins easily: "One bad poll turns all of us off … you write the race off, and Tuberville coasts to victory because no one is paying attention," says Trippi. "Everyone abandons Alabama except Mitch McConnell, who is ALL IN to beat Doug. The proof is in the money he (McConnell) is spending now."
It's true that McConnell is working hard to unseat Jones to protect Republicans' wobbly control of the U.S. Senate, and if they weren't concerned that Jones has a good shot at winning re-election, McConnell would spend that campaign money in another state.
Tuberville must do more than hide behind Trump. We need to hear Tuberville's plan, where he stands on the issues and what he'll bring to Alabama that Jones hasn't already.
Let's hear it, Coach Tommy. But you'll have to scoot back a bit first.