Mazda-Toyota auto plant breaks ground in Limestone County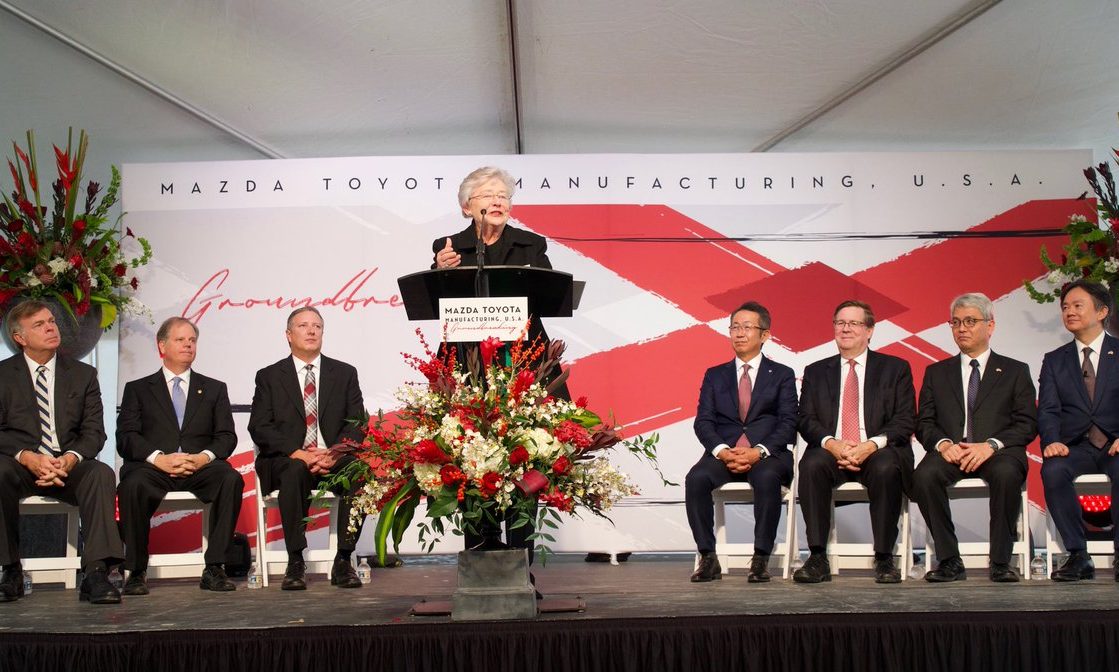 Friday, Alabama Governor Kay Ivey (R) joined Mazda Toyota Manufacturing, U.S.A. to break ground on their new $1.6 billion plant in the City of Huntsville. The jointly owned-and-operated automotive production plant is expected to create 4,000 new jobs. The Limestone County automobile plant is the largest economic development project landed by the state of Alabama in the last decade.
"Not only is Mazda Toyota Manufacturing providing high-paying jobs, they are investing heavily in our future workforce," Gov. Ivey said. "This will not only benefit them, but also other manufacturers in the area. One thing I've learned with Toyota being in our state is that they care for the communities where they do business – it is, after all, their home, too. And they prove it every day. We are lucky to have Mazda Toyota expanding in Alabama."
The massive new plant will have the capacity to build 300,000 vehicles. The plant will build both Toyota's Corolla, whose all-new 2020 model was unveiled last week in California, and Mazda's yet-to-be revealed crossover model.
"We are proud to be here with Toyota, with whom we share the bond of pride in manufacturing," said Mazda's senior managing executive officer Kiyotaka Shobuda. "We are proud to be breaking ground on a new 'home' here in Huntsville – a city that believes in the possibilities of technology and manufacturing, and has striven to realize mankind's greatest dream."
Economic Developer Nicole Jones told the Alabama Political Reporter, "Much has progressed with site prep since we sat in Montgomery for the official unveiling of the Mazda-Toyota joint venture manufacturing plant ten months ago. Folks are excited about the 4,000 job opportunities that await with global companies that consistently invest in their workforce and communities."
The alliance will assure competitiveness in manufacturing, allowing both automakers to respond quickly to market changes and helping to ensure sustainable growth toward the future of mobility.
"It is extremely special to have a partner like Mazda to team up with not only to make the highest-quality cars, but also to create a plant that team members are proud to call their own," said chief executive officer of Toyota Motor North America Jim Lentz. "As we've seen at our Huntsville engine plant, Alabamians are a proud, talented, hard-working group. We are excited to continue our deep investment in the U.S. and Alabama and see nothing but a bright future."
Nicole Jones said, "Thank you to Akio Toyoda, President of Toyota Corporation, and Masamichi Kogai, President of Mazda, for investing in our state. Mazda and Toyota's search was intense and included visits to 20 states within six weeks in 2017. Governor Kay Ivey, the Alabama Department of Commerce, members of the local delegation, and many people from the public and private sector collaborated to make 'Project New World' happen. And we all can recognize how monumental a project is when the President of the United States mentions it in his State of the Union Address!"
Also with the groundbreaking, MTMUS donated $750,000 to support STEM-related programs that will encourage and motivate students to pursue a career in the advanced manufacturing field. MTMUS has 4,000 jobs to fill and is committed to investing in developing its future workforce in collaboration with local educators and economic development partners.
Those donations include $500,000 to the Huntsville Madison County Chamber Foundation to launch a new career exploration online platform highlighting careers in manufacturing to students. The goal is to work with local school systems and promote this tool as a resource for career coaches and teachers.
The company also donated $250,000 to be split between: the Huntsville City Schools, the Madison County Schools, Madison City Schools, Limestone County Schools, the Decatur City Schools, and the Morgan County Schools
In addition, the Mazda Foundation (USA), Inc. also donated: $50,000 to Boys & Girls Club of North Alabama; $50,000 to Food Bank of North Alabama; and $20,000 to Greater Huntsville Humane Society.
Trump Truck and boat parades this weekend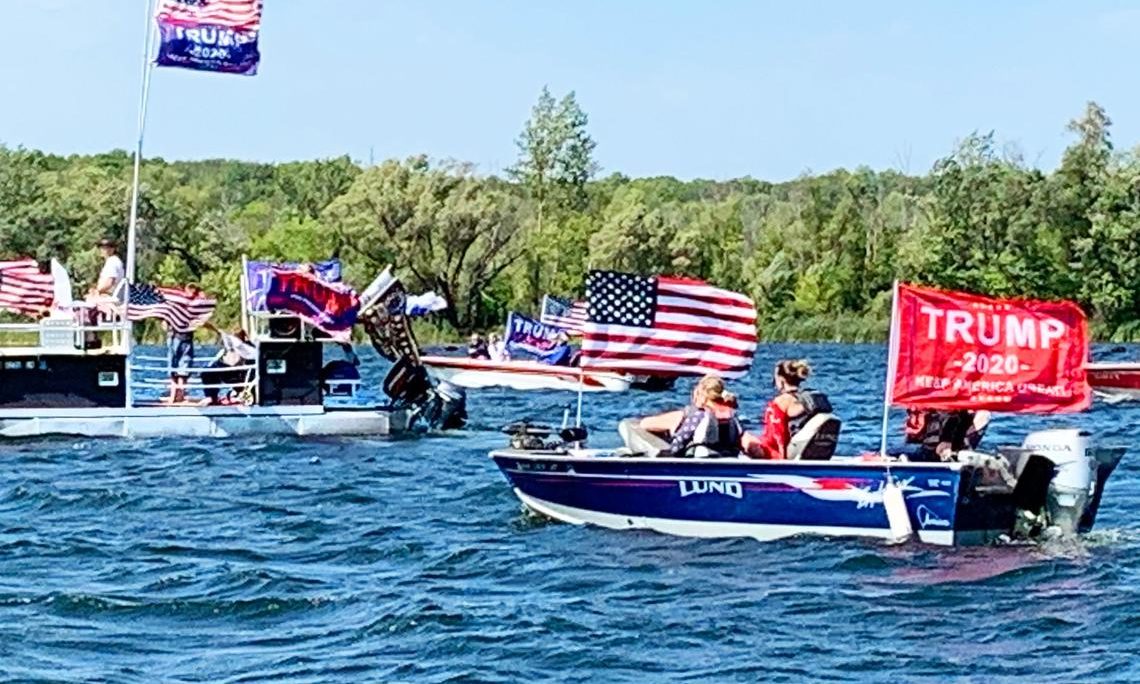 As Election Day draws near, Alabama Republicans are excited about promoting the re-election of Donald J. Trump as President and the election of Tommy Tuberville for U.S. Senate. This weekend two pro-President Trump events are happening in the state. There will be a truck parade from Ashland to Phenix City on Saturday sponsored by the Clay County Republican Party, while there will also be a boat parade on Wilson Lake in the Shoals sponsored by the Colbert County Republican Party on Sunday.
The pickup trucks will assemble at the Ashland Industrial Park in Clay County, 8240 Hwy 9, Ashland. There is a pre-departure rally at 10:00 a.m. central standard time. The trucks will depart at 11:00 a.m. and then proceed on a parade route that will take them into the bitterly contested swing state of Georgia. The Trump Pickup Parade will wind through east Alabama and West Georgia traveling through LaGrange and Columbus before concluding near the Alabama/Georgia line in Phenix City, 332 Woodland Drive, Phenix City at approximately 2:00 p.m. central time. Speakers will begin at 3:00. Trump flags will be on sale at the event.
The Phenix Motorsports Park will be hosting what sponsor hope could possibly the world's largest Pickup Tuck parade in U.S. history that is routing over 50 mile through Georgia in effort to "pickup" President Trump's numbers in GA.
A number dignitaries have been invited to address the Phenix City rally, including Coach Tuberville. Former State Sen. Shadrack McGill, Trump Victory Finance Committee member former State Rep. Perry O. Hooper Jr., and Paul Wellborn, the President and CEO of the largest Family owned Kitchen Cabinet manufacture in the USA are among the featured speakers who have committed to speak at the event.
Entertainment will be provided by: Charity Bowden, an up and coming country music singer who was the runner up on "The Voice". Charity will sing 'I am Proud to be an American' as well as songs from her Voice performances. The McGill Girls will also perform. The three beautiful and talented sisters will be singing patriotic songs in three part harmony. Geoff Carlisle, a professional DJ will be keeping the crowd pumped with music and entertainment.
Following the speakers and the entertainment there will Trump truck-vs- Joe Bidden truck races down the drag strip for the finale.
The Northwest Alabama boat parade will be on Sunday. The boats will gather at 2:00 p.m. near Turtle Point and then the flotilla will parade around the open waters of Wilson Lake til 3_00 p.m.. There will be a contest for best decorated Trump boats.
Trump supporters have held a number of large boat parades across the state to show their support for the re-election of Pres. Trump.
Boat parade sponsors say that this parade will be: pro-American, pro-law enforcement, pro-military.