Mazda-Toyota auto plant breaks ground in Limestone County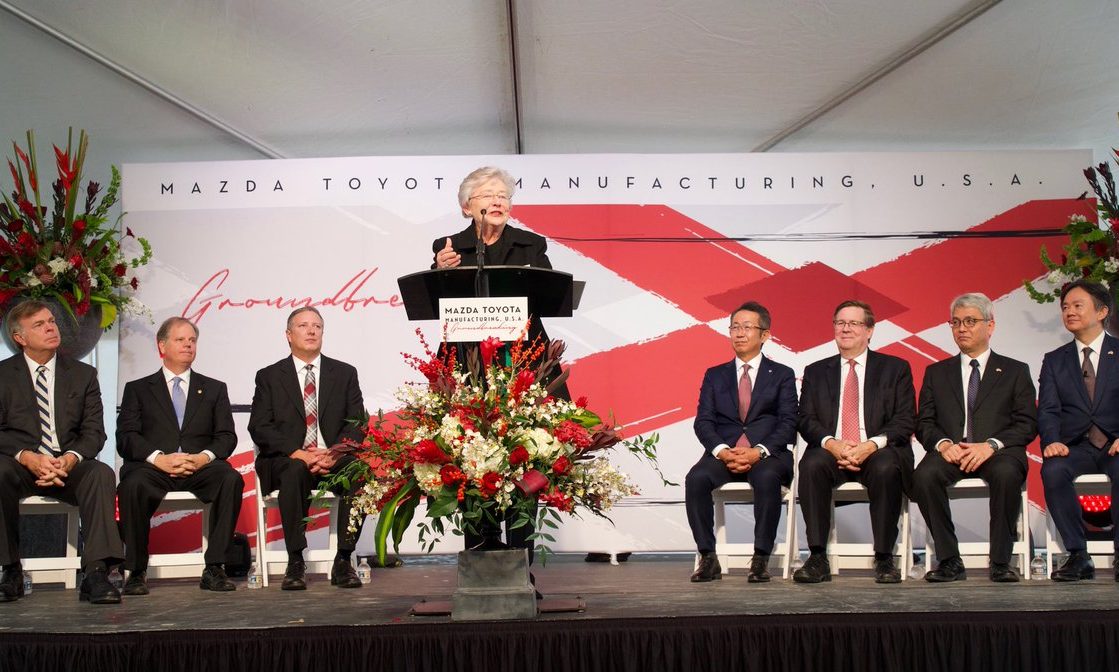 Friday, Alabama Governor Kay Ivey (R) joined Mazda Toyota Manufacturing, U.S.A. to break ground on their new $1.6 billion plant in the City of Huntsville. The jointly owned-and-operated automotive production plant is expected to create 4,000 new jobs. The Limestone County automobile plant is the largest economic development project landed by the state of Alabama in the last decade.
"Not only is Mazda Toyota Manufacturing providing high-paying jobs, they are investing heavily in our future workforce," Gov. Ivey said. "This will not only benefit them, but also other manufacturers in the area. One thing I've learned with Toyota being in our state is that they care for the communities where they do business – it is, after all, their home, too. And they prove it every day. We are lucky to have Mazda Toyota expanding in Alabama."
The massive new plant will have the capacity to build 300,000 vehicles. The plant will build both Toyota's Corolla, whose all-new 2020 model was unveiled last week in California, and Mazda's yet-to-be revealed crossover model.
"We are proud to be here with Toyota, with whom we share the bond of pride in manufacturing," said Mazda's senior managing executive officer Kiyotaka Shobuda. "We are proud to be breaking ground on a new 'home' here in Huntsville – a city that believes in the possibilities of technology and manufacturing, and has striven to realize mankind's greatest dream."
Economic Developer Nicole Jones told the Alabama Political Reporter, "Much has progressed with site prep since we sat in Montgomery for the official unveiling of the Mazda-Toyota joint venture manufacturing plant ten months ago. Folks are excited about the 4,000 job opportunities that await with global companies that consistently invest in their workforce and communities."
The alliance will assure competitiveness in manufacturing, allowing both automakers to respond quickly to market changes and helping to ensure sustainable growth toward the future of mobility.
"It is extremely special to have a partner like Mazda to team up with not only to make the highest-quality cars, but also to create a plant that team members are proud to call their own," said chief executive officer of Toyota Motor North America Jim Lentz. "As we've seen at our Huntsville engine plant, Alabamians are a proud, talented, hard-working group. We are excited to continue our deep investment in the U.S. and Alabama and see nothing but a bright future."
Nicole Jones said, "Thank you to Akio Toyoda, President of Toyota Corporation, and Masamichi Kogai, President of Mazda, for investing in our state. Mazda and Toyota's search was intense and included visits to 20 states within six weeks in 2017. Governor Kay Ivey, the Alabama Department of Commerce, members of the local delegation, and many people from the public and private sector collaborated to make 'Project New World' happen. And we all can recognize how monumental a project is when the President of the United States mentions it in his State of the Union Address!"
Also with the groundbreaking, MTMUS donated $750,000 to support STEM-related programs that will encourage and motivate students to pursue a career in the advanced manufacturing field. MTMUS has 4,000 jobs to fill and is committed to investing in developing its future workforce in collaboration with local educators and economic development partners.
Those donations include $500,000 to the Huntsville Madison County Chamber Foundation to launch a new career exploration online platform highlighting careers in manufacturing to students. The goal is to work with local school systems and promote this tool as a resource for career coaches and teachers.
The company also donated $250,000 to be split between: the Huntsville City Schools, the Madison County Schools, Madison City Schools, Limestone County Schools, the Decatur City Schools, and the Morgan County Schools
In addition, the Mazda Foundation (USA), Inc. also donated: $50,000 to Boys & Girls Club of North Alabama; $50,000 to Food Bank of North Alabama; and $20,000 to Greater Huntsville Humane Society.
Jones says Senate race a choice between "substance and leadership, and nothing"
"One of the great disappointments in this campaign is that Alabama is not really getting choices between substance and substance," Jones said.
Speaking outside the Calhoun County Democratic Party headquarters in Anniston on Friday, Sen. Doug Jones, D-Alabama, told a group of supporters that Alabamians haven't gotten a look at what his Republican opponent might do if he wins the Nov. 3 election. 
"One of the great disappointments in this campaign is that Alabama is not really getting choices between substance and substance," Jones said. "They're getting a choice between substance and leadership, and nothing — nothing. We have not heard anything from Tommy Tuberville about what he really wants to do." 
While Jones has held numerous interviews with the media, and regular web briefings over the summer and in recent weeks, Tuberville's campaign seems to prefer the safety of keeping Tuberville from making possible gaffs or damaging statements in interviews. 
Tuberville hasn't agreed to interviews with traditional media outlets, or to debate Jones, and instead has focused on conservative talk radio spots, speaking to smaller Republican groups and at private parties.
Tuberville's campaign has ignored or denied our numerous attempts to interview Tuberville, including another request on Friday. He also declined to attend a student forum held at Auburn University on Wednesday, which Jones attended. The forum was sponsored by the Auburn College Republicans and College Democrats.
"If you ever hear something Tommy Tuberville says, it is just simply this: 'Build a wall. No amnesty. Drain the swamp.' That ain't him. That's Donald Trump," Jones said. "He cannot think for himself. He doesn't think for himself." 
Jones spoke of his record of working to help veterans through legislation. And he referred to Tuberville's nonprofit for veterans and reporting that indicates, through tax records, that less than a third of the money raised for Tuberville's charity went to help veterans. 
"I don't just create charities and send only pennies on the dollar. I do things for the veterans of this state and this country," Jones said. 
Jones also made a case for Alabamians to remember the contributions past Democrats made in the state. Jones said it was Democratic Sen. John Sparkman who helped build Alabama's Redstone Arsenal. 
"It was a Democrat, Lester Hill, who built the rural hospitals around here that Donald Trump and Mitch McConnell and Tommy Tuberville are trying to destroy," Jones said. "It was Howell Heflin who built up agriculture in this state. Those are the Democrats. It was Franklin Rosevelt that put electricity in this state. We're going to do the same thing for broadband. People forget those things. They forget those things because we've let other people define us with lies."
Jones plans to visit Jefferson County on Saturday, then on to the Black Belt and Mobile on Sunday with another stop in Birmingham on Monday afternoon. 
"The goal is to get everybody out. That's the thing if we want to continue to ensure Alabama moves forward — moves forward and not backwards, to continue to have somebody, if I do say so myself, somebody that's just not going to damn embarrass us," Jones said.
"We've had too much of that in Alabama," Jones said, "and I bet you it won't be a year that Tommy Tuberville would be an embarrassment to this state because he doesn't know the issues. He doesn't know what to do, and he's dang sure not going to know what to do when Donald Trump is not president of the United States." 
Jones encouraged supporters to be skeptical of recent polling. One such recent poll, by Auburn University at Montgomery, puts Tuberville ahead of Jones by 12 percentage points, 54 to 42.1. An internal poll by Tuberville's campaign puts Tuberville ahead by 15 percentage points, while an internal poll from the Jones camp put Jones ahead by one percentage point. 
"Don't listen to these polling folks that come in, and they don't know Alabama, and they don't know what they're doing. We're tracking this race, and I can tell you, everything has been moving in our direction the last two months," Jones said. 
People standing along roadsides holding his signs and showing support, Jones said, is "the energy we've got out there. That's what you can't poll."
Ellen Bass of Anniston, standing outside the Calhoun County Democratic Party headquarters just after Jones spoke, told APR that she has numerous Republican friends who are voting for Jones.
"My hat's off to them because they're coming out," Bass said. "They recognize that he is a better candidate."
Ciara Smith, 21, newly elected to the Anniston City Council, told APR outside the headquarters building that Jones is the better candidate.
"I think that he's educated. I think that he speaks with passion and heart," Smith said. "And he knows what he's talking about, which is important, and which is more than we can say about the other candidate."
Speaking to APR after his speech to supporters, Jones said that he feels very good about the state of his campaign.
"Everything we're seeing is moving in our direction," Jones said. "And the more he stays hidden, the better it is for us."