McMillan expresses support for S.1117/H.R.2319
Alabama Commissioner of Agriculture and Industries John McMillan (R) recently wrote an editorial supporting passage of legislation to restore legislation involving governments and money market funds, S.1117/H.R. 2319. McMillan is also Alabama's Treasurer-elect.
"Alabama's growing economy requires increased investments in areas like K-12 education, public colleges and universities, health care, transportation, affordable housing, public safety, and other infrastructure projects," Commissioner McMillan said. "These projects help promote economic growth and create jobs. Unfortunately, higher interest rates mean that our public institutions will incur higher costs to finance these priorities."
"Here's how the process works. Institutions like state and local government or universities that fund large projects typically don't have the cash on hand to pay for a new building or road," McMillan explained. "It's like shopping for a home. Few shoppers have money in the bank to buy a home so they borrow to take out a mortgage. Just as rising interest rates drive up costs for individual borrowers shopping for homes, rising interest rates drive up costs for institutions financing major infrastructure projects."
"Higher interest rates and high borrowing costs leave less money for other priorities," McMillan continued. "This also creates pressure to keep tax rates high to bring in enough revenue to pay for others government services that get squeezed when borrowing costs rise."
"There is bipartisan legislation ready to be voted on that would protect our state from higher interest rates and borrowing costs by restoring money market funds as an important source of low-cost capital markets financing," McMillan stated. "This legislation (H.R. 2319 in the House and S. 1117 in the Senate) would effectively reverse a Securities and Exchange Commission (SEC) regulation that hurt the ability of money market funds to invest in our state."
"As of result of the regulation, which forced money market funds to operate on a floating rather than stable value basis, investors withdrew $1.2 trillion in assets from money market funds that support local economies to funds that invest strictly in U.S. government debt," McMillan wrote. "Tax-exempt money market funds, which are the largest investors in the short-term debt issued by state and local governments for public infrastructure and economic development, dropped by 50 percent."
"According to a recent study by Treasury Strategies, a financial consulting firm, state and local government entities in Alabama lost over $500 million in funding from tax-exempt money market funds between January 2016 – when implementation of the SEC rule started to be phased in – and April 2018," McMillan stated. "Over the same period, borrowing costs for our state entitles that issued debt to tax-exempt money market funds rose from an average of .05 percent to 1.77 percent. That amounts to a tax-equivalent rate increase of 2.87 percent."
"Congress needs to enact legislation to restore the stable value for all money market funds," McMillan urged. "This would significantly and immediately increase investor demand for tax-exempt debt and lower the cost of borrowing for infrastructure and economic development projects. The bill pending in Congress has the support of over 300 national, state and local organizations, including 30 from Alabama. Supporters include elected leaders, public and private sector finance officers, trade organizations and local chambers of commerce."
"As interest rates continue to rise, the SEC's money market fund rule will be costlier to Alabama's taxpayers and businesses without any material benefit, other than to satisfy a Washington-know-best regulatory agenda that undermines our state's sound financial management practices," McMillan concluded. "We ask our state's Congressional delegation to support enactment of legislation to restore the stable value of money market funds. This will allow our state and local governments to utilize lower-cost borrowing options, increase investments in infrastructure projects that benefit our communities, and provide increased economic opportunities for our citizens."
Starting in October 2016, two categories of money market mutual funds commonly used by state and local governments, businesses, non-profits and other organizations were forced to abandon a key feature: the funds will no longer be allowed to offer a stable $1 per share valuation. Proponents of the legislation argue that the move negatively impacted two kinds of funds vital to the needs of public and private organizations: stable value institutional prime money market funds, which invest in short term debt issued by businesses and stable value institutional tax-exempt money market funds, which invest in short-term debt issued by states and municipalities. HR2319 would reverse the rules back to what they were before 2016. Proponents of the legislation point argue that the rule change has meant that $billions have moved from commercial banks to the stock market as a result of the rule change.
There is bipartisan support for S.1117/H.R. 2139; but if it does not pass during the lame duck session of the current Congress, then it will have to be re-introduced in the next Congress and go back through the committee process again. Because Democrats gained control of the House of Representatives, Congresswoman Maxine Waters (D-California) will be the Chair of the powerful house Finance Committee which has jurisdiction over this sort of legislation. It is not known how those changes in Congress could impact the legislation.
Trump Truck and boat parades this weekend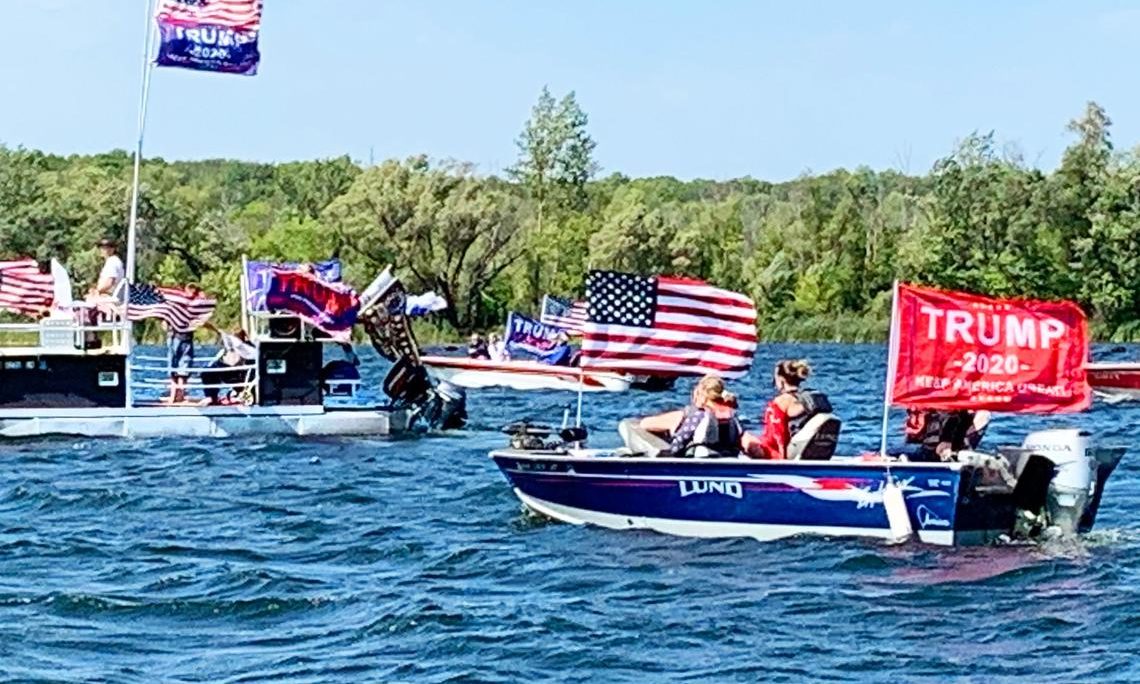 As Election Day draws near, Alabama Republicans are excited about promoting the re-election of Donald J. Trump as President and the election of Tommy Tuberville for U.S. Senate. This weekend two pro-President Trump events are happening in the state. There will be a truck parade from Ashland to Phenix City on Saturday sponsored by the Clay County Republican Party, while there will also be a boat parade on Wilson Lake in the Shoals sponsored by the Colbert County Republican Party on Sunday.
The pickup trucks will assemble at the Ashland Industrial Park in Clay County, 8240 Hwy 9, Ashland. There is a pre-departure rally at 10:00 a.m. central standard time. The trucks will depart at 11:00 a.m. and then proceed on a parade route that will take them into the bitterly contested swing state of Georgia. The Trump Pickup Parade will wind through east Alabama and West Georgia traveling through LaGrange and Columbus before concluding near the Alabama/Georgia line in Phenix City, 332 Woodland Drive, Phenix City at approximately 2:00 p.m. central time. Speakers will begin at 3:00. Trump flags will be on sale at the event.
The Phenix Motorsports Park will be hosting what sponsor hope could possibly the world's largest Pickup Tuck parade in U.S. history that is routing over 50 mile through Georgia in effort to "pickup" President Trump's numbers in GA.
A number dignitaries have been invited to address the Phenix City rally, including Coach Tuberville. Former State Sen. Shadrack McGill, Trump Victory Finance Committee member former State Rep. Perry O. Hooper Jr., and Paul Wellborn, the President and CEO of the largest Family owned Kitchen Cabinet manufacture in the USA are among the featured speakers who have committed to speak at the event.
Entertainment will be provided by: Charity Bowden, an up and coming country music singer who was the runner up on "The Voice". Charity will sing 'I am Proud to be an American' as well as songs from her Voice performances. The McGill Girls will also perform. The three beautiful and talented sisters will be singing patriotic songs in three part harmony. Geoff Carlisle, a professional DJ will be keeping the crowd pumped with music and entertainment.
Following the speakers and the entertainment there will Trump truck-vs- Joe Bidden truck races down the drag strip for the finale.
The Northwest Alabama boat parade will be on Sunday. The boats will gather at 2:00 p.m. near Turtle Point and then the flotilla will parade around the open waters of Wilson Lake til 3_00 p.m.. There will be a contest for best decorated Trump boats.
Trump supporters have held a number of large boat parades across the state to show their support for the re-election of Pres. Trump.
Boat parade sponsors say that this parade will be: pro-American, pro-law enforcement, pro-military.