McMillan expresses support for S.1117/H.R.2319
Alabama Commissioner of Agriculture and Industries John McMillan (R) recently wrote an editorial supporting passage of legislation to restore legislation involving governments and money market funds, S.1117/H.R. 2319. McMillan is also Alabama's Treasurer-elect.
"Alabama's growing economy requires increased investments in areas like K-12 education, public colleges and universities, health care, transportation, affordable housing, public safety, and other infrastructure projects," Commissioner McMillan said. "These projects help promote economic growth and create jobs. Unfortunately, higher interest rates mean that our public institutions will incur higher costs to finance these priorities."
"Here's how the process works. Institutions like state and local government or universities that fund large projects typically don't have the cash on hand to pay for a new building or road," McMillan explained. "It's like shopping for a home. Few shoppers have money in the bank to buy a home so they borrow to take out a mortgage. Just as rising interest rates drive up costs for individual borrowers shopping for homes, rising interest rates drive up costs for institutions financing major infrastructure projects."
"Higher interest rates and high borrowing costs leave less money for other priorities," McMillan continued. "This also creates pressure to keep tax rates high to bring in enough revenue to pay for others government services that get squeezed when borrowing costs rise."
"There is bipartisan legislation ready to be voted on that would protect our state from higher interest rates and borrowing costs by restoring money market funds as an important source of low-cost capital markets financing," McMillan stated. "This legislation (H.R. 2319 in the House and S. 1117 in the Senate) would effectively reverse a Securities and Exchange Commission (SEC) regulation that hurt the ability of money market funds to invest in our state."
"As of result of the regulation, which forced money market funds to operate on a floating rather than stable value basis, investors withdrew $1.2 trillion in assets from money market funds that support local economies to funds that invest strictly in U.S. government debt," McMillan wrote. "Tax-exempt money market funds, which are the largest investors in the short-term debt issued by state and local governments for public infrastructure and economic development, dropped by 50 percent."
"According to a recent study by Treasury Strategies, a financial consulting firm, state and local government entities in Alabama lost over $500 million in funding from tax-exempt money market funds between January 2016 – when implementation of the SEC rule started to be phased in – and April 2018," McMillan stated. "Over the same period, borrowing costs for our state entitles that issued debt to tax-exempt money market funds rose from an average of .05 percent to 1.77 percent. That amounts to a tax-equivalent rate increase of 2.87 percent."
"Congress needs to enact legislation to restore the stable value for all money market funds," McMillan urged. "This would significantly and immediately increase investor demand for tax-exempt debt and lower the cost of borrowing for infrastructure and economic development projects. The bill pending in Congress has the support of over 300 national, state and local organizations, including 30 from Alabama. Supporters include elected leaders, public and private sector finance officers, trade organizations and local chambers of commerce."
"As interest rates continue to rise, the SEC's money market fund rule will be costlier to Alabama's taxpayers and businesses without any material benefit, other than to satisfy a Washington-know-best regulatory agenda that undermines our state's sound financial management practices," McMillan concluded. "We ask our state's Congressional delegation to support enactment of legislation to restore the stable value of money market funds. This will allow our state and local governments to utilize lower-cost borrowing options, increase investments in infrastructure projects that benefit our communities, and provide increased economic opportunities for our citizens."
Starting in October 2016, two categories of money market mutual funds commonly used by state and local governments, businesses, non-profits and other organizations were forced to abandon a key feature: the funds will no longer be allowed to offer a stable $1 per share valuation. Proponents of the legislation argue that the move negatively impacted two kinds of funds vital to the needs of public and private organizations: stable value institutional prime money market funds, which invest in short term debt issued by businesses and stable value institutional tax-exempt money market funds, which invest in short-term debt issued by states and municipalities. HR2319 would reverse the rules back to what they were before 2016. Proponents of the legislation point argue that the rule change has meant that $billions have moved from commercial banks to the stock market as a result of the rule change.
There is bipartisan support for S.1117/H.R. 2139; but if it does not pass during the lame duck session of the current Congress, then it will have to be re-introduced in the next Congress and go back through the committee process again. Because Democrats gained control of the House of Representatives, Congresswoman Maxine Waters (D-California) will be the Chair of the powerful house Finance Committee which has jurisdiction over this sort of legislation. It is not known how those changes in Congress could impact the legislation.
Print this piece
More than 200 people hospitalized with confirmed, suspected COVID-19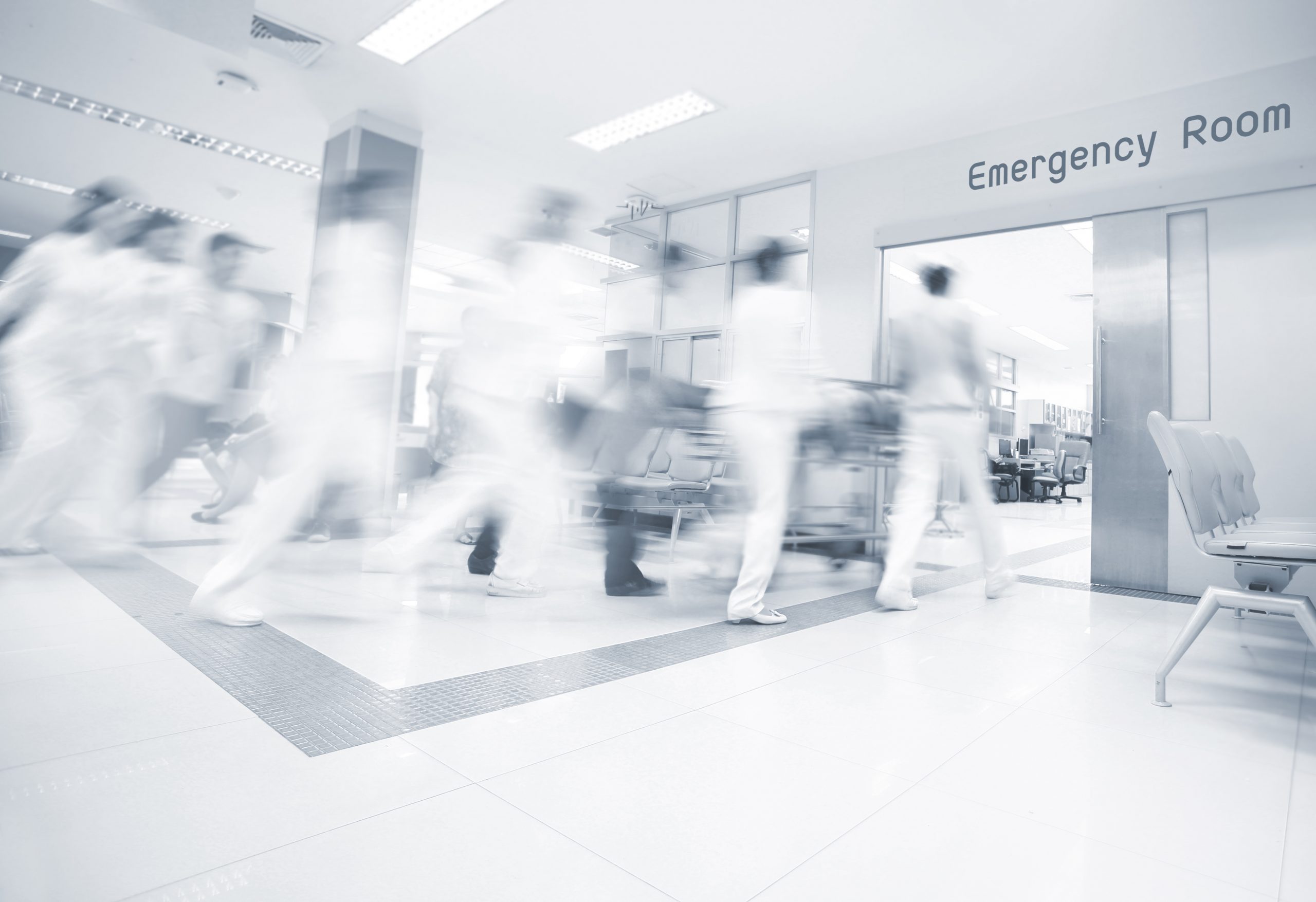 More than 200 people are hospitalized in Alabama with either a lab-confirmed case of the novel coronavirus that causes COVID-19, or a case the hospital suspects to be the virus but testing has not yet confirmed.
At least 120 people with lab-confirmed cases of the virus — about 12 percent of the state's 1,000 confirmed cases, as of Wednesday morning — were hospitalized in ten of the state's largest hospitals at the beginning of this week. The number is likely higher statewide.
The Alabama Department of Public Health has so far not provided regular updates on the number of hospitalizations in the state, but State Health Officer Dr. Scott Harris has said about 8 percent of confirmed cases are hospitalized. Hospitals are reporting their hospitalization numbers to the state using the Alabama Incident Management System.
These ten hospitals who responded, which represent about a third of the state's hospital bed capacity, provided basic hospitalization numbers to APR over the past two days.
More than 200 people were hospitalized in these hospitals when those with suspected cases of the virus are included. From the ten hospitals that provided numbers, more than 85 people are hospitalized with a suspected case of the virus. The number is likely much higher because not all of the ten hospitals shared how many suspected cases they are treating.
If the number of patients who are awaiting test results for unknown respiratory illnesses is included, the number is even higher — more than 300. It's likely hospitals are treating these patients as if they have COVID-19, out of an abundance of caution.
Not all of the suspected cases will turn out to be COVID-19, but over the last week, hospitals have seen many of their suspected cases turn into confirmed cases after receiving lab test results. Lab results from the state's lab are taking more than four days, on average, several of the hospitals said.
The state's largest hospital, UAB in Birmingham, actually saw its inpatient confirmed cases decline since Thursday, March 26. A hospital spokesperson said 52 people were hospitalized with a confirmed case of the virus as of Tuesday at 11 a.m., down from a high of 62 on March 26.
Other hospitals are seeing their cases surge. East Alabama Medical Center in Opelika has seen its COVID-19 patient load more than double since last week. The hospital, as of Monday, was treating 20 people with a confirmed case of the virus and 31 more with a suspected case. At least seven people have died at EAMC since Friday.
Southeast Medical Center in Dothan is also seeing higher numbers of COVID-19 cases. It is treating 14 inpatient confirmed cases — up from four last week —  and 24 more inpatients are awaiting test results. It's possible that some of these patients are not from Alabama.
These numbers are delayed and shouldn't be misconstrued as totally reflective of what hospitals are handling right now. The number of people hospitalized for COVID-19 is likely to be much higher than we are able to report, because of testing result delays, other problems with data reporting and hospitals we weren't able to gather data from.
Our data is limited because it only includes some of the state's largest hospitals, and not all hospitals provided the same type of data to us. Some did not respond to our requests for information. But these estimates do show that the number of people hospitalized with COVID-19 in Alabama is higher than the percentage reported by the Department of Public Health.
The Alabama Department of Public Health is releasing more limited data than neighboring states. The Georgia Department of Public Health regularly releases hospitalization numbers and detailed demographic data on those who have died.
In that state, at least 885 people — about 21.5 percent of its confirmed cases — are hospitalized. Georgia also releases the number of negative test results from commercial labs. In Alabama, it's hard to tell how many people have been tested because commercial labs are not required to report their negative tests.
Louisiana, which is in the midst of a crisis, also releases hospitalization numbers, negative test results, and specific data on how many people are intubated on ventilators. In that state, 1,355 people are hospitalized with the virus, and 5,237 people have tested positive. 239 people have died. More than 38,000 people have been tested in Louisiana for the virus.
In Alabama, the Department of Public Health says 7,774 people have been tested. At least a thousand have tested positive. Twenty-four people have died.
Print this piece