Alabama leaders react to the passing of former President George H. W. Bush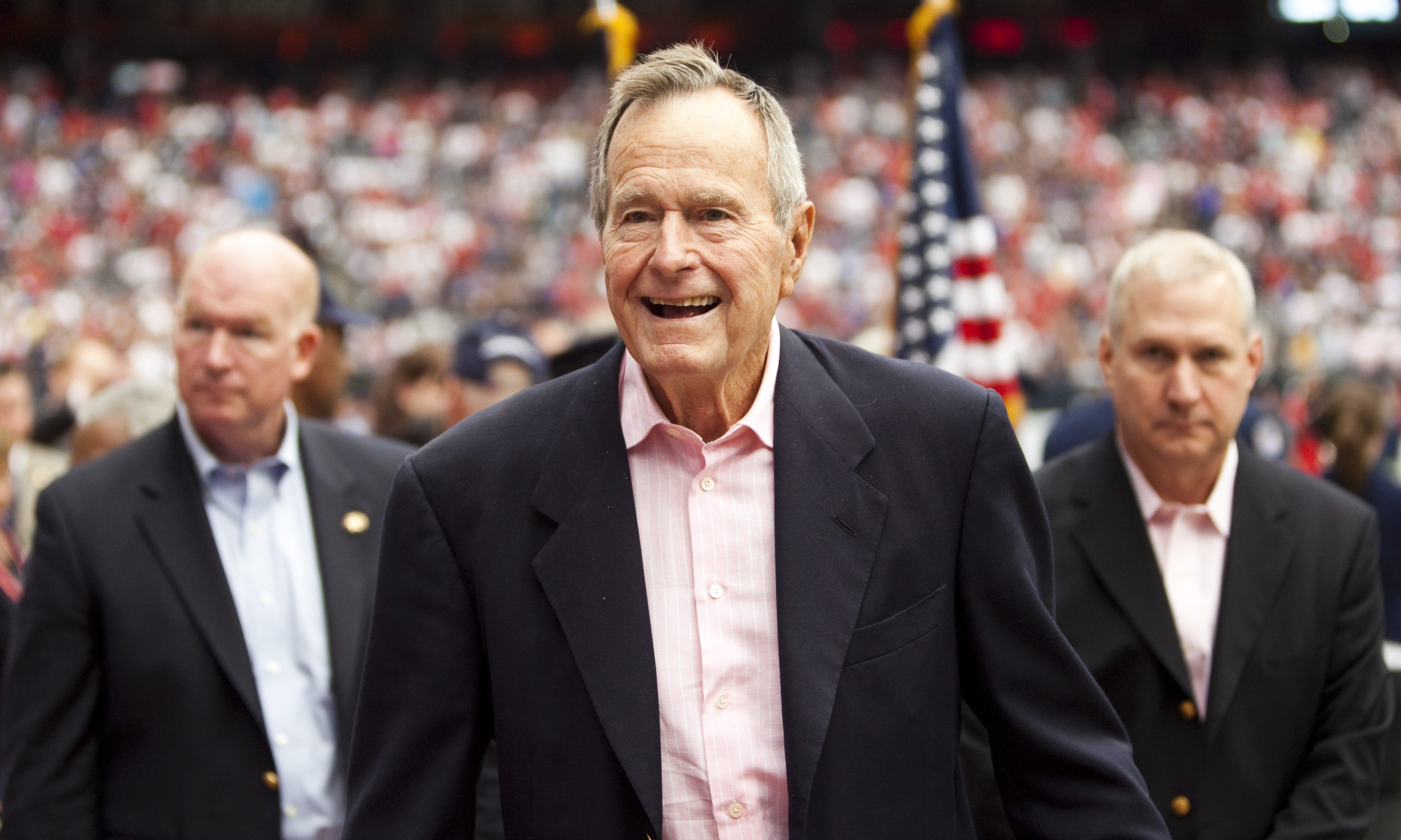 Saturday Alabama and national leaders sent statements mourning the passing of the 41st President of the United States, George Herbert Walker Bush (R).
The Alabama Republican Party released a statement on the death of President Bush Saturday morning.
"The Alabama Republican Party extends our deepest condolences to the family and friends of President George H.W. Bush," ALGOP Chairman Terry Lathan wrote. "Our nation not only mourns a great president, but a great man. As a dedicated husband, father and grandfather, he spent a lifetime proudly caring and supporting those he loved the most."
"A WWII veteran, member of the U.S. House of Representatives, U.N. Ambassador and Republican National Committee Chair, the 41st President of our United States dedicated his life to earnestly and courageously serving the American public," Lathan continued. "We are deeply grateful for the way President George H. W. Bush loved and led America. Now and in the years to come, we will remember President George H.W. Bush and the lasting impact his legacy leaves behind. He truly is a point of light in our country's history. May his faith in God be a great comfort to his family and all who love him."
Alabama Governor Kay Ivey (R) said, "President George H.W. Bush was a true statesman and patriot who served our country in the U.S. Navy during World War II and later as Congressman, Ambassador, CIA Director, Vice President and President. The honor he showed our people will live on long after today. He was a leader for us all, and his presence will be truly missed. I pray for the Bush Family as they mourn the death of their father, grandfather, great-grandfather and our 41st President."
U.S. Senator Richard Shelby, R-Alabama, released said, "President George H.W. Bush was a true American statesman and hero. He dedicated his life to serving the country he loved for more than 70 years. From a young Naval aviator shot down in WWII to Commander-in-Chief, President Bush led our nation with integrity, honor, and measure. Annette and I join all Americans in mourning his passing. His legacy of humility and devotion will never be forgotten."
U.S. Senator Doug Jones, D-Alabama, said, "I was deeply saddened this morning by the news of President George H.W. Bush's passing. President Bush served the United States of America throughout his life with honor and dignity, both at war and here at home, as a Navy pilot, a diplomat, and a statesman. He made the most of his 94 years of life and he set an example we should all strive to follow, especially his unwavering dedication to his family and to our country. Louise and I send our heartfelt condolences to the entire Bush family as they grieve the loss of their beloved patriarch."
Congressmen Bradley Byrne, R-Montrose, said: "George H.W. Bush was an American hero and icon. Throughout his 94 years, he served our nation in so many ways, and he accomplished so much. Despite all of this, I think the life of George H.W. Bush is best summed up in a very simple phrase: he was a good man. May God be with the Bush family and a grateful nation as we mourn and remember a good man and an American hero."
Speaker of the Alabama House of Representatives Mac McCutcheon,R-Monrovia, said, "President George H.W. Bush epitomized all that is great about public service. A man of means who could have lived a life of comfort and relaxation, he chose instead to open himself to the criticism that politics and difficult decisions often bring. Our nation is better off for the service that he gallantly offered both in office and as a veteran of World War II. During his presidency, the Berlin Wall fell, the Iron Curtain was finally parted, and our world became more stable and secure under his watch. President Bush is now reunited with his beloved Barbara and the daughter, Robin, that they lost. History will be kind to him, which is just and deserved."
Congressman Mike D. Rogers, R-Saks, said on social media, "Sending heartfelt prayers to the Bush family this morning after the passing of President George H.W. Bush. The world lost a great man today who will be remembered for a lifetime of service."
Alabama House Majority Leader Nathaniel Ledbetter, R-Rainsville, said, "The members of the Alabama House Republican Caucus join the rest of the nation and freedom-loving people around the world in mourning the loss of President George H.W. Bush. He will be considered among the greatest of our one-term presidents, and most will agree that our nation would have been spared much drama and turmoil had he been elected to a second term. He was both a gentleman and a gentle man who offered an example for others to follow. Our thoughts and prayers are with his family as they celebrate 94 years of a life well lived."
NASA Administrator Jim Bridenstine said, "NASA and the nation mourn the passing of President George Herbert Walker Bush, a leader who was a passionate advocate for space exploration. President Bush is a personal hero of mine and a major inspiration in my life. I remember like yesterday watching the 1992 Republican National Convention, learning of his life of sacrifice, and hearing his whimsical memories of 'sitting on an aircraft carrier, looking at the stars, and dreaming about a girl named Barbara.' From being the Navy's youngest fighter pilot in World War II and being shot down, to his years of public service in Congress, the State Department, CIA, Vice President and President, there was nothing he wouldn't give for our country and her people."
"President Bush's Space Exploration Initiative helped us to think big and long-term about space," Bridenstine continued. "His impassioned vision of 'a journey into tomorrow – a journey to another planet – a manned mission to Mars,' helped sustain NASA's early work on the International Space Station, and it still can be felt in our ongoing efforts to send humans farther into the solar system to live and work for extended periods. The President noted it was humanity's destiny to explore, and America's destiny to lead. We salute this great American leader, who challenged us to chart a course for the future to benefit all humanity."
The Managing Director of the International Monetary Fund, Christine Lagarde said, "This morning, America, and the world, have lost an iconic statesman. As a Congressman, Ambassador, Vice President, and President, George H.W. Bush believed deeply in the power of international cooperation. The arc of his career—from World War II pilot to the President who helped heal divisions at the end of the Cold War—was defined by a commitment to creating a more prosperous and peaceful future for all people. His life's work is a powerful and timely reminder of what can be achieved when nations work together. My personal condolences and heartfelt sympathies go out to the entire Bush family."
The Speaker of the U.S. House of Representatives Paul Ryan, R-Wisconsin, said, "George H.W. Bush was a man for all seasons. He was great in his impact, making the world safer and freer. He was great in his character, leading with decency and integrity. A war hero and statesman, the country is inspired by his example.
"Like so many Americans, I admired President Bush not only for how he served, but for how he lived," Speaker Ryan said. "He took pride in being a family man. The affection he showed for his children, grandchildren, and great-grandchildren was so endearing. His 73 years of marriage to Barbara marks a long and beautiful love story. President Bush best demonstrated the qualities he once described as 'those little touches of grace and affection and humor that make life sing.' His life was a hymn of honor. It was in the people's House where he began his time in public office. In our sadness today, we express our deepest condolences to the Bush family. We give thanks to God for the life of this patriot."
"President Bush led a great American life, one that combined and personified two of our Nation's greatest virtues: an entrepreneurial spirit and a commitment to public service," President Donald J. Trump (R) said. "Our country will greatly miss his inspiring example. On the day he turned 18, 6 months after the attack on Pearl Harbor, George H.W. Bush volunteered for combat duty in the Second World War. The youngest aviator in United States naval history at the time, he flew 58 combat missions, including one in which, after taking enemy fire, he parachuted from his burning plane into the Pacific Ocean. After the war, he returned home and started a business. In his words, "the big thing" he learned from this endeavor was "the satisfaction of creating jobs."
"The same unselfish spirit that motivated his business pursuits later inspired him to resume the public service he began as a young man," Trump continued. "First, as a member of Congress, then as Ambassador to the United Nations, Chief of the United States Liaison Office in China, Director of Central Intelligence, Vice President, and finally President of the United States, George H.W. Bush guided our Nation through the Cold War, to its peaceful and victorious end, and into the decades of prosperity that have followed. Through sound judgment, practical wisdom, and steady leadership, President Bush made safer the second half of a tumultuous and dangerous century."
President Donald J. Trump (R) has called for a national day of mourning on Wednesday and ordered flags to be flown at half-staff for 30 days following Bush's death. The New York Stock Exchange has confirmed that they will close for the day to honor President Bush.
Print this piece
Feds seizing needed supplies slowed state's COVID-19 testing efforts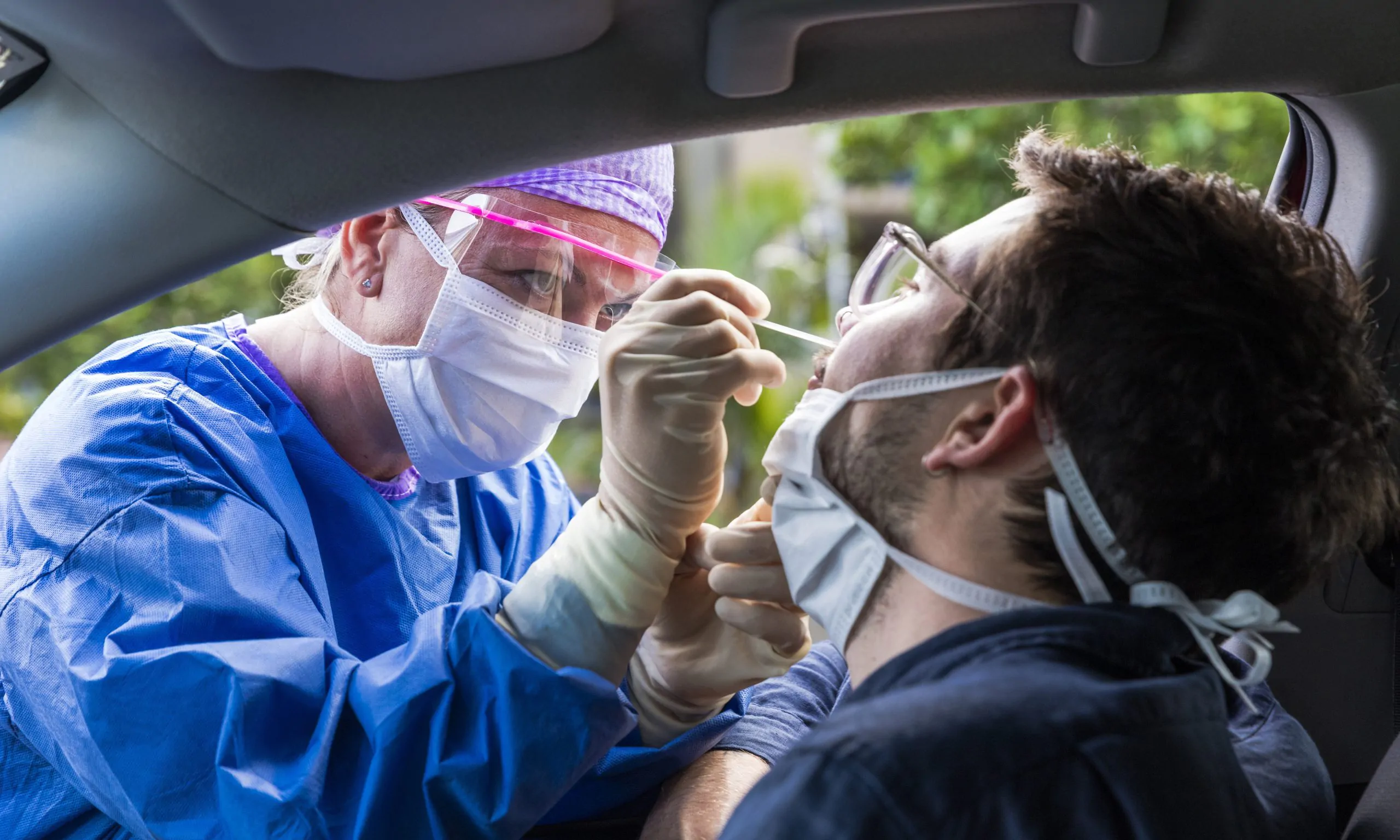 Add Alabama to the list of states that have had trouble acquiring needed medical supplies from commercial vendors because the federal government intervened and took the supplies.
The federal government has been quietly seizing orders of medical supplies, protective gear and testing materials across the country, and Alabama has not been immune.
The federal government's actions, blocking the shipment of those supplies, impeded the state's ability to roll out widespread testing and added to supply shortages in the state, officials say.
The Alabama Department of Public Health told APR Thursday that several shipments of supplies from commercial vendors have been superseded by the U.S. Department of Health and Human Services since the outset of the coronavirus pandemic in the state.
"It's been happening all along," said State Health Officer Scott Harris. "We had orders through about three different vendors, national vendors that we would normally use for medical supplies. They had accepted the orders and given us a ship date."
But then the vendors called and canceled the orders.
"They say, you know, the inventory was acquired by HHS," Harris said, referring to the Department of Health and Human Services.
The department and the Federal Emergency Management Agency have not publicly reported these acquisitions, according to the Los Angeles Times, nor has the administration detailed how these supplies are being used, when they decide to seize them and where the supplies are being rerouted to.
The first time was three weeks ago. The state placed an order for about four thousand nasopharyngeal swabs, the long Q-tip like swabs used to perform COVID-19 tests. The order was accepted, but before it could be shipped, HHS seized the supplies.
"That was one of the things that slowed our rollout of testing around the state because there were no supplies to be had," Harris said.
Since then, the state and hospitals have been able to acquire supplies from other vendors, but the delays have hampered testing, putting Alabama behind other states like Louisiana. As of Thursday, Louisiana had tested nearly 90,000 people for the virus. The number includes most commercial tests.
The main issue facing the state has not been the so-called "test kits" or even the state lab's capacity to run tests.
"We've had days where we thought we were going to be out of reagent, and we've wondered if we were going to have to hold off testing, but we haven't had to stop," Harris said. "We've had some just-in-time deliveries that we weren't sure were coming."
The real issue has been the swabs needed to collect samples. Hospitals and health officials across the state, from Huntsville to Mobile, have at one point or another reported severe shortages of nasopharyngeal swabs.
"We're bidding against every other state in the country, and in some cases, we're bidding against health care facilities here in our own state who are doing their own testing," Harris said of the process of acquiring swabs and other supplies.
ADPH and hospitals have been able to get more of those supplies, and Alabama has slowly ramped up testing as a result. But it has not been easy. "Getting those swabs and viral transport media has really been the rate-limiting step for most of our testing clinics," Harris said.
As of Thursday, the state has tested about 20,000 people, nearly twice the number reported five days ago on April 4. Testing has been increasing over the past week and a half, Harris said.
More have been tested, but it's hard to know exactly how many because not all commercial labs are reporting the number of negative tests they conduct. Harris said the state has asked the commercial labs to report those numbers, but some have been slow to do so.
Alabama has also had trouble receiving other types of needed medical supplies like ventilators and personal protective equipment. Some of the shipments seized by the federal government have been personal protective equipment intended to refill dwindling supplies at some of the state's harder hit hospitals, nursing homes and other providers, according to Dr. Donald Williamson, the president of the Alabama Hospital Association.
Though no hospital has run out of PPE, some have been running low, Williamson said. But hospitals have been forced to take unusual measures to conserve supplies, particularly the N95 masks that offer the most protection to health care workers treating COVID-19 patients.
The city of Montgomery in late March received 28 cases of protective masks from the strategic national stockpile, according to the Montgomery Advertiser. When the city opened the shipment, about 5,800 of the masks had dry rot and an expiration date of 2010.
The difficulties in the supply chain have also affected the state's ability to acquire new ventilators. Harris told APR on Friday that the state asked the federal government for 500 ventilators, and for 200 of them to be delivered urgently. HHS indicated that it would not fulfill the request anytime soon, and that the state could expect additional ventilators only if a dire need was expected within 72 hours.
So Alabama, like a number of states, is being forced to try to source ventilators on its own through the private market, where thousands of hospitals, all the other states and countries all over the world are trying to do the same, causing prices to skyrocket.
Alabama has placed an order for 250 more ventilators, and that order has been accepted, but it has not shipped yet, Harris said.
"We're just not sure when they're going to get here," Harris said. "But we will need them in the next 14 days."
In the meantime, Alabama has shipped about a dozen out-of-date ventilators to California for refurbishment. About half of those have been returned and distributed to hospitals based on their need. The state has also added to its ventilator capacity by retrofitting anesthesia machines and veterinary ventilators for use on those infected with the virus. Even though the state has added about two hundred new ventilators into service, the usage rate of ventilators has remained about the same. As of April 8, at least 101 people have required mechanical ventilation in Alabama for COVID-19. The number is expected to rise in the next weeks.
In the meantime, the state has had trouble getting ventilators from private vendors because the components needed to produce them have been redirected by the federal government to Ford and GM, who have been ordered to manufacture ventilators in mass quantities.
"They have had first-choice at these parts," Harris said. "So the people who normally make ventilators can't get those parts, which slows down delivery for all of us who've gone through the normal channels to get them where we would normally get them."
Williamson and Harris said the state and its hospitals, which are already facing a cash crunch, have been forced to pay inflated prices for needed supplies because demand is high and supply is short.
"Some of our folks are seeing prices substantially higher than they normally have for PPE, specifically N95 masks. Some of it is supply and demand, and some of it is people taking advantage of an unfortunate situation," Williamson said.
The state has been able to identify supply to help support hospitals who are sourcing their own, too, but the costs are exorbitant and a majority of the "vendors" offering to supply the state with supplies are counterfeit.
"You know, you would normally pay 60 or 70 cents for a mask," Harris said. "These offers are typically $5 or $6 per mask now. I've seen some are asking for $10 or whatever, which is truly outrageous."
The governor's office, the Department of Commerce and the attorney general's office have been helping the Department of Public Health source needed supplies.
"We're doing our best to source those any way we can," Harris said.
Harris and Williamson both said PPE supply and ventilator capacity, at least right now, appear to be in decent shape.
"I'm feeling better about ventilators," Williamson said. "But it would always be nice to have more. With the surge we're expecting, we seem to be okay. We've only had a couple of instances where we've had to try to assist and help move ventilators from one hospital to another hospital, but we've been able to do that and no one has gone without a ventilator who needed one."
But the Department of Public Health expects a rise in hospitalizations over the next two weeks that could add further strain the state's health care system.
"Let's see what happens over the next week, but for today, we are much better prepared than we would have been, frankly, a few months ago," Williamson said.
Print this piece