Poarch Band of Creek Indians face uncertainty
The Poarch Band of Creek Indians (PCI) has two serious problems which they hope to eliminate through relationships with current lawmakers both in Washington and Montgomery, but those prospects are dwindling.
The tribe's current worries have been exacerbated, given President Donald J. Trump's hostility toward Indian gaming.
The Poarch Creek Indians were noticeably absent in the 2018 election cycle. There's a good reason why.
The tribe did not energetically participate in recent elections, but they are planning a major push in the U.S. Senate race in 2020, when the seat currently held by Alabama's Democrat Senator Doug Jones is on the ballot.
The first of the two problems PCI faces has to do with the Indian Gaming Regulation Act (IGRA). The second arises from the 2009 U.S. Supreme Court decision in Carcieri v. Salazar.
Under IGRA, the tribe can only operate games like electronic bingo that are illegal elsewhere in the state.
PCI casinos in Alabama operate Class II which IGRA defines, "as the game of chance commonly known as bingo (whether or not electronic, computer, or other technological aids are used in connection)." It further states that tribes may only offer games that are legal within the state. "Tribes retain their authority to conduct, license, and regulate Class II gaming so long as the state in which the Tribe is located permits such gaming for any purpose, and the Tribal government adopts a gaming ordinance approved by the IGRA."
But if the games are illegal in the state, the federal statute forbids the tribes from operating those games.
In 2017, then-U.S. Attorney for the Middle District George Beck asked Gov. Robert Bentley and Attorney General Luther Strange about the state's inconsistency on the legality of bingo machines. In a letter, Beck asked for clarification on how devices used at VictoryLand and Greenetrack are slot machines and the ones played at facilities owned by PCI not be slots. Or even more simply put, how can one be illegal and the other not?
The state continues to ignore the question of how can PCI operate the same machines as others outlets with one being legal and the other not?
The second challenge to PCI's billion-dollar gaming operation stems from Carcieri v. Salazar, which holds that only tribes that were recognized in 1934 could benefit from the federal land restoration efforts. It is this recognition that allows PCI to offer electronic gaming and enjoy other federal benefits and protections.
Since 2009, PCI and other tribes recognized after 1934, have lobbied Congress for a "Carcieri fix," to guarantee the tribes are safe from losing federal recognition.
U.S. Congressman Bradley Byrne in January 2018, successfully sponsored the Poarch Band of Creek Indians Land Reaffirmation Act, which passed the U.S. House on a voice vote. However, the bill died in the U.S. Senate after Alabama's senior Senator Richard Shelby made it clear he would not support a "Carcieri fix" for the tribe.
For months after Shelby killed PCI's "Carcieri fix," Tribal Council Vice President Robbie McGhee assured his fellow council members that, if re-elected, Gov. Kay Ivey would write a letter to Sen. Shelby asking him to support passage of a Land Reaffirmation Act to protect the tribe's vast gambling empire.
Indian council member says Gov. Ivey is ace-in-the-hole — but not so fast
Both Gov. Ivey and Senator Shelby have stated they would not support such an act. In May, both offices confirmed to APR that they have no intention of supporting any legislation to protect tribal lands now or in the future.
"Senator Shelby does not support the bill and has no plans to do so in the future," wrote Shelby's communications director, Blair Taylor, in May. Likewise, Gov. Ivey's spokesperson, Daniel Sparkman, told APR, "Governor Ivey has no plans to write such a letter," encouraging Senator Shelby to support a Land Reaffirmation Act.
During the recent election cycle, McGhee offered a campaign contribution to Gov. Ivey which she promptly returned.
In May, McGhee also informed PCI's tribal council that he had secured the backing of State's Attorney General Steve Marshall. McGhee reportedly funneled hundreds of thousands in campaign contributions to Marshall through the Business Council of Alabama's political action committee. McGhee had counted on an alliance between PCI and BCA's president and CEO Billy Canary to serve as a means to garner support from Marshall and other lawmakers. However, Canary's ouster torpedoed those plans, and to make matters worse, Sen. Shelby's chief of staff, Katie Britt, is poised to head BCA.
Senate President Pro Tem Del Marsh in 2015, offered proposed legislation to allow competition for gaming revenues between the Birmingham Racecourse, VictoryLand, Greenetrack and locations owned by PCI. Marsh's bill was scuttled by then-Speaker of the House Mike Hubbard who was relying on PCI to help finance his defense. Hubbard was convicted on a dozen felony counts of public corruption.
Political, Personal Interests Will Likely Decide Gaming Fate (But Should It?)
Despite McGhee's many failed alliances, he remains the face and chief strategist for the tribe.
With Sen. Shelby and Gov. Ivey firmly against a "Carcieri fix," and Britt's ascendancy at BCA, the tribe finds itself with a dwindling number of allies in Montgomery and D.C.
There are talks of a gaming bill emerging during the upcoming legislative session. In the past, PCI has been unwilling to sit with stakeholders at Greenetrack and VictoryLand to reach a mutually beneficial compromise. Time may be running out for the tribe as the current political winds are not blowing in their favor.
Print this piece
Perdido Vineyards making hand sanitizer during COVID-19 crisis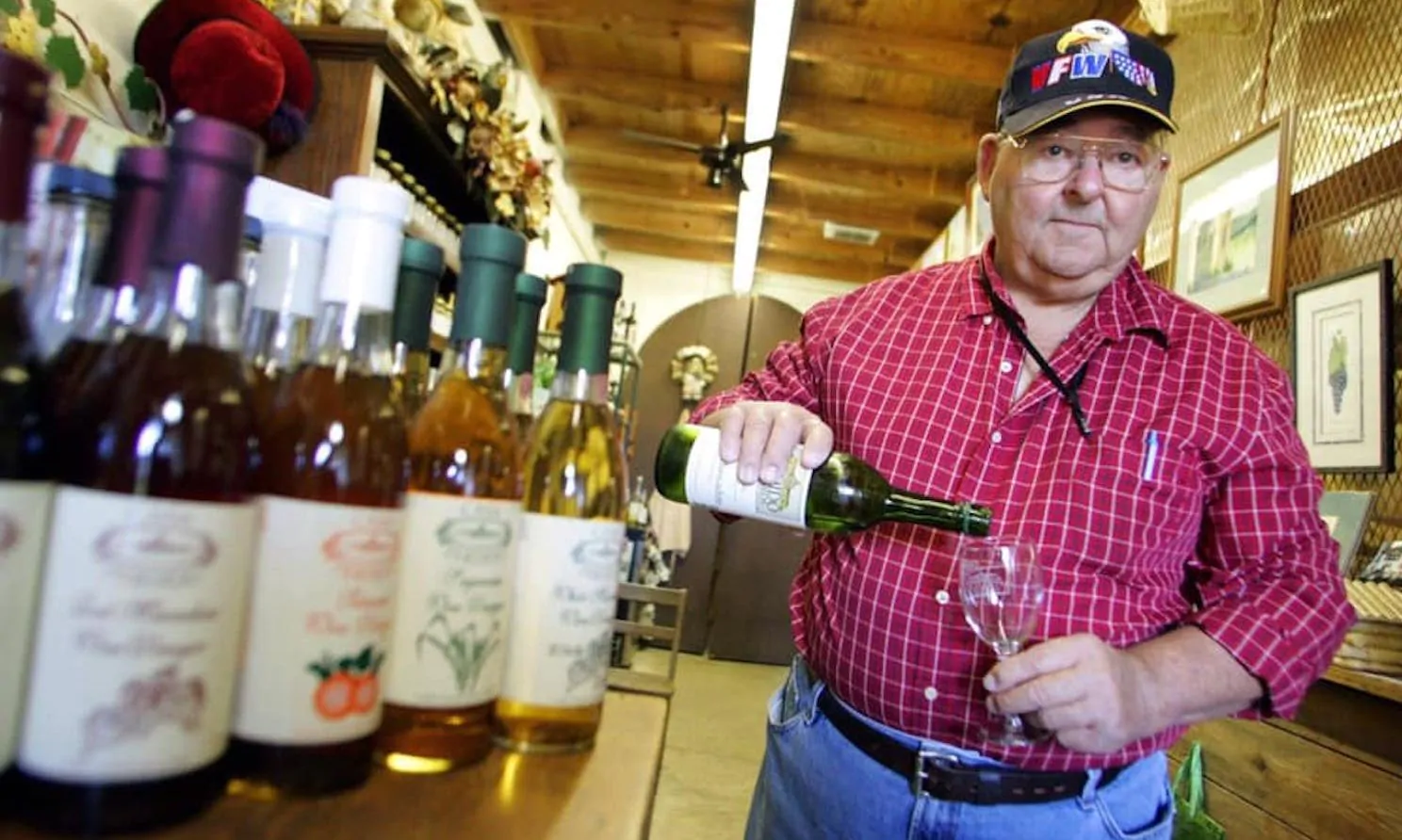 Jim Eddins, president of Perdido Vineyards, has always been a fighter. 
Now he's helping his community fight the deadly COVID-19 virus by pivoting his business from crafting muscadine wine and wine vinegars to making hand sanitizer. 
Eddins, a retired U.S. Marine, opened the first winery in Alabama in the 1970s. 
"He's used to fighting," said Sherri Clay, marketing director at the vineyards who spoke to APR on Thursday. "So he's just fighting something else, is the way he's looking at it." 
The numbers of COVID-19 cases and hospitalizations, as a result, have been steadily increasing in Alabama. As of Thursday, there were 472 confirmed cases and two deaths. 
Health experts and state officials urge the public to practice social distancing, stay home when at all possible, wash their hands frequently and thoroughly, and use hand sanitizer. 
Clay said Eddins spoke with Alabama treasurer John McMillan, state Emergency Management Agency Director Brian Hastings, and others about the need for hand sanitizer during the pandemic. 
The decision was made to initially offer the product to first responders, nursing homes, essential businesses and to the local community, Clay said. 
They're still waiting on one ingredient to finish the first batch, but Clay said they're having trouble acquiring gallon jugs needed to bottle the product. They got 48, but the first batch will fill 66 gallons, she said. 
"Everybody's probably got the same idea across the country or, people are buying them to put water in," Clay said of the hard-to-find containers. 
Regardless, Clay said they're getting orders. Already, all 48 gallons of the hand sanitizer have been claimed.  
"Because of the response we're already making plans to do a second batch," Clay said, adding that 11 gallons of the next batch have also been claimed. 
It's not hard for a winery to learn to combine alcohol, glycerin and other ingredients into hand sanitizer, but it helps to have an employee with experience. 
"Lucky for us our distiller is also a retired pharmacist, so he's making it to the World Health Organization standard of 80 percent alcohol," Clay said. 
Ross Centanni, the company's distiller, said federal regulations that govern manufacturing of such products were loosened temporarily to allow companies like the vineyard to produce the vital product.   
"I've got a quantity of 95 percent alcohol, which is what hand sanitizer requires, so let's get in here and help the community and the first responders out," Centanni said. 
Centanni said just like the jugs, he's seen evidence of people buying up bulk ingredients used in the making of hand sanitizer. He suspects some are making a profit off of the crisis.
"There are entrepreneurs out there that are going to go corner the market on glycerine and go sell it for exorbitant prices," he said, adding that he's seen evidence on Ebay that seems to indicate that's happening. Still, he's certain he'll manage to get what's needed to make more.
The vineyards regular business has been down, Clay said, but the focus is on helping by doing what they can. 
"This is a priority," Clay said. "We need to get a jump on this and try to prevent it, and the best place to start is with our own community."
Perdido Vineyards also operates Boogie Bottom Spirits, which produces rum and muscadine brandy.
Print this piece