McMillan gets service to agriculture award from Alabama Farmers Federation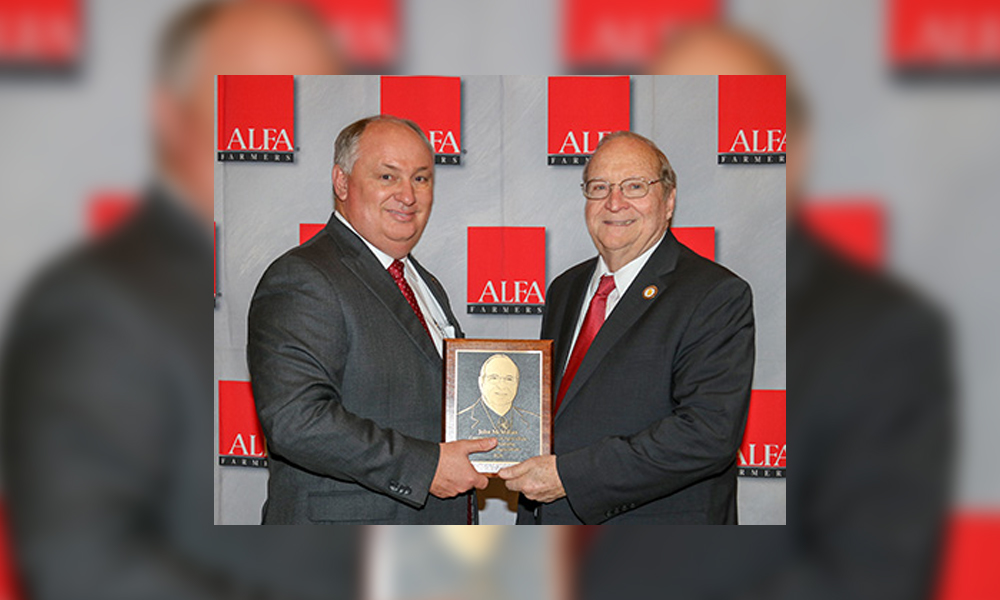 Alabama Commissioner of Agriculture and Industries John McMillan (R) was honored by the state's largest farm organization at the Alabama Farmers Federation's 97th annual meeting on Monday in Montgomery. The award is the highest honor presented by the Farmers Federation.
"I am humbled and truly honored to have been selected for this award," McMillan said. "The Alabama Farmers Federation has been an organization I've turned to for advice and assistance throughout my career. I've been fortunate to work with and be around good people all my life. As far as what I've accomplished, this award is as much for all of them as it is for me."
McMillan grew up in rural Baldwin County as the son of a sawmill owner and farmer. There McMillan learned the value of hard work, determination and relationships.  His twin brother, Steve McMillan (R) serves in the Alabama House of Representatives.
McMillan's public service career includes service as a Baldwin County commissioner, state representative, Alabama Department of Conservation and Natural Resources (ADCNR) commissioner and State Personnel Board member. In 2010, he was elected as commissioner of the Alabama Department of Agriculture and Industries and re-elected in 2014.  He was recently elected state treasurer and will assume that office in January.
Federation President Jimmy Parnell described McMillan as a resourceful leader who used his skills to repair and rebuild the ag commissioner's office when he was elected in 2010.
"When John first took office at the Department of Agriculture, he set a new tone for the services that office would provide," Parnell said. "He immediately encouraged a higher standard of public service among department employees and cultivated a new vision for the department's future."
McMillan also formerly served as Alabama Forestry Association vice president where, in 2003, he helped the Federation defeat Amendment 1 the largest proposed tax increase in Alabama's history.
"He has opposed property tax increases and burdensome environmental regulations," Parnell said. "Throughout his life, John has been a friend and advocate for rural Alabama."
Economic Developer Nicole Jones said, "Agriculture has always been one of Alabama's dominant industries. Nationally, Alabama ranks second in freshwater fish production, third in poultry production, third in peanut production, and among the Top Ten in cotton production. The 97th Annual Meeting provided farmers from Alabama's 67 counties an opportunity to share best practices. Thank you to the Alabama Farmer's Federation for recognizing folks across various generations who have dedicated their lives to such a vital part of our economy."
During his time as ADCNR commissioner, McMillan was instrumental in creating the Alabama Trust Fund, a state trust to preserve proceeds from offshore oil and gas leases. As ag commissioner, McMillan served as president of the Southern Association of State Departments of Agriculture and the Southern United States Trade Association. He also served on the National Association of State Departments of Agriculture board of directors.
Jimmy Parnell was re-elected to a fourth term as President of the Alabama Farmers Federation. Parnell is a farmer in Chilton County.
Alabama Governor Kay Ivey (R) told the group: "Friends, let me begin tonight, by saying thank you to each and every one of you. Thank you for the tremendous support you have given me. I am truly humbled and honored."
Chris and Jordyn Upchurch, who have 400 acres north of Lineville in Clay County, were also honored. They have 3 chicken houses and a beef cattle herd of 130 brood cows that has grown from his start of just seven cows when he was a boy. They also harvest hay both on their farm and on farms of other farmers and they clean out chicken houses for other farmers. The Upchurch's are fourth and fifth generations Alabama farmers. Jordyn and Chris and their infant son, Charlie, were chosen as the 2018 outstanding farm family of Alabama.
The Upchurches received $35,000 toward a Ford truck courtesy of Alfa Insurance; a John Deere 825i Gator sponsored by Alabama Ag Credit and Alabama Farm Credit; the lease of a John Deere tractor provided by John Deere, AgPro, SunSouth and TriGreen Equipment; and a 30' by 40' pole barn from Register Barn Co.
The meeting was held at the Montgomery Performing Arts Centre. Former Speaker of the House Newt Gingrich delivered the keynote address to the group.
The Alabama Farmers Federation has more than 350,000 members and is Alabama's largest farm organization.
Print this piece
Lawmaker files bill to ban treatments for transgender kids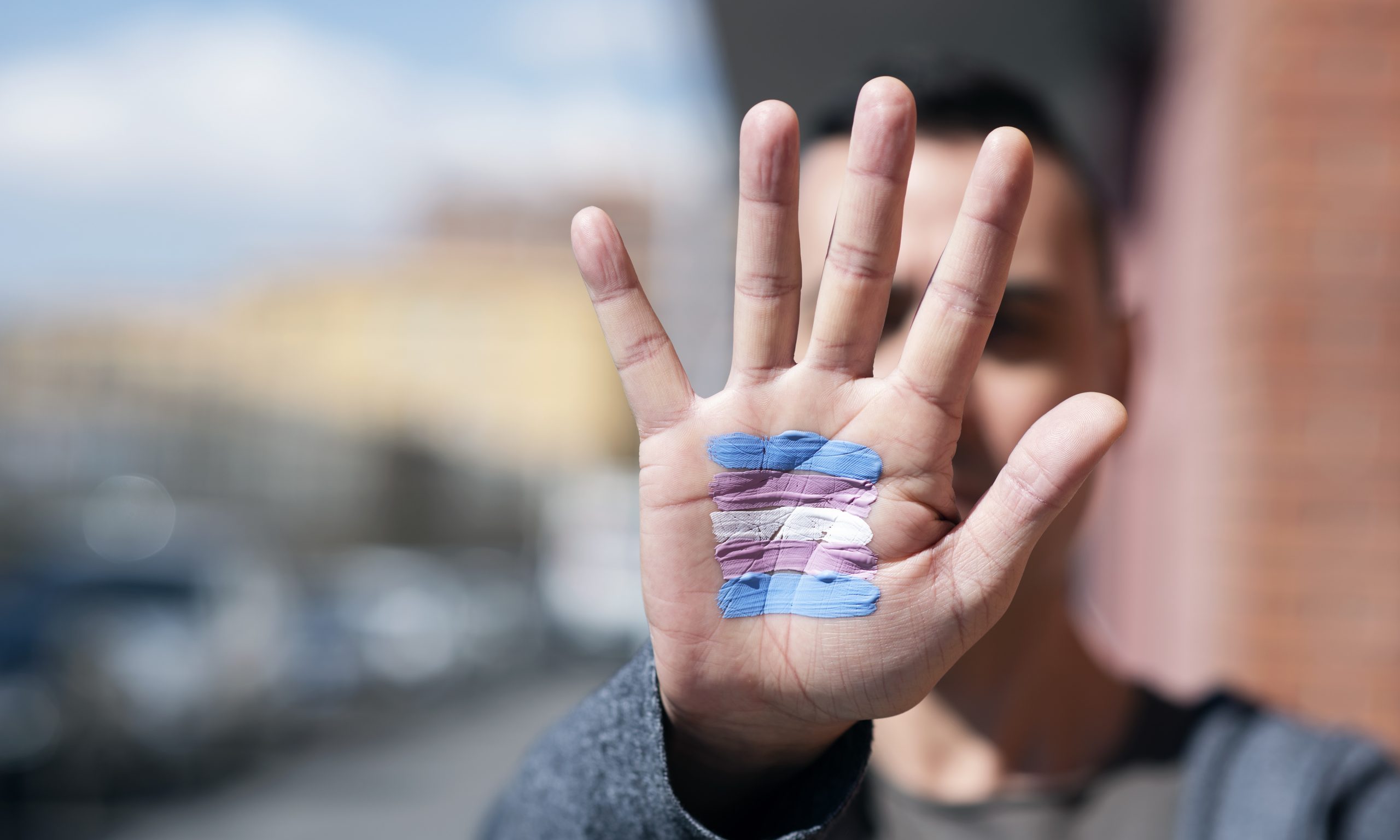 Republican Wes Allen, R-Troy, filed a bill to prevent doctors from providing hormone replacement therapy or puberty suppressing drugs to people younger than 19 who identify as transgender.
HB303, the Alabama Vulnerable Child Compassion and Protection Act,  would make it a Class C felony, punishable by up to 10 years in prison, for doctors to prescribe puberty-blocking medications or opposite gender hormones to minors. Allen's legislation would also ban hysterectomy, mastectomy or castration surgeries from being performed on minors.
"I was shocked when I found out doctors in Alabama were prescribing these types of drugs to children," Allen said in a news release. "This is something you hear about happening in California or New York but it is happening right here in Alabama and it's time we put a stop to that practice."
Allen said that children experiencing gender dysphoria are struggling with a psychological disorder and that they need therapeutic treatment from mental health professionals instead of medical intervention that would leave their bodies "permanently mutilated." 
"These children are suffering from a psychological disorder, just as someone who is suffering with bipolar disorder or schizophrenia but we treat those patients and try to help them. We should treat these psychological disorders as well."
In 2018, a policy statement from the American Academy of Pediatrics (AAP) said that:
"Transgender identities and diverse gender expressions do not constitute a mental disorder; 

Variations in gender identity and expression are normal aspects of human diversity, and binary definitions of gender do not always reflect emerging gender identities; 

Gender identity evolves as an interplay of biology, development, socialization, and culture; and

If a mental health issue exists, it most often stems from stigma and negative experiences rather than being intrinsic to the child"
The World Health Organization (WHO) announced in 2018 that it was removing "gender identity disorder" from its global manual of diagnoses and reclassify "gender identity disorder" as "gender incongruence," which is now listed under the sexual health chapter rather than the mental disorders chapter. 
In a 2018 interview, Dr. Lale Say, a reproductive health expert at the WHO, said that gender incongruence was removed from the list of mental health disorders because "we had a better understanding that this was not actually a mental health condition and leaving it there was causing stigma. So in order to reduce the stigma, while also ensuring access to necessary health interventions, this was placed in a different chapter."
In 2012, the American Psychiatric Association revised the Diagnostic and Statistical Manual of Mental Disorders (DSM) to remove the term "gender identity disorder" from the manual and add the term "gender dysphoria."
Allen's bill will be considered by the Alabama House of Representatives in the coming weeks.
Print this piece