New U.S. Hunger Atlas: More than 1 in 5 Alabama children live in food-insecure homes
According to a new report by the public advocacy group Hunger Free America, 22 percent of Alabama children lived in homes that could not always afford to purchase enough food between 2015 and 2017.
The Hunger Free America is based on their analysis of federal data. According to their report, 237,572 children in the state lived in households that did not always know where their next meal was coming from during that three-year time period.
The group reports that the total number of food insecure individuals in Alabama from 2015-2017 was 822,109. According to their analysis, Alabama is the fifth most food insecure state. Alabama was consistently in the lists of their top ten states with the highest rates of food insecurity for employed adults, children and older Americans (ages 60 and older).
The report claims that ending hunger in Alabama entirely would cost $428 million a year. They say that their findings are a "Wake-Up Call for Policy Makers."
The report, the first-ever "U.S. Hunger Atlas," reports that 12.6 percent of working adults, or 256,923 people, in Alabama suffered from food insecurity from 2015-2017. Without a state minimum wage, most Alabama employees are covered under the federal minimum wage of $7.25 per hour.
Nationwide, increased state minimum wages are correlated with declined hunger among working people.
"It's no surprise that we again found that states with higher minimum wages have less hunger among working people and states with lower minimum wages had more hunger among working people," said Hunger Free America CEO Joel Berg. "The claims of opponents of wage hikes — that such increases will harm employment rates and thus increase poverty and hunger — are clearly unfounded. This report should be a wake-up call to elected officials at the federal, state, and local levels that we need bold, comprehensive new economic and public polices to raise wages and ensure an adequate anti-hunger and anti-poverty safety net."
According to Hunger Free America's "U.S. Hunger Atlas"11.4 percent of older Americans living in Alabama, a total of 122,400 people, were hungry during 2015-2017.
The group claims that in states with a minimum wage set at $10 or above, an average of 8.6 percent of employed adults were found to be food insecure, more than a full percentage point below the national average of 9.7 percent. In states with a minimum wage set at $7.25 or below, an average of 9.9 percent of employed adults were food insecure.
According to their numbers, food insecure Alabama residents need more than $428 million in additional food purchasing power each year to meet their basic food needs, spending as much on food as do non-hungry Alabama residents. The group claims that increased food purchasing power could take the form of a combination of higher wages and increased federal nutrition assistance spending.
"While the nation rightfully focuses on whether a blue wave or a red wave changes our political leadership any given year, we must also focus on the reality that, since the 1980s, a red, white, and blue wave of hunger has submerged each of the fifty states of the U.S. in suffering, making America the only Western industrialized democracy with this level of food hardship," Berg said. "We simply cannot let mass deprivation be considered any sort of 'new normal."
The full report, "The Red, White, and Blue Hunger Wave: A 2018 United States Hunger Atlas," can be found on Hunger Free America's website: www.HungerFreeAmerica.org
Print this piece
Jones criticized for voting to limit Trump's war powers authority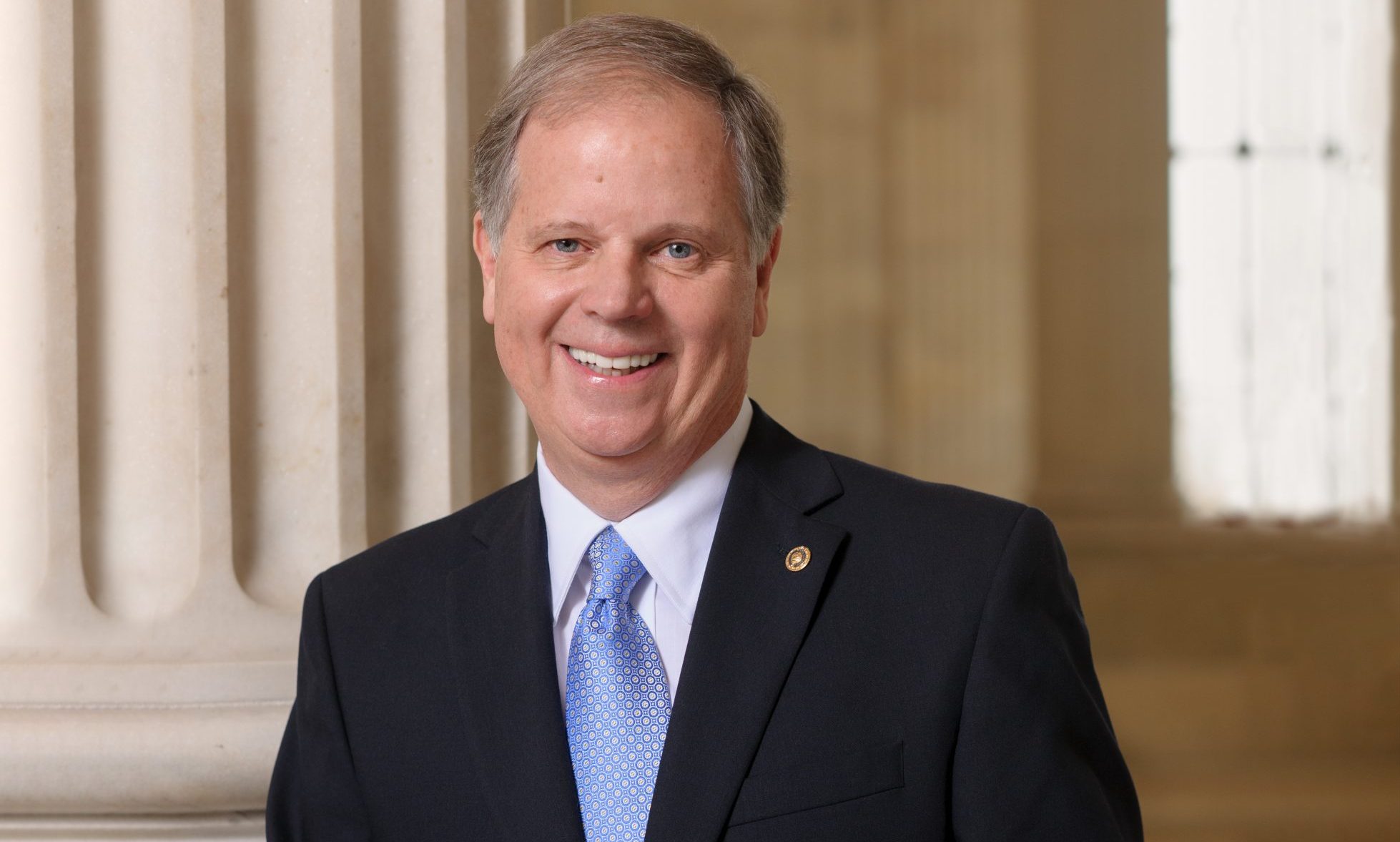 Thursday, U.S. Senator Doug Jones (D-Alabama) voted in favor of S.J.Res.68, a resolution which directs the removal of United States military from hostilities against the Islamic Republic of Iran that have not been authorized by Congress. Jones has been criticized by Republicans for voting to limit President Donald J. Trump's war powers on Iran.
"Before a President can lead us into war, he or she must first earn the support of the American people and also fulfill their solemn constitutional obligation to seek approval from Congress," Sen. Jones said in a statement. "While the President has the power to protect Americans in the case of an imminent attack, that authority does not extend to committing our service members to long-term hostilities unilaterally. This resolution sends a strong message that we will follow the Constitution and we will not send our troops into harm's way without the serious consideration and consent of the Congress."
Trump Victory National Finance Committee member Perry O. Hooper Jr. released a statement in response.
"Senator Jones once again turned his back on Alabama and voted as the leftwing Democrats commanded. He has no regard for the values, opinions or views of Alabamians," Hooper said. "He sees us as deplorables just like the elites of the Democratic party who have funded 80 percent of his doomed campaign for re-election.:
Hooper stated, "I whole heartily support the President who stated 'We are doing very well with Iran and this is not the time to show weakness… If my hands were tied, Iran would have a field day. Sends a very bad signal. The Democrats are only doing this as an attempt to embarrass the Republican Party.'"
"The Commander-in-chief must be free to work with his staff and his military leaders to conduct covert operations like the one that eliminated Iran's terrorist-in-chief General Soleimani," Hooper added. "You can't micromanage the war on terrorism. The Democrats in Congress are so filled with Trump Derangement Syndrome that no matter how much it would benefit our country and the world; they would never give Trump a "victory". If it came down to it, they would leak everything to the media no matter what the consequences."
Senator Jones is a cosponsor of the legislation and a member of the Senate Armed Services Committee. Eight moderate Republicans voted with the Democrats on the resolution.
Senator Jones has also been criticized by Republicans for his comments that he was "appalled" by Pres. Trump's actions following his acquittal on both Articles of Impeachment.
"Newsflash for Senator Doug Jones: Most Alabamians have been appalled by his actions his entire time in office," former Attorney General Jeff Sessions said. "It's about time we send Doug home, and replace him with someone who understands our values. Alabamians deserve a Senator they can be proud of again."
Sessions is a candidate for the Republican nomination for Jones' Senate seat.
The Republican primary will be on March 3.
Print this piece