Voyager 2 has left the heliosphere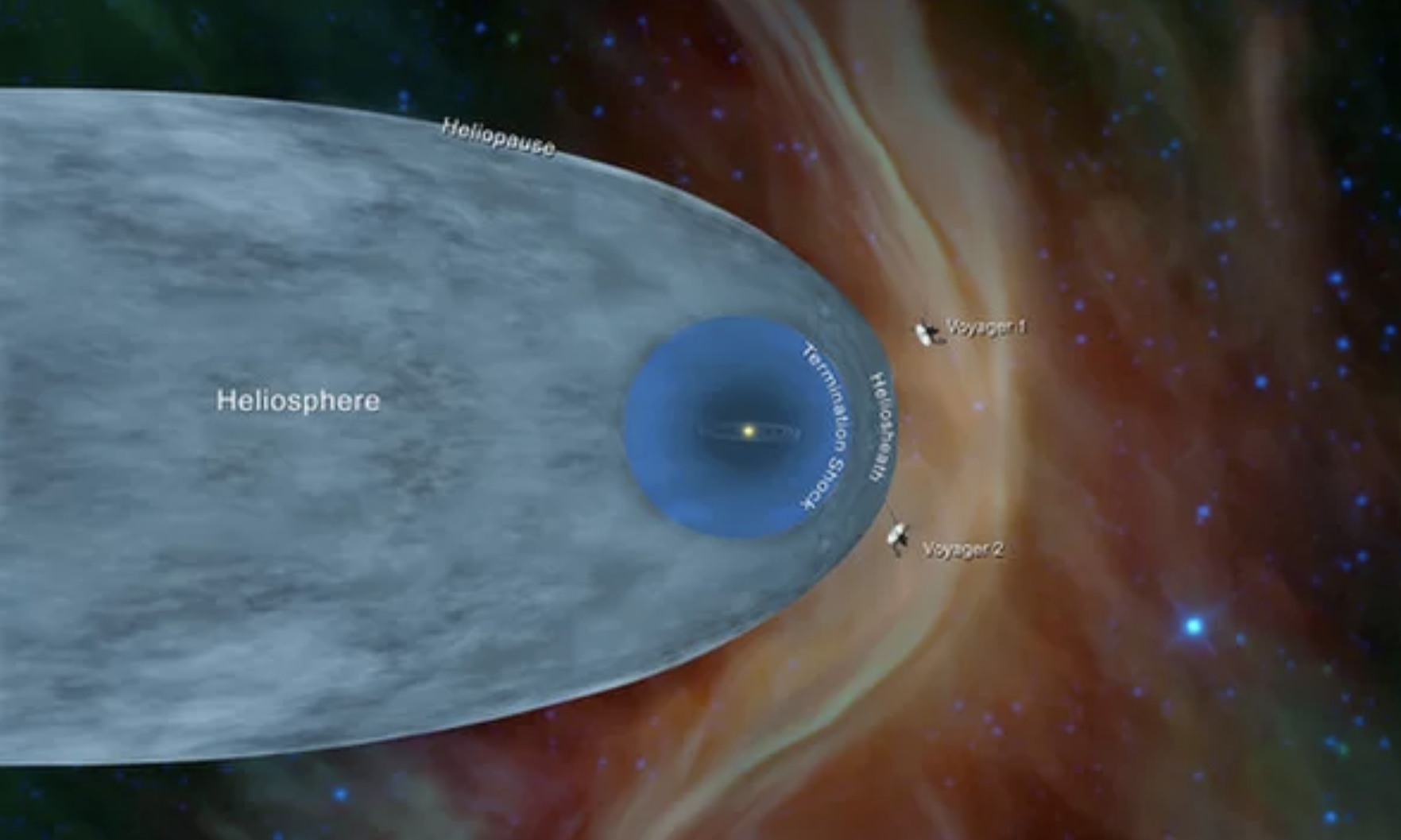 The Voyagers have gone where no man-made spacecraft have gone before. For the second time in history, a human-made object has reached the space between the stars. NASA's Voyager 2 probe follows Voyager 1 and has exited the heliosphere, the protective bubble of particles and magnetic fields created by the Sun.
Members of NASA's Voyager team discussed the findings at a news conference on at Monday at the meeting of the American Geophysical Union (AGU) in Washington. Only Voyager 1 and Voyager 2 have ever journeyed this far from Earth.
Comparing data from different instruments aboard the trailblazing spacecraft, mission scientists determined the probe crossed the outer edge of the heliosphere on Nov. 5. This boundary, called the heliopause, is where the tenuous, hot solar wind meets the cold, dense interstellar medium. Voyager 1 crossed this boundary in 2012, but Voyager 2 carries a working instrument that will provide first-of-its-kind observations of the nature of this gateway into interstellar space.
Voyager 2 now is slightly more than 11 billion miles from Earth. Mission operators still can communicate with Voyager 2 as it enters this new phase of its journey, but the information, which is moving at the speed of light, takes about 16.5 hours to travel from the spacecraft to Earth. By comparison, light traveling from the Sun takes about eight minutes to reach Earth.
The most compelling evidence of Voyager 2's exit from the heliosphere came from its onboard Plasma Science Experiment (PLS), an instrument that stopped working on Voyager 1 in 1980, long before that probe crossed the heliopause. Until recently, the space surrounding Voyager 2 was filled predominantly with plasma flowing out from our Sun. This outflow, called the solar wind, creates a bubble, the heliosphere, that envelopes the planets in our solar system. The PLS uses the electrical current of the plasma to detect the speed, density, temperature, pressure and flux of the solar wind. The PLS aboard Voyager 2 observed a steep decline in the speed of the solar wind particles on Nov. 5. Since that date, the plasma instrument has observed no solar wind flow in the environment around Voyager 2, which makes mission scientists confident the probe has left the heliosphere.
"Working on Voyager makes me feel like an explorer, because everything we're seeing is new," said John Richardson, principal investigator for the PLS instrument and a principal research scientist at the Massachusetts Institute of Technology in Cambridge. "Even though Voyager 1 crossed the heliopause in 2012, it did so at a different place and a different time, and without the PLS data. So we're still seeing things that no one has seen before."
In addition to the plasma data, Voyager's science team members have seen evidence from three other onboard instruments: the cosmic ray subsystem, the low energy charged particle instrument and the magnetometer. The readings from those instruments are consistent with the conclusion that Voyager 2 has crossed the heliopause. Voyager's team members are eager to continue to study the data from these other onboard instruments to get a clearer picture of the environment through which Voyager 2 is traveling.
"There is still a lot to learn about the region of interstellar space immediately beyond the heliopause," said Ed Stone, Voyager project scientist based at Caltech in Pasadena, California.
Together, the two Voyagers provide a detailed glimpse of how our heliosphere interacts with the constant interstellar wind flowing from beyond. Their observations complement data from NASA's Interstellar Boundary Explorer (IBEX), a mission that is remotely sensing that boundary. NASA also is preparing the upcoming Interstellar Mapping and Acceleration Probe (IMAP), due to launch in 2024) to capitalize on the Voyagers' observations.
"Voyager has a very special place for us in our heliophysics fleet," said Nicola Fox, director of the Heliophysics Division at NASA Headquarters. "Our studies start at the Sun and extend out to everything the solar wind touches. To have the Voyagers sending back information about the edge of the Sun's influence gives us an unprecedented glimpse of truly uncharted territory."
While the probes have left the heliosphere, Voyager 1 and Voyager 2 have not yet left the solar system, and won't be leaving anytime soon. The boundary of the solar system is considered to be beyond the outer edge of the Oort Cloud, a collection of small objects that are still under the influence of the Sun's gravity. The width of the Oort Cloud is not known precisely, but it is estimated to begin at about 1,000 astronomical units (AU) from the Sun and to extend to about 100,000 AU. One AU is the distance from the Sun to Earth. It will take about 300 years for Voyager 2 to reach the inner edge of the Oort Cloud and possibly 30,000 years to fly beyond it.
The Voyager probes are powered using heat from the decay of radioactive material, contained in a device called a radioisotope thermal generator (RTG). The power output of the RTGs diminishes by about four watts per year, which means that various parts of the Voyagers, including the cameras on both spacecraft, have been turned off over time to manage power.
"I think we're all happy and relieved that the Voyager probes have both operated long enough to make it past this milestone," said Suzanne Dodd, Voyager project manager at NASA's Jet Propulsion Laboratory (JPL) in Pasadena, California. "This is what we've all been waiting for. Now we're looking forward to what we'll be able to learn from having both probes outside the heliopause."
Voyager 2 was launched in 1977, 16 days before Voyager 1, and both have traveled well beyond their original destinations. The spacecraft were built to last five years and conduct close-up studies of Jupiter and Saturn. However, as the mission continued, additional flybys of the two outermost giant planets, Uranus and Neptune, proved possible. As the spacecraft flew across the solar system, remote-control reprogramming was used to endow the Voyagers with greater capabilities than they possessed when they left Earth. Their two-planet mission became a four-planet mission. Their five-year lifespans have stretched to 41 years, making Voyager 2 NASA's longest running mission.
The Voyager story has impacted not only generations of current and future scientists and engineers, but also Earth's culture, including film, art and music. Each spacecraft carries a Golden Record of Earth sounds, pictures and messages. Since the spacecraft could last billions of years, these circular time capsules could one day be the only traces of human civilization. A Voyager probe even appeared in Star Trek the Motion Picture, as the villain.
Voyager's mission controllers communicate with the probes using NASA's Deep Space Network (DSN), a global system for communicating with interplanetary spacecraft. The DSN consists of three clusters of antennas in Goldstone, California; Madrid, Spain; and Canberra, Australia.
The Voyager Interstellar Mission is a part of NASA's Heliophysics System Observatory, sponsored by the Heliophysics Division of NASA's Science Mission Directorate in Washington. JPL built and operates the twin Voyager spacecraft. NASA's DSN, managed by JPL, is an international network of antennas that supports interplanetary spacecraft missions and radio and radar astronomy observations for the exploration of the solar system and the universe. The network also supports selected Earth-orbiting missions. The Commonwealth Scientific and Industrial Research Organisation, Australia's national science agency, operates both the Canberra Deep Space Communication Complex, part of the DSN, and the Parkes Observatory, which NASA has been using to downlink data from Voyager 2 since Nov. 8.
NASA's Marshall Space Flight Center in Huntsville employs thousands of Alabamians.
Sen. Jones: Millions for Alabama priorities in annual defense bill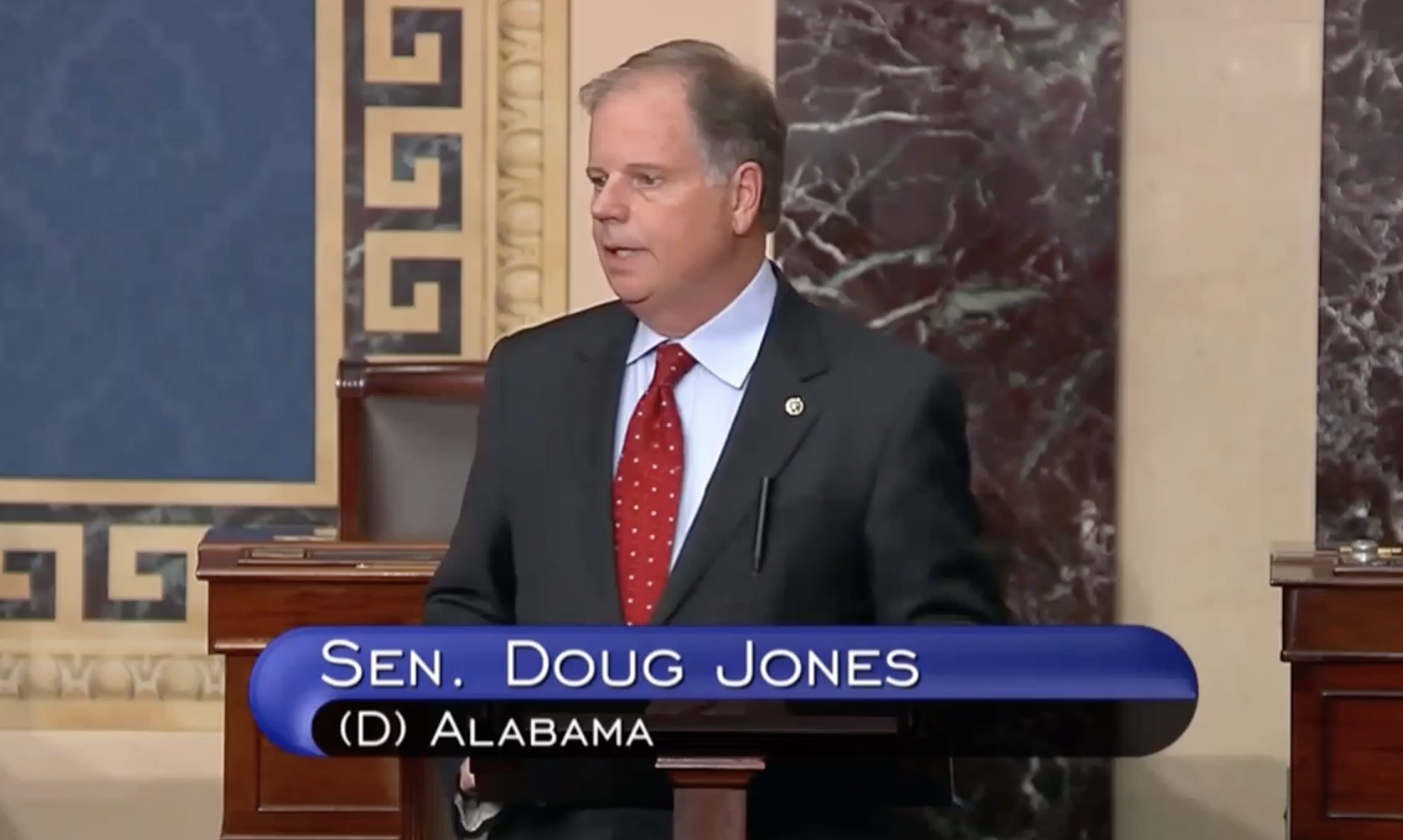 Sen. Doug Jones, D-Alabama, on Thursday highlighted how the latest National Defense Authorization Act could positively impact Alabama service members, state universities and businesses that work with the U.S. military.  
The fiscal year 2021 National Defense Authorization Act (NDAA), approved on Thursday by the Senate Armed Services Committee, now goes before the full Senate for a vote. 
"Alabama is an undisputed leader in securing our nation and this legislation recognizes that by providing significant funding for our troops, including a three-percent pay raise, and continued funding for our defense assets," Jones, a member of the Senate Armed Services Committee, said in a statement. "Each year, this bill is an example of the kind of work we can do when we come together on a bipartisan basis around a common goal – protecting our country and supporting our service members and their families. This bill provides the support and funding needed for Alabama to continue to lead in this effort, and I look forward to its passage in the full Senate soon."
Jone's office in a press release noted that the latest NDAA provides a three-percent pay raise for service members for a second year in a row, and addresses several quality of life issues for military children and spouses. 
Key provisions in the FY 2021 NDAA for Alabama's servicemembers and their families, military installations, and contractors and research institutions are listed below.
 Strengthening Alabama's Defense Infrastructure and Industry
$24 million for advanced electrical generation and storage facilities at Fort Rucker in Dale County;

$23 million for next generation fighter aircraft (F-35) facilities at Maxwell Air Force Base;

$18 million to construct a small arms parts demilitarization facility at the Anniston Army Depot;

$10 million to help steel manufacturers meet future defense needs, protecting current and future employment of thousands in Birmingham;

$5 million to improve efficiency and readiness at the Army's Aviation and Missile Center in Huntsville; and,

$2 million for the Aerospace Education Research and Innovation Center (AERIC) at Tuskegee University, and a $5 million increase overall for Historically Black Colleges and Universities.
Funding for Alabama's Contribution to the National Defense Strategy
$349.7 million for an additional THAAD ballistic missile defense battery, key parts made in Troy;

$35 million for Long Range Anti-Ship Missiles (LRASM), made in Troy;

$10 million for research into lightweight power sources for Navy ships. The University of Alabama conducts leading edge research and development of silicon carbide power sources;

$7.3 million for continued research and development of advanced plastics technology. The Mobile area is home to a company that is pioneering thermoplastic tailorable composite manufacturing;

$5 million for research into advanced repair and modification processes. The University of Alabama is currently working with the DoD to develop these technologies;

$5 million to complete development of new satellite technology. Huntsville is home to companies that are leaders in this field and are well-positioned to compete for these funds;

$5 million to accelerate the Army helicopter modernization program. Bell Helicopter, in Ozark, is participating in this program;

$3 million to develop a hypersonic missile testing facility. Huntsville is home to a number of companies that contribute to the Defense Department's hypersonics research and development;

$10.5 million to build a high energy laser system lab to help with the Army's weapons modernization programs. The Army's high energy laser program is headquartered at Redstone and works with a number of Huntsville companies; and,

$3 million for hybrid additive manufacturing research and development to help with the Army's weapons modernization programs. The additive manufacturing industry is robust and growing in Alabama, with research and development ongoing in Birmingham. 
Support to Improve the Safety and Health of Military Housing and Bases
Requires the Secretary of Defense to implement within 90 days all applicable security and emergency response recommendations to protect U.S. military installations, which follows a

call by Senator Jones to increase base security

after Enterprise, Alabama native Joshua Kaleb Watson was killed during a terrorist attack at Naval Air Station Pensacola last year; and,

Requires the Secretary of Defense to ensure that each installation conducts or develops a plan to conduct regular live emergency response training with first responders.
Funding for Coronavirus Response
Increases funding to support the Defense Department's coronavirus vaccine research and to integrate with other vaccine research programs; and,

Authorizes hazard pay for troops deployed in response to the coronavirus.
Expanding Support and Opportunity for Minority Service Members
Authorizes pilot programs to reduce barriers to participation in satellite ROTC programs and to provide flight training scholarships at HBCUs;

Takes steps toward identifying and eliminating barriers to minority participation in elite units in the armed forces; and,

Supports continuing and expanding the Air Force JROTC pilot training scholarship program to increase diversity in the pilot ranks and address the pilot shortage.
 Support for Military Spouses and Children
$50 million for Impact Aid to schools that serve military children;

$20 million for aid to military children with disabilities;

$15 million for Science, Technology, Engineering, and Math (STEM) youth educational programs (STARBASE);

Authorizes a pilot program to expand eligibility for attendance at DoD schools for military dependent children living off-base;

$4 million to continue development of interstate agreements on licensed occupations for military spouse; and,

Increases reimbursement to military spouses for state licensure and certification costs resulting from relocations.