Could leasing be the answer to new state prisons?
Some lawmakers expressed alarm when Department of Corrections Commissioner Jeff Dunn revealed at a recent Contract Review meeting that the state was looking to spend $1 billion to build three new mega-prisons.
Less than two years ago, the Legislature rejected a plan by then-Gov. Robert Bentley to spend approximately $850 million on four mega-prisons. Now it seems the prospects of securing funding for a smaller project with a higher price tag is being met with skepticism if not outright revolt.
But there is another way Gov. Kay Ivey's administration can acquire new prisons without legislative approval.
State governments increasingly are turning to private companies for new prison facilities through a build and lease agreement.
Kansas is moving forward with plans to have CoreCivic Inc., the nation's largest private prison corporation, to built its new correctional facility and then lease it back to the state. CoreCivic announced it has similar projects in California and Oklahoma and is pursuing partnerships in other states.
Under the lease agreement, CoreCivic would not operate the facility but would merely act as landlord.
CoreCivic and its rival, GEO Group Inc., are seeing windfall profits under new tax rules enacted by President Donald J. Trump's administration.
According to a report in Finance & Commerce, "CoreCivic and GEO, the biggest U.S. prison companies, are classified as real estate investment trusts. That means almost all their profits from property-related operations are tax-free as long as they're distributed to shareholders through dividends."
Finance & Commerce also found, "The tax rules incentivize CoreCivic and GEO to build and lease detention facilities rather than only manage them."
Dunn's appearance at this month's Contract Review hearing was to receive approval for an extension to a nearly $11.5 million contract with Birmingham-based Hoar Program Management, LLC, to complete a study that would result in a request for proposal to build the three facilities.
Under a lease agreement, a company like CoreCivic will build prisons to the state specifications which is why even under a lease contract, the Ivey administration would need RFP which Hoar is tasked with delivering.
Two lawmakers who spoke with APR on background think that leasing prisons may not be the ideal solution, but it avoids much of the legislative in-fighting that doomed new prison construction in the past.
As one of the lawmakers explained, "During the Wallace era prisons and community colleges were built in specific locations as a sort of patronage system for the Governor's buddies."
Gov. George Wallace was known for generous hand-outs to his cronies, and in some cases, this meant building a community college campus or a correctional facility.
"Once a community has a college or a prison they are not going to want to give it up because it means jobs and votes for legislators, county commissioners, and profits for those up and down the food chain," another lawmaker said.
Also convincing a supermajority of Republican lawmakers to approve a billion dollar bond offering seems unlikely with the Governor simultaneously pushing for a fuel tax increase.
One of the most significant and rarely mentioned accomplishments of the Legislative agenda enacted by the Republican supermajority has been the passage of prison reform bills, which have dramatically reduced prison overcrowding from 198 percent capacity in 2013, to 153 percent in 2018.
A report by the Council of State Governments found, "Alabama state leaders have appropriated $26.5 million in the FY2019 budget to support justice reinvestment legislation enacted in 2015. This includes $18.5 million to hire probation and parole officers and staff and expand behavioral health community-based treatment and services, as well as $8 million to support community corrections programs (CCPs). This appropriation brings Alabama's total reinvestment between FY2016 and FY2019 to $95.6 million."
Another result of Legislative intervention is the number of non-violent offenders has been reduced dramatically, going from a prison population of 35 percent non-violent to now under 14 percent. An unintended consequence of not locking up non-violent offenders is a very violent population inside the prisons, making it more dangerous for correctional officers.
While prison funding is up, and the overall population is down over the last four years, the aging facilities and understaffing is a persistent issue of concern.
In Nov. 2017, Gov. Ivey floated the idea of leasing built-to-order prisons. Now, at least a few of her supporters think it's the time to utilize that option rather than trying to corral lawmakers into supporting a billion dollar bond to built three mega-prisons.
Print this piece
Speaker McCutcheon standing with governor on gaming workgroup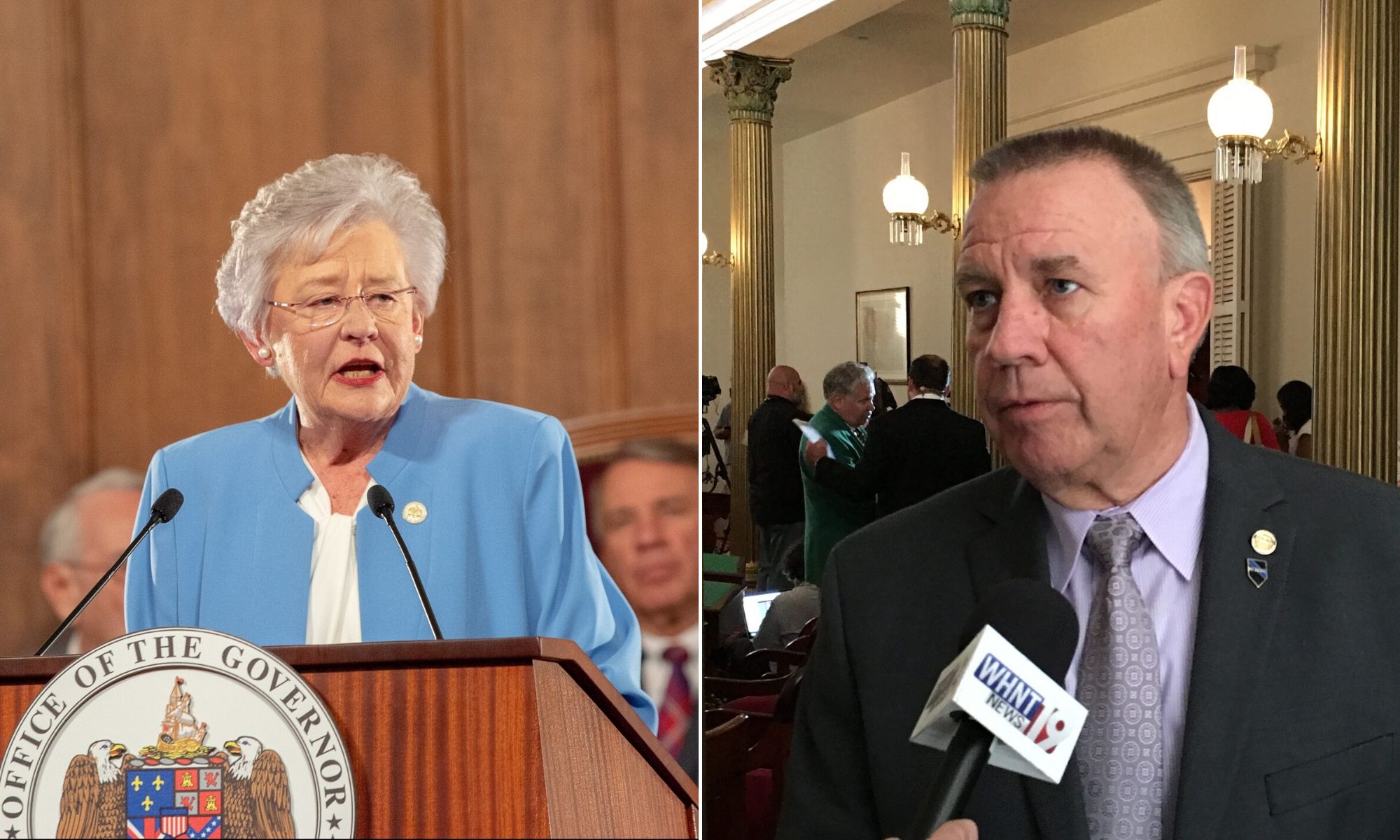 During her 2020 State of the State address, Gov. Kay Ivey said she would be signing an Executive Order to establish a small working group to gather all the facts on how much money the State could gain if some form of gaming expansion occurred. She also asked the Legislature to give her time for the group to come back with an answer.
Whether lawmakers would grant Ivey's request for time has been an important question swirling around the halls of the State House.
Speaker of the House Mac McCutcheon answered that question on Wednesday when APR reached out to his office with a request for clarification.
APR's email wrote, "Speaker McCutcheon recently made the statements quoted below."
"I am not a big gambling guy; but if you are going to vote for a lottery, that's gambling, then don't be a hypocrite and let's get the biggest bang for the buck," McCutcheon said. "Let's address a lottery, the Poarch Creek Indians, and these counties that want a one-armed gambling. Put them all in a room and hammer out a deal."
The Speaker warned, though, that if he cannot get a grand deal between all the parties on gambling, then there likely would not be any gambling bill brought forward in 2020.
"Does he still stand by these statements?"
The following is the response APR received from the Speaker's office:
"Since the Speaker made the statement, the Governor will be signing an Executive Order to bring people together to evaluate the facts on how much money the State could gain if some form of gaming expansion occurred. The Speaker will be working with the Governor in her efforts."
Ivey said once the working group had completed its task, she would "bring these facts to the 140 members of the Legislature and the people of Alabama. And we will then, once and for all, be in a position to determine whether or not this is a path we want to pursue."
That McCutcheon is in  alignment with the governor should signal to all interested parties that no further movement on gaming legislation will happen until the working group has completed its evaluation.
Some have been slow to hear Gov. Ivey's entreaty.
Even after Ivey's call for more time to gather facts, the Poarch Creek Band of Indians continues to flood television, internet and social media with a massive advertising campaign touting their billion-dollar plan in exchange for a tribal-state compact and exclusive right to Vegas-style casino gaming in the State.
PCI lobbyists, including tribal council vice-chair Robbie McGhee, are being very pro-active at the State House.
On Tuesday, Madison County Republican Rep. Rex Reynolds said, "We're gonna move forward on a lottery. We clearly got that message during our conference meeting yesterday. I think it's the right thing to do. The people want to vote on a lottery and I think we need to give them an opportunity to," according to a report by WAFF.
Rep. Steve Clouse, R-Ozark, the House budget chairman, recently said that he planned to file legislation that would create an education lottery in Alabama.
Clouse's bill would create a paper lottery with scratch-offs and PowerBall options only.
Opinion | Prepare for more gambling debates in the 2020 Legislative Session
A day after Ivey issued her State of the State request to the Legislature to stand down on gaming, Senate President Pro Tem Del Marsh held a meeting with representatives of the Poarch Creeks and two of the State's dog tracks to discuss moving ahead on a proposed lottery and gaming bill.
Marsh holds meeting with gaming interests day after Ivey calls for the Legislature to stand down on gaming
These various statements and actions have added confusion as to what is happening with gaming this session.
Now that McCutcheon has made his position known, maybe it will put to rest the rumors, activities and behind-the-scenes maneuvering that go against Ivey's wishes.
Print this piece