Trump invites congressional leaders to White House to discuss border security, ending shutdown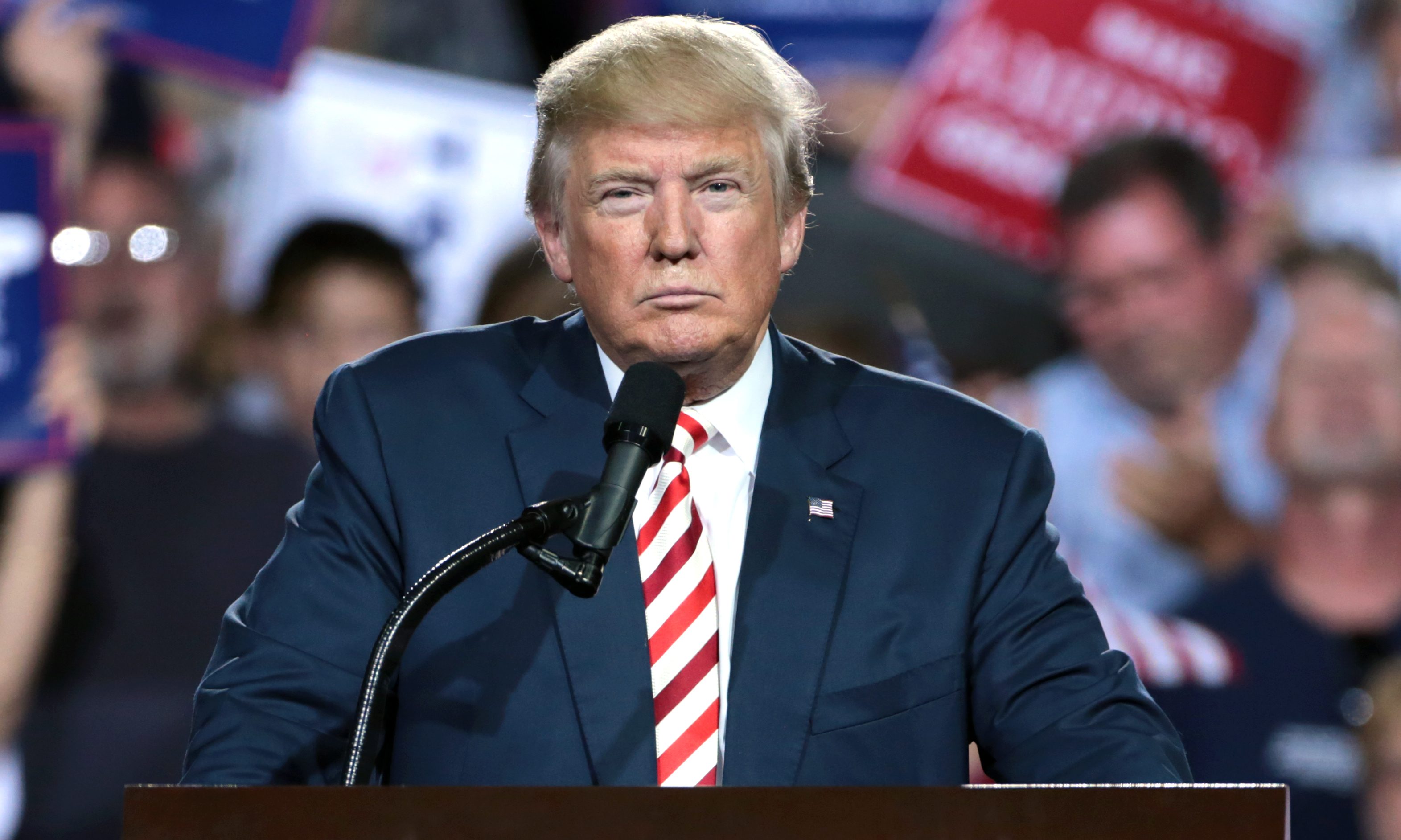 The Democrats will take control of the U.S. House of Representatives for the first time in eight years on Thursday. President Donald J. Trump (R) has invited the two top Republicans and Democrats from each House of Congress to the White House today for a briefing on border security and meeting on possibly reaching some agreement on ending the partial government shutdown.
The President is refusing to sign any bill to open the government unless Congress will appropriate $5 billion for construction of a border wall on the U.S./Mexico border. Democrats in Congress are refusing to budge on their insistence that they will not fund the border wall.
Roughly one quarter of the federal government is shutdown. 380,000 federal government workers have been told not to report to work. 420,000 essential government workers have been told to come to work; but they are not getting paid.
"Our negotiations are at an impasse at the moment," Sen. Richard Shelby (R-Alabama) told Margaret Brennan on CBS News's Face the Nation Sunday. "I wish it were not so. But we've got to move away from the blame game. Blaming the president, blaming the Democrats, Pelosi and Schumer and others, and get back to doing what we're sent there to do, to fund the government. That's been my mandate. That's what we've been working hard this year in a bipartisan way on the Appropriations Committee. Senator Leahy, the senator from Vermont, he is the ranking Democrat on the committee. I believe if people would help us along, would do what we did with the 75 percent that we've funded to the government. Fund it all, the sooner the better."
Congressional Democrats are blaming President Trump for the shutdown; while Trump is calling it the Schumer shutdown, after Senator Chuck Schumer (D-New York). Both sides will have to work together to end the shutdown.
"Democrats, it is time to come together and put the SAFETY of the AMERICAN PEOPLE before POLITICS. Border security must become a #1 priority!" the President said on Twitter.
Wednesday's meeting will be the first face to face session involving both Republicans and Democrats. Today is the twelfth day of the shutdown. It is not clear whether the meeting would break the budget impasse.
Officials from the Department of Homeland Security will brief the leaders in each party in the House and the Senate.
"Border Security and the Wall 'thing' and Shutdown is not where Nancy Pelosi wanted to start her tenure as Speaker! Let's make a deal?" Trump said on Twitter on Tuesday.
If there is no deal struck then House Democrats plan to to vote through measures to reopen most of the shuttered federal agencies through the end of September, at funding levels Senate Republicans have previously agreed to.
The Democrats plan to fund the Department of Homeland Security, which oversees border security at its current $1.3 billion a year level, with no money for a border wall.
White House Press Secretary Sarah Sanders said on Tuesday that the Democrats proposal is a "nonstarter."
Pelosi responded to Trump's "let's make a deal" invite on Twitter saying that the president had "given Democrats a great opportunity to show how we will govern responsibly & quickly pass our plan to end the irresponsible #TrumpShutdown — just the first sign of things to come in our new Democratic Majority committed to working #ForThePeople."
Democrats said that it would be irresponsible for Senate Republicans not to take up their package.
"If Leader McConnell and Senate Republicans refuse to support the first bill, then they are complicit with President Trump in continuing the Trump shutdown and in holding the health and safety of the American people and workers' paychecks hostage over the wall," likely incoming House Speaker Nancy Pelosi (D-California) and Sen. Schumer said in a statement. "It would be the height of irresponsibility and political cynicism for Senate Republicans to now reject the same legislation they have already supported."
Senate Republicans insist that they will not pass a bill that the President will not sign.
"Senator McConnell our leader has already addressed that," Sen. Shelby said. "That said that he would not even take up the bill until he found some compromise that the president would agree to sign. So we're going to be at an impasse. That would be probably an empty gesture, but that goes on in Washington every day."
(Original reporting by the Washington Post, the Hill, Fox News, and CBS News contributed to this report.)
Print this piece
Five patients with COVID-19 have died at EAMC hospital in Opelika
UPDATE: East Alabama Medical Center said Sunday that its death toll has increased to six.
Death toll at East Alabama Medical Center increases to 6
The number of patients who have died from COVID-19 at East Alabama Medical Center in Opelika since Friday has increased to six, the hospital said in a statement Sunday.
---
Five patients who were being treated for COVID-19 at East Alabama Medical Center in Opelika, Alabama, have died since Friday, the hospital said in a statement Saturday.
"Our hospital family expresses its collective condolences to the families of these five patients," said Laura Grill, EAMC President and CEO.  "As everyone knows, this virus has taken a toll on our nation and world, and our community is not exempt from that. Our hearts and prayers are with these families at this very difficult time."
Three of the patients were from Chambers County and two were from Lee County. The Alabama Department of Public Health is still investigating the deaths and has not updated their website to reflect them.
Hospital officials and ADPH are working through the process for official state determination before adding them to the COVID-19 death count.
"The ICU staff, respiratory therapists and physicians who worked most closely with these patients are especially struggling and we ask that the community lift them up today just as they have been lifting up our whole organization the past two weeks," Grill said.
EAMC is currently treating 19 patients hospitalized with a confirmed COVID-19 diagnosis. Five patients who were previously hospitalized with COVID-19 have been discharged. There are 22 patients who are currently hospitalized at EAMC with suspected COVID-19.
The number of hospitalized patients has more than doubled from seven on Tuesday. It anticipates more.
The county had at least 56 confirmed cases of COVID-19 by Saturday afternoon, more per capita than Jefferson County, Shelby County and Madison County. That number has also continued to grow. To the north, Chambers County, which falls under EAMC's service area, has the most cases per capita in the state, meaning there are more confirmed cases per person than any other county. That county's total stands at 17.
Many of the patients who have tested positive, according to EAMC, had a common "last public setting" in church services.
"While there are no absolute patterns among the confirmed cases in Lee County, one nugget of information does stand out a little—the last public setting for a sizable number of them was at church," East Alabama Medical Center said in a statement Friday night.  "Not at one church, or churches in one town, but at church in general."
The hospital has urged churches to move online and cancel in-person services. Some churches have continued to meet, as recently as last Sunday, despite "social distancing" directives from the Alabama Department of Public Health that prohibited non-work gatherings of 25 or more people.
EAMC is urging the public to act as if they are under a "shelter-in-place" at home order, as the state has so far refused to issue such a directive.
"EAMC is asking everyone to shelter in place at home," the hospital said in a statement Friday night. "Sheltering in place means you stay at home with immediate family members only and should not leave your home except for essential activities such as food, medical care, or work. You should not host gatherings of people outside of your immediate family. You should also maintain a 6-foot distance from other people as much as possible, wash your hands frequently for at least 20 seconds each time, and frequently disinfect high-touch surfaces."
It's also asking businesses that have access to personal protective equipment like gowns, masks, latex gloves and hand sanitizer to bring those items to a collection site outside of EAMC's main lobby. The site is open from 9 a.m. to 4 p.m. on weekdays.
This story is developing and will be updated.
Print this piece