Sewell releases 2018 report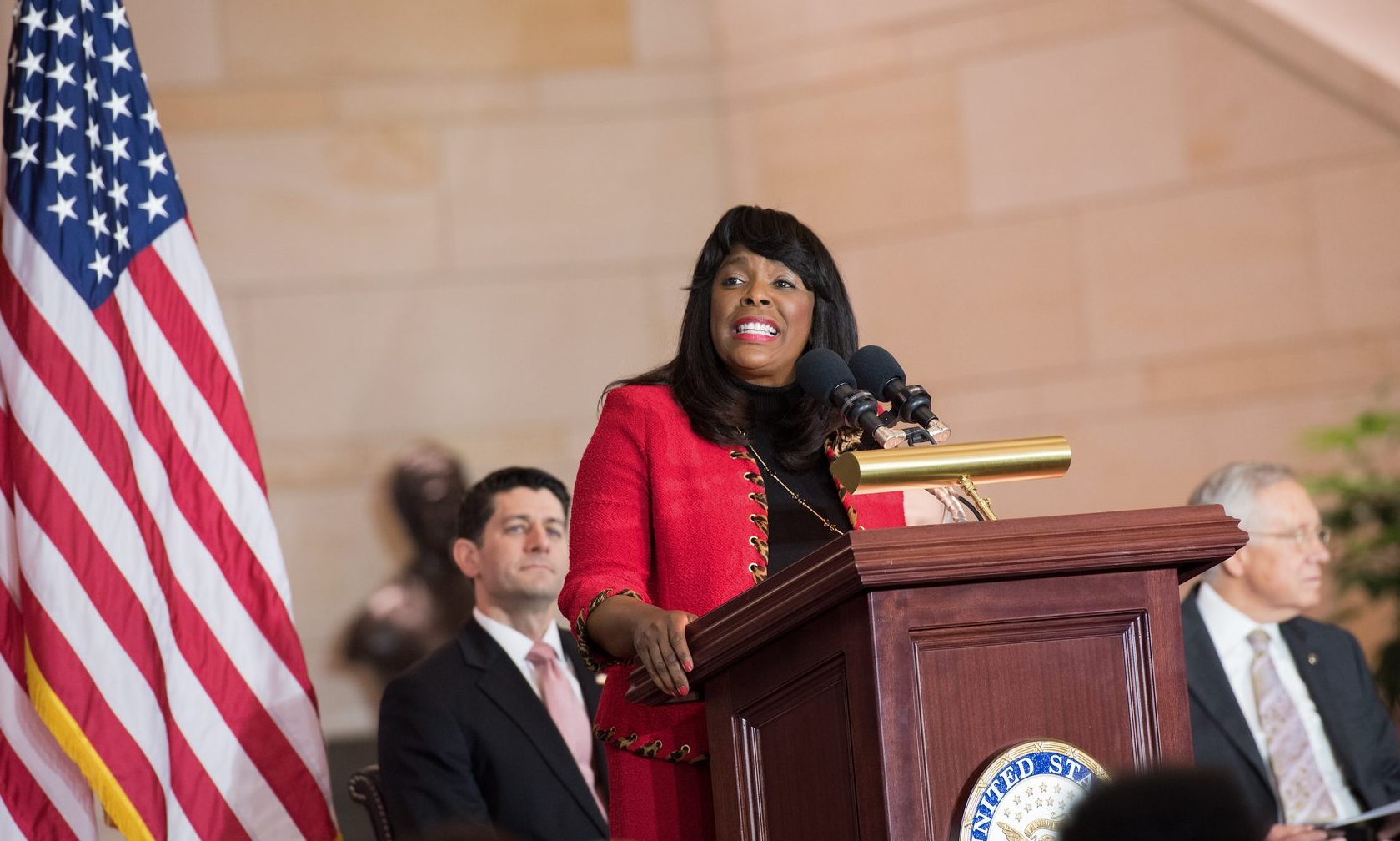 Congresswoman Terri Sewell, D-Selma, released her annual report detailing her accomplishments representing Alabama's Seventh Congressional District in the U.S. House o Representatives.
"I believe that transparency and accountability are central to the strength of our democracy," Rep. Sewell said in a statement. "That's why, each year, I'm proud to release my annual report, providing families in Alabama's 7th District with an easy-to-follow guide to our work over the past year and our goals for the coming year."
"For Alabama's 7th Congressional District, 2018 was a year of new challenges and hard-fought victories," Rep. Sewell stated. "Working together, we secured new investments in infrastructure, historic preservation, and for Historically Black Colleges and Universities (HBCUs). We pushed back against harmful auto and agriculture tariffs, fought to restore federal voter protections, and defended funding for CHIP, Medicare, and Medicaid. Through it all, I was proud to stand side-by-side with Alabama's working families and to be your voice in Congress."
"Each year, I make it a top priority to spend time in all 14 counties of Alabama's 7th District," Sewell continued. "Over the course of 2018, we hosted 96 district events, including town hall meetings, workshops, seminars, and industry tours. Our focus is on bringing better opportunities and more resources to Alabama's 7th District was also successful. This year, our constituents recovered $2.6 million in favorable benefits and received $1.1 billion in federal grants for Alabama's 7th Congressional District."
Sewell said that to boost jobs in the district she has: "Supported free and fair trade for our farmers and manufacturers and opposed trade barriers that would hurt our growing automobile industry"; "hosted a series of Project R.E.A.D.Y (Realizing Everyone's Ability to Develop Yourself) workshops throughout the District to equip job seekers with tips on job readiness"; and "introduced the Workforce Development Tax Credit Act, to ensure that our tax code promotes apprenticeship training and creates an employer incentive to invest in human capital."
"I am happy to report landmark successes in our fight to modernize infrastructure in Alabama's 7th District, including important investments in local wastewater systems and in our waterways," Sewell stated. "In March 2018, we were successful in advocating for the inclusion of an additional $1.8 billion in funding for water and wastewater infrastructure through the U.S. Department of Agriculture (USDA)."
In November 2018, USDA announced $23.4 million in funding to repair Uniontown's existing wastewater treatment plant and install new infrastructure.
"Working with Sen. Doug Jones and Rep. Mike Rogers of Alabama we introduced HR5837, the Rural Septic Tank Access Act, a bipartisan bill to invest in the construction and repair of decentralized wastewater systems in underserved communities. In December 2018, the Rural Septic Tank Access Act was signed into law as a part of the Farm Bill. We also hosted a Health Fair with Sen. Jones in Lowndes County to provide health screenings and to raise public awareness about the health consequences associated with failing wastewater systems."
"As the United States Commission on Civil Rights (USCCR) highlighted in a report this year, our fundamental right to vote is under attack," Rep. Sewell claimed. "Since the Supreme Court's 2013 decision to gut the Voting Rights Act (VRA) of 1965, voter ID laws, cuts to polling places, reduced voting hours, and other voter suppression tactics have restricted access to the ballot box. To bring attention to our efforts to restore voter protections, I hosted a hearing in Congress with USCCR to share findings from their 2018 report with Members of Congress. To mark the fifth anniversary of the Supreme Court's decision to gut the VRA, I organized a panel featuring voting rights experts who testified on the importance of restoring the vote. At the end of 2018, our bill, the Voting Rights Advancement Act (VRAA), had 192 cosponsors in the House of Representatives. As we begin the 116th Congress, we plan to hold hearings on the VRAA and pass this legislation in the House to restore fundamental voting rights for all Americans."
"In 2018, we worked diligently to protect and strengthen quality access to health care in Alabama's 7th District and across this nation," Rep. Sewell said. "On the Ways and Means Committee, I continued to fight back against attacks on Medicare, Medicaid, the CHIP program, and the Affordable Care Act."
Sewell said that she also worked to protect rural hospitals, worked to build support for a bill to increase Medicare reimbursements in Alabama, introduced the Rural Emergency Medical Center Act and fought for funding for community health centers that provide necessary primary care services.
"Alabama, which has the highest rate of opioid prescriptions in the country, is a battleground in our fight against the opioid epidemic," Sewell added. "This year, legislation to combat this epidemic was passed and signed into law, including a bill we introduced. Our bill, called the Preventing Addiction for Susceptible Seniors (PASS) Act, helps prevent opioid abuse among seniors without limiting access to needed medications."
"Our office motto, "Constituents First," represents our commitment to ensuring that we are always ready to assist you and your family throughout the year," Sewell said. "If you're a constituent of Alabama's 7th District and have an issue with a federal agency, please call my district office in Birmingham at (205) 254-1960, where we have caseworkers standing by to help."
To read the full report, click here.
Alabama's Black Belt lacks quality internet access, report finds
Twenty-two of 24 Black Belt counties are below the statewide average of 86 percent of the population who have access to high-speed internet, and two Black Belt Counties — Perry and Chocktaw — have no access at all. 
During an online video briefing Monday on a report about a lack of internet access in Alabama's Black Belt, University of Alabama student Brad Glover warned reporters that he could get kicked off the briefing at any moment. 
That's because he was talking during the video briefing by way of audio only, using his cell phone, as he does not have access to high-speed internet access at his Linden, Alabama, home in the Black Belt's Marengo County. 
The COVID-19 pandemic that sent students home to study online left many in the Black Belt and other rural parts of Alabama in the lurch, without access to the high-speed internet enjoyed by so many other Americans, according to the latest report in the University of Alabama's Education Policy Center's Black Belt 2020 series. 
The latest report, titled "Internet Access Disparities in Alabama & the Black Belt," found that 22 of 24 Black Belt counties, as defined by the Education Policy Center, are below the statewide average of 86 percent of the population who have access to high-speed internet, and two Black Belt Counties — Perry and Chocktaw — have no access at all. 
"It is still a terrible struggle for me to connect to get the things done that are required," said Glover, who interned with the Education Policy Center. 
Stephen Katsinas, director of the Education Policy Center, said that in the 1930s, nine of ten rural homes lacked the electric service that urban American homes, by that point, had for 40 years. 
"The Rural Electrification Act was passed to address this abject market failure," Katsinas said. "Today, as the COVID pandemic has shown, access to high-speed internet is as essential to rural Alabama as the REA was in the 1930s. Alabama must directly address the market failures that exist today to bring high-speech internet to every rural Alabamian, so that our rural workforce can access the lifelong learning skills they need, and our rural businesses can compete globally." 
The COVID-19 pandemic has also spotlighted the need to expand the growing area of telemedicine. 
Dr. Eric Wallace, medical director of Telehealth at UAB, told reporters during the briefing Monday that patients are largely doing telehealth from their homes, and explained that disparities in access to high-speed internet present a problem for them. 
"Since the COVID-19 pandemic began, UAB has done approximately 230,000 telehealth visits, and 60 percent of those were done by video," Wallace said. 
"Forty percent are audio only, and why is audio only? It's because we do not have broadband," Wallace said. "So it's not just broadband. It's broadband. It's tech literacy. Socioeconomics, to have a device in your home. It's all of that."
Wallace said that the coronavirus crisis has made clear that telemedicine is a "100 percent necessity" and that patient satisfaction studies make clear it's not going anywhere. 
The reasons for disparities in access to high-speed internet are myriad, explained Noel Keeney, one of the authors of the report and a graduate research assistant at the Education Policy Center. 
Keeney noted a study by BroadbandNow that estimates there are 154 internet providers in Alabama, but there are 226,000 Alabamians living in counties without a single provider, and 632,000 in counties with just a single provider. 
Even for those with access to internet providers, Keeney said that just approximately 44.4 percent of Alabamians have internet access at a cost of $60 monthly or below. 
"If we really care about our rural areas, we need to make an investment, and it needs to cut off that cost at a very low rate," Wallace said. 
Katsnias said there's a growing consensus on the part of Alabama's political leaders that access to high-speed internet is an important issue, noting that Gov. Kay Ivey in March 2018, signed into law the Alabama Broadband Accessibility Act, which has given internet access to nearly 100,000 Alabama students. 
"In March, Gov. Ivey awarded $9.5 million in broadband expansion grants, with a significant amount going to Black Belt communities," the report reads. "This was followed by $5.1 million in additional grants in May." 
"The State of Alabama also allocated $100 million in federal CARES Act-related dollars for "equipment and service for broadband, wireless hot spots, satellite, fixed wireless, DSL, and cellular-on-wheels to increase access for K-12 students undergoing distance learning," the report continues. 
An additional $100 million in CARES Act funds were made available to facilitate virtual learning across Alabama's K-12 schools, researchers wrote in the report, and another $72 million in federal aid went to the state's colleges and universities. 
Katsinas said however those federal funds are spent, the state still needs a long term plan for how to address the disparities in access to high-speed internet. 
"We need a long term plan and we need to do what we can do immediately," Katsinas said
Read more of the Education Policy Center's reports in the "Black Belt 2020" series here.