Sen. Del Marsh re-elected President pro tempore of Alabama Senate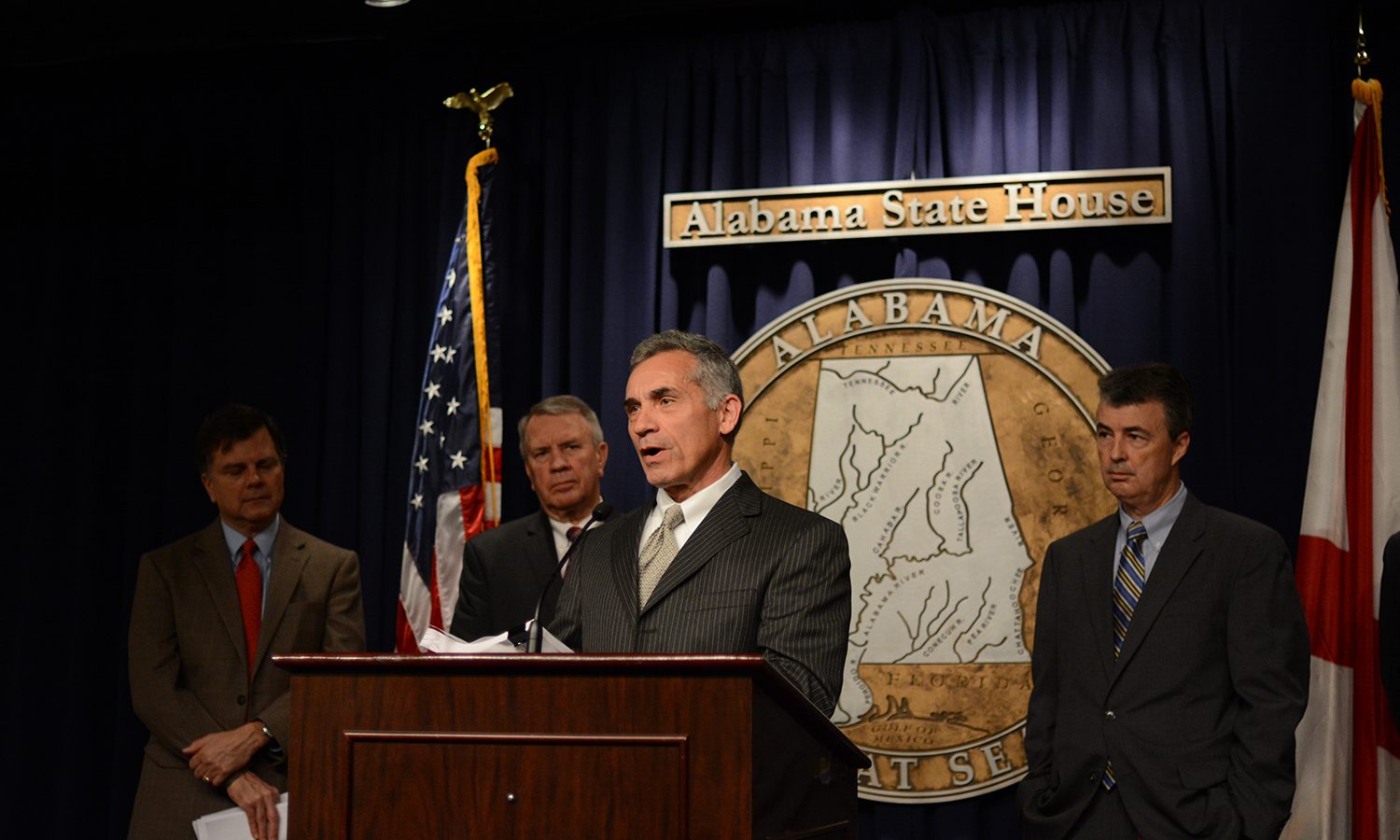 The Alabama Senate has unanimously elected Sen. Del Marsh, R-Anniston, as President pro tempore.
In a vote of 32-0, Marsh captured support from both Republican and Democratic senators. Democrats did not nominate their own candidate for the position, largely because the Republican caucus holds a supermajority in the Legislature's upper chamber.
Marsh, the only Republican to serve as President pro tempore since Republicans took control of the Senate in a historic election in 2010, will now head into his third consecutive term in the position.
The Republican leader in the Senate will likely hold the position until the end of the quadrennium in 2022.
Marsh — who, along with Republican Speaker Mac McCutcheon, has highlighted infrastructure and a gas tax as the key issue in the upcoming legislative session — said Tuesday that despite heavy turnover in leadership at the state level, the Alabama Senate has been a place that has worked together to pass legislation.
The upper chamber of the Legislature has been one of the only corners in state government that has not been impacted by corruption convictions and ethics violations that have removed former Speaker of the House Mike Hubbard, former Gov. Robert Bentley and former Supreme Court Chief Justice Roy Moore.
"The Senate has worked smoothly over the past several years, and I believe today's bipartisan vote reflects that," Marsh said. "I am proud of the work we have done to improve the lives of the people we represent and will continue to operate the Senate in that way."
The regular session of the Legislature starts a bit later this year on March 5. Marsh, McCutcheon and Gov. Kay Ivey have been relatively unified in identifying a gas tax as the key issue this year.
Republicans will again set the tone this year with a majority that has slightly expanded. Republicans gained one seat and now control 27 of the 35 seats in the upper chamber.
Sen. Greg Reed, R-Jasper, will remain as majority leader.
The eight members of the Democratic caucus elected Sen. Bobby Singleton, D-Greensboro, to serve as the Senate minority leader. Singleton, who was elected to the Senate in 2005, replaced outgoing minority leader, Sen. Billy Beasley, D-Clayton.
Beasley is moving to another leadership role in the Democratic minority.
"I look forward to working with Senate Majority Leader Greg Reed, Senate Minority Leader Bobby Singleton and all of my colleagues in the Legislature as well as Governor Ivey and Lt. Governor Ainsworth as we tackle the tough issues facing Alabama and continue passing balanced budgets and conservative pro-growth policies that have led to an unprecedented record setting economy," Marsh said Tuesday.
Lawmakers began their organization session Tuesday, which is mandated at the beginning of every quadrennium. The body convened to elect leadership positions, vote on operating rules and confirm committee assignments.
Alabama lawmaker pre-files legislation to allow removal of Confederate monuments
If passed, the measure would permit counties and cities to relocate historic monuments currently located on public property.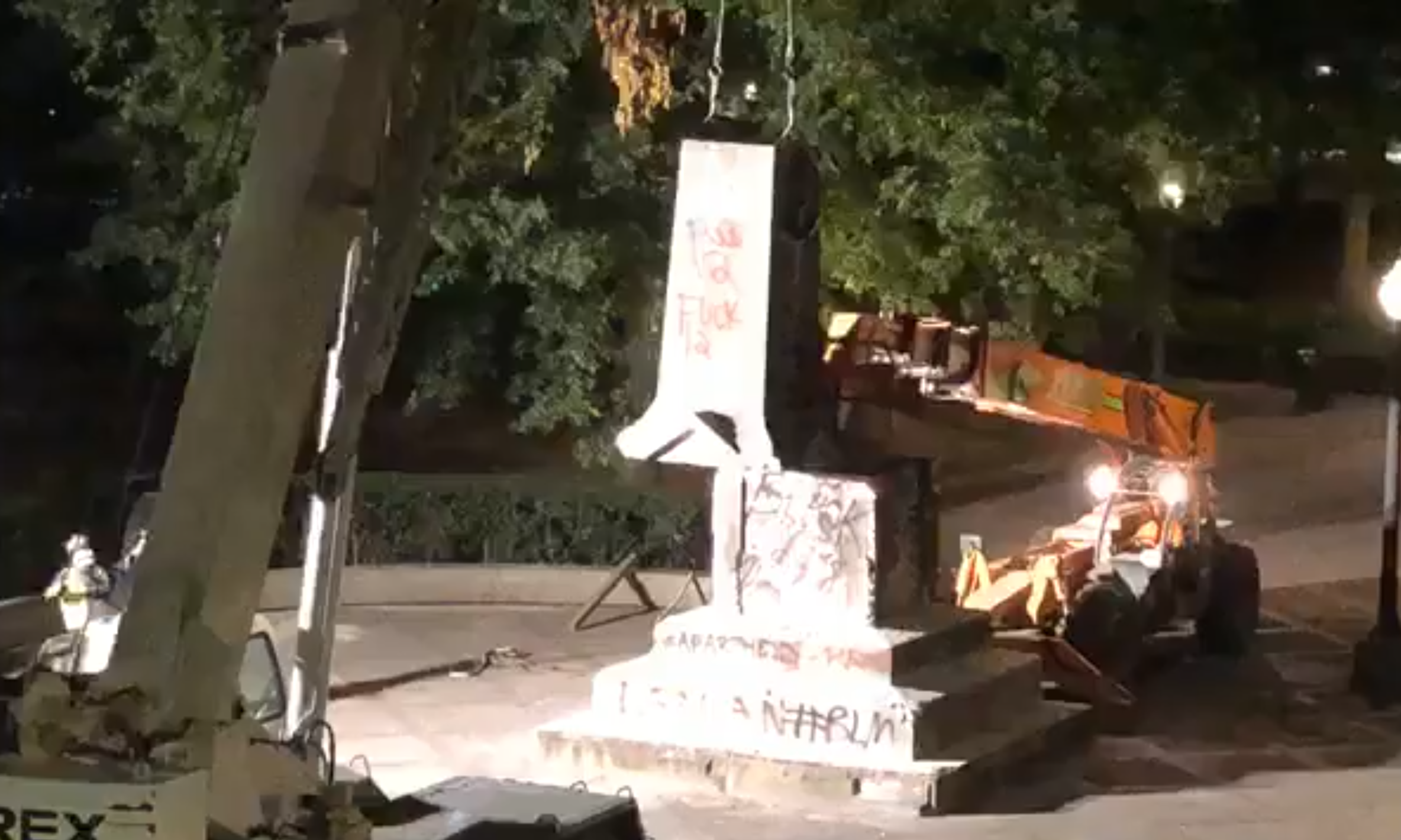 Alabama State Rep. Juandalynn Givan, D-Birmingham, introduced legislation this week in advance of the 2021 legislative session that, if passed, would permit counties and cities to relocate historic monuments currently located on public property. Givan's bill, HB8, would also provide for the relocation of historic memorials to sites appropriate for public display.
"Across the state of Alabama, citizens are calling for the removal of prominently placed statues and monuments that are insensitive or offensive to the communities that surround them," Givan said. "City and county governments must be able to address the demands of their citizens. This legislation provides a tool for local governments to safely remove these artifacts so that they can be moved to a site more appropriate for preserving or displaying the historical monument."
Removing the monuments and historical markers is currently illegal under Alabama's Memorial Preservation Act, which the state Legislature passed in 2017. Givan has been an outspoken opponent of that Republican-sponsored legislation. In 2018, Givan introduced a measure to repeal the bill that barred the removal of monuments.
"I believe HB8 can achieve bipartisan support," Givan said. "My bill seeks to balance the wishes of the people. It respects the will of communities that want the monuments removed. It also respects those who wish to preserve history. With this legislation, Confederate monuments could be relocated to a public site, like Confederate Memorial Park, whose purpose and mission is to interpret and tell these stories. When the Legislature convenes, I hope to have the support of both the House of Representatives and the Senate."
If enacted, HB8 would permit county and municipal governments to remove memorial monuments, including permanent statues, portraits and markers, located on public property in their jurisdictions. It would require a transfer of ownership of the removed monuments to the Alabama Department of Archives and History or the Alabama Historical Commission. Finally, the bill would instruct Archives and History or the Historical Commission to maintain and display monuments removed by local authorities in a location accessible for public display.
The Southern Poverty Law Center, which keeps track of Confederate monuments and memorials across the country, released an update to its Whose Heritage report, which tracks symbols of the Confederacy on public land across the United States. They report at least 30 Confederate symbols have been removed or relocated since George Floyd's death on May 25, 2020.
These include 24 monuments removed, 5 monuments relocated and the Mississippi state flag replaced. Since the Charleston church shooting in 2015, 115 total symbols have been removed from public spaces. These include 87 monuments that have been removed or relocated from public spaces. At least 78 monuments were removed and nine were relocated.
SPLC says there are still nearly 1,800 Confederate symbols on public land, and 739 of those symbols are monuments. The SPLC has prepared an "action guide" to help community activists target Confederate historical markers and memorials for removal.
President Donald Trump has denounced what he calls "cancel culture" that seeks to remove historical monuments and statutes.
"There is a growing danger that threatens every blessing our ancestors fought so hard for, struggled, they bled to secure," Trump said. "Our nation is witnessing a merciless campaign to wipe out our history, defame our heroes, erase our values, and indoctrinate our children."