Opinion | Slain Birmingham officer needed our help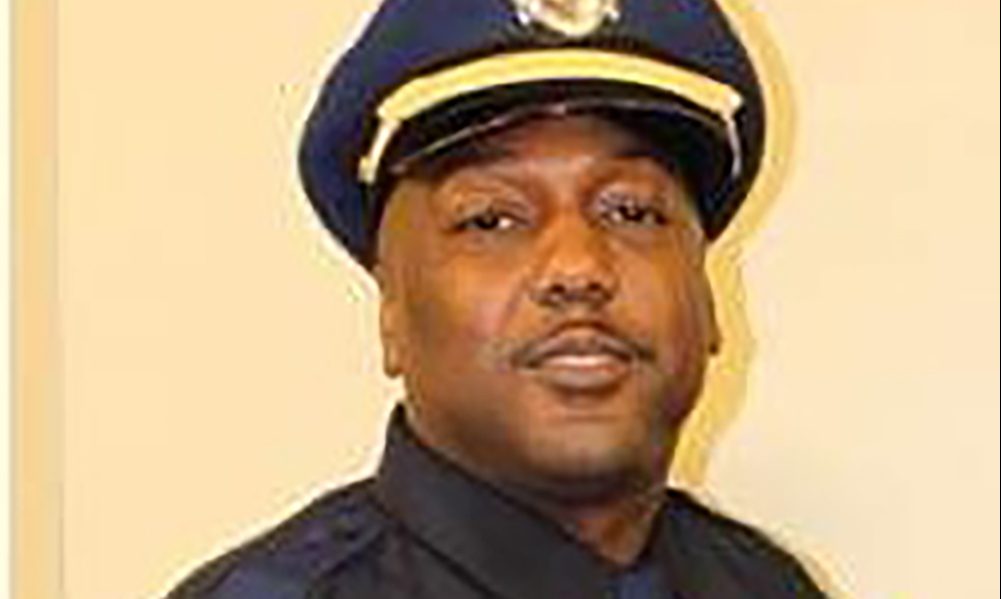 On Sunday, Birmingham Police Sergeant Wytasha Carter was shot and killed by some criminals who were apparently trying to break into cars.
Carter died at the scene. His partner was also shot, and remains in critical condition at UAB Hospital.
It was senseless. And stupid. And maddening.
And not at all unpredictable.
In fact, it's astounding that it has taken this long for a cop in one of the most violent cities in America — one of the most violent industrialized nations on earth — to be killed. Carter was the first police officer murdered in the city in 14 years.
In that same city, more than 200 people have been killed — most of them by gunfire — in just the past TWO YEARS.
And it will get worse.
It will get worse because we continue to turn a blind eye to the root causes of the violence that permeates our major cities: under-education, extreme poverty, drug use and a flood of easy-to-obtain firearms.
To put that another way: you have large groups of people who are hopeless, desperate and angry. They have been failed at every step of their lives — by their parents, their government, their schools and their justice system. They have been immersed in horrific violence since birth. They have no idea what acceptable conflict resolution even is, much less how to practice it. And they have been afforded ridiculously easy access to any firearm they would like.
A few years ago, as Montgomery suffered through one of the ugliest and deadliest years on record, I spent several days essentially hanging out in the highest crime neighborhoods — the projects, the abandoned apartment buildings, the neighborhoods you tell your kids to avoid when they start driving.
What I found was depressing.
Because these were not bad people, They were not lazy or unmotivated. They were not happy with their lives, nor were they particularly hostile.
They were hopeless.
Every single day mothers in those neighborhoods sent their kids off to schools that they knew were failing them. Every day, they prayed that their kids found some crack to slip through and into a better life — maybe they would be great at sports or a gifted student who landed in a magnet program or … hell, anything.
But deep down, they knew.
They knew that at some point reality would take hold. Their kids, lured by quick and easy money, would fall into the gangs. The violence and crime would take root and become common. Juvenile detention facilities would follow. And probably, if their kids survived, jail and prison.
The stories are more nuanced, and there are more twists and turns along the way, but this was life in a nutshell for a good chunk of Alabama's capital city.
The people had no hope.
And when such a thing happens, when you remove hope from hurting people, you also remove a valuation of life. Their life seems to be so utterly unvalued by everyone, so why should they value yours?
Or a cop's?
This is where we are. And it's getting worse.
You can get angry and stomp your feet and pretend that sticking kids in electric chairs or locking 'em all up is going to solve it, but it's not. Deep down, after centuries of that nonsense, surely you all know that by now.
The only thing that will solve it is love.
Until we love the poor kids, the black kids, the brown kids and all of the other kids who are a little bit different, this will never get better. Until we are as invested in the kids who dress in ratty clothes and have bad attitudes, in the kids who don't speak the language well and who fight first and ask questions later, we will continue to produce murderers and cop killers.
It seems that Sgt. Carter knew this.
In interviews with local media outlets, those who knew Carter best said he served Birmingham because he wanted to make a difference in his city. He wanted kids and the good people to feel some measure of safety. He wanted kids to know there were alternatives to the gangs..
But mostly, he wanted the people in the worst parts of his city to simply know that someone cared about them.
Sgt. Carter didn't die because his efforts were naive or misguided, or because the people he tried to help are too hopeless.
He died because not enough us joined him.

How qualified immunity affected an Alabama man shot five times during a police sting
Trinell King was driving his girlfriend's car to give an acquaintance, Donavan Brown, a ride when a Warrior Police Department officer pulled him over because the car didn't have a license plate.
King, who is Black, didn't have proof of insurance or a driver's license that September day in 2015, but gave the officer a photo ID.
Brown — on the other hand — gave a false name, and while the officer was back at his police vehicle, King told Brown to be honest with the officer, according to court records in a case over the incident. Brown told King that he had outstanding warrants and a gun. He was going to run.
Brown got out of the car and ran, and the officer ordered King out at gunpoint, handcuffed him and placed him in the back of the police car. King fully cooperated and told the officer that Brown had a gun. Even the responding officers, in court depositions, agreed that King fully cooperated.
Soon, King was surrounded by numerous white officers, one of whom testified in a deposition that King was "extremely cooperative from the beginning" and "willing to give [them] any information without having to really ask."
King's only crime was driving without insurance or a license, not something Warrior police usually arrest someone for, officers said in depositions, but he remained handcuffed while officers tried to coerce him into helping capture the armed man who'd ran from the scene.
"F— him [i.e. meaning King], you don't want to help us out, we're going to throw — we're going to hit you with this charge, you gonna start f—ing us over, we'll f— over you," King said an officer told him, while testifying in a deposition.
Officers repeatedly threatened King that they would "f—" him "over" if he didn't help.
King said he was "nervous" and "scared" — that he "felt threatened." He believed his "life was in danger," according to court records, and after nearly two hours of coercion, he agreed to take part in a dangerous sting operation to capture Brown. Police officers in depositions disputed that they coerced King into helping them with the sting operation, and said it was his idea to do so, according to those records.
"With the negotiation, the threats, everything they was telling me, if I don't cooperate they're going to throw some charges on me, and they going to f— me over. So in the streets that means it could mean anything. It can mean being shot. It can mean being anything. My life —," King said in a deposition.
Going along with the plan, an officer called Brown and put a cell phone to King's ear while he was handcuffed. King told Brown what he was told to say: that police had let him go. He could come and pick Brown up. Police told King to drive his girlfriend's car, pick up Brown and that they'd pull him over again.
Once again, an officer told King "if you f— over us, we're going to f— over you," according to the court documents.
Once King picked up Brown, the officers decided to pull him over before they had discussed, Brown pulled his gun and told King he "had" to shoot the officers, according to court records.
"King could not stop the car before Brown started shooting, and the officers returned fire," King's attorneys wrote in a court filing.
King, who wasn't given a bullet-proof vest, was struck by bullets five times, and there were 20 bullet holes in the car. Brown was shot 13 times, but remarkably both survived. One officer was shot but was protected by a vest. King underwent multiple surgeries, but lost the use of one arm.
King's case is an Alabama example of how the legal doctrine of qualified immunity prevents some who've been harmed by the actions of law enforcement from seeking relief from courts. Qualified immunity, a controversial doctrine established by Supreme Court precedent, protects government officials who have been sued in their individual capacity, unless their actions violate established legal precedent.
King sued, but a U.S. District Court judge in 2017 dismissed the case before it even went to trial on grounds of qualified immunity, and a three-judge panel of the 11th Circuit U.S. Court of Appeals in a June 5 ruling also found that the officers were protected by qualified immunity.
Despite the courts' rulings, witnesses testified that the officers' actions were improper.
Daniel Busken, a retired police chief and law enforcement consultant, testified in a deposition as a witness for King that the officers should have known they were putting King's life at risk.
Busken said that the police "knew, or should have known, that their plan to force Mr. King to assist in their capture of Brown represented a significant danger to Mr. King's safety … and an unpredictable situation for Mr. King," because Brown "was a desperate man in a desperate situation that had showed how desperate he was."
Another officer testified in a deposition that he was unaware of any plan to protect King's life, or if the department had ever conducted such a sting before.
"Nevertheless, Defendants planned to have five vehicles and seven armed officers — all of whom planned to draw their guns on Brown — involved in the sting," King's attorneys wrote in an appeal.
The judges ruled that King could not bring his case before a jury to decide whether the officers should be held accountable for nearly costing him his life — not because his case lacked merit but because of the controversial legal doctrine of qualified immunity
Attorneys for King have appealed the 11th circuit panel's ruling to the full 11th circuit court, and are asking all the circuit judges to reconsider, and to allow the case to go before a jury.
The attorneys argue that the officers violated his Constitutional protections. The June 5 ruling came at the peak of tensions between peaceful protestors and police, some of whom responded with tear gas and so-called rubber bullets.
The judges,  in their opinion, wrote that "even taking King's testimony as true and drawing all reasonable inferences in his favor, there is no evidence that the officers threatened him with false charges" — because the officer's didn't say what he might be charged with if he didn't go along with their plan.
"As for the alleged threats of physical violence, the evidence is similarly thin," the judge's wrote. "If the officers had told King 'help us, or we're going to f–k you up' (or something like that) then King would have a more compelling argument. But that isn't what he said they said."
"Instead, King testified that the officers told him "[if] you don't want to help us out, we're going to throw—we're going to hit you with this charge, you gonna start f–king us over, we'll f–k over you. I don't know where you get your car back," the judges wrote.
King's attorneys in the appeal to the full 11th circuit argue that the case should be heard by a jury of King's peers, and that the all-white judges on the panel are "good people with good intentions" but that they are out-of-touch with "the common experiences of the people, especially Black Americans, and the reasonable inferences that they would draw from the totality of the evidence presented."
"Suffice it to state that Black and other Americans of color, and a significant amount of White and other Americans, would come to a different conclusion than the panel, based on their different life experiences, which is the reason why the Founders insisted that the Seventh Amendment require trial by jury, and not by a panel of judges who do not have the same life experiences," King's attorneys wrote.
King told APR that he was left without a choice, forced to risk his life in a bid to help the officers, with whom he cooperated from the start.
"I can't believe that the courts have given the officers who made me help them catch their suspect immunity after they forced me to go along with their plan to trap him. They knew he was armed and dangerous. They put on their bullet proof vests while I waited, and they made me go pick him up with no protection at all," King said in a statement. "I had done everything I could to cooperate and even told them his name, that he had a gun and had warrants on him, but then they forced me to help them catch him."
"I didn't have any choice because they made it clear that if I didn't go along with their plan they were going to hurt me," King continued. "There was no doubt about that. I was one Black man surrounded by all these white cops who were threatening me. How can judges sit there and say what a jury would think about that?"
Spurred by the death of George Floyd, a Black man killed by a white police officer in Minneapolis, protestors and criminal justice reform advocates are calling for an end to qualified immunity, which they say allows police to escape responsibility for harming the public.
On June 19, in a tribute to Juneteenth, Colorado Gov. Jared Polis signed into law a series of law enforcement reform bills, included among them an avenue for Coloradans to sue police in state court if their rights have been violated. The Enhance Law Enforcement Integrity Act states that "qualified immunity is not a defense to liability."
Colorado is the first state to pass such legislation barring qualified immunity as protection for officials, but the state law can't stop such officials from claiming qualified immunity if a case is brought before a federal court instead of a state court.
That could change, if the U.S. Supreme Court ruled against such protections, but earlier this month, the Supreme Court passed up a chance to rule on the matter.
It was the U.S. Supreme Court in the 1967  Pierson v. Ray case that established qualified immunity as a doctrine as a protection against frivolous lawsuits, and over the years, courts have expanded the protection, and the doctrine still has its supporters.
Democrats have pushed for broad police reforms in the wake of Floyd's homicide, including an end to qualified immunity, but many Republicans argue that doing so would result in frivolous lawsuits and discourage people from becoming law enforcement officers.
The U.S. House of Representatives on June 25 passed a series of policing reforms in a largely party-line vote, but the Trump administration is threatening a veto, and the measure has little support among Republican lawmakers, just three of whom broke ranks and voted for the House bill.
Democrats opposed a GOP proposal in the U.S. Senate, and said the bill didn't go far enough, effectively stalling that bill and leaving the matter in limbo as protests against police brutality continue across much of the country.
Birmingham attorney Rip Andrews, one of King's attorneys, told APR in a statement that he hopes the full 11th circuit considers the case in the current context.
"Qualified immunity has so far kept Trinell from having his day in court in front a jury. Win or lose — a day supposedly guaranteed by the Seventh Amendment," Andrews said. "His only chance now is the hope that the full Eleventh Circuit reads his story in the context of our time and agrees to hear his appeal."