Sen. Cam Ward will again chair the Alabama Senate Judiciary Committee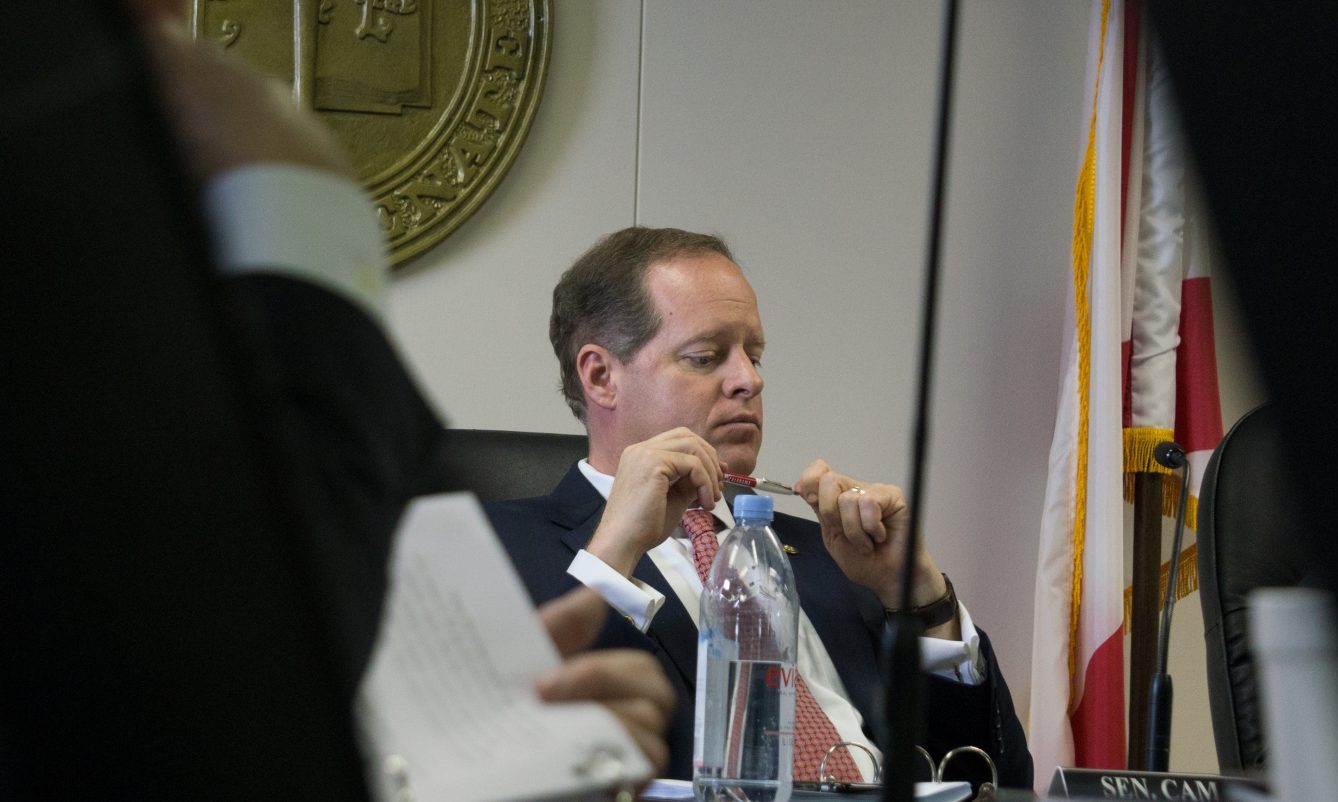 The senator largely responsible for rewriting many of Alabama's antiquated sentencing laws and who has led an effort to reform Alabama's prisons will again chair the Alabama Senate's Judiciary Committee.
Sen. Cam Ward, R-Alabaster, was selected to chair the powerful committee responsible for oversight of Alabama's criminal justice system.
Ward, who has served in the State Senate since 2010 after two terms in the Alabama House of Representatives, sponsored historic legislation in 2015 that rewrote Alabama's sentencing guidelines. The aim was to reduce Alabama's prison population by moving non-violent offenders toward rehabilitation programs.
Since the legislation passed, in 2015, Alabama's inmate population has decreased by at least 4,406 inmates or a little more than 14 percent. In October 2018, the population was 26,858. That's down from a high of 32,523 in 2013.
Combined with sentencing reforms in 2013, the population has decreased by about 17.5 percent since that year. That has been welcome news to an Alabama corrections system that has experience historic overcrowding since the new millennium.
About 20,195 of those prisoners are held in Alabama Department of Corrections facilities, which were designed to hold only 12,412. That occupancy rate of about 160 percent is down about 15 percent since 2013, when prisons were verging on 190 percent occupancy rate.
"We have made a lot of strides with criminal justice reform, but we still have a long ways to go. We have to continuously innovate and use smart, data-driven approaches to figure out ways to keep recidivism as low as possible," Ward said. "Criminal justice reform is an area where Republicans and Democrats actually agree on a lot, as evidenced by the fact that Cory Booker and Ted Cruz both voted for President Trump's First Step Act, which I think is a smart reform of the federal sentencing guidelines."
Ward has also sponsored or been a main supporter of legislation that would have built new prison facilities to replace aging prisons that were built largely in the 1970s and 1980s.
The Judiciary Committee chairman said he isn't done looking at the issue of sentencing reform, though. And he views it as a bipartisan issue that both sides can work on together.
He also hinted at his support for an increase in infrastructure investment. The Republican leadership in the Legislature is considering a plan to raise Alabama's gas tax for the first time since 1992 in an effort to fund infrastructure investment.
"The Republican majority has accomplished some huge conservative reforms over the past few years. Thanks to a strong commitment to fiscal responsibility, proration hasn't happened once to Alabama's schools since 2011, and we have passed a historic pro-life constitutional amendment, to cite just two examples," Ward said. "In this new legislative term, I look forward to working with other legislators and Governor Ivey to tackle some of the remaining big challenges facing our state, like infrastructure modernization and education reform."
Ward hasn't stopped with sentencing reform. He led an effort to reform court costs and fees charged to juveniles. Last year, he proposed 10 different bills that focused on some issue of Alabama's justice system. Six of those dealt directly with court funding issues.
Though some of them failed, like the juvenile justice reform bill, others have passed. Last session, he sponsored a bill signed into law that increased penalties for trafficking and distributing fentanyl, an extremely powerful synthetic opioid that claimed the lives of 157 Alabamians in 2016, according to the National Institute on Drug Abuse.
On top of his role in the Legislature, Ward is entering his ninth year as president of the Alabama Law Institute.
The ALI, housed in the Law Center Building at the University of Alabama, has the goal to "clarify and simplify the laws of Alabama, to revise laws that are out-of-date and to fill in gaps in the law where there exists legal confusion."
The Legislature will reconvene in March for the 2019 legislative session.
Pro-Growth Conference kicks off with Doug Jones, discussions on COVID impact and a living wage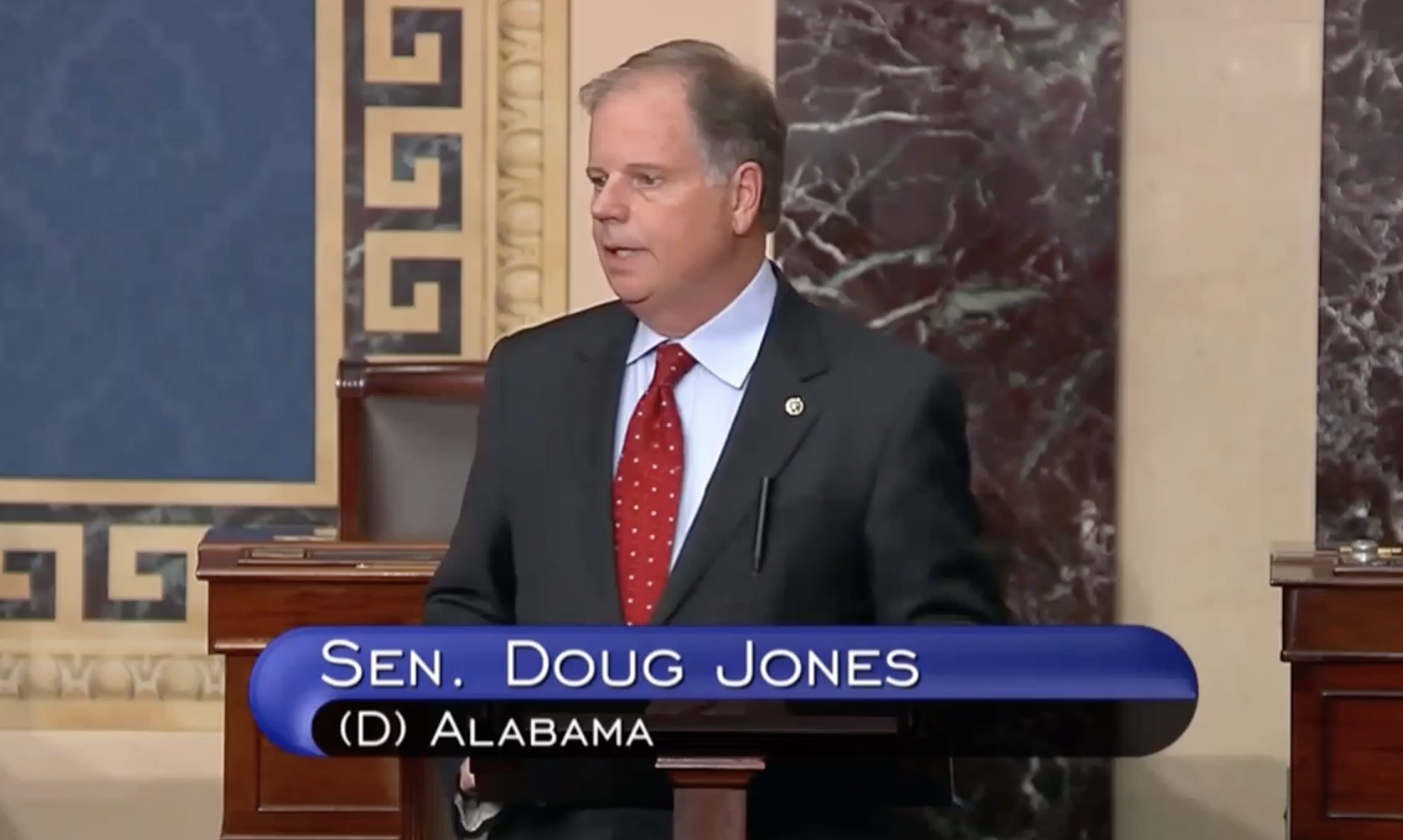 What happens if you just give impoverished citizens $500 per month — no strings attached? Good things, it turns out. The people use that income to buy food, medicine and basic necessities for life. They take a day off work if they're sick and actually get treatment. They quit a second, hourly-wage job that they are overqualified for and instead work towards obtaining a better, higher-paying primary job. 
These are things that the city of Stockton, California, has learned in its year-long living wage program.
The program, while limited in size — only 125 people — has proven to be a larger success than city officials had hoped, and it has opened their eyes to a new, more proactive style of governance, Stockton Mayor Michael Tubbs told Alabama elected officials. 
Tubbs was the featured speaker on Tuesday at the first day of the Pro-Growth Policy Conference, a three-day forum for Alabama elected leaders with guest speakers from around the country offering tips and best practices. 
The first day of the conference began with an opening talk from Sen. Doug Jones, who pressed the need for Medicaid expansion and how expansion has aided other red states. Jones also highlighted the need for broadband expansion and talked about a bill he has in the Senate that would create a broadband main office and dish out about $20 million in money for affordable access.
"Now (with COVID), we know how needed it really is," Jones said. "We see the homework gap that we have. We know there's a need for more telemedicine. My bill would consolidate in one office all of the monies for broadband … and provide affordable access."
Jones said the current COVID pandemic has highlighted just how badly we need better access to broadband in Alabama, and a major area of concern right now is healthcare. 
Highlighting that point, Brandon Garrett, the chief operating officer of the National Minority Quality Forum, and Dr. LaTasha Lee, the vice-president of social and clinical research, demonstrated the many ways in which inequality in health care and health care options is harming impoverished communities. 
A number of factors play into that inequality, but a lack of access to updated means of communication and tools is one of the biggest. 
"(Dr. Martin Luther King Jr.) said that, 'Of all the forms of inequality, injustice in health care is the most shocking and inhumane because it results in physical death,'" Lee said. "That's what we're seeing currently with COVID-19 and sickle cell disease. These two diseases are affecting the minority community and causing death, and they make a great argument that such health care disparities really are a social justice issue."
Correcting such issues was one of the goals of Stockton's living wage experiment. Now, Tubbs said, a working person can afford to stay home or get tested if they're feeling symptomatic, whereas before that person — scared of missing a paycheck or losing the job altogether — might come to work with the virus and infect an entire workplace. 
That alone, Tubbs said, has restored dignity to a number of residents. 
"This is not easy, especially with budgets the way they are," Tubbs said. "But I don't know how we continue to live with the status quo as it is.
"I think part of being a leader, as we are, is having the courage to do something about what we're seeing. We have to be able to do that."
The Pro-Growth Policy Conference will run both Wednesday and Thursday, 10 a.m. until 2 p.m. Wednesday's round of conferences will focus on state grants, economic development around the state and what the 2021 legislative session might look like. 
On Thursday, the event will wrap up with talks by the Equal Justice Initiative's Bryan Stevenson and Alabama Congresswoman Terri Sewell.