Ivey attends kick-off construction on Airbus A220 manufacturing facility in Mobile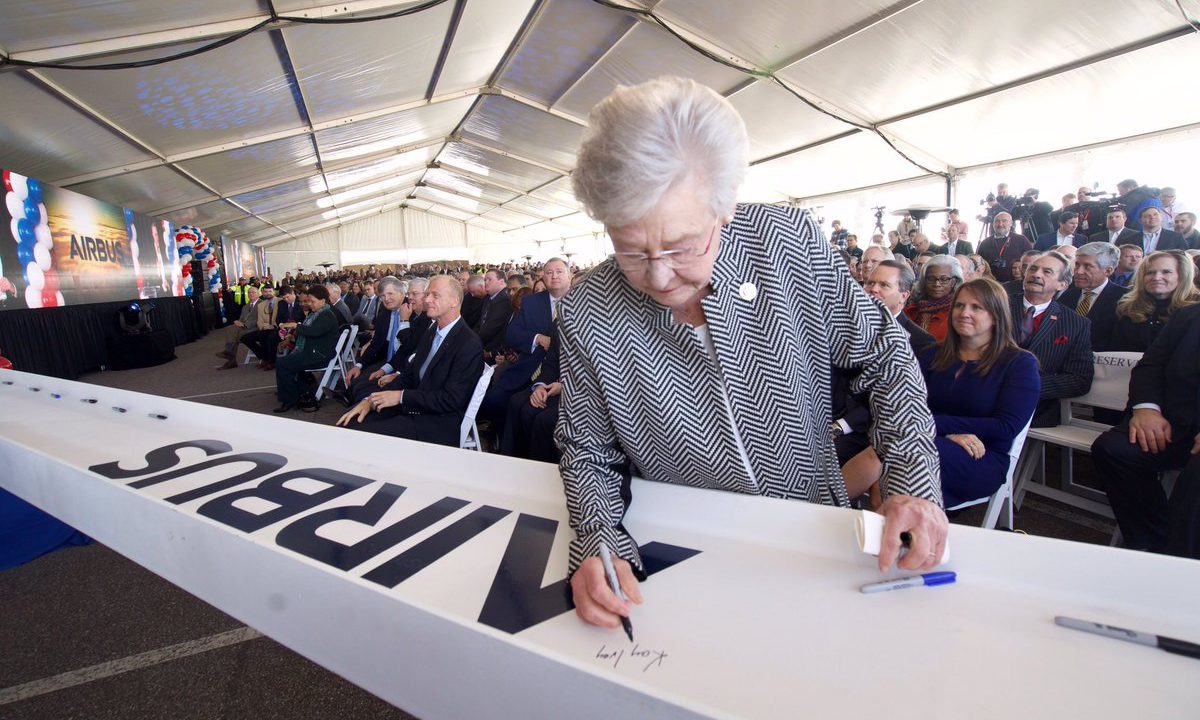 Alabama Gov. Kay Ivey joined leaders of Airbus, top local officials and others at the Mobile Aeroplex at Brookley Wednesday for a groundbreaking ceremony to launch construction of the company's new A220 aircraft manufacturing facility.
Airbus already manufactures the A320 family in Mobile. The new assembly line will satisfy the strong and growing U.S. demand for the A220 aircraft. The A220 is the newest offering in Airbus' commercial aircraft product line, and create more than 400 full-time jobs in Mobile.
"This is a great day for Mobile and for Alabama," Governor Ivey said. "Airbus' growth plans will not only create new jobs for Alabamians but also strengthen the bonds that have developed between the global aerospace company and our state. Alabama has a long history in flight and, as this project shows, a bright future in the aviation industry."
Secretary of the Alabama Department of Commerce Greg Canfield said that the A220 assembly line project represents an important milestone for the state's robust and expanding aerospace sector.
"Airbus' decision to launch production of A220 aircraft at a new assembly line in Mobile will act as a powerful catalyst for sustained growth in an industrial sector that is key to Alabama's future," Secretary Canfield said. "Airbus' expanding presence in the Mobile aerospace cluster will spark significant job creation and spur additional aerospace investment in the region for many years."
Airbus CEO Tom Enders led the celebration and welcomed attendees including: Airbus executives, other industry executives, Airbus manufacturing employees, as well as state, national, and local dignitaries and community leaders.
Airbus manufactures the A320 family of aircraft in Mobile, as well as helicopters and satellites elsewhere in the U.S. It also operates an engineering center in Mobile, plus other facilities across the nation.
The Chairman and CEO of Airbus Americas, Jeff Knittel said that Airbus' expansion in the United States reflects the company's growing partnerships with customers, as well as with American supplier-partners, and the communities in which the company operates across the U.S.
"Our partnerships are growing again with the addition of an A220 manufacturing facility that will employ some 400 more employees at full rate," Jeff Knittel said. "Together we've already put Mobile on the map in the world of global aviation, and together we are making a new mark for the future."
Economic developer Nicole Jones told the Alabama Political Reporter, "Airbus' latest expansion, the construction of a new A220 aircraft manufacturing facility in Mobile, demonstrates Alabama's position as a global leader in the aviation and aerospace industry."
The new A220 assembly line will facilitate assembly of A220-100 and A220-300 aircraft for U.S. customers.
"The A220 Family is the newest addition to the Airbus family of commercial aircraft, designed for consumers in the 100 to 150 seat market," Nicole Jones added. "Crews will construct the A220 assembly line at the Mobile Aeroplex at Brookley, adjacent to the A320 production line already in operation. "
Aircraft production is planned to begin in third quarter of this year with the first delivery of an A220 assembled in Mobile scheduled for 2020. The new A220 production facilities will be complete by next year.
"Airbus has already announced significant news related to its current A320 facility in Mobile County," Nicole Jones continued. "Within the past month, the company delivered its one hundredth (100th) made in Alabama plane to Frontier Airlines. Folks looking for employment should take note that Airbus plans to add new jobs this month (January 2019) and approximately 600 jobs over the next 18 months."
Alabama is rapidly becoming a major global for aerospace research and aircraft production.
"Business analysts predict that by 2023, Alabama will be number 4 or 5 in the world for the production of commercial aircraft," Nicole Jones concluded. "This is a testament to teamwork and strategic partnerships between the public and private sector as well as the quality, dedicated, and skilled workforce Alabamians provide and companies need. Alabama has a history of leadership in aerospace and aviation, and Airbus is an international pioneer in the industry. We are thankful to the team at Airbus for their continued commitment to our state, nation, and the world."
Alabama GOP chair: "We expect our elected officials to follow the law" after Dismukes arrest
"Will Dismukes matter: We expect our elected officials, regardless of Party, to follow the laws of our state and nation," Alabama GOP chair Terry Lathan said on Twitter.
Alabama Republican Party Chair Terry Lathan said Thursday that Alabamians expect their leaders to follow the law. Her comments came in response to news that an arrest warrant had been issued for State Rep. Will Dismukes, R-Prattville, on the charge of felony theft.
"Will Dismukes matter: We expect our elected officials, regardless of Party, to follow the laws of our state and nation," Lathan said on Twitter. "No one is immune to these standards. It is very disappointing to hear of these allegations. This is now a legal matter and it must run its course."
Will Dismukes matter:
We expect our elected officials, regardless of Party, to follow the laws of our state and nation. No one is immune to these standards. It is very disappointing to hear of these allegations.This is now a legal matter and it must run its course. #alpolitics

— Terry Lathan (@ChairmanLathan) August 6, 2020
Speaker of the House Mac McCutcheon, R-Monrovia, said Friday in a statement that Dismukes will get his day in court.
"As a former law enforcement officer, I have faith in the criminal justice process and trust that he will receive a full and fair hearing," McCutcheon said. "Both Democrats and Republicans have been accused of similar crimes in the past, and we cannot tolerate such behavior whether the lawmaker involved has a D or an R beside their name."
Dismukes has been charged by his former employer, a custom flooring company, of felony theft charges. Dismukes left that employer and started his own custom flooring company.
Dismukes, who is serving in his first term and is one of the youngest members of the Alabama Legislature, has been heavily criticized for his participation in a birthday party for Confederate Lt. General Nathan Bedford Forrest in Selma. Forrest was also the first grand wizard of the Ku Klux Klan.
The party in Selma occurred the same week that Congressman John Lewis's funeral events were happening in Selma. Dismukes resigned his position at Valley Baptist Church when the Southern Baptists threatened to disassociate the Prattville Church if they retained Dismukes. He has defiantly refused to step down from the Legislature, but if convicted of a felony, he would be automatically removed from office.
Both Democrats and Republicans have called for Dismukes to resign from the Alabama House of Representatives over his being the chaplain of the Prattville Sons of Confederate Veterans and his Facebook post lauding Forrest. The investigation into the theft predates the controversies surrounding Dismukes's glorification of the Confederacy and Forrest.
Republican State Sen. Clyde Chambliss, who also represents Prattville, has called on Dismukes to resign.
"Since first being elected in 1996, I've had a policy of not publicly criticizing other elected officials, but at this time I am making an exception since Rep. Dismukes is MY state representative. He does not represent my views or the views of the vast majority of people of District 88," Chambliss said. "The post is bad enough, the timing is even worse, but the real problem is that an elected official in 2020 would attend a celebration of the life of someone that led a group that terrorized and killed other human beings. He has had 24 hours to understand why people are so upset, but his interview on WSFA a few moments ago confirms that he is lacking in understanding and judgment — he should resign immediately."
Alabama Democratic Party Chairman State Rep. Chris England, D-Tuscaloosa, has repeatedly called for Dismukes to resign from the Alabama House of Representatives.
The Alabama Democratic Party recently said in a statement, "Will Dismukes is morally unfit for office. Republicans and Democrats statewide seem to agree. Unfortunately, despite the mounting calls for his immediate resignation, Will intends to stay in office and seek re-election without penalty from the Republican Party."
"While Alabama Republicans hope this will be a distant memory when Dismukes runs for re-election in 2022, we are not going to let him off the hook," the ADP wrote. "The Alabama Democratic Party is going to leverage every tool we have to send Will packing when he comes up for re-election in two years."
"In our darkest hours in life there is still light in Christ!" Dismukes wrote on social media Wednesday. "As the storm continues to blow with heavy force, there is yet a peace that this too shall pass. I guess sometimes we find out if we have built our house on sand or the solid rock of Christ. Psalm 23."
When Speaker of the House Mike Hubbard, R-Auburn, was indicted on 21 charges of felony ethics violations, he did not resign and actually remained speaker until a jury of his peers in Lee County convicted him on 12 counts.