Today is Martin Luther King Jr. Day
Today is the national Martin Luther King Jr. state and federal holiday. Banks, schools, government offices, and some businesses will be closed today in solemn observance of King's life and legacy.
King was a Montgomery pastor and civil rights leader in the 1950s and 1960s, who rose to national prominence with the Montgomery Bus Boycott. King won the Nobel Peace Prize for his work. He was assassinated in Memphis on April 4, 1968. King's legacy is especially significant to the Black community, where they were negatively impacted for centuries in America, well before the Revolution, by slavery, discrimination, segregation, and often racial violence.
King's actual birthday was on January 15, 1929 in Atlanta; but his holiday is observed on the Third Monday of January.
On Tuesday, Congresswoman Terri A. Sewell, D-Selma, wrote on social media,
"Today would've been Martin Luther King Jr.'s 90th birthday. I'm working tirelessly to honor his legacy by leading the charge to engage and empower all American voters by passing the Voting Rights Advancement Act, which will restore the Voting Rights Act of 1965 and help fulfill his dream of a more just and equal society."
On Friday, President Donald J. Trump (R) wrote in a Presidential proclamation:
"One hundred years after President Abraham Lincoln issued the Emancipation Proclamation, the great Reverend Dr. Martin Luther King, Jr., took to the steps of the Lincoln Memorial and shared his vision of an America lifted from the "quicksands of racial injustice to the solid rock of brotherhood," Pres. Trump wrote. "His extraordinary message that momentous day in August of 1963 stirred to action Americans of every race and creed, and it continues to reverberate in the hearts and minds of patriotic citizens across our great land. Today, as we pause to mark the life and legacy of Dr. Martin Luther King, Jr., we recommit ourselves to the advancement of equality and justice for all Americans, and to the full realization of his worthy dream."
"In the United States of America, every citizen should have the opportunity to build a better and brighter future, and, as President, I am committed to expanding opportunity for all Americans," Pres. Trump continued. "We have added more than 5 million new jobs to the economy over the past 2 years and unemployment rates for African Americans, Hispanic Americans, Asian Americans, and Americans without a high school degree have reached record lows."
"Importantly, we have also worked tirelessly to reform our Nation's criminal justice system, so that those who have been incarcerated and paid their debt to society are given a second chance at life," Trump continued. "Last year, I was proud to sign into law the First Step Act, which will prepare inmates to successfully rejoin society and effect commonsense reforms to make our justice system fairer for all Americans. Through recidivism reduction programs that provide vocational training, education, and mental healthcare, non-violent offenders can have a chance at redemption and an opportunity to fulfill a better destiny."
"We have also made great strides as a Nation, but we acknowledge that more work must be done for, in the words of Dr. King, "justice to roll down like waters and righteousness like a mighty stream," Pres. Trump stated. "United as one American family, we will not rest — and we will never be satisfied — until the promise of this great Nation is accessible to each American in each new generation. More than half a century after Dr. King's March on Washington for Jobs and Freedom, our Nation is mindful of its past, and we look forward to the future with unwavering optimism, inspired by the legacy of Dr. King and informed by his wisdom and vision. May the memory of Dr. Martin Luther King, Jr., and the efforts we have made to fully effectuate his dream, remind us that faith and love unite us together as one great American family."
The Dexter Avenue King Memorial Baptist Church in Montgomery will be holding an MLK Day celebration on Monday from 9:00 a.m. to 12 noon. There will be a special unveiling of the bust of Dr. Martin Luther King, Jr. The speaker for this event will be Rev. Dr. James E. Shannon, Pastor of Peoples Community Church, Glen Ellyn, Illinois. The theme for this year's celebration is "Standing Strong: A Community Celebration of Living the Dream." King was pastor there from 1955 to 1960.
The Birmingham Civil Rights Institute will be open with free admission to the public from 9:00 a.m. to 5:00 p.m. The MLK Day events will include live performances, music, games, and giveaways. We will offer free admission to the public with extended hours from 9:00AM to 5:00PM. Donations will be welcomed. The Civil Rights Institute is part of the National Civil Rights Movement Monument in Birmingham.
State Sen. Jim McClendon accuses Tuberville of hiding from a debate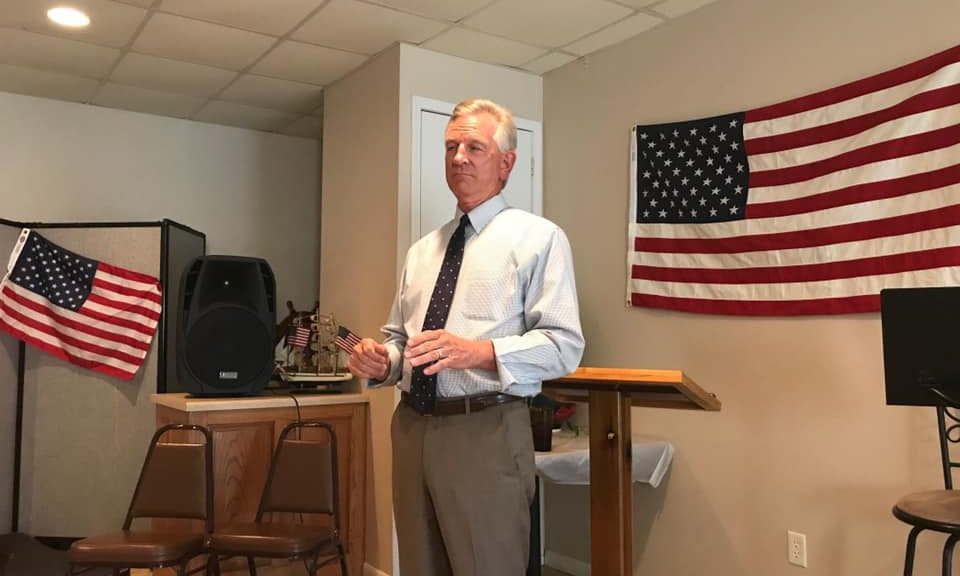 State Sen. Jim McClendon, R-Springville, on Monday accused coach Tommy Tuberville of avoiding his GOP Senate primary opponent, former Sen. Jeff Sessions.
"Coach TUBBERVILLE is hiding from a face to face debate," McClendon said on social media.
McClendon compared Tuberville's strategy to that of Democratic presidential nominee former Vice President Joe Biden.
"Joe BIDEN is hiding from the public in his basement," McClendon said. "Same game plan for both of these guys. WHY? They are AFRAID (and UNABLE?) to answer pertinent questions. I will not vote for either of them. We MUST have leaders that understand the issues."
Biden is the presumed Democratic presidential nominee. He will face President Donald Trump in the Nov. 3 general election.
McClendon told APR that Tuberville, "Does not know the issue. He doesn't have a clue. He just wants to be a U.S. Senator."
Sessions has challenged Tuberville to debates.
"Anyone who represents our state needs to demonstrate that they know Alabama and each of its 67 unique counties," Sessions said in May. "You can't represent Alabama's interests unless you prove that you understand Alabama and the challenges we face. Given your TV ads boasting about how strong you are (while standing in a gym where other people are exercising), I'm sure you can find it within yourself to demonstrate that strength in a series of debates so that the people of Alabama can see for themselves."
"Being a United States Senator is more than just casting the occasional vote," Sessions stated. "Effective senators must be ready to debate Chuck Schumer, Bernie Sanders, Elizabeth Warren, and others on many issues and away from the safety of talking points scripted by Facebook's chief open-borders lobbyist, who you've hired to help lead your Senate campaign."
"And anyone representing Alabama needs to be fully vetted before they are trusted to represent Alabama Republicans in a race against Doug Jones," Sessions continued. "I've been fully vetted, over and over again. The national Democratic Party tried to find "dirt" on me when I helped President Trump win the 2016 election, and again when he nominated me for Attorney General. They came up empty, because there's nothing there."
Tuberville is a former Auburn University head football coach. He was also the coach at the University of Mississippi, Texas Tech University and Cincinnati University, and the defensive coordinator at the University of Miami and at Texas A&M University.
Polls have shown Tuberville with a lead over Sessions.
Sessions and Tuberville are running against each other in the Republican primary runoff on July 14. The winner of the Republican nomination will face incumbent Democratic Sen. Doug Jones in the Nov. 3 general election. Sessions was Senator from 1997 to 2017, when he was confirmed as U.S. attorney general.