Terry Lathan running for third term as ALGOP chair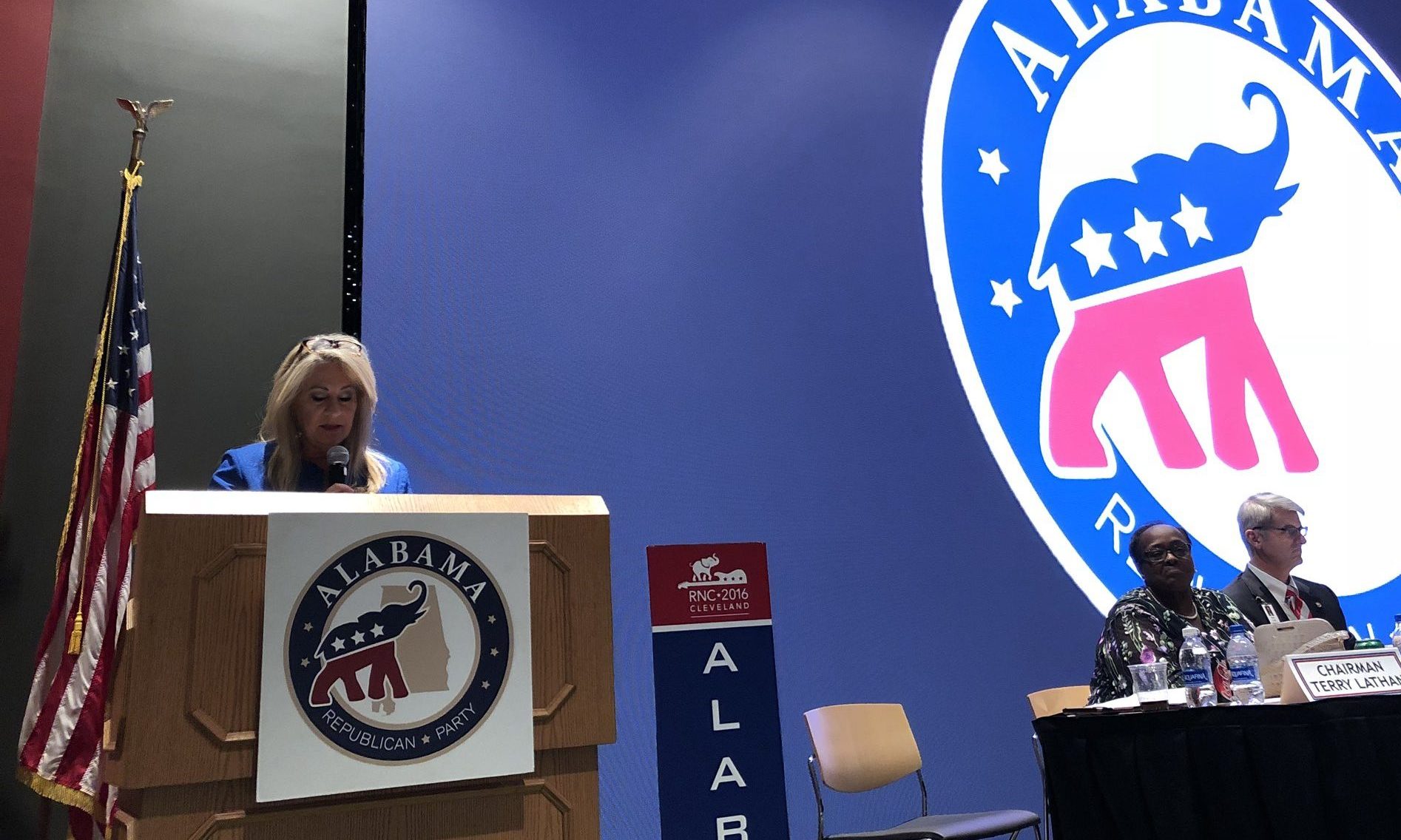 Alabama Republican Party Chairman Terry Lathan has announced her campaign to seek a third term as ALGOP chair.
"It is with humility and excitement that I announce I am running for a third term as chairman of the Alabama Republican Party," Lathan said. "It has been a true honor and privilege to serve the ALGOP as state chair. During the four years I have been chairman, we have seen historic gains electing Republicans."
Lathan emphasized her record of winning.
"We have much to celebrate," Lathan said. "Here are a few showcase items that I am exceptionally proud to highlight as I worked with our team to many successful wins in the 2018 election."
Lathan cited a number of electoral achievements for the GOP in recent years.
She claimed partial responsibility for Republicans' 2018 general election wins, the statewide officer sweep and Republicans' gain of additional seats in the Alabama legislature.
She also cited the "devastating defeat" of the so-called "Blue Wave" in Alabama.
The party raised over $1.188 million that fully funded their campaign plan and annual party needs, she said.
"After 42 years as a GOP volunteer, I still stand on our party's platform, values and foundation of conservative beliefs," Lathan said. "That will never change. Elected officials, opinions and situations may change, but my lifelong commitment to Republican principles will never yield."
She pointed to other achievements, too, including "funding and executing a seamless successful 2018 general election plan," defending and growing GOP seats in 29 counties that had head-to-head races with Democrats and maintaining an aggressive, year-round social media footprint to push party messaging.
"In 2018, I was honored to be asked to co-chair the Alliance for a Pro-Life Alabama statewide campaign to help pass 'Amendment 2' as a constitutional amendment," Lathan continued. "I was also chosen as one of Alabama's 50 Most Powerful and Influential Leaders by Yellowhammer News as well as humbled to receive recognition on their 2018 Alabama Women of Influence list. No matter what title or recognition I receive, I will always represent our party with humility, uphold our principles and vehemently fight for President (Donald) Trump's policies that have made our nation stronger."
Terry Lathan is a native of Mobile, Alabama, where she lives with her husband, Jerry Lathan. The Lathans have two adult children. Lathan is a former public school teacher. She has over 40 years of experience as a Republican volunteer.
"I will continue to reject the perception that politics gives people a 'free pass' to lower the bar of integrity and am determined that it is raised for all who serve in the public arena," Lathan said. "Service in the political realm should demand the highest standard of behavior and principles. Perfection is not attainable, but personal behavior choices and honorable actions are."
Lathan is the longest serving female ALGOP state chairman and, if re-elected, will be the longest serving chair since 1985.
Lathan was first elected in 2015, defeating former state Rep. Mary Sue McClurkin, R-Indian Springs. Former state Sen. Bill Armistead was chairman from 2011 to 2015.
Other notable former Alabama Republican Party chairs include Former House Speaker Mike Hubbard, former Public Service Commission President Twinkle Andress Cavanaugh, Marty Connors, the late Wynton Blount II, Jeff Sessions and John Grenier.
Some GOP insiders are privately urging Lathan to run for the 1st Congressional District if incumbent U.S. Rep. Bradley Byrne, R-Alabama, leaves the House to run for U.S. Senate.
The 550-member Alabama Republican Party Executive Committee will elect new party officers at their biannual meeting at the Sheraton Hotel in Birmingham on Feb. 23.
Print this piece
Sessions: FFRF's demands that Ivey stop praying is ridiculous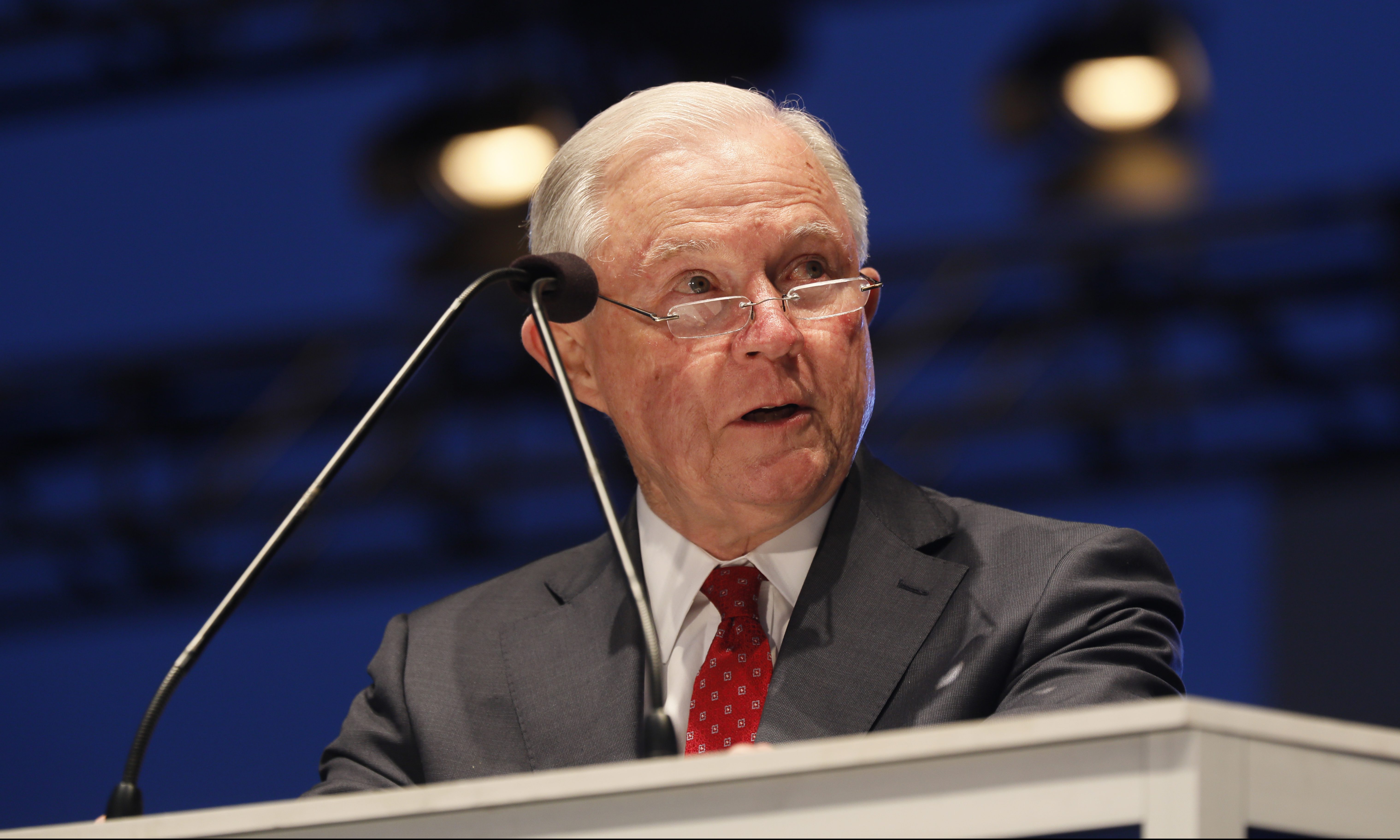 Wednesday, former Senator and GOP Senate candidate Jeff Sessions, R-Alabama, said that Alabamians will not be intimidated by the Freedom From Religion Foundation. Sessions was responding to a letter that the FFRF sent to Alabama Governor Kay Ivey (R) demanding that she stop praying at press conferences and citing scriptures.
"This is RIDICULOUS," Sessions said. "Alabamians will NOT be intimidated by Freedom From Religion Foundation atheists spouting constitutional heresies in their war on religion. My friend Governor Kay Ivey is completely within her God-given and constitutional rights to pray for Alabama, and I stand with her!"
"The FRFF atheists want to force Governor Ivey and all public officials to hide their deeply-held convictions," Sessions continued. "THEY are trying to impose their views AGAINST religion on US! Gov. Ivey calling for prayer for our great state & country is NOT her forcing Christianity on anyone."
"The Constitution guarantees EVERY American, even public officials, the right to freely exercise their religion," Sessions stated. "It's time this country REJECT the FRFF's extreme and unconstitutional view of religious liberty in America."
On Monday, the Wisconsin based Foundation chastised Gov. Ivey for, "Your use of your office to promote Christianity. FFRF's purposes are to protect the constitutional principle of separation between state and church and to educate the public on matters relating to non-theism."
The FFRF objected to Gov. Ivey's speech during Friday's press conference announcing that she was issuing a stay-at-home order for the State of Alabama to fight COVID-19.
"Multiple concerned Alabama residents reported that you used this official government event to promote your personal religious beliefs," the FFRF wrote. "In the middle of your speech you suddenly started preaching,"
"The good Lord reminds us in Isaiah 43:1-3, and I quote, "Do not fear for I am with you. Do not be dismayed for I am your God," Ivey said drawing the ire of the FFRF. "I will strengthen you and help you. I will uphold you with my righteous hand."
They also objected to Ivey's inviting Reverend Cromwell Handy from the Dexter Avenue King Memorial Baptist Church to speak at this official state-sponsored event."
"Reverend Handy delivered a 9-minute long sermon, during which he recited many different bible verses and referred to the pandemic as an opportunity given by God "to pause and reflect on His glory."" The FFRF continued. "To end the press conference, you asked Reverend Handy "to lead a prayer to God Almighty asking for his blessings.. Reverend Handy then led all of the government officials present in a lengthy formal prayer "in Jesus' name.""
The FFRF claimed that, "These actions amount to an endorsement of religion, specifically Christianity, in contravention of the Establishment Clause of the First Amendment."
"We urge you in the future to refrain from promoting religion in your official capacity as governor of Alabama," the FFRF stated.e
Sessions faces former Auburn head football Coach Tommy Tuberville in the Republican primary runoff on July 14. The winner of the runoff will face U.S. Senator Doug Jones (D-Alabama) in the November general election.
Sessions served in the Senate from 1997 to 2017. He left the Senate after he was confirmed as President Donald J. Trump's Attorney General and served in that role through November 2018. He was a late entry into the race for the Republican nomination for U.S. Senate.
Print this piece