Terry Lathan running for third term as ALGOP chair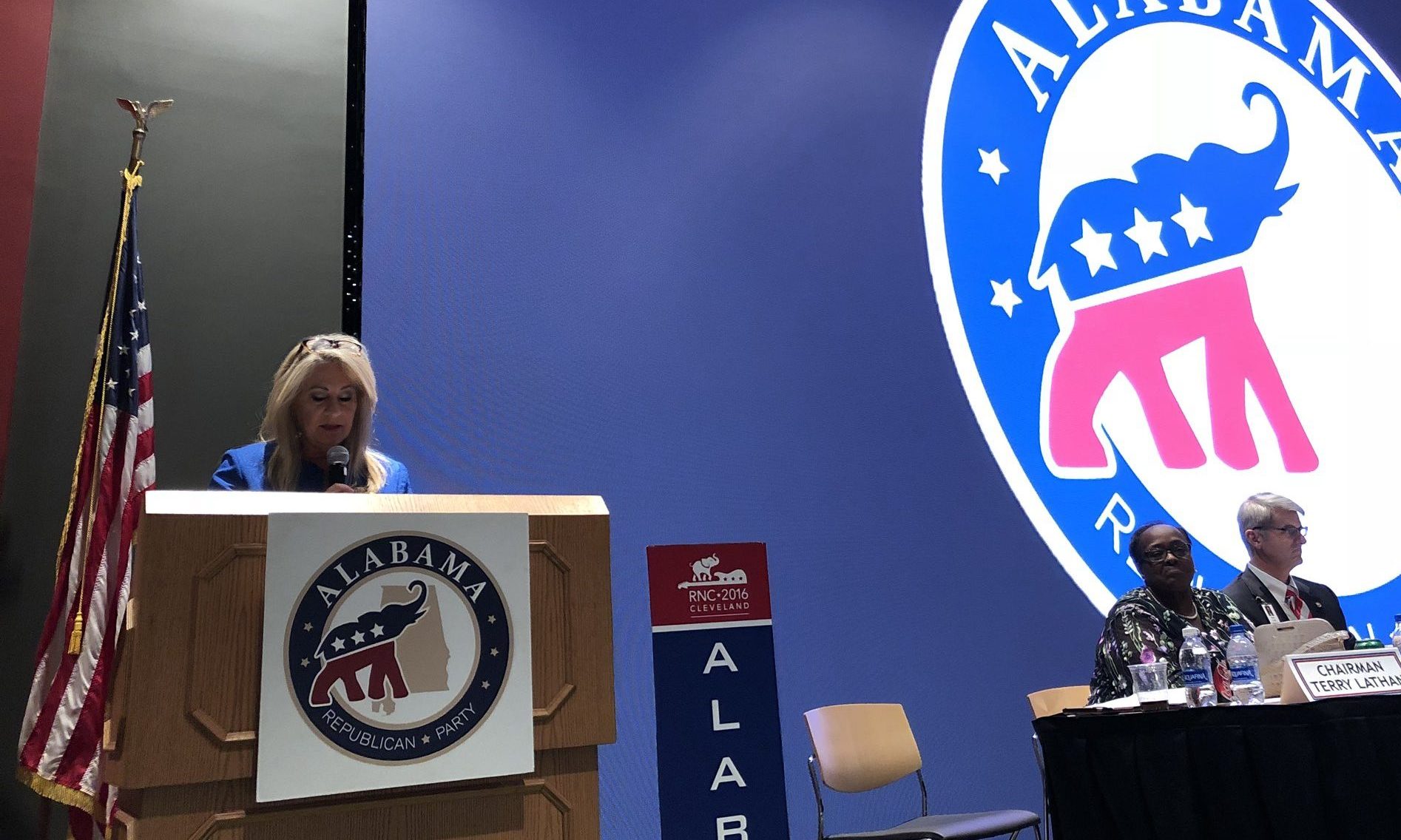 Alabama Republican Party Chairman Terry Lathan has announced her campaign to seek a third term as ALGOP chair.
"It is with humility and excitement that I announce I am running for a third term as chairman of the Alabama Republican Party," Lathan said. "It has been a true honor and privilege to serve the ALGOP as state chair. During the four years I have been chairman, we have seen historic gains electing Republicans."
Lathan emphasized her record of winning.
"We have much to celebrate," Lathan said. "Here are a few showcase items that I am exceptionally proud to highlight as I worked with our team to many successful wins in the 2018 election."
Lathan cited a number of electoral achievements for the GOP in recent years.
She claimed partial responsibility for Republicans' 2018 general election wins, the statewide officer sweep and Republicans' gain of additional seats in the Alabama legislature.
She also cited the "devastating defeat" of the so-called "Blue Wave" in Alabama.
The party raised over $1.188 million that fully funded their campaign plan and annual party needs, she said.
"After 42 years as a GOP volunteer, I still stand on our party's platform, values and foundation of conservative beliefs," Lathan said. "That will never change. Elected officials, opinions and situations may change, but my lifelong commitment to Republican principles will never yield."
She pointed to other achievements, too, including "funding and executing a seamless successful 2018 general election plan," defending and growing GOP seats in 29 counties that had head-to-head races with Democrats and maintaining an aggressive, year-round social media footprint to push party messaging.
"In 2018, I was honored to be asked to co-chair the Alliance for a Pro-Life Alabama statewide campaign to help pass 'Amendment 2' as a constitutional amendment," Lathan continued. "I was also chosen as one of Alabama's 50 Most Powerful and Influential Leaders by Yellowhammer News as well as humbled to receive recognition on their 2018 Alabama Women of Influence list. No matter what title or recognition I receive, I will always represent our party with humility, uphold our principles and vehemently fight for President (Donald) Trump's policies that have made our nation stronger."
Terry Lathan is a native of Mobile, Alabama, where she lives with her husband, Jerry Lathan. The Lathans have two adult children. Lathan is a former public school teacher. She has over 40 years of experience as a Republican volunteer.
"I will continue to reject the perception that politics gives people a 'free pass' to lower the bar of integrity and am determined that it is raised for all who serve in the public arena," Lathan said. "Service in the political realm should demand the highest standard of behavior and principles. Perfection is not attainable, but personal behavior choices and honorable actions are."
Lathan is the longest serving female ALGOP state chairman and, if re-elected, will be the longest serving chair since 1985.
Lathan was first elected in 2015, defeating former state Rep. Mary Sue McClurkin, R-Indian Springs. Former state Sen. Bill Armistead was chairman from 2011 to 2015.
Other notable former Alabama Republican Party chairs include Former House Speaker Mike Hubbard, former Public Service Commission President Twinkle Andress Cavanaugh, Marty Connors, the late Wynton Blount II, Jeff Sessions and John Grenier.
Some GOP insiders are privately urging Lathan to run for the 1st Congressional District if incumbent U.S. Rep. Bradley Byrne, R-Alabama, leaves the House to run for U.S. Senate.
The 550-member Alabama Republican Party Executive Committee will elect new party officers at their biannual meeting at the Sheraton Hotel in Birmingham on Feb. 23.
Coalition of attorneys general file opposition to Alabama attempt to ban curbside voting
The AGs argue that Alabama's suggestion to the courts that curbside voting invites fraud is "unfounded."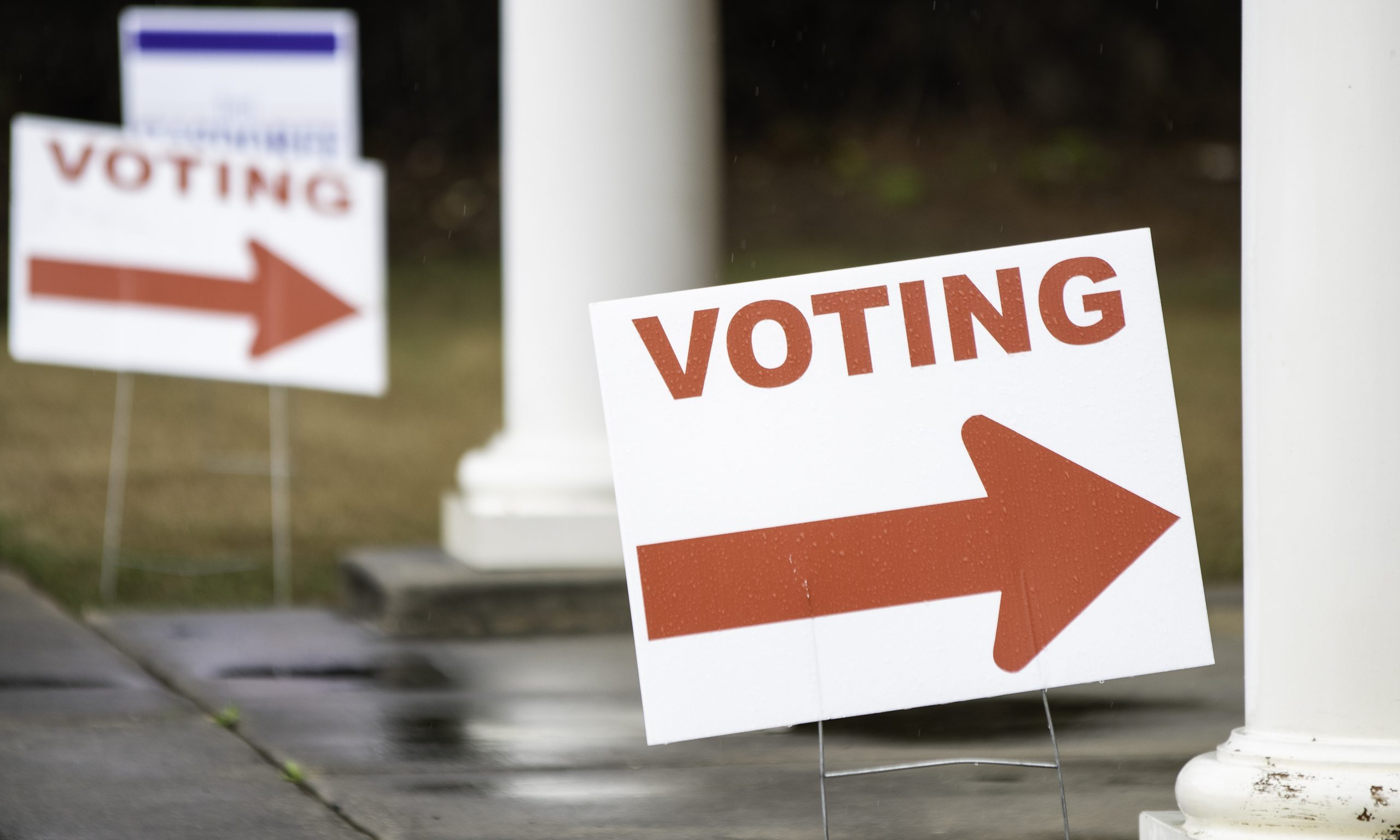 A coalition of 17 state attorneys general have filed an opposition to Alabama's attempt to get the U.S. Supreme Court to ban curbside voting. 
In a friend-of-the-court brief, led by District of Columbia Attorney General Karl Racine, the attorneys general argue to that curbside voting is safer for those at greatest risk from COVID-19, and that a ban on the practice would disproportionately impact the elderly, the disabled and Black Alabamians.
They also argue that Alabama's suggestion to the courts that curbside voting invites fraud is "unfounded." 
"The Presidential Advisory Commission on Election Integrity, established by President Trump following the 2016 election, 'uncovered no evidence to support claims of widespread voter fraud,'" the brief states, adding that there is no evidence that curbside voting in the many states that allow it invites fraud. 
"The practice is longstanding and widespread—as noted, more than half of states have historically offered curbside voting in some form," the brief continues. 
Alabama Attorney General Steve Marshall on Oct. 13 said the state will appeal to the U.S. Supreme Court a federal appeals court ruling allowing curbside voting in the Nov. 3 election. 
A panel of federal appeals court judges on Oct. 13 reversed parts of U.S. District Judge Abdul Kallon's Sept. 30 ordered ruling regarding absentee voting in the upcoming Nov. 3 elections, but the judges let the previous ruling allowing curbside voting to stand. 
The lawsuit, filed by the NAACP Legal Defense and Educational Fund, Southern Poverty Law Center, American Civil Liberties Union, ACLU of Alabama and Alabama Disabilities Advocacy Program, was brought on behalf of several Alabamians with underlying medical conditions. 
"Curbside voting is a longstanding, secure voting option that local jurisdictions have made available to protect the health of vulnerable voters, including elderly, disabled, and voters with underlying health issues," Racine said in a statement. "Curbside voting minimizes the risk to persons who are particularly susceptible to COVID-19, and local jurisdictions should be able to offer this common-sense accommodation to voters. State Attorneys General will keep fighting to ensure that voters can safely make their voices heard at the ballot box this November."
The brief filed by the coalition of state attorneys general comes as the number of COVID-19 hospitalizations across Alabama has been ticking upward.
Racine is joined in the brief by attorneys general from California, Connecticut, Delaware, Hawaii, Illinois, Maryland, Michigan, Minnesota, Nevada, New Mexico, New York, Oregon, Rhode Island, Vermont, Virginia and Washington.