Roby tours tornado-ravaged Wetumpka
Rep. Martha Roby, R-Alabama, said Friday her thoughts are with all those impacted by the tornado in Elmore County on Saturday.
"I was on the ground in Wetumpka yesterday to visit with residents and local leaders, and I assured them that my office stands ready to assist in whatever ways we are able," Roby said. "As we await further details about the full scale of damages, I will be praying for those who have been hurt by this disaster."
On Jan. 19, an EF-2 hit the city of Wetumpka in Elmore County inflicting significant damage. Almost miraculously, no lives were lost, and only minor injuries have been reported.
"The Monday following the tornado, I joined Gov. Kay Ivey and other local officials to spend time on the ground with those impacted," Roby said. "I had the opportunity to see the devastation firsthand, and it was heartbreaking to say the least. The beautiful, historic First Presbyterian Church was destroyed, and First Baptist Church of Wetumpka sustained terrible damage. The Wetumpka Police Station, senior citizens center and recreation center were also lost in the tornado. More than 35 homes and dozens of businesses were damaged or destroyed. Wetumpka and its residents are in the midst of determining the extent of damages and planning for what needs to be rebuilt, and we must do our very best to help however possible."
"I am deeply grateful to the local leaders and first responders who immediately jumped to action to begin securing the area and putting the pieces back together for the people who have lost so much," Roby continued. "During this very challenging time, it has also been encouraging to see the community come together and begin the rebuilding process like a family. Mere hours after the storm, the Elmore County Emergency Management Agency heard from more than 1,000 individuals who signed up to volunteer their time and resources to the clean-up efforts. "
If anyone is local and personally interested in helping out with clean-up in downtown Wetumpka or in Elmore County, they can contact the Elmore County EMA by calling 334-567-6451.
The Elmore County Commission and city of Wetumpka are asking that volunteers please call ahead and follow instructions to ensure proper coordination in order to maximize recovery efforts and resources.
Residents of Wetumpka or Elmore County who need non-emergency assistance related to the tornado should call 211 until further notice. Any emergency calls should still be directed to 911.
Economic developer Nicole Jones also toured the tornado-ravaged historic area and spoke with a representative from the Elmore County EMA, who stated they were thankful to have so much help from surrounding towns that they did not plan to take any additional volunteers that week.
"If you look for the blessing amidst the storm, I could not think of a better bicentennial moment than a community banding together for the common good," Jones said.
Call the Elmore County EMA with any damage reports.
"The family of First Presbyterian Church, Wetumpka wishes to thank everyone for the overwhelming expressions of love, care and concern for our congregation and historic sanctuary," said Jonathan Yarboro, the pastor of First Presbyterian Church.
Moving forward the church will be worshipping on Sundays at the Wetumpka Depot with worship services beginning at 11 a.m. Salvage work on the sanctuary began on Monday, Jan. 28. They promised to reclaim all reasonable materials for reuse. This is a tedious process, but they wish to reuse all they can and to make everything they cannot use themselves available to interested parties in the community.
"Thank you again for your prayers and support," Yarboro said. "Our historic sanctuary will be rebuilt as it was. The church at Bridge and Bridge will return as it has been since 1856. Be blessed and be a blessing."
Since 1950, there have been 149 tornados in Alabama in the month of January. The worst month for tornados in Alabama is April with 493. March is second with 277, followed by November with 278. There are fewer Alabama tornados in the summer months with 73 in June, 74 in August and 76 in July.
Sessions says Alabama doesn't take orders from Washington after Trump inserts himself in race again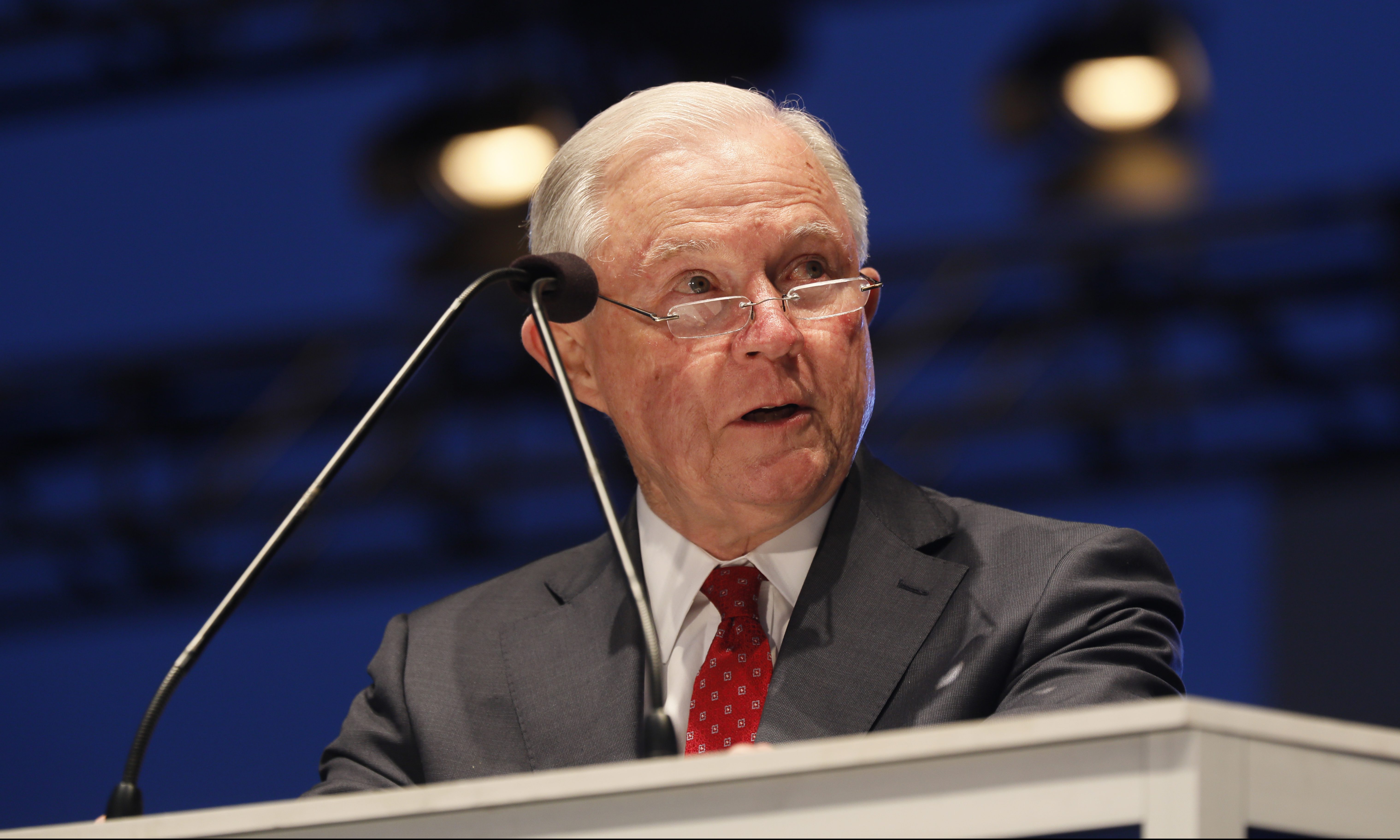 GOP Senate candidate and former Sen. Jeff Sessions, R-Alabama, released a statement pushing back against President Donald Trump's endorsement of his opponent, former Auburn coach Tommy Tuberville, in which he said "Alabama does not take orders from Washington."
The blunt comments were in response to a Twitter post from Trump once again inserting himself in the Alabama Senate race.
"I've taken the road less travelled," Sessions said. "Not sought fame or fortune. My honor and integrity are far more important than these juvenile insults. Your scandal ridden candidate is too cowardly to debate. As you know, Alabama does not take orders from Washington."
This was after Trump tweeted, "Big Senate Race in Alabama on Tuesday. Vote for @TTuberville, he is a winner who will never let you down. Jeff Sessions is a disaster who has let us all down. We don't want him back in Washington!"
Trump has called his decision to appoint Sessions as U.S. attorney general his "biggest mistake" as president.
The rift between the two former friends began in 2017 when Sessions, newly appointed as attorney general, recused himself from the Russian collusion investigation. Sessions has steadfastly defended the decision and continues to maintain that he was forbidden by U.S. Department of Justice policy forbidding anyone who was part of a campaign from investigating that campaign.
Sessions was the first U.S. senator to endorse Trump in the 2016 presidential election and worked tirelessly throughout 2016 as a surrogate for the Trump campaign.
Sessions maintains that had he not recused himself from the Russian collusion investigation things would have gone worse for Trump. As it was, his duties in the matter fell on fellow Trump appointee Rod Rosenstein, who appointed former FBI director Robert Mueller as special counsel.
The special counsel investigation successfully prosecuted a number of close Trump associates for various failings in their personal and professional lives, but ultimately never was able to indict the president or a member of the Trump family, and it never was able to produce tangible evidence that the 2016 Trump campaign was involved in collusion with Russian intelligence agencies to defeat former Secretary of State Hillary Clinton in 2016.
Sessions is running for the Senate seat he gave up to be attorney general.
Tuberville has been avoiding the media since a New York Times report detailed how Tuberville's business partner David Stroud cheated investors out of their savings and was sentenced to ten years in prison. The two had formed a hedge fund, managed by Stroud, a former Lehman Brothers broker. Tuberville maintains that he was Stroud's biggest victim, but the investors sued Tuberville, who settled out of court.
Sessions' campaign maintains that incumbent Sen. Doug Jones' campaign will capitalize on the scandal during the general election similarly to how they capitalized on allegations against former Chief Justice Roy Moore to win the 2017 special election to win the Senate seat vacated by Sessions to be attorney general.
Sessions was a late entrant into the Senate campaign. Sen. Richard Shelby, R-Alabama, has endorsed Sessions.
"Jeff Sessions is a good friend and a respected former colleague," Shelby wrote. "I believe he is well-suited to return to his role as United States Senator for the state of Alabama, where I served with him for more than 20 years. He has my full support and endorsement."
Sessions was Senator from 1997 to 2017. He was U.S. Attorney General from 2017 to Nov. 2018. Prior to his Senate service, he served the state as Alabama Attorney General, Republican Party Chairman, and U.S. Attorney under Presidents Ronald W. Reagan (R) and George H. Bush (R). Sessions was also a former assistant U.S. Attorney and a U.S. Army reserve officer. He is a native of Alabama who grew up outside of Camden in rural Wilcox County.
The Republican primary runoff is on Tuesday. In order to vote in any Alabama election you must: be registered to vote, vote at your assigned polling place, and have a valid photo ID. It is too late to register to vote in this election or obtain an absentee ballot; but if you have an absentee ballot today is the last day to return it either through mail or by hand delivering it to your courthouse absentee ballot manager's office.