State Auditor defends controversial Facebook post targeting female senator's attire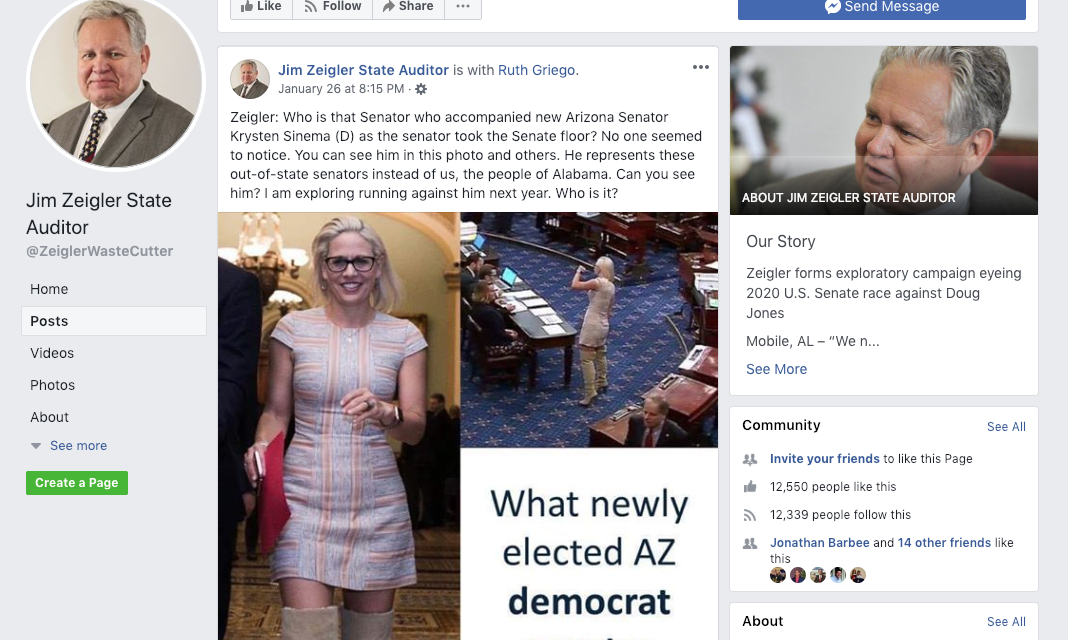 On Monday, Republican State Auditor Jim Zeigler, who is considering a run for U.S. Senate in 2020, defended his decision to post a Facebook status that targeted a newly elected female senator's attire after facing backlash for the controversial post.
The status, which Zeigler posted to his public state auditor campaign page over the weekend, includes photos of Arizona Sen. Kyrsten Sinema, a Democrat, in the halls of the U.S. Capitol and on the floor of the Senate.
The caption in the photo said, "What newly elected AZ democrat senator Kyrsten Sinema wore to work." (Emphasis retained)
The photo status was apparently an attack on Sinema's dress. Zeigler's original Facebook post, which was later edited, said Sinema "took the Senate floor improperly attired."
After the backlash, he removed that part of the post. He also removed a reference calling Sinema an "out-of-state looney tune."
Continue reading below image
Zeigler said he regularly edits his posts for clarity and to "eliminate a distraction."
"This was a post about Doug Jones," Zeigler said. "And interestingly, it never said the words 'she' or 'her' if you look in it."
The state auditor — known for his flashy ties, colorful suits, outspoken nature and opposition to former Gov. Robert Bentley — said Monday that the post was about Alabama Sen. Doug Jones, not Sinema, despite the fact that the photo he shared directly names Sinema.
Jones is only visible in the bottom corner of one the two photos of Sinema on the floor of the Senate, along with other Senate colleagues. Zeigler said Jones "accompanied" Sinema to the floor and "no one seemed to notice."
Some of the more than 1,700 Facebook commenters on Zeigler's post weren't having it.
"You know what's worse? An elected representative taking to social media to mock another elected representative's attire," one commenter on Zeigler's post wrote.
Continue reading below image
"So you choose to shame her and BEG others to see that Jones is literally at the bottom of the pic…walking…not even looking at her… you are desperate…and miserable sir.. stop trying to build a story," another wrote.
"She has a law degree, a Masters, and a Ph.D. She can wear whatever the hell she wants. And so can we," another said.
Others posted vulgar comments comparing Sinema to a sex worker or an exotic dancer. Some simply said her dress was unprofessional.
Zeigler addressed the post at a press conference in his office Monday after he announced a proposed alternative to GOP state lawmakers' proposal to raise the state's gas tax to fund infrastructure investment.
"In the picture, you can see Alabama Sen. Doug Jones," Zeigler said. "I have a collection I'm building of Doug Jones photos."
Zeigler said he's building a collection with photos of Jones and other Democrats including former Vice President Joe Biden, New Jersey Sen. Cory Booker and former presidential candidate Hillary Clinton.
"The wording of my post was Doug Jones does not represent the people of Alabama, he represents the out-of-state senators," Zeigler said. "I'll continue to draw that distinction."
Zeigler said he tried to remove some of the more explicit, "inappropriate" comments, but they came too fast for him to remove.
"I can't control the commenters or profanity or sexual innuendo," Zeigler said. "I've been attempting to delete those."
But a number of the explicit comments still remain on the post, which received 1,700 comments as of Monday night. It had been shared more than 180 times.
Some commenters also attacked Zeigler's appearance.
The state auditor, who is responsible for keeping an inventory of state property, didn't apologize for the post. Instead, he said he should have waited until after his press conference Monday to post the photo.
"A picture is worth a thousand words. I think you print journalists have figured that out," Zeigler said. "I got a lot of response, positive and negative, on that post. I think I made a mistake and should have held it until Tuesday to not distract from this very substantive release of 'Plan Z.' Other than that, it got a lot of attention."
Zeigler has said he is in the process of exploring a plan to run against Jones for Senate during the 2020 election. A number of other Republicans, including U.S. Rep. Bradley Byrne, are also considering a run.
Voters re-elected Zeigler to a second term in November by wide margins. He's drawn criticism in the past for downplaying the allegations against former Republican Senate candidate Roy Moore by comparing them to the biblical Joseph and Mary.
Zeigler's press conference Monday was intended to mount an opposition against the plan to raise the gas tax. The "Plan Z" Zeigler proposed at the press conference includes saving $63.5 million a year for highway funding that has been previously diverted to the state's court system.
Print this piece
Jones criticized for voting to limit Trump's war powers authority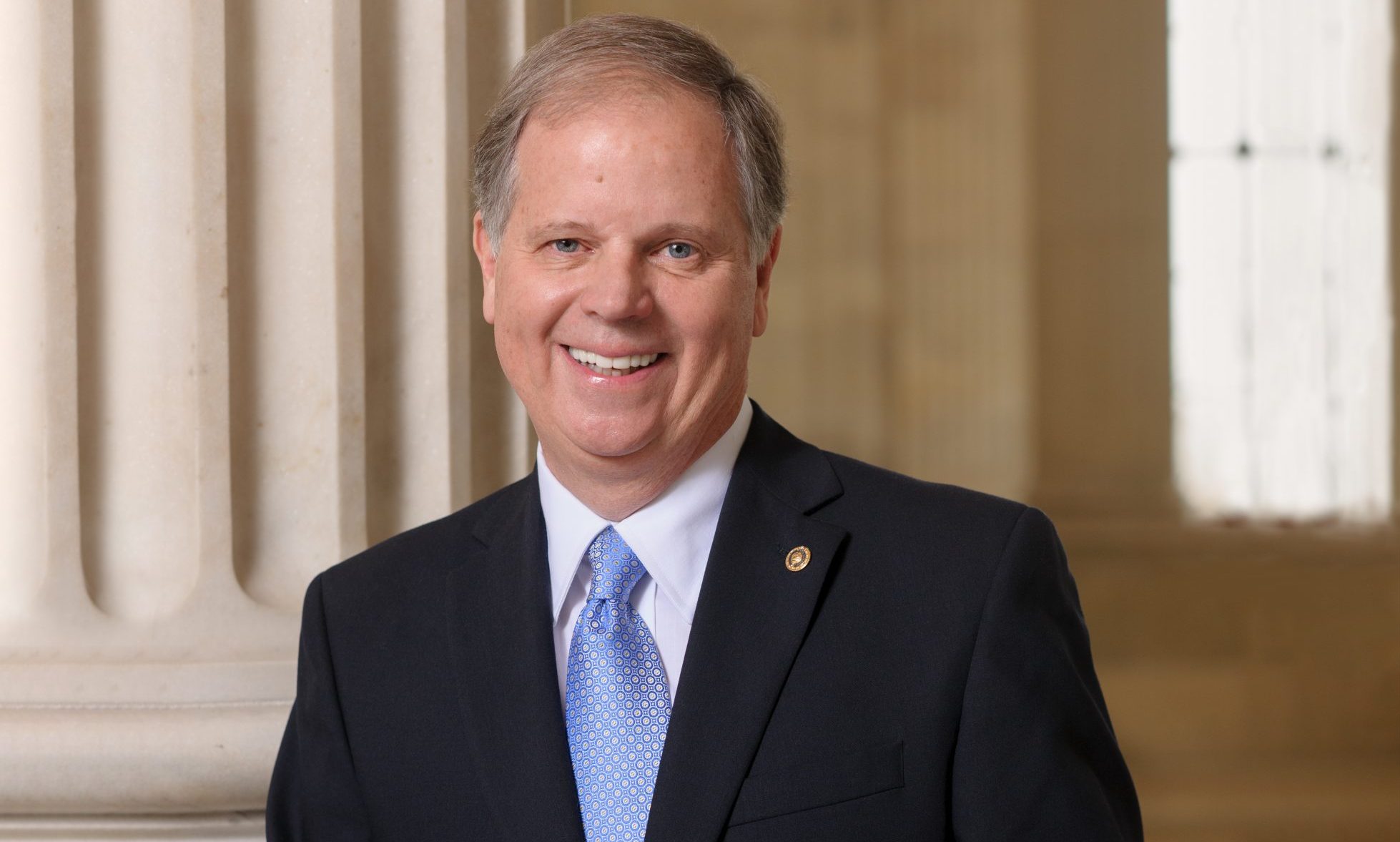 Thursday, U.S. Senator Doug Jones (D-Alabama) voted in favor of S.J.Res.68, a resolution which directs the removal of United States military from hostilities against the Islamic Republic of Iran that have not been authorized by Congress. Jones has been criticized by Republicans for voting to limit President Donald J. Trump's war powers on Iran.
"Before a President can lead us into war, he or she must first earn the support of the American people and also fulfill their solemn constitutional obligation to seek approval from Congress," Sen. Jones said in a statement. "While the President has the power to protect Americans in the case of an imminent attack, that authority does not extend to committing our service members to long-term hostilities unilaterally. This resolution sends a strong message that we will follow the Constitution and we will not send our troops into harm's way without the serious consideration and consent of the Congress."
Trump Victory National Finance Committee member Perry O. Hooper Jr. released a statement in response.
"Senator Jones once again turned his back on Alabama and voted as the leftwing Democrats commanded. He has no regard for the values, opinions or views of Alabamians," Hooper said. "He sees us as deplorables just like the elites of the Democratic party who have funded 80 percent of his doomed campaign for re-election.:
Hooper stated, "I whole heartily support the President who stated 'We are doing very well with Iran and this is not the time to show weakness… If my hands were tied, Iran would have a field day. Sends a very bad signal. The Democrats are only doing this as an attempt to embarrass the Republican Party.'"
"The Commander-in-chief must be free to work with his staff and his military leaders to conduct covert operations like the one that eliminated Iran's terrorist-in-chief General Soleimani," Hooper added. "You can't micromanage the war on terrorism. The Democrats in Congress are so filled with Trump Derangement Syndrome that no matter how much it would benefit our country and the world; they would never give Trump a "victory". If it came down to it, they would leak everything to the media no matter what the consequences."
Senator Jones is a cosponsor of the legislation and a member of the Senate Armed Services Committee. Eight moderate Republicans voted with the Democrats on the resolution.
Senator Jones has also been criticized by Republicans for his comments that he was "appalled" by Pres. Trump's actions following his acquittal on both Articles of Impeachment.
"Newsflash for Senator Doug Jones: Most Alabamians have been appalled by his actions his entire time in office," former Attorney General Jeff Sessions said. "It's about time we send Doug home, and replace him with someone who understands our values. Alabamians deserve a Senator they can be proud of again."
Sessions is a candidate for the Republican nomination for Jones' Senate seat.
The Republican primary will be on March 3.
Print this piece