Opinion | JeffCo school board votes to repeal AAA. Will Alabama teachers finally take a stand?
The state's largest school system is calling for an end to the state's largest ongoing scam.
The Jefferson County Board of Education on Monday voted to pass a resolution calling for an end to the Alabama Accountability Act — the Republican-passed tax scam that funnels millions of dollars every year out of public school classrooms and into private pockets.
"First of all it was deceptively created," Jefferson County superintendent, Dr. Craig Pouncey, said, according to a report on WRBL-TV. "It does not do what it – on the surface – says it does and it's intended basically for a tax scheme that benefits strictly a small percentage of students in the state."
Yep.
The Jefferson County board joined the school boards in Montgomery, Mobile, Baldwin and Tallapoosa counties and Russellville City to call for the repeal of the AAA.
Those districts serve nearly one-third of all Alabama school children.
And those districts also happen to feature some of the poorest, most underfunded schools in the nation — schools that are perpetually hammered by the scam that is the AAA.
Because the AAA does not help schools.
It helps students from wealthier families avoid those schools.
And it allows private companies to pocket tax dollars under the guise of offering scholarships to needy students.
In the meantime, the AAA also ensures that there will ALWAYS be failing schools, by establishing that the bottom 6 percent of schools — according to criteria that is weighted to punish schools in poorer districts — will always be designated as "failing."
No matter how hard the teachers work. No matter what insurmountable obstacles have stood in the way. No matter the social and economic challenges.
The schools in Lowndes County, where textbooks are often in short supply, are judged on the same criteria as schools in Mountain Brook, where local funding have provided students with classroom labs that would make colleges envious.
And just to make sure the schools with the poor families never get off the bottom, we also, for some odd reason, include attendance in the measurements. We do so, supposedly, because attendance is often an indicator of classroom success. But if you're also judging classroom success, then what you're actually doing is double-weighting a factor that adversely affects families with working parents and families that lack quality health insurance.
So the poor schools are losing points because of legit illnesses.  
Millions upon millions of dollars have been wasted on this scam — on a system that takes from the least of us and gives to the richest. It's amazing that it took this long for Alabama's public school employees to find their voice on this issue.
And speaking of which, what the hell is taking so long on Alabama teachers finding their voice on … everything?
You're getting paid a crap wage. Your insurance coverage has been cut in recent years. Your schools are losing money left and right to scams like the AAA. And your elected leaders are steadily figuring out ways to funnel money away to charter schools.
Teachers in other states who get paid way more than you are marching through the streets. And their elected leaders are being forced to bow down to their collective voting power.
In some states, teachers have elected other teachers to put an end to this never-ending attack on public education.
But here we are still barely fighting back against a blatant scam that's been running unimpeded for six years.
Maybe the stand by the state's largest school district will start the ball rolling.
It's long overdue.
Print this piece
South Alabama medical residents work alongside Orange Beach first responders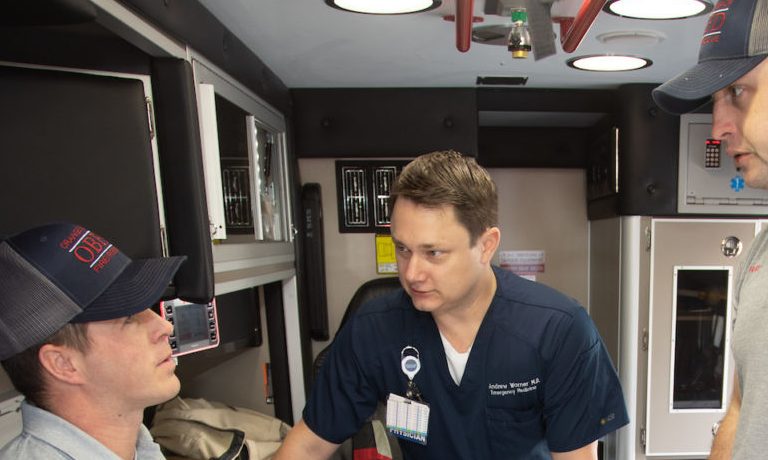 Residents in USA Health's Emergency Medicine Residency Program are given the opportunity to rotate with emergency medical services (EMS) in Orange Beach. The residents are stationed at the Orange Beach Fire Department giving resident physicians the experience of responding to emergency calls alongside paramedics and firefighters.
Paul Henning, M.D. is the associate program director of the Emergency Medicine Residency Program at USA Health and medical director of Orange Beach Fire/Rescue.
"The expertise that a patient gets in the field can determine outcomes," Henning explained. "It bridges the gap between the physician and the paramedic. Seldom, if ever, do physicians have this kind of exposure to prehospital emergency services. It also gives the physician more perspective of what the paramedics are doing in the field. If we have an opportunity to improve the prehospital scope of practice, then we have accomplished our goals."
Henning also serves as an associate professor of emergency medicine at the University of South Alabama College of Medicine.
He said that it is vital that physicians understand what happens in the prehospital stage of care.
The innovative program was established in July 2019.
Andrew Warner, M.D., took a nonlinear path to emergency medicine. Dr. Warner is a former Green Beret, who served with the U.S. Army 5thSpecial Forces Group on tours in Iraq and Afghanistan.
Following his military service, he went on to earn his medical degree from the University of Cincinnati College of Medicine. He completed his residency training in family medicine at USA Health and started in the emergency medicine program as a second-year resident.
Warner expressed his great respect for the Orange Beach first responders, who "epitomize true dedication to patient care and outcomes."
"I have further learned to appreciate just how critical those precious seconds in the prehospital setting are for patient survivability," Warner added.
Justin Thomas, M.D. is a second-year emergency medicine resident and was the first USA Health resident to rotate in Orange Beach. Thomas said that the experience opened his eyes to the constraints paramedics endure while working in the field, particularly when responding to calls in rural areas of the county.
"There are locations they respond to that may be in the middle of the woods, or down a dirt road someone only goes down once every couple of weeks," Thomas said. "They have to lug their supplies and the stretcher to the house, assess and care for the patient, and then bring them to the ambulance."
The medics are limited by the supplies and tools they have with them, Thomas said. "It's much different being at a hospital with all the resources at your disposal versus working from an ambulance with limited capabilities."
Thomas earned his medical degree from the American University of the Caribbean. He took a nontraditional route to emergency medicine. As a resident in USA Health's Family Medicine Residency Program, he rotated in the emergency department at University Hospital and was attracted to the field.
After graduating from his family medicine residency in June 2019, Thomas was offered a spot in the new Emergency Medicine Residency Program. Dr. Thomas was given approval from the American Board of Emergency Medicine to start as a second-year because of his months of training in emergency medicine during his family medicine residency.
Economic developer Dr Nicole Jones told the Alabama Political Reporter, "Response time is critical, especially in rural areas and areas that have longer distances to medical facilities than urban counterparts. The partnership between USA Health emergency medicine residency program and Orange Beach paramedics and fire rescue is a win-win situation. Both parties learn from one another and gain a deeper understanding of the pre-hospital setting, and most importantly, having professionals available in emergency situations with unique skill sets can ultimately save more patients' lives."
The partnership is mutually beneficial for USA Health's emergency medicine residency program and Orange Beach's paramedical and fire-rescue services. By adding the resident physicians the paramedics are able to provide a higher level of care to patients.
"I love to hear the interaction between our staff and the residents," said Orange Beach Fire Chief Mike Kimmerling. "Even when they're not running calls, there is a tremendous amount of knowledge being transferred in their conversations."
The residents gain more diversity of exposure in Orange Beach than in a larger city like Mobile, Henning said. "Most fire and rescues in large cities are close to hospitals, so the transport time is usually 10 minutes or less, whereas in Orange Beach the time could be significantly longer. When they are able to render care for a longer period of time, they have the chance to sharpen their skills and have more patient exposure."
Dr. Henning said that Orange Beach also gives the residents the unique experiences of working on fire and rescue boats.
Henning said that before starting the EMS rotation, the residents are required to be fully licensed by the state and to have completed an online medical direction course. If any questions or concerns arise, Henning and other emergency medicine attending physicians with USA Health are always available to provide their medical direction. Residents cannot start the EMS rotation until their second year. As the first class of residents graduate to their second year, six residents will rotate throughout the academic year. Third-years have the option to do an additional EMS rotation.
(Based on original reporting by USA Health's Lindsay Lyle.)
Print this piece