Marsh, Ledbetter preview legislative session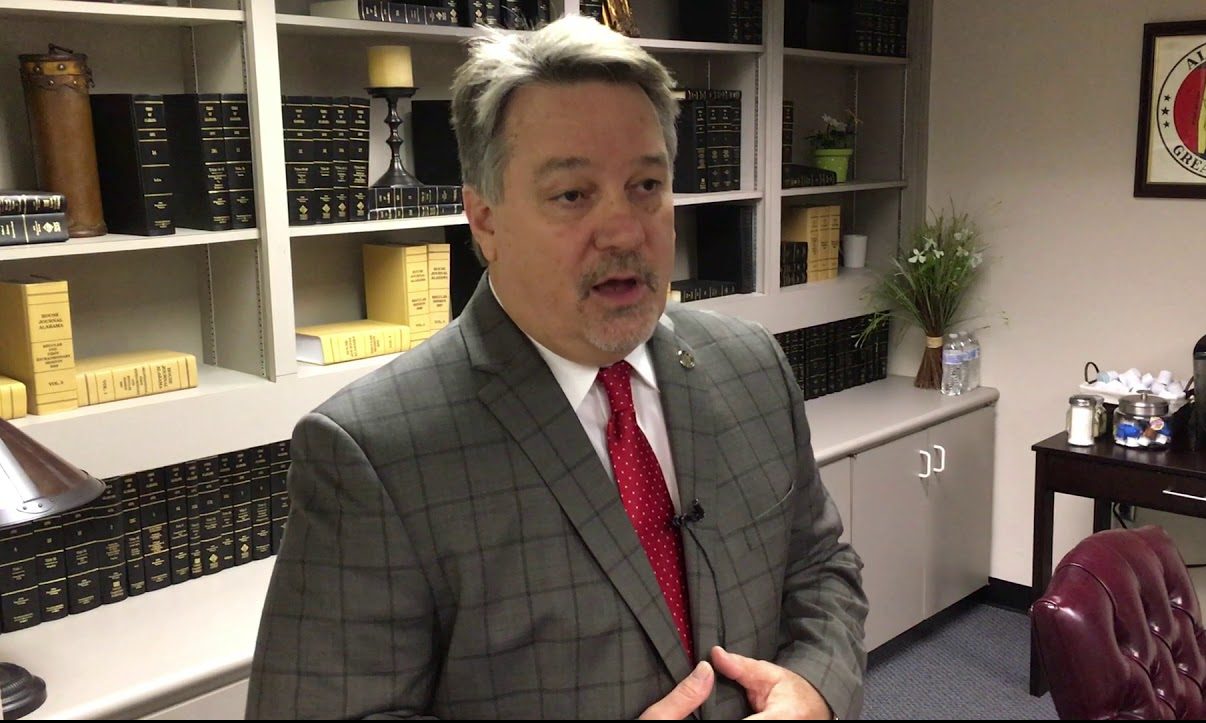 Senate President Pro Tempore Del Marsh, R-Anniston, and House Majority Leader Nathaniel Ledbetter, R-Rainsville, gave a joint presentation Saturday on the upcoming 2019 Regular legislative session at the monthly meeting of the Mid Alabama Republic Club.
Former State Representative Paul DeMarco, R-Homewood, is the President of MARC and moderated the discussion.
DeMarco asked about infrastructure and a possible a gasoline tax. "It appears that this going to be a priority."
"The governor has said that this is going to be her top priority," Ledbetter said. "She has been talking about this since she got in there. The jobs growth is stronger than I have ever seen it and the fear is that it will all come to a screeching stop if we don't do something about roads. Our buses in Dekalb County have to go 30,000 miles out of their way last year to keep from going over bad bridges.
Marsh asked the crowd if they supported Gov. Kay Ivey. Most did
Sen. Marsh said that this is Governor Ivey's issue. "The safety of the people of Alabama the school kids and the infrastructure."
DeMarco asked when the bill was going to be released.
"As of today, there is no bill," Marsh said. "There are meetings that have been taking place in Montgomery. We want to make sure that legislators have all of that information before the session begins."
"The last time we did anything about this was 26 years ago," Marsh said. "Every bit of money that is collected from fuel taxes is spent on roads and bridges. None of it goes to the general fund. 35 percent of that money goes back to cities and counties to spend as they see fit."
Marsh said that the public will see the bill, "Online as soon as it is introduced. The bill has to be introduced in the House. Rep. Bill Poole, R-Tuscaloosa, is likely to be the one who introduces it. I hope that he puts forward a bill that has majority support in both the House and Senate and I expect he will bring that in the next few weeks."
DeMarco asked about efforts to reform or change the Alabama Ethics Law.
"The last thing we want to do is weaken the ethics law," Marsh said. Over a third of the Senate did not return and a large part of that is that they don't think they can operate their business and serve in the legislature because of the ethics law…and this is not just about the legislature. "The ethics law affects 50,000 people in the state and they call us every day asking about what they can do. Greg Albritton has been working on this along with Mike Jones in the House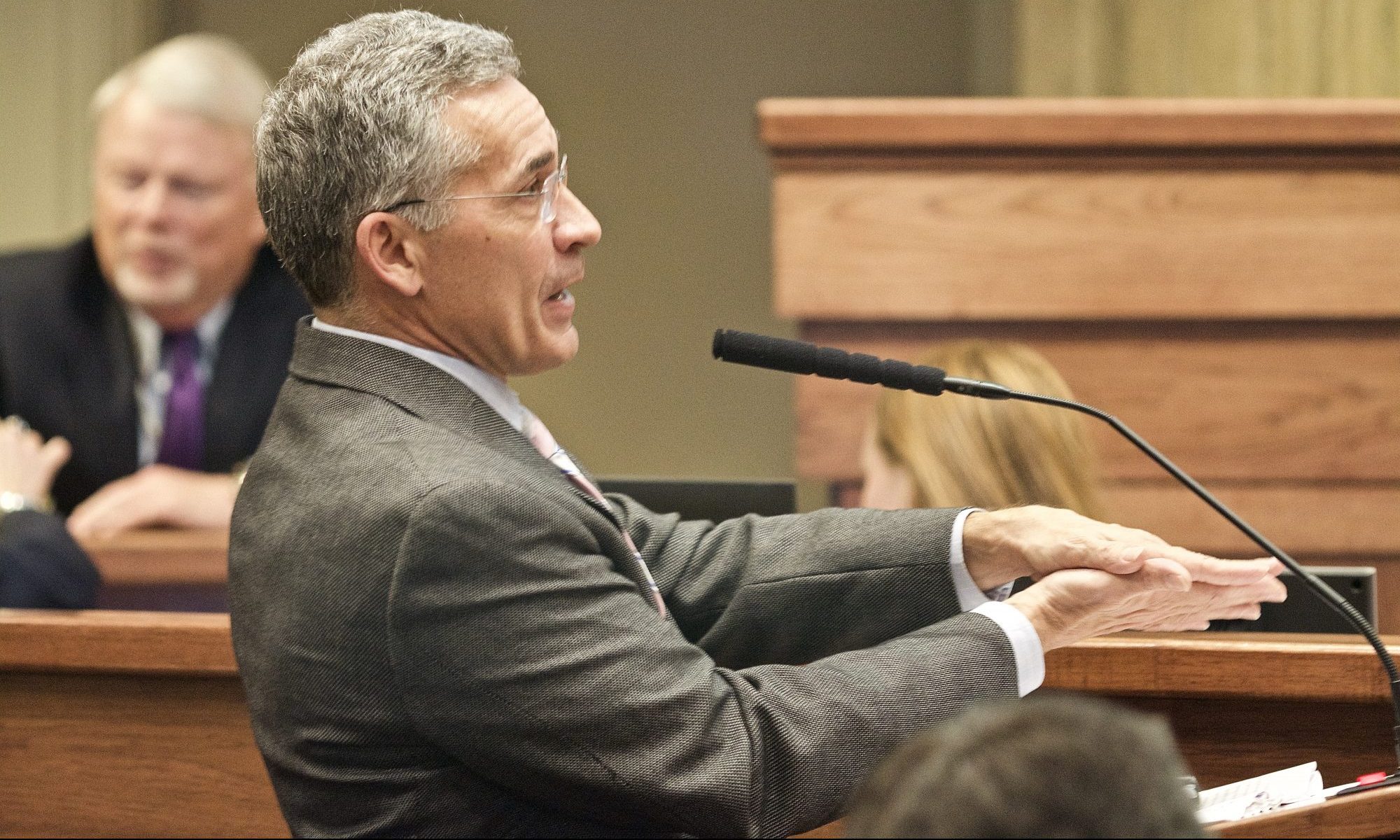 "We have a tough ethics law, but we don't have a clear ethics law." Ledbetter said. Economic developers got tied up with that and it was putting us in a stranglehold on what they could or could not do. This year we are going to be clear on that. Where the line is and what you can do and what you can not do. You are blessed by the group of people that you have in the House."
DeMarco asked if the legislature would pass a lottery or gambling bill.
"I do think we will see some bills introduced," Ledbetter said. "We do polling and clearly people want to be able to vote on it. I believe the people have the right to vote. I am not a lottery guy and when the people vote on it I will vote no. "A clean lottery bill, where you walk into a convenience store and buy a ticket and not have all the other things tied to it," can likely pass the legislature.
"Jim McClendon has a lottery bill," Marsh said. "Its Jim's to push. The voters overwhelmingly want the right to vote. Any lottery bill would be a vote of the people. Jim told me it is strictly a lottery bill. I have not seen the bill."
DeMarco asked about what the legislature is going to do about the prisons.
"That is in the governor's hands. now," Marsh said. She believes that she can do it without the legislature.
"We have some 18000 people incarcerated," Marsh said. "60 percent do not have a high school education. 80 percent of them will be getting out at some point."
There are some federal lawsuits, Marsh said. "We have go to keep it out of the federal government's hands. There are some mental health issues in the prisons we have got to address."
"She is a leader," Ledbetter said. "One thing you have got to give her credit for she is a strong leader. She is out front on infrastructure. She is out front on prisons. It is easy to follow someone who is out front."
"We do not at this time provide adequate vocational training, so that when they come out they can be adequately employed," Marsh said. "There is no reason that they do not have vocational training and placement."
DeMarco asked if the legislature was going to expand Medicaid.
"That is something we have to look at," Ledbetter said. "We couldn't afford to expand it because we were making cuts to other agencies to pay for it." "All that has changed now," Medicaid Commissioner Stephanie Azar asked for less money this year. There are two reasons for that. "The unemployment rate is so low. We don't have people in our states trying to enroll people into Obamacare anymore."
Ledbetter said that the hospitals were looking at a per bed issue to pay for it, "So that it does not come back to the taxpayers. One thing we have got to do is to try to protect our rural hospitals."
"I do not see any chance for the expansion of Medicaid," Marsh said. "I just don't and I have talked with the hospital association."
"When you look at some of the Republican states that did that; when they had a chance to repeal Obamacare they got all weak kneed," Marsh said. "We want to control the cost of Medicaid in this state. We don't want to open the pocket book to it."
"Are hospitals about providing healthcare or is it about providing jobs?" Marsh asked. These people come to us and say that the hospital is the top employer in their country. In many cases in these rural counties we should put it an ems facilities to take these people to the hospitals for healthcare.
"This will be the largest education budget ever passed," Marsh said. "It is a great economy. There is a lot of pressure. You have got to be careful because there could be a downtick in the economy." A one time expense that we should do with education fund dollars is take this as an opportunity to provide high speed connectivity to provide broad band connectivity throughout this state.
"We should be proud of where we are going in education," Ledbetter said. "The Rolling Reserve Act is one of the best things we have ever done. It ended proration." When I first got elected we did not have computers in the classroom. That has all changed. "We gave pay raises for the first time in a decade. We can continue to improve."
Del Marsh said that he had introduced a bill to allow Alabamians to donate to build the wall and asked for a show of hand of who supported building the border wall. Most hands were raised.
"Alabamians support this wall," Marsh said. "I have already made a donation to build the wall before I put this bill forward. I am serious about it. This bill will show people in Washington that we are serious about it."
DeMarco asked if there was going to be a bill to legalize recreational marijuana.
"No, I have not heard of a bill or seen a bill," Ledbetter said. "I would be surprised. It would be hard to get passed. It is a conservative body."
"I don't see it passing the legislature," Marsh said.
DeMarco asked, "The state just has had .2 percent growth. There is a real fear that we could lose a congressional seat."
"We have got to have good numbers from the 2020 Census." I am concerned. I met with ADECA about it. I have also met with our local group in Calhoun County. "I think they have got a pretty robust group. I wish we would funnel the money down to these local groups to get an accurate count. The best thing we can do is to get an accurate count."
"I encourage everyone to get out there and participate in the Census," Ledbetter said.
DeMarco asked about if there would be any pro-Life bills in this session.
"Last year the House had a special day for pro Life bills," Ledbetter said. It is wholesale murder. "The people of Alabama believe it is the murder of a child. We will fight for unborn children."
Marsh said that last November we passed Amendment two so that if there is a reversal of Roe versus Wade; it makes it clear that Alabama is pro-Life. "I did an editorial condemning the Governor of Virginia. To let a child be born and take its life, I was disturbed by it. Alabama will continue to pass Pro-Life legislation."
DeMarco asked Marsh if he was running for U.S. Senate.
"I am looking very seriously at the Senate position," Marsh said. "One thing I know for certain is that in two years Doug Jones won't be our U.S. Senator. I have put a team together to look at it. If I am in the race, I am in it to win it."
Doug Jones has not supported the President on immigration issues or the border wall Marsh said. He did not vote for Kavanaugh. That is not representing Alabama.
"This guy would do a great job," Ledbetter said. "I certainly think he would do an outstanding job as U.S. Senator."
The Coordinator at the Alabama Conservative Group Deanna Frankowski asked if the legislature was going to repeal Common Core.
"I agree 100 percent on Common Core," Ledbetter said. "I am not a Common Core guy."
An audience member asked about diversion of funds from roads and bridges to the general fund.
Marsh said, One thing we do is that $62 million goes to the courts because that is where the traffic enforcement cost are. This has been upheld by the courts.
An audience member asked how much would a one cent a gallon fuel tax bring in and how much would a lottery bring in.
"One cent of gas tax is $32 million," Ledbetter said. A lottery would make about $300 million
"A lottery starts good and then declines," Marsh said. In Georgia, the lottery paid for those Hope Scholarships. Now they are taking money out of the general fund to pay for the scholarships.
The 2019 legislative session begins on March 5.
The Mid-Alabama Republican Club meets on the second Saturday of each month at 8:30 a.m. at the Vestavia Hills Public Library.
Alabama lawmaker faces sharp criticism over celebration of former KKK leader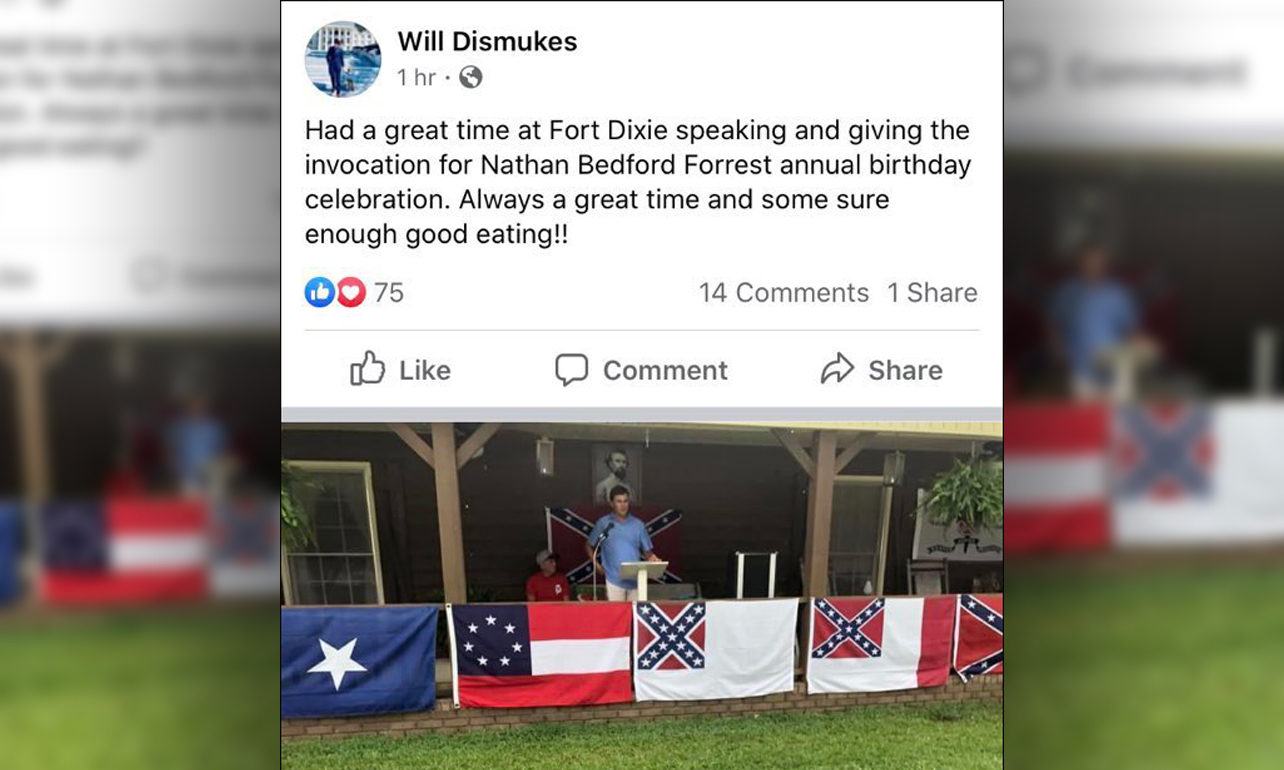 State Rep. Will Dismukes, R-Prattville, is again facing calls to resign over a social media post he made about his participation in an event honoring Confederate heritage.
Dismukes posted a photo of himself on Sunday speaking at Fort Dixie the day before, where a yearly event was held celebrating the birthday of Nathan Bedford Forrest, a Confederate general and first Grand Wizard of the Ku Klux Klan.
"Had a great time at Fort Dixie speaking and giving the invocation for Nathan Bedford Forrest annual birthday celebration. Always a great time and some sure enough good eating!!" Dismukes wrote above a photo of himself speaking on a porch adorned with a portrait of Forrest and several Confederate flags. The post is no longer visible.
Criticism was swift on social media as word spread that Dismukes attended the celebration on the same weekend that the late Congressman and Civil Rights hero, Rep. John Lewis, was honored in Selma, where Lewis was nearly beaten to death in 1965, during the march for voting rights that crossed the Edmund Pettus Bridge.
Alabama Democratic Party Executive Director Wade Perry called for Dismukes to resign.
"Will Dismukes has demonstrated yet again why he is unfit to hold public office," Perry said in a statement. "Americans don't celebrate racists or traitors. Nathan Bedford Forrest was both. And a founder of the Klan. The Alabama Democratic Party renews our call for Dismukes to resign. It's 2020 and it's time for racial extremists like Will Dismukes to go away."
Dismukes posted a statement on Monday addressing the criticism: "First and foremost, my post yesterday was in no way related to disrespecting the passing of Rep. John Lewis. That wasn't even a thought in my mind. That is not who I am as a person.
"I am a transparent person. To the point that as a public official I lay it all there for the people to see for better or for worse at times. My post yesterday was as usual me sharing a previous days events. The post was in no way intended to seem as if I was glorifying the Klan or any party thereof. The very atrocities and actions they committed are a disgrace to our country.
"Also, we are all individual members that make up our legislature. I made a post independent of my colleagues. My regret is that I have allowed them to be put in a negative light. If you disagree with me and my beliefs do not hold them under the same umbrella. I can live with a dislike for me, but not fellow members, or members of my own personal family. Our body as a whole is made up of some of the finest people I have ever had the honor of knowing and working with, both Democrat and Republican.
"I close by reiterating that my post was in no way glorifying the Klan or disrespecting the late Rep. John Lewis."
Alabama Republican Party Chairman Terry Lathan issued a statement addressing the post:
"While Rep. Dismukes has released a statement attempting to clarify his actions as a private citizen attending a celebration of the first Grand Wizard of the Klu Klux Klan, Alabamians hold their elected officials to a high standard of actions. So does the Republican Party.
"Rep. Dismukes offered no explanation for why he participated in a birthday celebration of Nathan Bedford Forrest. Additionally, I find his statement to be shallow in understanding why his activities are deeply offensive to so many Alabamians. His constituents will be the final decision-makers of his political future.
"The Alabama of today was on full, honorable display as we paid humble tribute this weekend to the life of Congressman John Lewis. That is the Alabama that we are proud of – showing the nation and world that we are one in the common goals of equality for all of our citizens.
"It is one thing to honor one's Southern heritage, however, it is completely another issue to specifically commemorate the leader of an organization with an indisputable history of unconscionable actions and atrocities toward African-Americans. I strongly urge his constituents to contact Rep. Dismukes to articulate and share with him their thoughts on his personal actions."
House Majority Leader Nathaniel Ledbetter, R-Rainsville, issued a statement saying that the beliefs of one member don't reflect the beliefs of all, and that several Republican Caucus members expressed concern to him about the content and timing of Dismukes' post.
"We live in a nation that guarantees each citizen the right to express the ideas they wish to share, and in the case of a public official, voters will ultimately decide if they agree with those ideas."
Speaker of the House Mac McCutcheon, R-Monrovia, on Monday issued his own statement:
"The Alabama House cannot police the beliefs, statements, and activities of its members outside the Legislature as that is a job best assigned to voters in each House district across the state.  
"It is important to note, however, that I and many other members of the House devoted our weekend toward honoring an Alabama native and civil rights icon who dedicated his life to securing freedom, liberty, and equality for all Americans."
Rep. Danny Garrett, R-Trussville, tweeted a stern rebuke on Sunday: "I cannot fathom why anyone in 2020 celebrates the birthday of the 1st KKK Grand Wizard. And while the body of a civil rights icon beaten by the Klan lies at state Capitol being honored by GOP/Dem leaders from all over the state. This mentality does not rep my party or my faith."
Another GOP colleague, Rep. Allen Farley, R-McCalla, responded to a constituent about the matter in a tweet: 
"Scott, As a Christian, Conservative, member of the Republican Party, I was proud of the comments of my colleague Rep. Danny Garrett. Rep Will Dismukes' actions were also unfathomable to me. I believe it will take the voters in House Dist. 88 to remove Rep. Dismukes from office," Farley said.
While fellow Republican officials said that Dismukes' constituents should decide if he remains in office, the College Republican Federation of Alabama issued a statement on Monday calling for him to resign.
"Representative Dismukes's Facebook post of him at an event that celebrated former KKK Grand Wizard Nathan Bedford Forrest is unacceptable and has no place in the State Legislature or the Republican Party," the statement said.