Alabama Republican leader calls for investigation of Department of Justice, FBI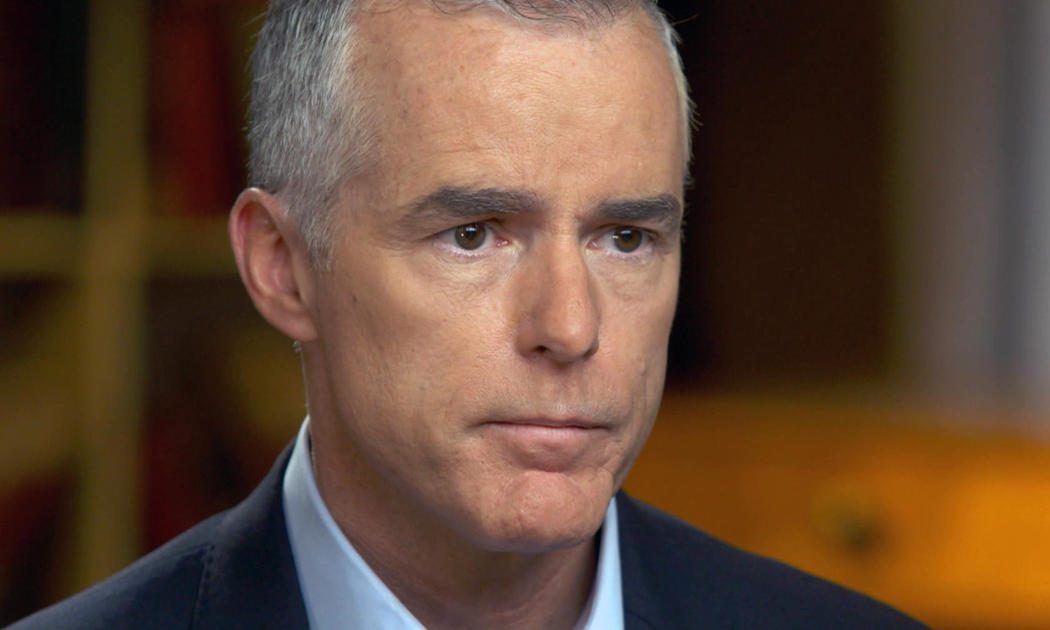 Sunday, former Acting FBI Director Andrew McCabe granted an interview to CBS News' "60 Minutes."
McCabe said that after President Donald Trump fired FBI Director James Comey that Deputy U.S. Attorney General Rod Rosenstein had discussions with him about using the 25th Amendment to remove Trump as president of the United States. McCabe's claims have angered many of Trump's supporters.
Trump 2016 Alabama Victory Chair Perry O Hooper Jr. said in a statement: "It appears that there is a distinct possibility that Deputy Attorney General Rob Rosenstein actually tried to lead a coup to remove the President from office from within the Department of Justice by invoking the 25th Amendment. In this interview McCabe said Deputy Attorney General Rod Rosenstein raised the issue shortly after the firing of FBI Director James Comey in 2017. I find this shocking almost beyond belief."
"I call on all Republican Senators to join Senator Lindsey Graham in his pledge to do everything possible to get to the bottom of the Department of Justice and FBI's behavior toward President Trump and his campaign," Hooper said. "This should include subpoenaing everyone involved to testify under oath in front of the Senate Judiciary Committee."
Perry O. Hooper Jr. is a former state Representative and is a member of the Alabama Republican Executive Committee.
McCabe told CBS's Scott Pelley that when he went to the White House, "The president immediately went off on a, almost a gleeful description of what had happened with the firing of Jim Comey. And then he went on to state that people in the FBI were were thrilled about this, that people really disliked Jim Comey and that they were very happy about this and that it was, it was a great thing."
Following the firing of Comey, McCabe said, "People were shocked. We had lost our leader, a leader who was respected and liked by the vast majority of FBI employees. People were very sad. But anyway, that night in the Oval Office what I was hearing from the president was, not reality. It was the version of the events that I quickly realized he wished me to adopt. As he went on talking about how happy people in the FBI were, he said to me, "I heard that you were part of the resistance.""
"And he said—"I heard that you were one of the people that did not support Jim Comey. You didn't agree with him and the decisions that he'd made in the Clinton case," McCabe said. }And is that true?" And I said, "No sir. That's not true. I worked very closely with Jim Comey. I was a part of that team and a part of those decisions." "I knew I'd given him the wrong answer."
After Comey was fired, McCabe said that he ordered two investigations of the President himself. They asked two questions. One, did Mr. Trump fire Comey to impede the investigation into whether Russia interfered with the election. And two, if so, was Mr. Trump acting on behalf of the Russian government.
"I was speaking to the man who had just run for the presidency and won the election for the presidency and who might have done so with the aid of the government of Russia, our most formidable adversary on the world stage," McCabe said. "And that was something that troubled me greatly." "I think the next day, I met with the team investigating the Russia cases. And I asked the team to go back and conduct an assessment to determine where are we with these efforts and what steps do we need to take going forward. I was very concerned that I was able to put the Russia case on absolutely solid ground in an indelible fashion that were I removed quickly or reassigned or fired that the case could not be closed or vanish in the night without a trace."
McCabe claims that Trump asked deputy attorney general, Rod Rosenstein, to write a memo listing the reasons Comey had to go.
McCabe said, "Rod was concerned by his interactions with the president, who seemed to be very focused on firing the director and saying things like, "Make sure you put Russia in your memo," That concerned Rod in the same way that it concerned me and the FBI investigators on the Russia case.
"There were a number of things that caused us to believe that we had adequate predication or adequate reason and facts, to open the investigation," McCabe said. "The president had been speaking in a derogatory way about our investigative efforts for weeks, describing it as a witch hunt, publicly undermining the effort of the investigation. The president had gone to Jim Comey and specifically asked him to discontinue the investigation of Mike Flynn which was a part of our Russia case. The president, then, fired the director. In the firing of the director, the president specifically asked Rod Rosenstein to write the memo justifying the firing and told Rod to include Russia in the memo. Rod, of course, did not do that. That was on the President's mind. Then, the president made those public comments that you've referenced both on NBC and to the Russians which was captured in the Oval Office. Put together, these circumstances were articulable facts that indicated that a crime may have been committed. The president may have been engaged in obstruction of justice in the firing of Jim Comey."
Pelley asked: "Are you saying that the president is in league with the Russians?"
"I'm saying that the FBI had reason to investigate that. Right—to investigate the existence of an investigation doesn't mean someone is guilty," McCabe said. "I would say, Scott, if we failed to open an investigation under those circumstances, we wouldn't be doing our jobs."
Trump's firing of James Comey on May 9, 2017 set off a week of crisis meetings between Rosenstein, who was in charge of the Russia investigation and acting FBI director Andrew McCabe.
"We talked about why the President had insisted on firing the director and whether or not he was thinking about the Russia investigation and did that impact his decision," McCabe said. "And in the context of that conversation, the deputy attorney general offered to wear a wire into the White House. He said, "I never get searched when I go into the White House. I could easily wear a recording device. They wouldn't know it was there." Now, he was not joking. He was absolutely serious. And in fact, he brought it up in the next meeting we had. I never actually considered taking him up on the offer. I did discuss it with my general counsel and my leadership team back at the FBI after he brought it up the first time."
"Discussion of the 25th amendment was simply Rod raised the issue and discussed it with me in the context of thinking about how many other cabinet officials might support such an effort," McCabe claimed. "I didn't have much to contribute, to be perfectly honest, in that– conversation. So I listened to what he had to say. But, to be fair, it was an unbelievably stressful time. I can't even describe for you how many things must have been coursing through the deputy attorney general's mind at that point. So it was really something that he kinda threw out in a very frenzied chaotic conversation about where we were and what we needed to do next."
"What I can say is the deputy attorney general was definitely very concerned about the president, about his capacity, and about his intent at that point in time," McCabe said.
McCabe was fired from the FBI by then Attorney General Jeff Sessions. Sessions was forced to resign in November. Rosenstein appointed former FBI Director Robert Mueller as Special Counsel to investigate the Russian collusion allegations and the James Comey firing. Rosenstein is still the Deputy Attorney General.
To read the entire McCabe transcript, click here.
Alabama's Black Belt lacks quality internet access, report finds
Twenty-two of 24 Black Belt counties are below the statewide average of 86 percent of the population who have access to high-speed internet, and two Black Belt Counties — Perry and Chocktaw — have no access at all. 
During an online video briefing Monday on a report about a lack of internet access in Alabama's Black Belt, University of Alabama student Brad Glover warned reporters that he could get kicked off the briefing at any moment. 
That's because he was talking during the video briefing by way of audio only, using his cell phone, as he does not have access to high-speed internet access at his Linden, Alabama, home in the Black Belt's Marengo County. 
The COVID-19 pandemic that sent students home to study online left many in the Black Belt and other rural parts of Alabama in the lurch, without access to the high-speed internet enjoyed by so many other Americans, according to the latest report in the University of Alabama's Education Policy Center's Black Belt 2020 series. 
The latest report, titled "Internet Access Disparities in Alabama & the Black Belt," found that 22 of 24 Black Belt counties, as defined by the Education Policy Center, are below the statewide average of 86 percent of the population who have access to high-speed internet, and two Black Belt Counties — Perry and Chocktaw — have no access at all. 
"It is still a terrible struggle for me to connect to get the things done that are required," said Glover, who interned with the Education Policy Center. 
Stephen Katsinas, director of the Education Policy Center, said that in the 1930s, nine of ten rural homes lacked the electric service that urban American homes, by that point, had for 40 years. 
"The Rural Electrification Act was passed to address this abject market failure," Katsinas said. "Today, as the COVID pandemic has shown, access to high-speed internet is as essential to rural Alabama as the REA was in the 1930s. Alabama must directly address the market failures that exist today to bring high-speech internet to every rural Alabamian, so that our rural workforce can access the lifelong learning skills they need, and our rural businesses can compete globally." 
The COVID-19 pandemic has also spotlighted the need to expand the growing area of telemedicine. 
Dr. Eric Wallace, medical director of Telehealth at UAB, told reporters during the briefing Monday that patients are largely doing telehealth from their homes, and explained that disparities in access to high-speed internet present a problem for them. 
"Since the COVID-19 pandemic began, UAB has done approximately 230,000 telehealth visits, and 60 percent of those were done by video," Wallace said. 
"Forty percent are audio only, and why is audio only? It's because we do not have broadband," Wallace said. "So it's not just broadband. It's broadband. It's tech literacy. Socioeconomics, to have a device in your home. It's all of that."
Wallace said that the coronavirus crisis has made clear that telemedicine is a "100 percent necessity" and that patient satisfaction studies make clear it's not going anywhere. 
The reasons for disparities in access to high-speed internet are myriad, explained Noel Keeney, one of the authors of the report and a graduate research assistant at the Education Policy Center. 
Keeney noted a study by BroadbandNow that estimates there are 154 internet providers in Alabama, but there are 226,000 Alabamians living in counties without a single provider, and 632,000 in counties with just a single provider. 
Even for those with access to internet providers, Keeney said that just approximately 44.4 percent of Alabamians have internet access at a cost of $60 monthly or below. 
"If we really care about our rural areas, we need to make an investment, and it needs to cut off that cost at a very low rate," Wallace said. 
Katsnias said there's a growing consensus on the part of Alabama's political leaders that access to high-speed internet is an important issue, noting that Gov. Kay Ivey in March 2018, signed into law the Alabama Broadband Accessibility Act, which has given internet access to nearly 100,000 Alabama students. 
"In March, Gov. Ivey awarded $9.5 million in broadband expansion grants, with a significant amount going to Black Belt communities," the report reads. "This was followed by $5.1 million in additional grants in May." 
"The State of Alabama also allocated $100 million in federal CARES Act-related dollars for "equipment and service for broadband, wireless hot spots, satellite, fixed wireless, DSL, and cellular-on-wheels to increase access for K-12 students undergoing distance learning," the report continues. 
An additional $100 million in CARES Act funds were made available to facilitate virtual learning across Alabama's K-12 schools, researchers wrote in the report, and another $72 million in federal aid went to the state's colleges and universities. 
Katsinas said however those federal funds are spent, the state still needs a long term plan for how to address the disparities in access to high-speed internet. 
"We need a long term plan and we need to do what we can do immediately," Katsinas said
Read more of the Education Policy Center's reports in the "Black Belt 2020" series here.