North Alabama Legislative leaders hold public legislative forum in Huntsville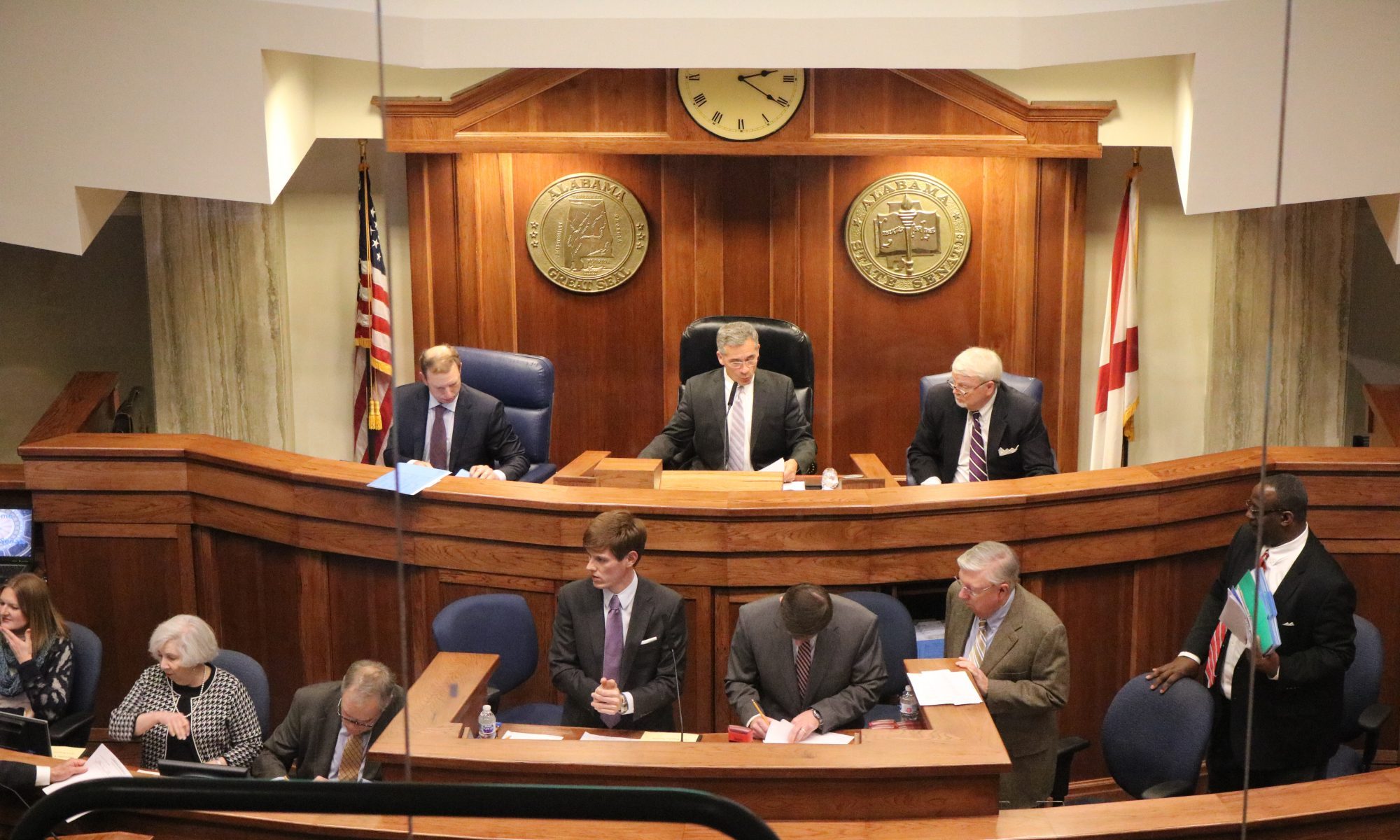 Several state legislators representing Madison County held a town hall listening event Monday at the Huntsville City Hall.
Sen. Arthur Orr said that the purpose of the forum is for the legislature to hear from the public and the legislators, including Speaker of the House Mac McCutcheon, listened as Madison County resident after Madison County resident spoke for three minutes on the topic that most interested them. Speakers were asked not to repeat points made by someone else and not to talk about local or federal issues unless the state legislature can do something about that issue.
Veterans advocate Will Webb said that sixteen years of a brutal terror war has resulted in 52,000 veterans being critically injured and hundreds of thousands suffering from stress and post-traumatic issues. What they do is critical, and he asked for their continued support.
Lori McCauley with the National Coalition of Black Women said that early puberty awareness is causing them to develop breasts early which is causing them to develop cancer earlier in life and urged that awareness be raised. McCauley also asked for legislation outlawing the selling of drug paraphernalia near a school or a church.
Rene Breland with the Top of Alabama Regional Council of Governments said that as our population greatly increases in Madison County our elderly population also increases increasing the need for services. Breland said that the TARCG managed Medicaid waiver program served 300 residents of Madison County in their homes at a cost of 24,0000 versus $21 million if they had been taken to a nursing home.
Breland said that their food for seniors meals program serves over 1400 seniors and they also provides counseling services through the SHIP program.
Mr. Johnson spoke against raising the gas tax. I am pleading to you to govern wisely." "Empower the state auditor to audit not just the property but also the books. Empower him to correct wrongs that he caught in the state budgeting process. Put back the $63 million diverted from roads and bridges and end all the earmarks.
"Wisely use the tax money. Every penny tat you take away is a creeping socialism."
Johnson said, "The Alabama Republican Executive Committee voted against a gas tax almost two to one."
Charles Orr said, "Do the right thing, not the easy thing; don't raise the gas tax."
George Berry said, "The reality is that when you leave this room and go to Montgomery you will see more lobbyists that people, but know that the people of Madison County are watching."
"We are not in favor of raising taxes; but if you do we want to see taxes cut on something else," Berry said. "Remove the tax on food."
Mike Parsons said that in 2012 Alabama was 25th in education, but after Common Core was implemented and the state removed the Alabama Graduation Exam performance plummeted. Parsons urged that the legislature repeal Common Core. "Go back to standards with rigor."
Michael Polomini urged that the legislature ban any candidate, with the exception of the President, from receiving any campaign contributions from people or organizations from out of state. He also urged the legislature pass a road usage tax for electric vehicles and bicycles.
Michael Jennings said, "This 12 cent gas tax is a tax hike. It is a tax on the people of Alabama. It is a regressive tax.
Jennings also spoke in favor of prison reform. "We need to stop incarcerating non-violent offenders. We don't need more prisons we need more programs for low level non-violent offenders."
Alicia Clarke spoke on behalf of the Alabama Non-violent Offenders organization. She said that the pardons process is too long. "We are asking that you advance social justice by passing a non-violent offender criminal expungement bill."
Mary Moore is the Vice President of the Alabama A&M Alumni Association she said that the University needs, "Funds, funds, funds. Please consider providing funds for Alabama A&M University.
Mitchell Hampton is the Principal of Crossroads School. He asked for the legislature to fund math coaches. "Math is the language in STEM." To thrive in our local workforce in the future mastering math is a necessity; but Alabama still lags behind often 50th in Math. "Recently we were only above Puerto Rico. What do we need to improve teacher advocacy? Math coaches. UAH has already written the curriculum and is ready to train teachers to be math coaches. We can start now and then spread it across the state."
Sheila Holt is the director of UAH's AMSTI program.
"We know that the research says that we need job embedded quality professional support," Holt said. "We have a waiting list of hundreds of teachers asking for our support. We know that math coaches will partner with the science and math teachers." "We have written and piloted training for math coaches and training for administrators."
Jerry Burnett is the President of the Huntsville – Madison County NAACP.
"We need to increase voter turnout," President Burnett said. "Allow released felons to be automatically registered to vote, so they don't have to apply for that certificate."
Hannah Joy Ellis warned that each year 1000 local women are given cesareans. It seems suspicious. One local hospital has a 40 percent cesarean rate. Ellis said that she wants the cesarean rates of doctors and hospitals made public and wants a change in the midwives bill to allow women who have had cesareans to use home birth midwives.
Ellis said that Black babies in Alabama have twice the mortality rate as White babies and Black women are given cesareans at a much higher rate than White women.
Caroline Jones is the State leader of Moms Demand Action to Stop Gun Violence.
Jones said that Moms Demand Action's mission is to reduce the number of people harmed by guns and transform our culture from one of gun violence to one of gun safety. "Alabama is number three in firearms death and Moms demand Action are working to change that."
"We ask you to vote no on Senate bill four," Caroline Jones said. "Permit-less carry is dangerous and will only exacerbate an already huge problem.
Gail Williams is with Alabama Arise she urged the legislature to end the sales tax on food and to expand Medicaid, warning that most rural hospitals are operating in the red and predicted that more of them would close without Medicaid expansion.
Jaquelyn Clark spoke out against the requirement that mothers, like her, who have had cesareans in the past can't use nurse midwives.
David Harrah is with the Professional Firefighters Association he spoke out in favor of firefighters being able to get cancer coverage on Comp for firefighters.
"One associations claims that could potentially bankrupt our cities," Harrah said. In no way is claims bankrupting any cities.
Harrah said that 87 firefighters died in the line of duty or driving to the scene of an emergency last year; however 103 took their own lives; because, "They could not get the mental health that they need. It is time that we start to get the people that take care of us the help they need."
Jackie Reed said, "I am a government watchdog. I have been for over 30 years."
"Use common sense," Reed said. "You can have all kinds of degrees on that wall; but if you have no common sense…..then God help you." "I am concerned about the schools and the teachers carrying guns."
Ms. Thomas with the National Coalition of 100 Black women warned about a growing bullying problem in the schools that is not being addressed.
Conservative TV and radio host Dale Jackson said that if the legislature raises fuel taxes, and it might be necessary; then show some good faith and repeal the sales tax on food.
Jackson complained that Al.com and other newspapers make hundred of thousands on required legal notices which he says is out of date in 2019.
"This is 2019 fix this law," Jackson said, "Let Huntsville, let Madison County use this money to fix roads or something else that they need."
Jennifer Nelson said, "Our infrastructure is falling apart. We have got limited transportation choices. Because our gas taxes are so low, we have a major revenue problem."
Nelson asked the legislature to raise fuel taxes to repair roads and bridges, fund more park and ride, ride sharing, and mass transit She also suggested passing a vehicle miles traveled fee and asked the legislators to consider eliminating sales taxes on food and on thrift stores.
A small boy asked the legislature for $500,000 to build a special playground for handicapped kids so that his disabled sister and other children with disabilities can play outside safely like other children,
Mr. Barnes. an Alabama A&M political science student, suggested passing a lottery to provide tuition for college students and expanding work study programs to pay for college tuition.
Huntsville and Madison County is one of the fastest growing areas in the state. Huntsville is predicted to become the large city in the state within four years.
The 2019 regular legislative session begins on Tuesday, March 5 in Montgomery.
Alabama lawmaker faces sharp criticism over celebration of former KKK leader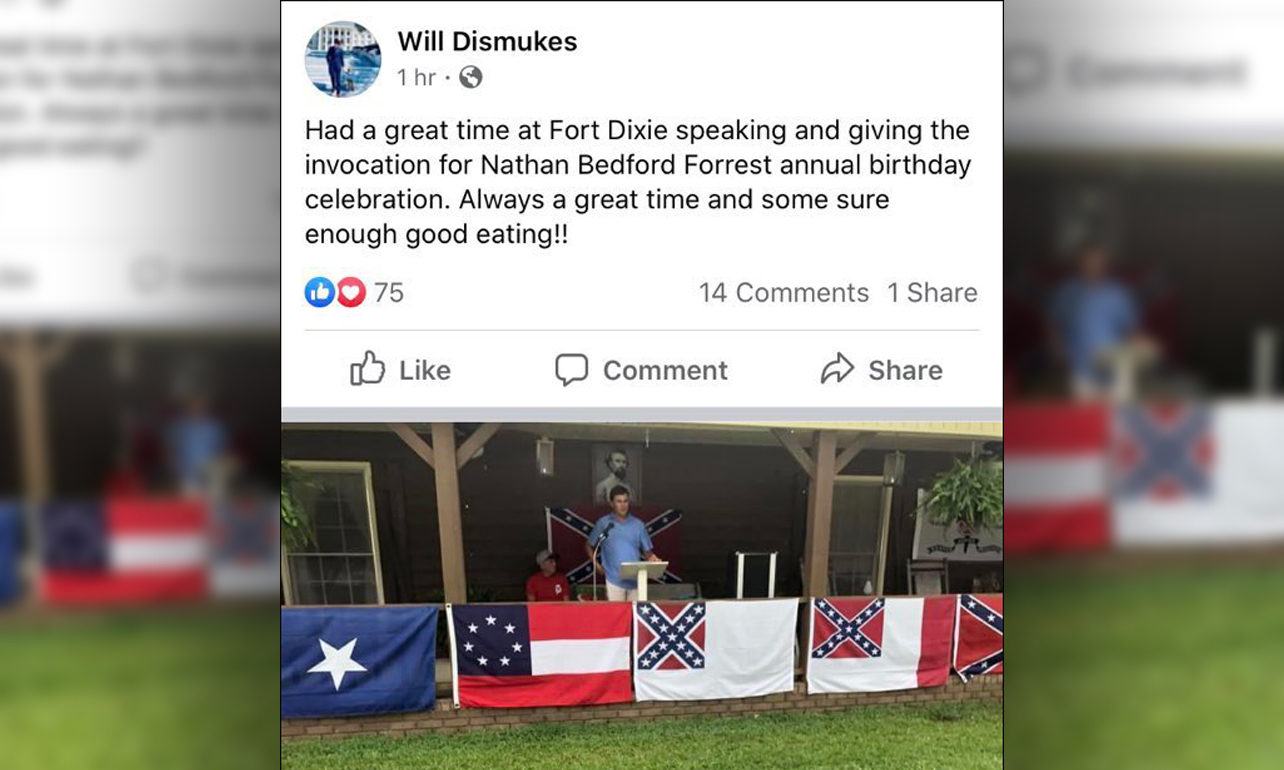 State Rep. Will Dismukes, R-Prattville, is again facing calls to resign over a social media post he made about his participation in an event honoring Confederate heritage.
Dismukes posted a photo of himself on Sunday speaking at Fort Dixie the day before, where a yearly event was held celebrating the birthday of Nathan Bedford Forrest, a Confederate general and first Grand Wizard of the Ku Klux Klan.
"Had a great time at Fort Dixie speaking and giving the invocation for Nathan Bedford Forrest annual birthday celebration. Always a great time and some sure enough good eating!!" Dismukes wrote above a photo of himself speaking on a porch adorned with a portrait of Forrest and several Confederate flags. The post is no longer visible.
Criticism was swift on social media as word spread that Dismukes attended the celebration on the same weekend that the late Congressman and Civil Rights hero, Rep. John Lewis, was honored in Selma, where Lewis was nearly beaten to death in 1965, during the march for voting rights that crossed the Edmund Pettus Bridge.
Alabama Democratic Party Executive Director Wade Perry called for Dismukes to resign.
"Will Dismukes has demonstrated yet again why he is unfit to hold public office," Perry said in a statement. "Americans don't celebrate racists or traitors. Nathan Bedford Forrest was both. And a founder of the Klan. The Alabama Democratic Party renews our call for Dismukes to resign. It's 2020 and it's time for racial extremists like Will Dismukes to go away."
Dismukes posted a statement on Monday addressing the criticism: "First and foremost, my post yesterday was in no way related to disrespecting the passing of Rep. John Lewis. That wasn't even a thought in my mind. That is not who I am as a person.
"I am a transparent person. To the point that as a public official I lay it all there for the people to see for better or for worse at times. My post yesterday was as usual me sharing a previous days events. The post was in no way intended to seem as if I was glorifying the Klan or any party thereof. The very atrocities and actions they committed are a disgrace to our country.
"Also, we are all individual members that make up our legislature. I made a post independent of my colleagues. My regret is that I have allowed them to be put in a negative light. If you disagree with me and my beliefs do not hold them under the same umbrella. I can live with a dislike for me, but not fellow members, or members of my own personal family. Our body as a whole is made up of some of the finest people I have ever had the honor of knowing and working with, both Democrat and Republican.
"I close by reiterating that my post was in no way glorifying the Klan or disrespecting the late Rep. John Lewis."
Alabama Republican Party Chairman Terry Lathan issued a statement addressing the post:
"While Rep. Dismukes has released a statement attempting to clarify his actions as a private citizen attending a celebration of the first Grand Wizard of the Klu Klux Klan, Alabamians hold their elected officials to a high standard of actions. So does the Republican Party.
"Rep. Dismukes offered no explanation for why he participated in a birthday celebration of Nathan Bedford Forrest. Additionally, I find his statement to be shallow in understanding why his activities are deeply offensive to so many Alabamians. His constituents will be the final decision-makers of his political future.
"The Alabama of today was on full, honorable display as we paid humble tribute this weekend to the life of Congressman John Lewis. That is the Alabama that we are proud of – showing the nation and world that we are one in the common goals of equality for all of our citizens.
"It is one thing to honor one's Southern heritage, however, it is completely another issue to specifically commemorate the leader of an organization with an indisputable history of unconscionable actions and atrocities toward African-Americans. I strongly urge his constituents to contact Rep. Dismukes to articulate and share with him their thoughts on his personal actions."
House Majority Leader Nathaniel Ledbetter, R-Rainsville, issued a statement saying that the beliefs of one member don't reflect the beliefs of all, and that several Republican Caucus members expressed concern to him about the content and timing of Dismukes' post.
"We live in a nation that guarantees each citizen the right to express the ideas they wish to share, and in the case of a public official, voters will ultimately decide if they agree with those ideas."
Speaker of the House Mac McCutcheon, R-Monrovia, on Monday issued his own statement:
"The Alabama House cannot police the beliefs, statements, and activities of its members outside the Legislature as that is a job best assigned to voters in each House district across the state.  
"It is important to note, however, that I and many other members of the House devoted our weekend toward honoring an Alabama native and civil rights icon who dedicated his life to securing freedom, liberty, and equality for all Americans."
Rep. Danny Garrett, R-Trussville, tweeted a stern rebuke on Sunday: "I cannot fathom why anyone in 2020 celebrates the birthday of the 1st KKK Grand Wizard. And while the body of a civil rights icon beaten by the Klan lies at state Capitol being honored by GOP/Dem leaders from all over the state. This mentality does not rep my party or my faith."
Another GOP colleague, Rep. Allen Farley, R-McCalla, responded to a constituent about the matter in a tweet: 
"Scott, As a Christian, Conservative, member of the Republican Party, I was proud of the comments of my colleague Rep. Danny Garrett. Rep Will Dismukes' actions were also unfathomable to me. I believe it will take the voters in House Dist. 88 to remove Rep. Dismukes from office," Farley said.
While fellow Republican officials said that Dismukes' constituents should decide if he remains in office, the College Republican Federation of Alabama issued a statement on Monday calling for him to resign.
"Representative Dismukes's Facebook post of him at an event that celebrated former KKK Grand Wizard Nathan Bedford Forrest is unacceptable and has no place in the State Legislature or the Republican Party," the statement said.