Alabama Republican Party executive committee elects 2019–2021 party leadership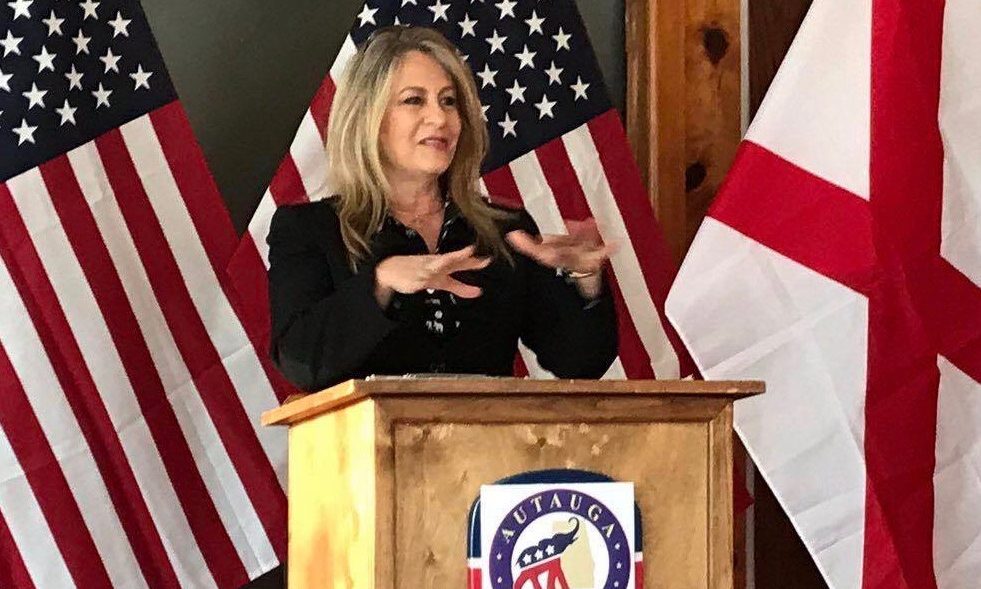 The Alabama Republican Party Executive Committee held its winter meeting on Saturday at the Birmingham Jefferson Civic Center in Birmingham and elected the party leadership for the next two years.
The 500 member executive committee re-elected Chairman Terry Lathan for her third term without opposition. She will be the longest serving ALGOP chairman since 1985. Lathan will represent Alabama on the Republican National Committee Committee on Arrangements for the 2020 Republican National Convention in Charlotte, North Carolina.
During Lathan's second term, the Alabama Republican Party won 68 percent of their 2019 general election races, flipped 71 seats from Democrat to Republican and now holds a historic 65 percent of all elected partisan offices.
"It is a true honor to have been elected for a third term as chairman of the Alabama Republican Party," Lathan said in a statement. "I am grateful to have the support of our committee as we continue to lead this party together with a strong conservative platform. We are focused on unseating Doug Jones in the 2020 U.S. Senate election."
Sam Givhan was elected state senator in November and chose not to seek another term as vice chairman.
John Wahl defeated Bill Harris for vice chairman.
"I am honored to have been elected as senior vice chairman of Alabama Republican Party this weekend," Wahl said. "I am still overwhelmed and humbled by the trust the ALGOP has placed in me. I look forward to serving the state of Alabama and working with each member of the State Executive Committee."
Sallie Bryant was re-elected as treasurer without opposition.
Josh Dodd defeated Gina Grant and Virginia Doyle for Secretary.
The Executive Committee elects the officers, selects the platform, passes resolutions, sets party policy and meets regularly twice a year. The Steering Committee is tasked with overseeing the more tactical decisions of the party.
The Alabama Republican Party 2019–2021 Steering Committee includes:
John Wahl, Senior Vice Chairman
Sallie Bryant, Treasurer
Josh Dodd, Secretary
Phil Webb, Finance Chairman
Greg Cook, Legal Counsel
Vicki Drummond, National Committeewoman
Paul Reynolds, National Committeeman
John Skipper, Vice Chair, Districts 1,2
Pat Wilson, Vice Chair, Districts 3,6,7
Andrew Sorrell, Vice Chair, Districts 4,5
Les Barnett, District 1 Chair
William Rayborn, District 2 Chair
Joseph Fuller, District 3 Chair
David Hall, District 4 Chair
Elbert Peters, District 5 Chair
Renee Powers, District 6 Chair
Pierce Boyd, District 7 Chair
Vicki Bailey, President of the Alabama Federation of Republican Women
Phillip Brown, Chairman of the Alabama Minority GOP
Jackie Curtiss, Chairman of the Young Republican Federation of Alabama
Austin Harrington, Chairman of the College Republican Federation of Alabama
The summer meeting will be in August in Auburn.
Print this piece
Opponents accuse Tuberville of supporting amnesty for undocumented immigrants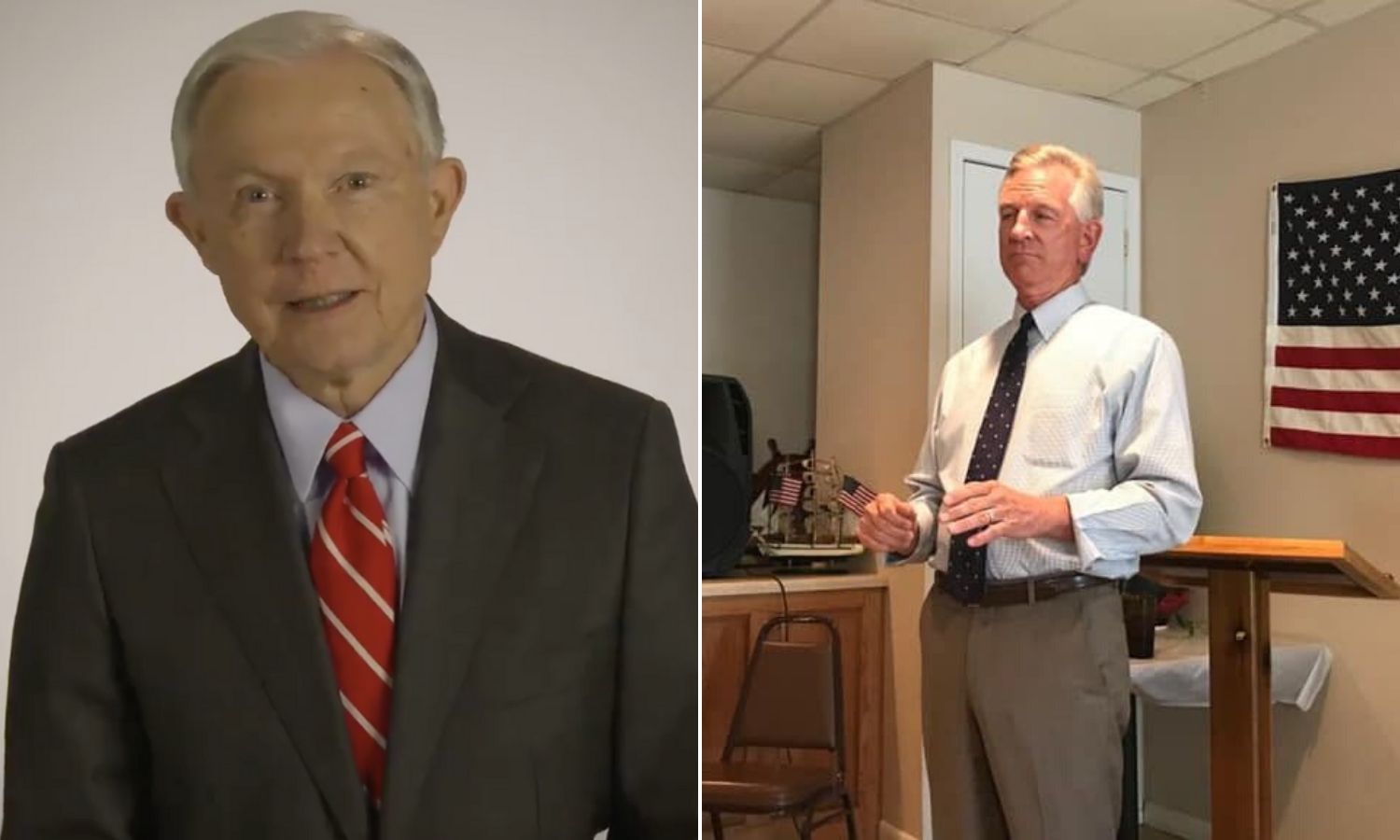 The Senate campaign is heating up as the top three candidates are all going negative. Former Auburn head football coach Tommy Tuberville has attacked Congressman Bradley Byrne (R-Montrose) and former Attorney General and Senator Jeff Sessions of being career politicians. Both Byrne and Tuberville have attacked Sessions for not having adequately served President Donald J. Trump (R) while Attorney General. Byrne has even attacked Tuberville's coaching abilities. The latest attacks on Tuberville accuse him of supporting amnesty for illegal aliens. Sessions even accused Tuberville of being a "tourist."
Wednesday, Sessions announced a new television ad called "Tuberville for Amnesty."
Byrne and Tuberville point to an August speech by Coach Tuberville when he said: "There are people coming across the border that need jobs… and we want them to come over here… Let em' come in and become citizens like we all became citizens."
The Tuberville campaign called the attack "fake news" on Twitter.
Sessions' campaign manager Jon Jones said, "Tuberville is claiming that his own words are 'fake news.' All of them? Tommy Tuberville needs to read the transcript. It is clear that Tuberville supports immigration amnesty, and he is attempting to trick Alabama voters to believe otherwise. In contrast, Jeff Sessions has done more than just say he wants to fix the border – he has already worked alongside President Trump to stop illegal immigration."
The new Sessions ad reads: "Tuberville is trying to trick you, hiding his support for immigration amnesty." Then plays an audio clip of the Tuberville comment from August
Tuesday, Byrne told reporters in Trussville: "I can tell you right now this issue about Tommy Tuberville's position on amnesty is a key issue. And so we're going to keep telling people about his position on that and let him explain why he doesn't think that's amnesty."
"Let em' come in and become citizens like we all became citizens," Tuberville is quoted in the ad.
Tuberville has denied supporting amnesty and says that he supports President Trump's immigration agenda.
The Sessions ad further charges: "And Tuberville's not even from Alabama, he's a tourist here. He lives, pays taxes and even votes in Florida."
On Tuesday, the Tuberville campaign responded with an attack ad of their own.
"The career politicians are desperate to hang on to their paychecks and power, so they have started airing negative ads full of false attacks and baseless distortions," Tuberville said. "Our new commercial allows us to respond with some hard truths about which candidate wants to drain the D.C. swamp and is tough enough to actually help President Trump get the job done."
The Tuberville ad has Byrne with former Secretary Hillary Clinton and Sessions with Congressman Adam Schiff (D-California) who led the impeachment effort against President Trump. The ad even connects Sessions and Byrne with Sen. Mitt Romney (the only Republican in either House of Congress who found that the President did anything wrong.)
State Representative Arnold Mooney, former Chief Justice Roy Moore, Ruth Page Nelson, and businessman Stanley Adair are also running for the Republican nomination for the Senate seat currently held by Doug Jones (D).
The Republican primary is March 3.
Print this piece