Committee approves Gov. Kay Ivey's gas tax, infrastructure package
Thursday, the state House Transportation Utilities, and Infrastructure Committee gave a favorable report to a three-bill infrastructure and fuel tax increase package introduced by state Representative Bill Poole. R-Tuscaloosa.
Poole told the committee that the passage of the legislation to increase fuel taxes was "critical moment in the history of the state in my judgment."
"We cannot not be successful in addressing our infrastructure," he said.
The legislation was requested by Republican Alabama Governor Kay Ivey in her state of the state address Tuesday night to address Alabama's infrastructure needs, not just roads and bridges, but also to dredge the Port of Mobile to increase the width and depth of the shipping channel.
Ivey called a special legislative session following her speech to address the infrastructure issue.
The tax increase proposal, HB2, would raise the fuel taxes by six cents per gallon this year, two more cents in 2020, and another two cents per gallon in 2022.
After that, there would be automatic increases without a vote of the Legislature indexed to the rising costs of road construction.
Those automatic increases, or even potentially decreases in a deflationary environment, would be capped at a maximum of one cent every two years.
The bill also imposes fees on the owners of plug-in electric vehicles as well as on hybrid vehicles that use both gas and electric motors. The annual fees were imposed so that "They pay their fair share" and to fund an effort to build charging stations across the state.
There was a public hearing on the tax increase for infrastructure bill before the committee though most of the speakers were in favor of the legislation.
Poole said that the state needs to add capacity in urban areas and put roads into rural areas for economic development.
"We have 16,000 bridges in Alabama. Half of them are over 50 years old," Poole said. Poole said that more and more bridges could not be crossed by a school bus, fire engine, or log truck.
Sonny Brasfield with the Association of County Commissioners said, "Almost 61,000 miles of roads are maintained by Alabama's county governments."
"It has been since 1992 that the county commissions have gotten additional investment from the state. We are running a 2019 infrastructure on 1992 funding," Brasfield said. I would like to thank Representative Poole for sponsoring this and for Governor Kay Ivey for being out front on this issue."
Alvin Williams said, "I am speaking on behalf of the people of Chilton County. This tax increase will directly impact the people of Alabama especially in my county where many people drive long distances to get to work each day."
Williams said he owns a small trucking company and this tax increase will hurt his business.
Jim Paige is the President and CEO of Chamber of Commerce of West Alabama and is the Chairman of the Alliance for Alabama Infrastructure. Paige said that 43 percent of the revenue would be paid by the trucking industry and 23 percent of the tax will be paid by out of state drivers."
The Port of Mobile does not just help Mobile it helps every county in the state," Paige said. "The more we delay, the more we pay."
During the debate, former Governor Robert Bentley (R) released a statement on social media, "I just heard an Ad regarding the proposed gasoline tax hike the Legislature will soon vote on. The Ad stated that Alabama hadn't addressed road funding since 1992. Though I've stayed out of many things coming out of Montgomery, this statement is simply False."
"During our Administration, along with the Legislature we launched ATRIP in 2012, the largest road and bridge program in the state's history," Bentley said. "Since then, there have been over 1,000 road and bridges replaced, rebuilt and repaved with over $1.2 Billion in all 67 counties. We even launched RAMP to help rural counties who couldn't afford to be a part of ATRIP. This was done after we cut state government and saved the taxpayers over $1 Billion annually. Not one penny of taxes was raised to do that. So there are other options for fixing our roads."
David Cole with BCA praised the bill and said, "The business council of Alabama is 110 percent behind this legislation. It will encourage businesses to flourish in Alabama."
The Alabama House of Representatives is meeting today at 10:30 a.m. to consider this infrastructure package. If the House passes the bills, they will be carried by Senator Clyde Chambliss, R-Prattville, in the Senate.
Sen. Chambliss is the sponsor of SB2 which will increase legislative oversight over the Alabama Department of Transportation. SB2 received a favorable report on Thursday by the Senate Transportation and Energy Committee.
The Senate will meet today to consider that legislation, as well as bills banning the use of golf carts on public roadways in the state except for Baldwin County and requiring the registration of off-road vehicles and all-terrain vehicles.
Speaker of the House Mac McCutcheon, R-Monrovia, is a strong proponent of Poole's infrastructure legislation. McCutcheon is optimistic that HB1, HB2, and HB3 will pass, but expects that there will be a long debate on the House floor today.
Jefferson County GOP pens letter to governor complaining of Democrat appointed as probate judge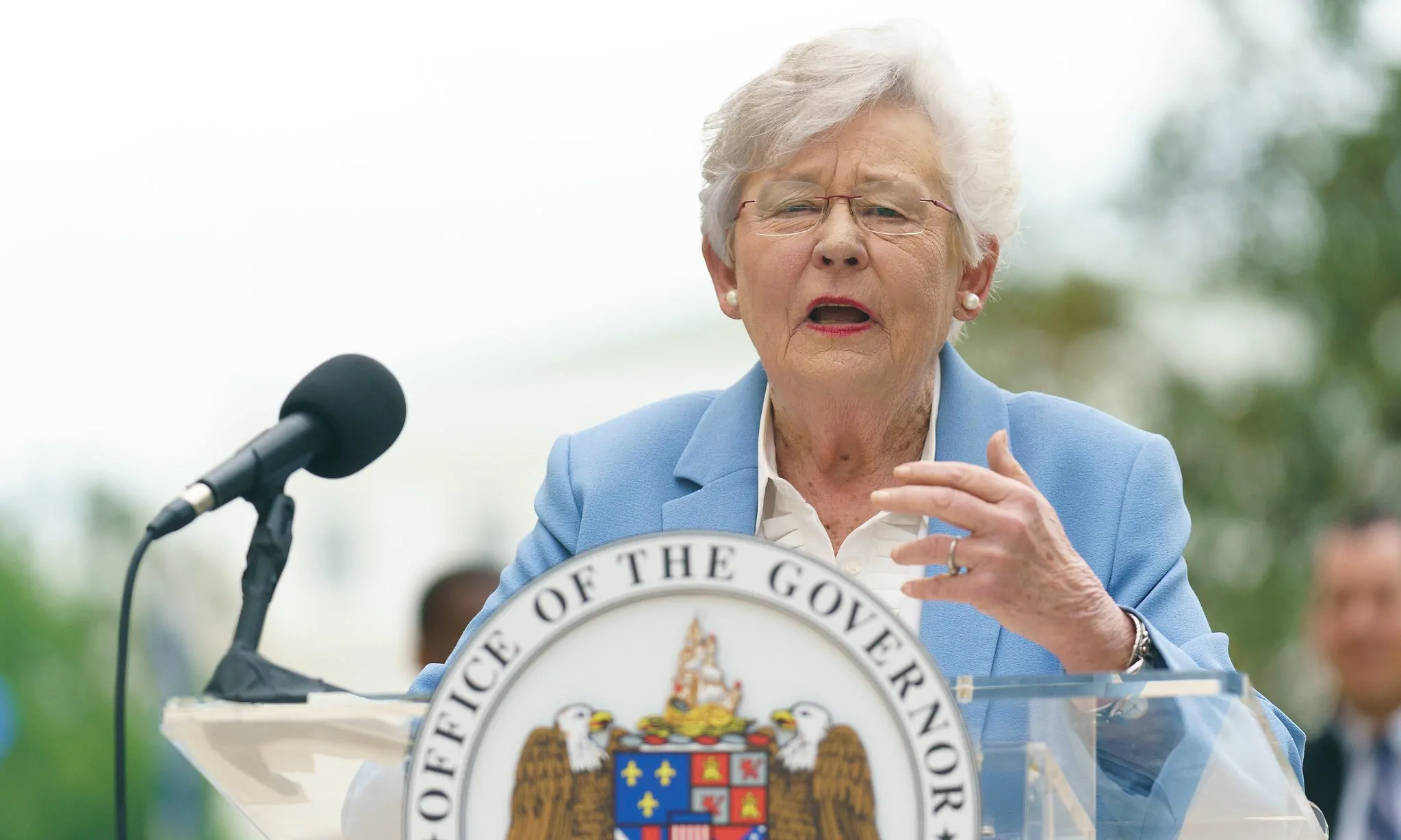 The members of Jefferson County Republican Party Steering Committee last week sent a letter to Alabama Gov. Kay Ivey bitterly complaining about her recent appointment of Jim Naftel, a Democrat, as a Jefferson County probate judge.
"We, both as elected officials and leaders of the Jefferson County Republican Party Steering Committee, on behalf of the entire Jefferson County Republican Executive Committee wish to express our displeasure in your appointment to Jefferson County Probate Judge, Place 1," the letter reads.
"Our main objection is we had one request and that was one request only – the appointment of qualified Republican to this post," the Jefferson County GOP continued. "In recent history, your pick for this position was given the opportunity to participate in the Republican Primary, he chose to vote as a Democrat. In 2018, when you were running for Governor in the Republican Primary, he chose to vote a Democrat ballot. Even this past March of 2020, when he had a chance to cast his vote for President Donald Trump, he again chose to vote in the Democrat primary."
"Secondly, this position runs all elections for Jefferson County," the Steering Committee added. "On June 30th, Secretary of State John Merrill was quoted in Alabama Today as stating, 'The probate judge has a significant level of influence. I cannot emphasize how important it is that this person is involved, interested, and informed on all things related to elections.' We have no knowledge of your appointee's experience in this area. We are not aware of his previous expertise in the election process at the county level or having been involved with any level of ballot security activities in our County."
In the letter, the members said all of the Republican legislators and commissioners recommended a specific qualified Republican to be appointed to this post.
"This Republican had been recommended and mentored by a former ALGOP General Counsel who you personally hired to be your legal counsel during your last campaign," the letter reads. "This choice was clearly experienced in the elections area of the Probate position and was best prepared to serve as our chief elections officer. Rarely, if ever, do all of these people agree on one thing and they agreed on this. These above stated reasons are why we, both as elected leaders in Jefferson County and members of the Jefferson County Republican Party, would like you to be aware of our displeasure for your selection of Probate Judge, we request a clear explanation of why this choice was selected despite the request as outlined above, and we hope you will listen to our counsel on future appointments in Jefferson County."
The letter was signed by Jefferson County Republican Party Chairman Paul DeMarco and the other officers and members of the steering committee.
Naftel was appointed to fill the position previously held by Judge Alan King, who has retired after 19 years of service.
"As one of my appointees, you will be making important decisions that directly affect the citizens of Alabama," Ivey wrote to Naftel. "I have made honesty and integrity a priority in my Administration, and I know that you will embody these two virtues while serving the people of Alabama. Please plan to be a good steward of the taxpayers' money and work in your position to instill trust in state government. The responsibility that comes with this appointment is not to be taken lightly. I trust that you will rise to the occasion and set a standard for others to follow."
Naftel was an attorney with Maynard, Coooper & Gale, where he has worked since 1998.
"Jim is a shareholder and member of the Firm's Estate, Trust and Business Planning Practice, Fiduciary Advisory Services Practice, and the Fiduciary, Trust and Estate Litigation Practice groups," the firm wrote in his bio on their website. "In his Fiduciary Litigation practice, Jim advises and represents both individuals and corporate fiduciaries in their capacity as trustees and executors, including pre-litigation, mediation, trial and appellate proceedings. Jim also represents beneficiaries of estates and trusts. In addition, Jim represents clients in proceedings related to financial abuse of the elderly, conservatorships, guardianships and other protective proceedings."
Naftel is a Fellow of the American College of Trust and Estate Counsel, has been recognized as one of The Best Lawyers in America in the areas of Trust and Estates and Litigation: Trusts and Estates. He earned a law degree from the University of Alabama law school in 1998. He has a bachelor's degree from the University of Mississippi in 1994.
"It is an honor to be appointed and I look forward to serving Jefferson County in this role," Naftel told AL.com.
Republicans, including Alabama Republican Party Chairman Terry Lathan, had been urging the governor to appoint a Republican to the position.
Former Alabama Republican Party Chairman Bill Armistead wrote hours ahead of the appointment, "For the life of me, I cannot understand why we are even having a conversation about our Republican governor appointing a Democrat as the top election official in Jefferson County. If we have to lobby our Republican governor to appoint a Republican to this important position we have a real problem!"
While Republicans continue to dominate Alabama politics, the party has grown increasingly uncompetitive in Jefferson County, where Republican Sheriff Mike Hale was defeated in 2018 and the last two Republican district attorneys were both defeated in general elections.
While Hillary Clinton was trounced statewide in 2016, she carried Jefferson County, as did Barack Obama in 2012 and 2008.
The last time that a Republican presidential nominee carried Jefferson County was incumbent President George W. Bush back in 2004. Naftel's appointment could perhaps be interpreted as meaning that the governor's office believes that Jefferson County is a lost cause for Republicans moving forward given recent demographic changes and that the best a Republican governor can hope for is to pick the best Democrat for countywide office as a Republican would lose reelection.