Reaction to passage of Rebuild Alabama Act
Tuesday, the Alabama Senate passed Governor Kay Ivey's (R) plan to raise fuel taxes to pay for significant increases in road projects and to improve the Port of Mobile.
Senate President Pro Tempore Del Marsh, R-Anniston, supported the Senate's approval of the Rebuild Alabama Act.
"Over the last ten years we have seen unprecedented growth in Alabama," Sen. Marsh said. "Median income is up 20 percent, unemployment is at an all-time low. We have dramatically reduced the size of state government; we have over 6,000 fewer state employees today than we did eight years ago which equates to a 15 percent reduction. However, in this time, our infrastructure has lagged behind and everyone agreed that something needed to be done."
"This bill was passed the correct way," Marsh said. "Over the past year, my office alone has held over 30 open meetings with legislators, and all interested stakeholders. All voices were heard and nothing was rushed."
"I want to thank the body for adopting strict oversight and accountability measures," Marsh stated. "Because of this, there is no doubt that going forward the money which is supposed to be used for infrastructure will be used for road, bridge and port improvements. As a fiscal conservative, it would have been impossible to support any type of revenue measure in the infrastructure package without the oversight and accountability laid out in this bill. I thank the Senate for their support, Sen. Chambliss and Rep. Poole for their leadership on this issue and Governor Ivey for taking this issue head-on. This infrastructure package will drive industry in Alabama for years to come and ensure that we continue the strong economic growth that we have enjoyed over the past few years by making sure that we are competitive on the world stage when it comes to recruiting jobs."
Alabama Senate Majority Leader Greg Reed, R-Jasper, said that the legislation was a major step towards modernizing Alabama's crumbling infrastructure.
"This plan will dramatically improve the safety of Alabama's roads and bridges," Majority Leader Reed said. In 2016, Alabama had the second highest rate of traffic fatalities in the nation. One in six Alabamians cross a structurally-deficient bridge on their daily commute — and that's unacceptable, especially when 375,000 school kids are on a bus every day," Majority Leader Reed said. "Governor Ivey's proposal will help us rebuild Alabama's infrastructure and make travel safer for school buses, truck drivers, and families."
"This is about improving quality of life for every single community in Alabama — every town and county in the state will benefit with additional resources for roads and bridges," Reed stated. "As a fiscal conservative, I could only vote for Governor Ivey's plan because there were provisions in the bill that not a single dime from this fund could be spent on benefits or salaries for DOT employees — this money is for infrastructure, and infrastructure alone.""
Senator Clyde Chambliss, R-Prattville, sponsored Governor Ivey's proposal in the Legislature's upper chamber.
"Among our neighboring states, Alabama is dead last in funding for infrastructure, and that has started to affect our ability to compete for high-paying jobs with Florida, Tennessee, and Georgia," Senator Chambliss said. "There are 16,000 bridges in Alabama, and over 7,000 of those are 50 years and older. That endangers our citizens and impairs our economic competitiveness. Every county in Alabama will see road projects go up within the next year or so with the funding from this plan — and that improved road system will make it easier to recruit new industries to Alabama."
Reed said the additional funds in Governor Ivey's plan for deepening the Port of Mobile would benefit the entire state.
"Last year, the Port of Mobile was the export point for $2 billion worth of Alabama coal to the world's markets, and coal accounts for 40 percent of the Port's total exports," Reed observed. "Cotton farmers, timber landowners, poultry farmers, and coal producers across the state will all benefit from improvements to the Port of Mobile."
Senate Bill 2, sponsored by Chambliss, strengthens the Alabama Legislative Joint Transportation Committee, which has responsibility for reviewing the long-term plans and budget for ALDOT.
Chambliss' plan specifies that the Joint Transportation Committee will meet four times per year at the Statehouse, and mandates that members will be automatically removed if they miss two meetings in a calendar year. Senate Bill 2 also requires that ALDOT use objective criteria in prioritizing what road projects will be paved next and that the criteria be made available to the public. Further, SB2 specifies that the Statewide Transportation Improvement Program (STIP), ALDOT's long-range plan of road and bridge projects in Alabama, be publicly available on ALDOT's website, along with any updates of the STIP plan.
Twenty members of the Alabama House and six Senators voted against the legislation.
Not everyone is celebrating today.
Ralph Long, Chairman of Stop the Alabama Gas Tax PAC said in a statement, "The events of the past week are a crying shame. Reflective of a widening chasm between Montgomery politicians and the hardworking people of this state. This will be a vote that the pocketbooks of voters will remind them of year after year."
"We will redouble our efforts and work to oust the traitors and work to elect Real Republicans in 2022," Long added.
The Business Council of Alabama (BCA) championed the legislation.
BCA President and CEO Katie Boyd Britt commented following Governor Kay Ivey signing the Rebuild Alabama Act.
"Today is a terrific day for the state of Alabama," said BCA President and CEO Katie Boyd Britt. "Because of Governor Kay Ivey's unwavering support, bill sponsors Rep. Bill Poole and Sen. Clyde Chambliss, and the bipartisan effort led by Senate President Pro Tem Del Marsh, Senate Majority Leader Greg Reed, Senate Minority Leader Bobby Singleton, House Speaker Mac McCutcheon, House Majority Leader Nathaniel Ledbetter, and House Minority Leader Anthony Daniels the Rebuild Alabama plan is now law."
"During this Special Session, the Alabama Legislature recognized that passing the Rebuild Alabama plan was simply the right thing to do for the future of our state," Britt added. "Anyone who drives the roads of Alabama – whether on urban Interstates or rural, two-lane highways – knows the state is currently unable to maintain, improve, and construct a transportation system that adequately meets the needs of its citizens and the industries that are located here. But no longer. This plan provides unprecedented accountability and oversight of revenues for transportation and will ensure all money raised by the plan goes only to transportation projects. Alabama has been idling while our surrounding states have passed us by and provided funding for their roads and bridges. It's hard to convince others to invest in Alabama if we aren't first willing to invest in ourselves. Thanks to this legislation, we are showing the world that Alabama is open for business and will remain competitive in recruiting jobs and industry to our state."
Motorists will pay an additional ten cents per gallon phased in over three years. Owners of hybrids automobiles will pay a fee of $100 per year and owners of fully electric vehicles will pay a $200 per year fee.  The money will be used for road and bridge work and to dredge the Port of Mobile to accommodate more shipping.
"The quality of our infrastructure system affects everyone, every single day. From our safety to jobs and prosperity, we know that the road to our future must be paved, and now it will be," Britt concluded.
Print this piece
South Alabama medical residents work alongside Orange Beach first responders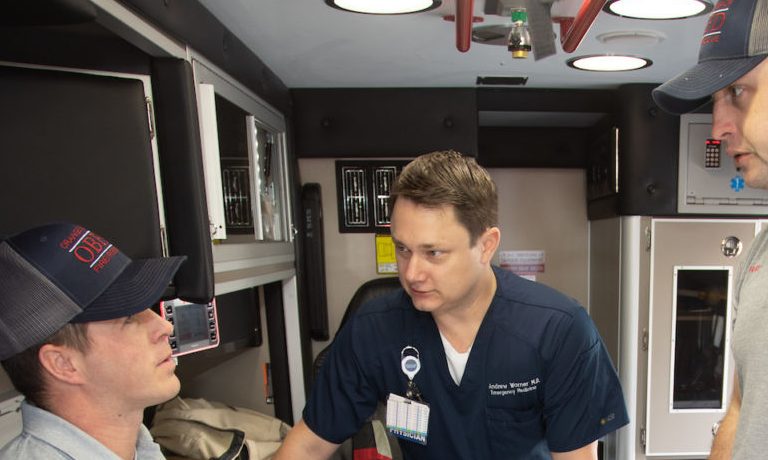 Residents in USA Health's Emergency Medicine Residency Program are given the opportunity to rotate with emergency medical services (EMS) in Orange Beach. The residents are stationed at the Orange Beach Fire Department giving resident physicians the experience of responding to emergency calls alongside paramedics and firefighters.
Paul Henning, M.D. is the associate program director of the Emergency Medicine Residency Program at USA Health and medical director of Orange Beach Fire/Rescue.
"The expertise that a patient gets in the field can determine outcomes," Henning explained. "It bridges the gap between the physician and the paramedic. Seldom, if ever, do physicians have this kind of exposure to prehospital emergency services. It also gives the physician more perspective of what the paramedics are doing in the field. If we have an opportunity to improve the prehospital scope of practice, then we have accomplished our goals."
Henning also serves as an associate professor of emergency medicine at the University of South Alabama College of Medicine.
He said that it is vital that physicians understand what happens in the prehospital stage of care.
The innovative program was established in July 2019.
Andrew Warner, M.D., took a nonlinear path to emergency medicine. Dr. Warner is a former Green Beret, who served with the U.S. Army 5thSpecial Forces Group on tours in Iraq and Afghanistan.
Following his military service, he went on to earn his medical degree from the University of Cincinnati College of Medicine. He completed his residency training in family medicine at USA Health and started in the emergency medicine program as a second-year resident.
Warner expressed his great respect for the Orange Beach first responders, who "epitomize true dedication to patient care and outcomes."
"I have further learned to appreciate just how critical those precious seconds in the prehospital setting are for patient survivability," Warner added.
Justin Thomas, M.D. is a second-year emergency medicine resident and was the first USA Health resident to rotate in Orange Beach. Thomas said that the experience opened his eyes to the constraints paramedics endure while working in the field, particularly when responding to calls in rural areas of the county.
"There are locations they respond to that may be in the middle of the woods, or down a dirt road someone only goes down once every couple of weeks," Thomas said. "They have to lug their supplies and the stretcher to the house, assess and care for the patient, and then bring them to the ambulance."
The medics are limited by the supplies and tools they have with them, Thomas said. "It's much different being at a hospital with all the resources at your disposal versus working from an ambulance with limited capabilities."
Thomas earned his medical degree from the American University of the Caribbean. He took a nontraditional route to emergency medicine. As a resident in USA Health's Family Medicine Residency Program, he rotated in the emergency department at University Hospital and was attracted to the field.
After graduating from his family medicine residency in June 2019, Thomas was offered a spot in the new Emergency Medicine Residency Program. Dr. Thomas was given approval from the American Board of Emergency Medicine to start as a second-year because of his months of training in emergency medicine during his family medicine residency.
Economic developer Dr Nicole Jones told the Alabama Political Reporter, "Response time is critical, especially in rural areas and areas that have longer distances to medical facilities than urban counterparts. The partnership between USA Health emergency medicine residency program and Orange Beach paramedics and fire rescue is a win-win situation. Both parties learn from one another and gain a deeper understanding of the pre-hospital setting, and most importantly, having professionals available in emergency situations with unique skill sets can ultimately save more patients' lives."
The partnership is mutually beneficial for USA Health's emergency medicine residency program and Orange Beach's paramedical and fire-rescue services. By adding the resident physicians the paramedics are able to provide a higher level of care to patients.
"I love to hear the interaction between our staff and the residents," said Orange Beach Fire Chief Mike Kimmerling. "Even when they're not running calls, there is a tremendous amount of knowledge being transferred in their conversations."
The residents gain more diversity of exposure in Orange Beach than in a larger city like Mobile, Henning said. "Most fire and rescues in large cities are close to hospitals, so the transport time is usually 10 minutes or less, whereas in Orange Beach the time could be significantly longer. When they are able to render care for a longer period of time, they have the chance to sharpen their skills and have more patient exposure."
Dr. Henning said that Orange Beach also gives the residents the unique experiences of working on fire and rescue boats.
Henning said that before starting the EMS rotation, the residents are required to be fully licensed by the state and to have completed an online medical direction course. If any questions or concerns arise, Henning and other emergency medicine attending physicians with USA Health are always available to provide their medical direction. Residents cannot start the EMS rotation until their second year. As the first class of residents graduate to their second year, six residents will rotate throughout the academic year. Third-years have the option to do an additional EMS rotation.
(Based on original reporting by USA Health's Lindsay Lyle.)
Print this piece