Senate rejects Trump's state of emergency
Thursday, the U.S. Senate voted to overrule President Donald J. Trump's (R) declaration of a state of emergency on the southern border with Mexico.
Twelve Republicans voted with the Democrats.
After Congress failed to appropriate all of the money that he wanted for construction of a border wall, the President issued the state of emergency declaration in order to exercise executive authority to move funds over for the construction of the wall. The Democratic-controlled House of Representatives easily passed a resolution to terminate the President's state of emergency.
Thursday, the Senate on a bipartisan basis passed legislation to overturn the President's state of emergency.
U.S. Senator Richard Shelby, R-Alabama, voted NO on the resolution; while Senator Doug Jones, D-Alabama, voted Yes. The measure passed 59 to 41.
Senate Minority Leader Chuck Schumer, D-New York said afterward, "That Republican are learning that total embrace of President Trump is counterproductive and unsustainable. My hope is that this past week isn't an aberration; but a turning point. My hope is that Republicans now see how this President is trampling on the Constitution; and understand that it is possible and in fact courageous to stand up to him and say that there will be consequences for his actions. The President seems to regard the government, and not just the Justice Department, as a tool to serve his personal and political interests. We have had a lot of presidents with plenty of foibles; but none of them seems to equate their own ego with the functioning of the government of the United States, except this one. Today the Senate sent a strong message to President Trump that under our Constitution the executive and legislative branches are coequal. Thanks to the framers of the Constitution, the United States of America has no king and we never will. We can't succumb to the President's monarchical leanings."
That twelve Republican Senators opposed the President has angered many of his supporters.
2016 Trump Alabama Victory Chairman former state Representative Perry O. Hooper Jr. said in a statement. "The Senate Rouge Gang of 12 Republicans joined Schumer and the Democrats to vote against the Emergency funding to build the Wall. America stands with the President. It's beyond me why these Republicans voted to give "aid and comfort" to the enemy! MSNBC and CNN and the rest of the liberal media can't hide their glee. Republicans must stick together, or they will fall together. I thank the Republican members of our House Delegation and Senator Shelby for standing behind the president. They truly care about our safety and security. Please Veto this vote Mr. President."
The 12 Republicans voting to terminate Trump's declaration were: Lamar Alexander of Tennessee, Roy Blunt of Missouri, Susan Collins of Maine, Mike Lee of Utah, Jerry Moran of Kansas, Lisa Murkowski of Alaska, Rand Paul of Kentucky, Rob Portman of Ohio, Mitt Romney of Utah, Marco Rubio of Florida, Patrick J. Toomey of Pennsylvania, and Roger Wicker of Mississippi.
The 1976 statute giving the President the power to declare a state of emergency has only been used twice before: when Saddam Hussein invaded Kuwait and following the 9-11 terrorist attacks.
Sen. Lee has introduced legislation that would limit a President's emergency powers to just 30 days unless it was confirmed by a vote of the House and Senate.
"If Congress is troubled by recent emergency declarations made pursuant to the National Emergencies Act, they only have themselves to blame," Sen. Lee said. "Congress gave these legislative powers away in 1976 and it is far past time that we as an institution took them back. If we don't want our president acting like a king we need to start taking back the legislative powers that allow him to do so."
President Trump opposes Lee's bill.
The President maintains that a state of emergency exists on the border.
In February, the Homeland Security Department reported that 76,103 people were apprehended at the border, including individuals who were deemed "inadmissible" or caught entering the U.S. illegally. That's the highest number of border apprehensions for the month of February since 2007. Historically most illegal immigrants were single males seeking employment; but that has changed to include many more women and children. In February, 36,174 family units and 6,825 unaccompanied minors were apprehended.
The President has said that he will veto the resolution.  It takes two-thirds of each House to override a presidential veto.  If all of the 59 bipartisan group of Senators were to vote to override, it would take eight more Senators to successfully override the veto.
(Original reporting by Rollcall and Fox News contributed to this report.)
U.S. Supreme Court rules Alabama can ban curbside voting
"The District Court's modest injunction is a reasonable accommodation, given the short time before the election," the three dissenting justices wrote.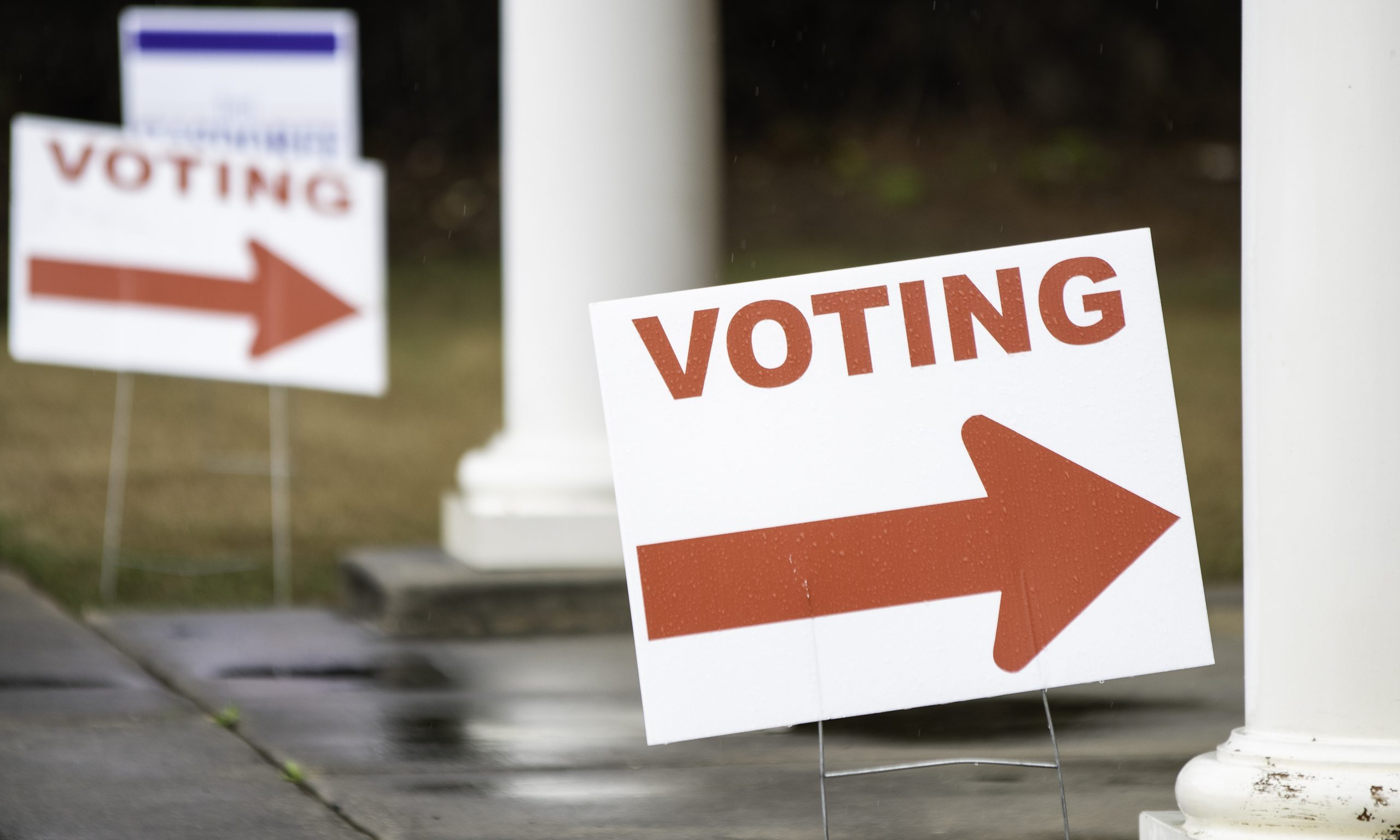 The Supreme Court, in a 5-3 decision, allowed Alabama Secretary of State John Merrill to ban curbside voting, staying a district court injunction that had allowed some counties to offer curbside voting in the Nov. 3 election amid the COVID-19 pandemic.
The Supreme Court's majority in its order declined to write an opinion, but Justices Stephen Breyer, Elena Kagan and Sonya Sotomayor's five-page dissent is included.

The lawsuit — filed by the NAACP Legal Defense and Educational Fund, Southern Poverty Law Center, American Civil Liberties Union, ACLU of Alabama and Alabama Disabilities Advocacy Program — was brought on behalf of several older Alabamians with underlying medical conditions.
"The District Court's modest injunction is a reasonable accommodation, given the short time before the election," the three dissenting justices wrote. 
Sotomayor, who wrote the dissent, closed using the words of one of the plaintiffs in the case. 
"Plaintiff Howard Porter Jr., a Black man in his seventies with asthma and Parkinson's disease, told the District Court, '[So] many of my [ancestors] even died to vote. And while I don't mind dying to vote, I think we're past that – We're past that time,'" Sotomayor wrote. 
Alabama Secretary of State John Merrill on Wednesday applauded the Supreme Court's decision. 
"I am proud to report the U.S. Supreme Court has now blocked a lower court's order allowing the fraudulent practice of curbside voting in the State of Alabama," Merrill said in a statement. "During the COVID-19 pandemic, we have worked diligently with local election officials in all 67 counties to offer safe and secure voting methods – including through the in-person and mail-in processes. I am glad the Supreme Court has recognized our actions to expand absentee voting, while also maintaining the safeguards put into place by the state Legislature."
"The fact that we have already shattered voter participation records with the election still being 13 days away is proof that our current voting options are easy, efficient, and accessible for all of Alabama's voters," Merrill continued. "Tonight's ruling in favor of election integrity and security is once again a win for the people of Alabama."
Sherrilyn Ifill, president and director-counsel of the NAACP Legal Defense and Education Fund, expressed frustration after the ruling in a tweet.
"Another devastating loss for voters and a blow for our team fighting to ensure safe voting for Black and disabled voters in Alabama. With no explanation, the SCOTUS allows Alabama to continue making it as hard as possible for COVID-vulnerable voters," Ifill wrote.
Curbside voting is not explicitly banned by state law in Alabama, but Merrill has argued that because the practice is not addressed in the law, he believes it to be illegal. 
A panel of federal appeals court judges on Oct. 13 reversed parts of U.S. District Judge Abdul Kallon's Sept. 30 order ruling regarding absentee voting in the upcoming Nov. 3 elections, but the judges let the previous ruling allowing curbside voting to stand. 
In his Sept. 30 ruling, Kallon wrote that "the plaintiffs have proved that their fears are justified" and the voting provisions challenged in the lawsuit "unduly burden the fundamental Constitutional rights of Alabama's most vulnerable voters and violate federal laws designed to protect America's most marginalized citizens."
Caren Short, SPLC's senior staff attorney, in a statement said the Supreme Court's decision has curtailed the voting rights of vulnerable Alabamians.
"Once again, the Supreme Court's 'shadow docket' – where orders are issued without written explanation – has curtailed the voting rights of vulnerable citizens amidst a once-in-a-century public health crisis. After a two-week trial, a federal judge allowed counties in Alabama to implement curbside voting so that high-risk voters could avoid crowded polling locations," Short said. "Tonight's order prevents Alabama counties from even making that decision for themselves. Already common in states across the South and the country before 2020, curbside voting is a practice now encouraged by the Centers for Disease Control and Prevention (CDC). It should be a no-brainer to implement everywhere during a pandemic; the Alabama Secretary of State unfortunately disagrees, as does the Supreme Court of the United States."