Senate rejects Trump's state of emergency
Thursday, the U.S. Senate voted to overrule President Donald J. Trump's (R) declaration of a state of emergency on the southern border with Mexico.
Twelve Republicans voted with the Democrats.
After Congress failed to appropriate all of the money that he wanted for construction of a border wall, the President issued the state of emergency declaration in order to exercise executive authority to move funds over for the construction of the wall. The Democratic-controlled House of Representatives easily passed a resolution to terminate the President's state of emergency.
Thursday, the Senate on a bipartisan basis passed legislation to overturn the President's state of emergency.
U.S. Senator Richard Shelby, R-Alabama, voted NO on the resolution; while Senator Doug Jones, D-Alabama, voted Yes. The measure passed 59 to 41.
Senate Minority Leader Chuck Schumer, D-New York said afterward, "That Republican are learning that total embrace of President Trump is counterproductive and unsustainable. My hope is that this past week isn't an aberration; but a turning point. My hope is that Republicans now see how this President is trampling on the Constitution; and understand that it is possible and in fact courageous to stand up to him and say that there will be consequences for his actions. The President seems to regard the government, and not just the Justice Department, as a tool to serve his personal and political interests. We have had a lot of presidents with plenty of foibles; but none of them seems to equate their own ego with the functioning of the government of the United States, except this one. Today the Senate sent a strong message to President Trump that under our Constitution the executive and legislative branches are coequal. Thanks to the framers of the Constitution, the United States of America has no king and we never will. We can't succumb to the President's monarchical leanings."
That twelve Republican Senators opposed the President has angered many of his supporters.
2016 Trump Alabama Victory Chairman former state Representative Perry O. Hooper Jr. said in a statement. "The Senate Rouge Gang of 12 Republicans joined Schumer and the Democrats to vote against the Emergency funding to build the Wall. America stands with the President. It's beyond me why these Republicans voted to give "aid and comfort" to the enemy! MSNBC and CNN and the rest of the liberal media can't hide their glee. Republicans must stick together, or they will fall together. I thank the Republican members of our House Delegation and Senator Shelby for standing behind the president. They truly care about our safety and security. Please Veto this vote Mr. President."
The 12 Republicans voting to terminate Trump's declaration were: Lamar Alexander of Tennessee, Roy Blunt of Missouri, Susan Collins of Maine, Mike Lee of Utah, Jerry Moran of Kansas, Lisa Murkowski of Alaska, Rand Paul of Kentucky, Rob Portman of Ohio, Mitt Romney of Utah, Marco Rubio of Florida, Patrick J. Toomey of Pennsylvania, and Roger Wicker of Mississippi.
The 1976 statute giving the President the power to declare a state of emergency has only been used twice before: when Saddam Hussein invaded Kuwait and following the 9-11 terrorist attacks.
Sen. Lee has introduced legislation that would limit a President's emergency powers to just 30 days unless it was confirmed by a vote of the House and Senate.
"If Congress is troubled by recent emergency declarations made pursuant to the National Emergencies Act, they only have themselves to blame," Sen. Lee said. "Congress gave these legislative powers away in 1976 and it is far past time that we as an institution took them back. If we don't want our president acting like a king we need to start taking back the legislative powers that allow him to do so."
President Trump opposes Lee's bill.
The President maintains that a state of emergency exists on the border.
In February, the Homeland Security Department reported that 76,103 people were apprehended at the border, including individuals who were deemed "inadmissible" or caught entering the U.S. illegally. That's the highest number of border apprehensions for the month of February since 2007. Historically most illegal immigrants were single males seeking employment; but that has changed to include many more women and children. In February, 36,174 family units and 6,825 unaccompanied minors were apprehended.
The President has said that he will veto the resolution.  It takes two-thirds of each House to override a presidential veto.  If all of the 59 bipartisan group of Senators were to vote to override, it would take eight more Senators to successfully override the veto.
(Original reporting by Rollcall and Fox News contributed to this report.)
Print this piece
Doug Jones praises end of state Democratic Party lawsuit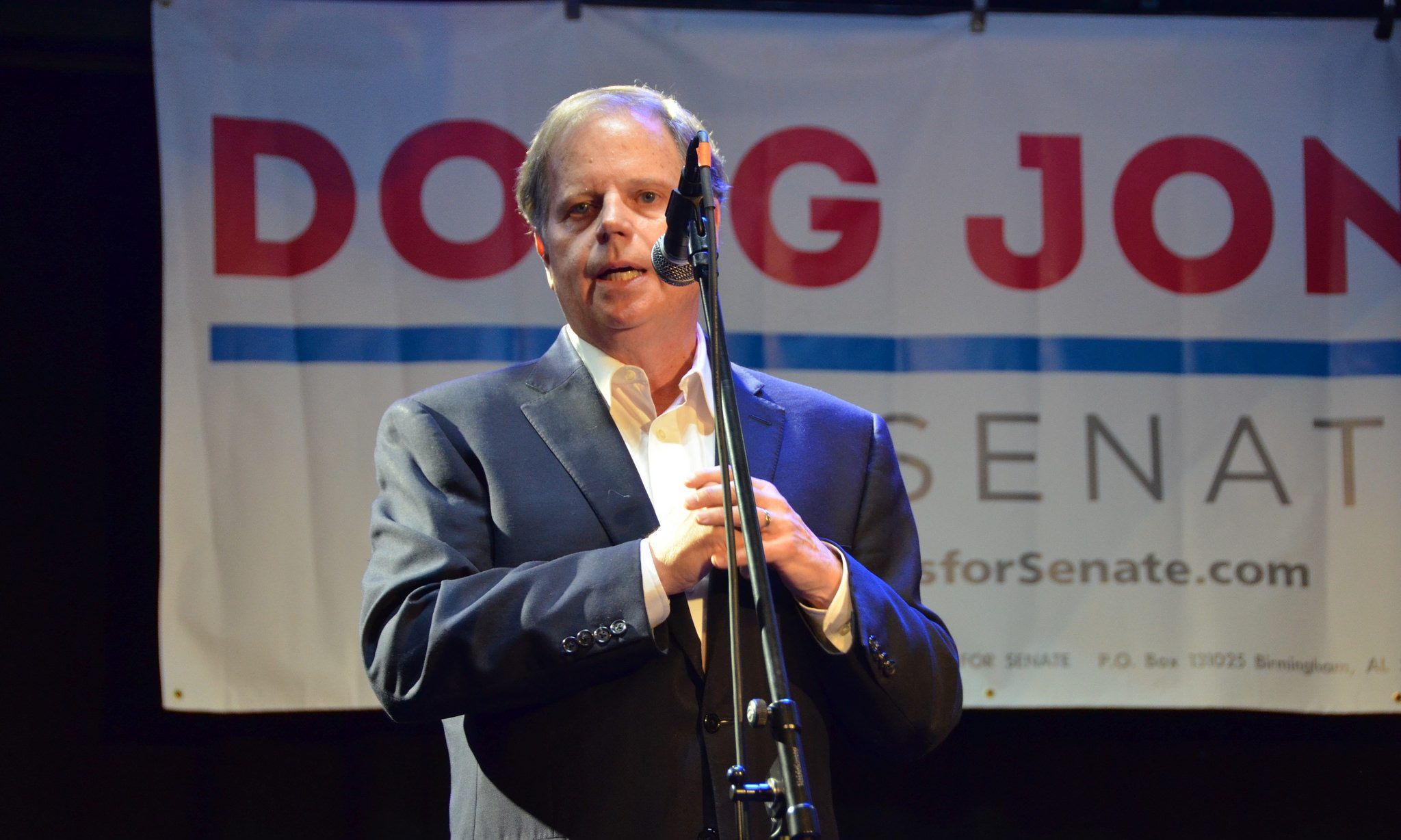 U.S. Senator Doug Jones, D-Alabama, on Thursday applauded the end of a lawsuit over control of the state Democratic party. 
Montgomery County Circuit Judge Greg Griffin on Thursday dismissed a lawsuit filed by former Alabama Democratic Party chairwoman Nancy Worley, which means that state Rep. Chris England, who was picked to lead the state Democratic party by a reform group championed by Jones, is the party's chair. 
"This is a great day for Alabama and her Democratic Party. Throughout much of last year, countless Democrats in our state worked to create a more open and diverse state party, while recognizing and being true to the crucial and historic role held by African-American voters," Jones said in a statement Thursday.
"The by-laws of the Alabama Democratic Party now reflect the growing diversity in our state — including representation for Hispanic voters, Native American voters, Asian voters, voters with disabilities and voters from the LGBTQ community. And most importantly, the Alabama Democratic Party has dramatically increased leadership opportunities for young voters. Around 70 new caucus members were added to the state party Executive Committee last year—many of them young people from diverse backgrounds throughout the state. I'm proud to continue to work alongside a more unified, diverse and inclusive state party. 
"With the dismissal of this lawsuit, it is time that all who have been involved in this challenge, resolution, and expansion of the Democratic Party come together for a common good. Our state benefits from the ideas and engagement of a competitive two-party system. We have now demonstrated that we have the ability to be inclusive within our own party while working to expand the number and experiences of people who play a role in moving it forward.  
"Chairman Chris England and First Vice Chair Patricia Todd have my complete support and I call on Democrats throughout the state to unite behind them as we move forward in modernizing, re-invigorating, and expanding the Alabama Democratic Party.," Jones said.
Print this piece