Brooks is fighting the Asian carp's invasion of the Tennessee River
Friday, Congressman Mo Brooks, R-Huntsville, joined 14 House colleagues in sending a letter to the House Interior and Environment Appropriations Subcommittee requesting $4.4 million in funding for state Aquatic Nuisance Species plans and $25 million in funding for U.S. Fish and Wildlife Asian carp management in Fiscal Year 2020.
"Asian carp decimate the American ecosystems they invade," Rep. Brooks said. "Now, Asian carp threaten Tennessee Valley rivers and lakes. Aggressive measures must be undertaken to prevent Asian carp from ruining the ecosystem, fishing, and recreational boating in the Tennessee River. In that vein, I support robust federal intervention to eradicate Asian carp from the Tennessee River basin."
"Asian carp can grow to 100 pounds but more commonly weigh between 20 and 40 pounds," Brooks said. "Because of their large size, no North American fish prey on adult carp. The fish are also dangerous because they jump high in front of approaching boats, sometimes causing serious property damage and injury to boaters. Asian carp reproduce rapidly and invade eco-systems quickly, crowding out native fish for food and space. In parts of the Illinois River, Asian carp are nearly 90% of aquatic life."
"Alabama Wildlife and Freshwater Fisheries recently received word that Asian carp have invaded Northwest Alabama's Pickwick Lake, and Fisheries Section Chief Nick Nichols is afraid Asian carp will make the Tennessee River home.," Congressman Brooks warned. "Asian carp have used locks to enter Pickwick Lake and are poised to invade Lake Guntersville, according to Tennessee Wildlife Resources Agency Fisheries Chief Frank Fiss."
"Lake Guntersville is one of the best bass fishing lakes in America," Brooks concluded. "Roughly a dozen major annual fishing tournaments generate significant economic activity. An Asian carp invasion of Lake Guntersville would be disastrous to the lake's ecosystem, fishing, and recreational boating. Increased funding for state and federal agencies' Asian carp management programs is imperative if we are to protect Tennessee Valley waters."
Asian carp were introduced in the southeast to help control weeds and parasites in aquaculture operations, these fish soon spread up the Mississippi River system where they have been crowding out native fish populations not used to competing with such aggressive invaders. The carps' presence in such numbers is also compromising water quality and killing off sensitive species such as freshwater mussels.
Congressman Mo Brooks represents Alabama's Fifth Congressional District.
Jones introduces bill to encourage investments in minority-serving banks
"One of the biggest hurdles for minority entrepreneurs is access to capital," Jones said.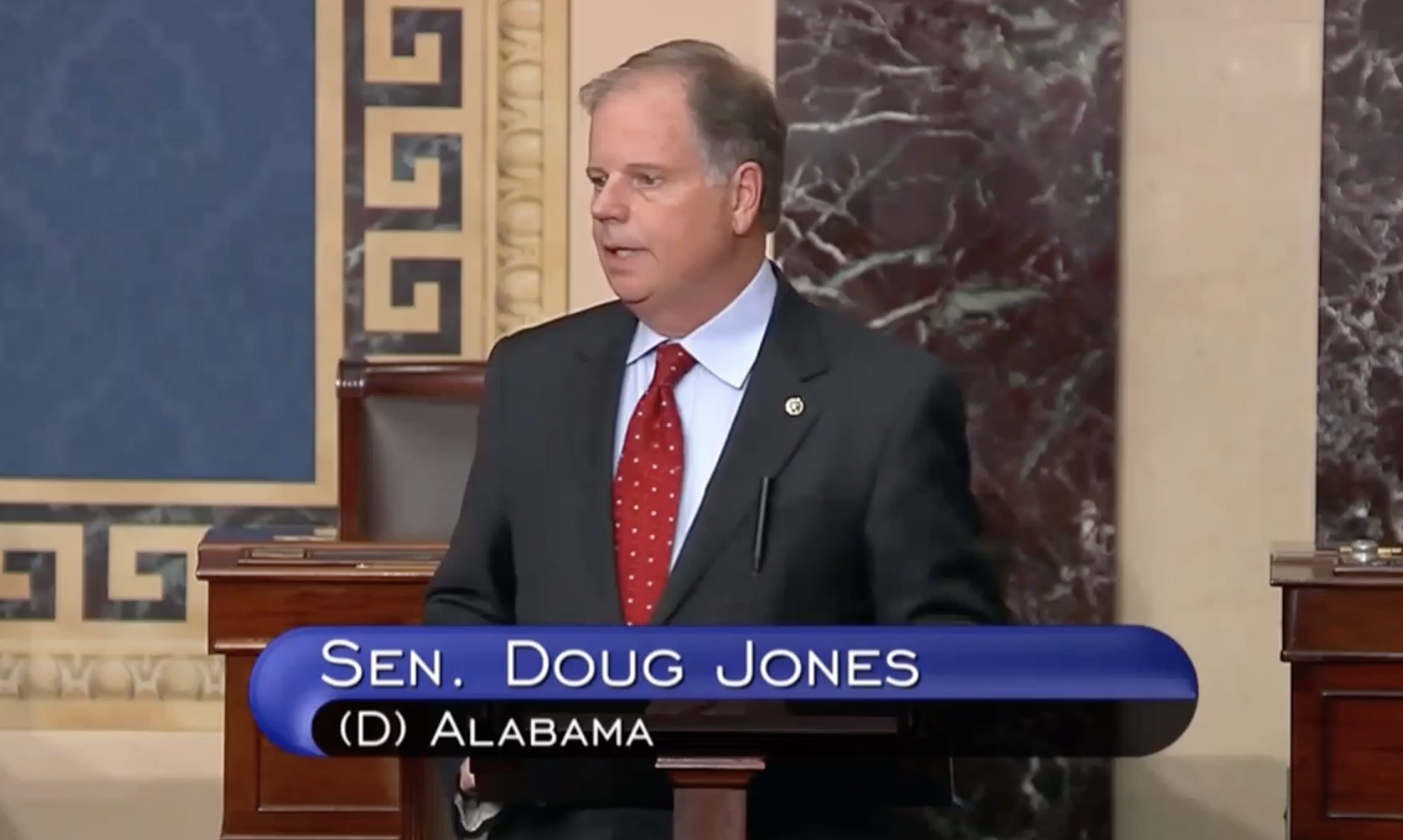 Alabama U.S. Sen. Doug Jones, D-Alabama, on Tuesday introduced legislation that would encourage investments in banks that serve minority communities.
"One of the biggest hurdles for minority entrepreneurs is access to capital," Jones said in a statement. "That's why this bill is so important. Increasing access to capital at the banks that serve minority communities will help expand financial opportunities for individuals and business owners in those communities."
Jones, a member of the Senate Banking Committee, in April urged the Federal Reserve and the U.S. Treasury to support Community Development Financial Institutions and minority-owned banks disproportionately affected by the COVID-19 pandemic, and he threw his support behind more federal funding for small community banks, minority-owned banks and CDFIs during the recent Paycheck Protection Program replenishment.
According to a press release from Jones's office, the bill would attract investments to those financial institutions by changing rules to allow "minority-owned banks, community banks with under $10 billion in deposits" and CDFIs to accept brokered deposits, or investments with high interest rates, thereby bolstering those institutions and encourage them to invest and lend in their communities.
It would also allow low-income and minority credit unions to access the National Credit Union Administration's Community Development Revolving Loan Fund.
"Commonwealth National Bank would like to thank Senator Jones for his leadership in introducing the Minority Depository Institution and Community Bank Deposit Access Act. As a small Alabama home grown institution, this proposal will allow us to accept needed deposits without the current limitations that hinder our ability to better serve the historically underserved communities that our institutions were created to serve. We support your efforts and encourage you to keep fighting the good fight for all of America," said Sidney King, president and CEO of Commonwealth National Bank, in a statement.
"The Minority Depository Institution and Community Bank Deposit Access Act is a welcomed first step in helping Minority Depository Institutions like our National Bankers Association member banks develop the kinds of national deposit networks that allow our institutions to compete for deposits with larger banks and to better meet the credit needs of the communities we serve. The National Bankers Association commends Senator Jones' leadership on this issue, and we look forward to continuing to engage with him on the ultimate passage of this proposal," said Kenneth Kelly, chairman of the National Bankers Association, in a statement.
A recent report by the Brookings Institute highlighted problems minority-owned businesses had accessing federal COVID-19 relief aid from PPP loans. Researchers found that it took seven days longer for small businesses with paid employees in majority Black zip codes to receive PPP loans, compared to majority-white communities. That gap grew to three weeks for non-employer minority-owned small businesses, the report notes.
The report also states that while minority-owned small businesses, many of which are unbanked or under banked, get approximately 80 percent of their loans from financial technology companies and online lending companies, fintechs weren't allowed under federal law to issue PPP loans until April 14.