DNC calls out Worley, says she's wasting money that Alabama Dems don't have
The Democratic National Committee has had just about enough of Nancy Worley and Joe Reed.
A scathing email sent Monday from Harold Ickes and Yvette Lewis, the co-chairs of the DNC's credentials committee, lays out a litany of missteps, wasted money, outright lies and what appears to be a long-term scheme perpetrated by Worley and Reed to stack the State Democratic Executive Committee with almost exclusively African American at-large members in order to maintain control of the state party.
The email from Ickes and Lewis was sent in response to Alabama Democratic Party chairwoman Worley and Reed, the vice-chair of minority affairs, moving forward at last Friday's SDEC meeting with the election of a new minority at-large member, despite a clear directive from the DNC to hold off on such selections until the state party's bylaws could be amended.
That DNC directive came in response to a long series of issues, which culminated in a hearing in February in D.C. before the DNC's credentials committee. Following that hearing, the August elections for the Alabama Democratic Party's leadership were invalidated.
There were many reasons for the invalidation, but chief among them was an issue the DNC found with ADP's bylaws — they conflicted with the national party's and lacked an affirmative action and outreach plan for all recognized minority groups.
The bylaws dictate that a state party's executive committee's makeup must reflect the voting demographics of the state, and a number of very specific groups are listed. If those groups, which in addition to African Americans include Hispanics, Asians, Pacific Islanders, youth, LGBTQ+ and people with disabilities, can't be accurately represented in the votes, the state party needs to demonstrate a comprehensive outreach program.
The DNC already believed that ADP was falling short in its outreach efforts to all groups except black voters, but Monday's letter indicates that party officials believe that the lack of outreach was intentional and that Worley and Reed have lied to cover up their true intentions.
During a series of emails and conference calls over the last few weeks, DNC officials have repeatedly asked Worley to send them ADP's affirmative action plan that meets DNC standards. This is something Worley has repeatedly told the DNC was in the state party's bylaws, and she has promised repeatedly to provide a copy to the DNC's credentials committee.
But then, last Friday, Worley informed the Ickes and Lewis that the approval of an affirmative action plan and outreach program would be voted on during the March 29th SDEC meeting.  
"We are very surprised (by the agenda item) because during our conference call you had asserted several times that the State Committee had an affirmative action plan and outreach program, and you promised to send us those specific provisions of the State Committee's Bylaws that constituted such policy and procedures," the email from Ickes and Lewis read. "By your statement in your email, it now seems clear that, other than for Blacks, the State Committee does not have such a policy and procedure."
Such a failure to recruit minorities other than African Americans would give extreme power to Reed, who, as vice-chair for minority affairs, is allowed to handpick at-large members in order to meet the minority numbers needed to meet demographic percentages. During the August meeting, at which Worley was re-elected, Reed was able to select 35 at-large delegates, all of them black.
Ickes and Lewis said the recent actions of Worley, coupled with the facts of that August election, now "raises serious questions" about not only the elections of Worley and vice-chairman Randy Kelley, but also the "filling of vacancies from legislative districts."
The email takes Worley to task for a variety of missteps mostly related to her definitions of minority outreach and her attempts to make contact with minority groups other than African Americans.
For example, the email notes that in 2017, the SDEC passed an amendment that called for five Hispanic people to be on the committee — a number that Ickes and Lewis said should probably be closer to 10, judging by Alabama voting demographics — but in over a year, not a single Hispanic candidate had been presented for nomination prior to Friday's meeting.
At that meeting, the Hispanic wife of an executive board member was approved.
"That the Executive Board could only find one (1) Hispanic woman in the whole state of Alabama to elect at yesterday's Executive Board meeting graphically underscores the lack of effective, broad affirmative action outreach," the email read. "And since no mention was made at yesterday's meeting of affirmative action outreach to youth, LGBTQ + individuals, or individuals with disabilities, we assume that none was conducted."
As for Worley's decision to move forward with the nomination of that lone Hispanic candidate, despite explicit instructions from the DNC not to do so, Ickes and Lewis didn't mince words.
"The deliberate flouting by the Executive Board, at your urging, of the instructions of the DNC likely will result in another challenge and more legal fees incurred by the ADP," they wrote. "Such easily avoidable actions are inexplicable and completely contrary to the best interests of Democrats in Alabama and of the ADP."
Moving forward, the DNC is asking Worley to provide it with her clear plans for outreach for all minority groups, and also asking that she explain the calculations she's used to arrive at the appropriate percentages of each minority group.
"The DNC has ordered the ADP to do nothing more than what every other state party undertakes to ensure compliance with the basic requirements of National Party's long standing Charter and Bylaws," Ickes and Lewis wrote. "So far, however, certainly including yesterday's Executive Board meeting, it does not appear that your leadership group is interested in achieving those ends. We certainly hope that you will change your mind."
Print this piece
Alabama Republicans upset with Jones' "no" vote on coronavirus stimulus bill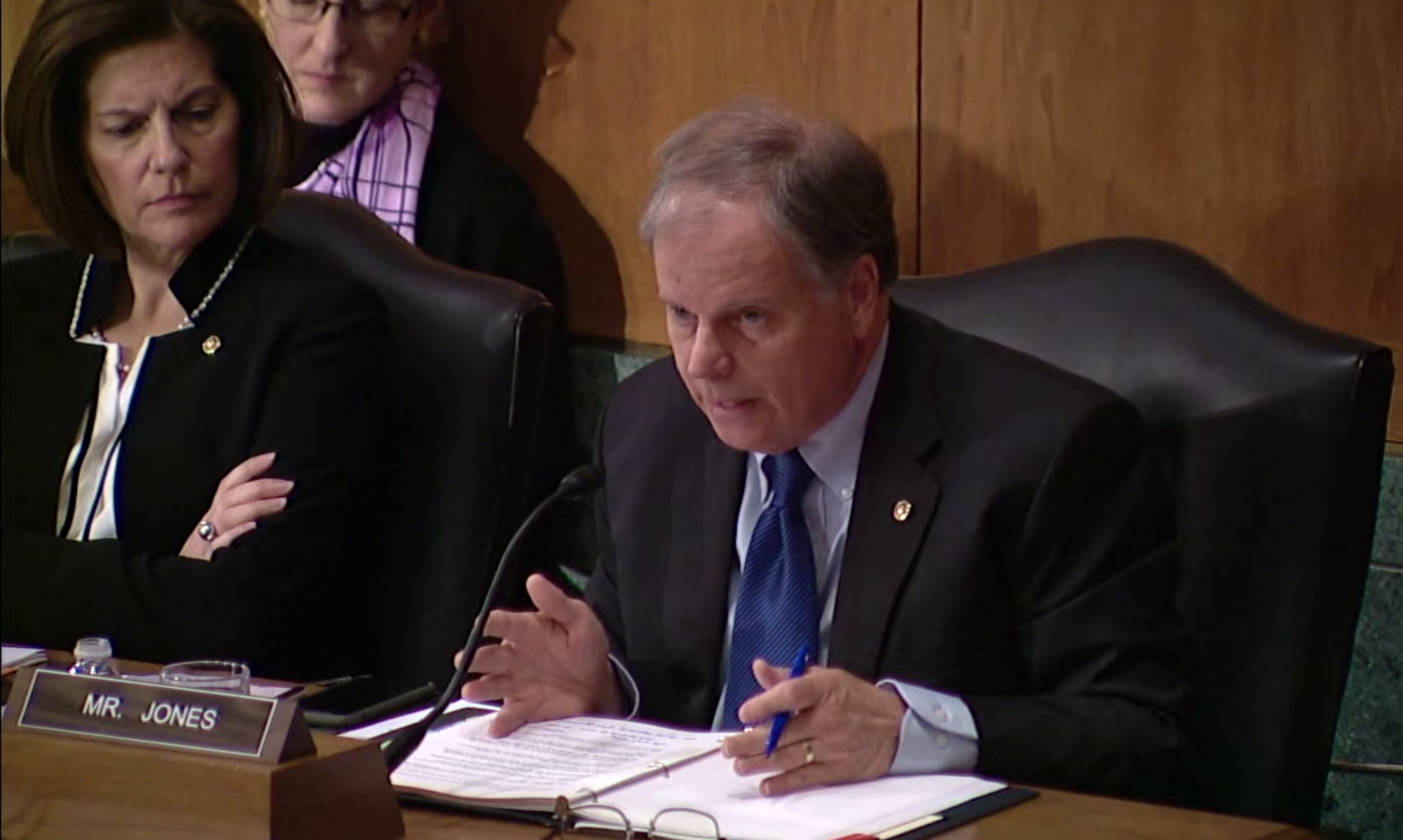 Alabama Republican leaders on Monday condemned U.S. Sen. Doug Jones' procedural vote to prevent the coronavirus stimulus bill from coming to a vote.
On Sunday, Democrats blocked action on the comprehensive stimulus package — the third of the legislative response to the coronavirus outbreak. The bill is still being negotiated and the vote was not a vote on whether to pass a final version of the stimulus package.
"I voted against it yesterday because I wanted to make a point," Jones said. "We had lost the negotiating and bipartisan progress for about 24 hours. And I felt very strongly that we need to get that progress back. So I voted no on a procedural motion to proceed, and guess what happened, they got down to negotiating, and in the last 24 hours, more progress has been made in the last 24 hours and than there was in the 24 hours before that."
We've made a lot of progress in the last 24 hours and so today I voted to move the process forward—but make no mistake this bill needs major changes before it would earn my full support, including:

✔️ $$$ for our cities/counties
✔️ ️full transparency for the $500B relief fund pic.twitter.com/3ZWqwVP8ko

— Doug Jones (@SenDougJones) March 23, 2020
By Monday, Jones decided to vote yes another similar procedural vote, a vote to move forward with the legislative process but said that does not mean he will vote for the final product if changes aren't made.
"We need to get the clock ticking," Jones said. "We have got to get this thing moving. I felt it very important to tell my leader as well as leader McConnell that we need to get it together."
But Republicans in the state are not happy with Jones's procedural vote. Alabama Republican Party Chairman Terry Lathan said, "This is not the time for politics."
"Senator Doug Jones needs to follow the example of Democrat New York Governor Andrew Cuomo – who has put his political differences aside and is working across the aisle with President Trump during this crisis – instead of being Nancy Pelosi and Chuck Schumer's partisan puppet," Lathan said in a statement. "His NO vote Sunday night has had serious ramifications on the people of Alabama and our country. The Democrats helped craft this emergency unprecedented legislation and then, like Charlie Brown and the football, yanked away desperately needed help for America."
The deal was originally negotiated by Treasury Secretary Steven Mnuchin and Speaker Pelosi. Democrats had agreed, but the deal had been held up last week by conservative Republicans balking at the price tag – all of this will be paid for with deficit spending and no plan to pay any of it back in the foreseeable future.
The Republican position in the Senate was weakened further when Republican Senator Rand Paul, R-Kentucky, announced he was infected with the novel strain of the coronavirus, SARS-CoV-2, though he is showing no symptoms of COVID-19, the illness caused by the virus.
46,148 Americans have been confirmed as having the virus. The virus has killed 582 Americans, 140 of them on Monday alone.
"Doug Jones has let the majority of our state down in an uncertain time," Lathan said. "We needed him – and he ignored us AGAIN. "
Sen. Richard Shelby, R-Alabama, voted in favor of ending debate and bringing the stimulus bill to a vote.
"Thank you to President Trump and Senator Richard Shelby for putting America and Alabama first," Lathan concluded. "We continue to lift our leaders up in prayer as their burdens and decisions weigh heavy."
Republican Senate candidate Jeff Sessions said, "I've seen this play before too many times. Just as the Senate was ready to pass a bi-partisan bill providing support for American workers… Senator Chuck Schumer & House Speaker Nancy Pelosi blew it up at the last minute, trying to add unrelated spending to a bill with already too much spending. Amazingly, Pelosi wants to use this time of crisis to breath new life into the Green New Deal!"
Republican Senate candidate Tommy Tuberville said, "America is at war with an enemy we can't see, and we currently have no weapon that can kill it. To win this war against the Coronavirus, salvage the U.S. economy, and provide needed financial help to millions of Americans, Doug Jones and other Senate Democrats are going to have to put their partisanship and hatred of President Trump aside and support a bipartisan stimulus package. Now is the time to work together as Americans first and save the partisan political battles for when this crisis is resolved."
The president, with bipartisan support from Congress and the governors, issued recommendations that led states to shut down their schools and most businesses beginning a week and a half ago.
The question for most business owners now is will they make payroll or just lay off their workers. Mnuchin's deal included loans that small businesses would not have to pay back if they used it to make payroll and pay overhead. It also included cash payments for Americans. The average family of four would receive about $3,000 under the plan.
"We need to get the money into the economy now. If we do that, we think we can stabilize the economy," Mnuchin said on Sunday. "I think the president has every expectation that this is going to look a lot better four or eight weeks from now."
"This isn't the financial crisis that's going to go on for years," Mnuchin added. "We're going to do whatever we need to do to win this war."
Former State Representative and Member of the National Trump/Victory Finance Committee Perry Hooper said that he is confident the Coronavirus Stimulus Legislation will pass.
"One of the most important parts of the Bill is addressing the needs of Small Business and the employees," Hooper told the Alabama Political Reporter. "Small Business is the backbone of America. Any Republican or any Democrat would be insane voting against the Trump Stimulus Legislation."
Print this piece