Ivey introduces Gus Malzahn at Public Safety Insurance fund luncheon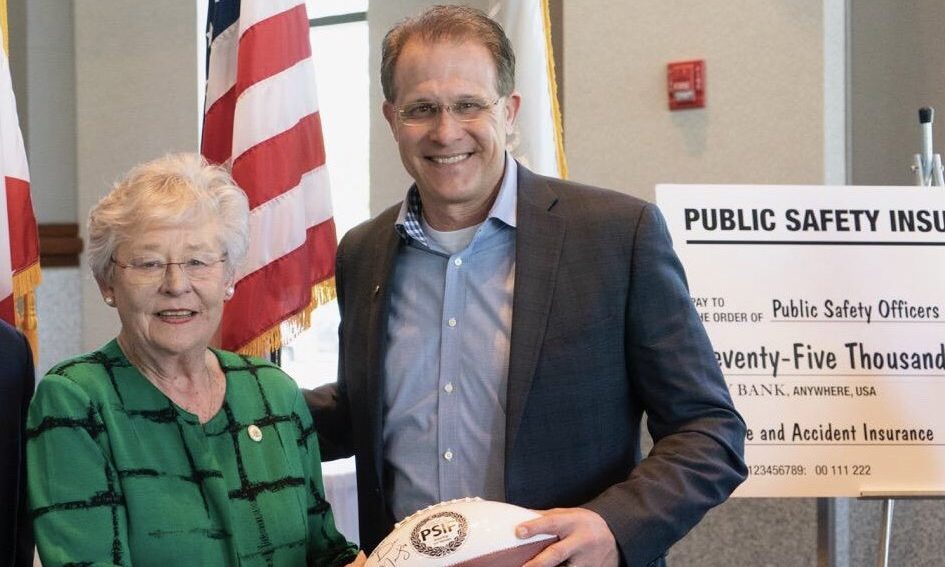 Alabama Gov. Kay Ivey spoke to members of the Public Safety Insurance Fund in Montgomery on Tuesday.
"It is great to be with you today," Ivey said. "I am certainly honored to be here for the 17th annual award luncheon with members of the Public Safety insurance fund."
"Alabama was the first state in the nation to offer a life insurance fund of this kind," Ivey said. "Thank you for what you are doing and what you continue to do."
Ivey introduced Auburn head football coach Gus Malzahn.
"Gus believes in Auburn the same way that he believes in his players," Ivey said. "Coach Malzahn carries great pride and joy for the Auburn players and families and also for the great state of Alabama."
"I am honored to be here," Malzahn said. "My dad was a deputy sheriff in Cleburne County Texas for 22 years and was an undercover narcotics agent for four years."
The audience wanted to know who the starting quarterback would be for Auburn in the fall.
"We have the four guys," Malzahn said. "They had equal time in the spring, and that was by design. You can't keep doing that. We have got to narrow it down, and we are close to doing that."
"We have four guys who can run an offense," Malzahn said. "It is a matter of picking the right guy to be the starting quarterback. That is the biggest decision I will make this year."
"Our offensive line struggled some last year," Malzahn said. "We have six seniors on the offensive line, and five of them are starters. We feel like right now, if you watched our number twos, we have the best depth on the offensive line that I have had since I have been in Auburn."
"I am feeling really good about both lines," Malzahn added. "In this league, it is all about winning up front."
"Derrick Brown — I really think he could be the first player taken in the draft," he said. "Rodney Garner I believe is the best defensive line coach in football. We are gong to be good on the front of the defensive side for a long time."
On the wide receivers, the coach said Seth Williams had an outstanding A-day game, and he's really expecting the receivers group to be good.
"My biggest concern was the linebacker position coming into spring," the coach said. "But after the spring, I really think that position is set."
"We have a real chance to have the best defense in my nine years in Auburn,". Malzahn added. "It all starts up front."
"I need to get control of the schedule," Malzahn added. "We open up with Oregon in Texas Stadium. They have their quarterback back and will be a top 10 team in the country. Last year, we opened with Washington, and they were number four in the country. This year will be the most challenging schedule that we have since I have been at Auburn."
"I decided to take back over the play calling," Malzahn said. "At the end of the day, I am a football coach, and it was offense that got me where I am. We are going to go fast and be very aggressive."
"For the first time, in that bowl game we looked like an Auburn football team," Malzahn said.
Malzahn praised the Auburn men's basketball team and coach Bruce Pearl.
"Five years ago he took over a JV team," Malzahn said. "I got to go to a final four as a fan. That was real special, the run that our basketball team had, I was real proud being an Auburn man."
Mayor Todd Strange presented Malzahn with the key to the city and a painting by artist Don Sawyer of Aubie.
The Public Safety Insurance Fund is the nation's first free life insurance program for public safety officers. The organization endows $60,000 worth of life and accidental death benefits to more than 2,500 public safety officers in the River Region of Alabama.
Since the Public Safety Fund was created in 2002, 25 officers have died, and over $500,000 have been paid out of the fund.
Over 2,500 public safety officers in the River Region and Alabama are currently covered including: Montgomery City fire department, police department, corrections officers, bailiffs and special investigators; Montgomery County Sheriffs Deputies and corrections officers; Wetumpka City firefighters and police; Elmore County Sheriffs Deputies; Autauga County Sheriff's Deputies; Butler County Sheriffs Deputies; Millbrook City firefighters and police; Covington County Sheriffs Deputies; Alabama Department of Conservation and Natural Resources enforcement officers, marine resources and game wardens; Alabama Law Enforcement Agency State Troopers, Marine Police and Capitol Police; the Poarch Band of Creek Indians Public Safety Officers; McKenzie City police; Greenville City police and firefighters and the Georgiana police.
The policy pays $10,000 to the family of a covered officer no matter how, when or where an officer dies. The policy pays an additional $50,000 paid to the family of a covered officer who dies in an accident off duty.
JumpStartAL launches innovative workforce development initiative
Public-private partnership uses VR-technology, job strategy to train and place participants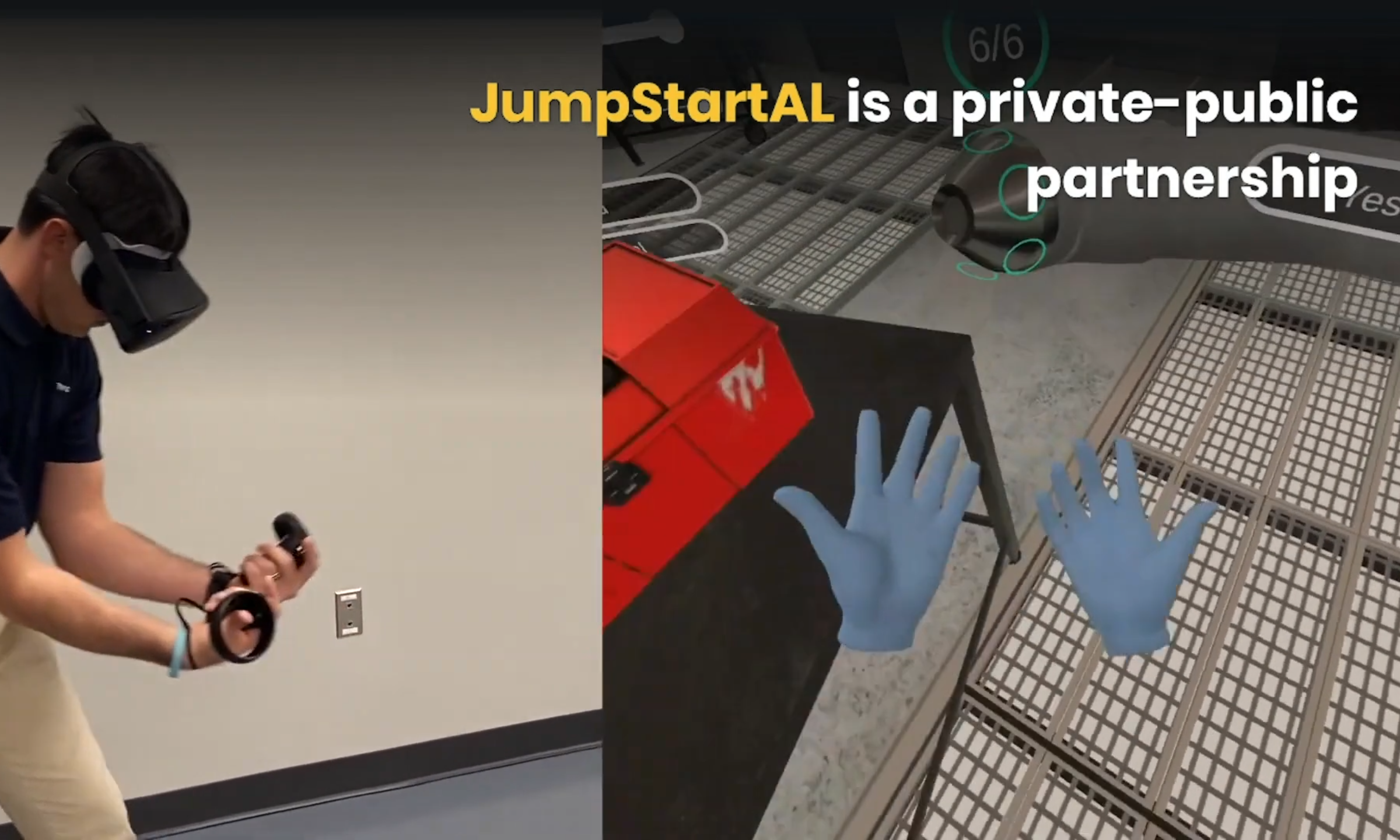 Representatives today announced JumpStartAL, a private-public partnership to help carry out Alabama's strategy for the future of workforce development. Using leading edge virtual reality (VR) training solutions from job simulator TRANSFRVR, JumpStartAL will offer new education and training programs to develop the state's next generation of highly skilled workers.
"Alabama is focused on the future," Governor Kay Ivey said. "JumpStartAL will help ensure that we are positioned to attract the jobs of tomorrow by educating and training Alabamians to take advantage of the opportunities those jobs will provide."
The initiative will highlight career paths needed for Alabama to meet its goal to increase its workforce by 500,000 highly skilled workers by 2025.
JumpStartAL training modules are created with input from industry partners and will help participants develop specific skills needed for jobs, beginning with manufacturing and expanding into other industries in the future. Training is available free of charge for anyone interested in a career in the skilled trades, including high school students, veterans, workers in existing industries, the unemployed and underemployed.
JumpStartAL will initially roll out at five Alabama community colleges, with more campuses and training facilities added in the future:
Coastal Alabama Community College
Enterprise State Community College
Jefferson State Community College
Lawson State Community College
Shelton State Community College
"Now, more than ever, we must be engaged in new and inventive ways to train the next generation of skilled workers," said Alabama Community College System Chancellor Jimmy H. Baker. "Our colleges are committed to meeting students where they are and helping them achieve a better future. Hands-on virtual reality training is a means of achieving that goal."
The statewide network of partners in the JumpStartAL initiative includes the Alabama Community College System; Ready to Work, which is operated by Alabama Industrial Development Training (AIDT); the Alabama Department of Postsecondary Education; the Governor's Office of Workforce Development; the Business Education Alliance; TRANSFRVR; Shelby County economic development organization 58 INC; Central Six Alabama Works; and the Alabama Department of Commerce.
Alabama Power, Altec and Kamtek are among the private sector leaders of JumpStartAL. The statewide business community is supporting the initiative both through job placement strategies and financial efforts.
"It is a great privilege for Altec to be partnering with so many outstanding companies and organizations throughout Alabama on such an innovative workforce development initiative", said Jay Eichelberger, General Manager for Altec Industries. "JumpStartAL demonstrates Alabama's leadership role in developing skill-aligned training programs that help broaden employment and economic opportunities. It will ensure that those entering the workforce are much better prepared to succeed, while allowing employers within the state to utilize state-of- the-art training technology that is focused on specific job skills and requirements."
JumpStartAL also will focus on addressing new challenges and opportunities that arise as a result of the coronavirus pandemic.
"The organizations and companies that make up JumpStartAL have a shared vision of ensuring Alabama and its citizens are well positioned for a prosperous and inclusive future in the 21st century economy," said Leigh Davis, vice president of economic and community development for Alabama Power. "We are honored to join with them to help make this vision a reality."
Companies interested in joining the partnership can visit jumpstartal.com. Individuals wanting more information on training locations and how to sign up can learn more at jumpstartal.com/training.