Ivey introduces Gus Malzahn at Public Safety Insurance fund luncheon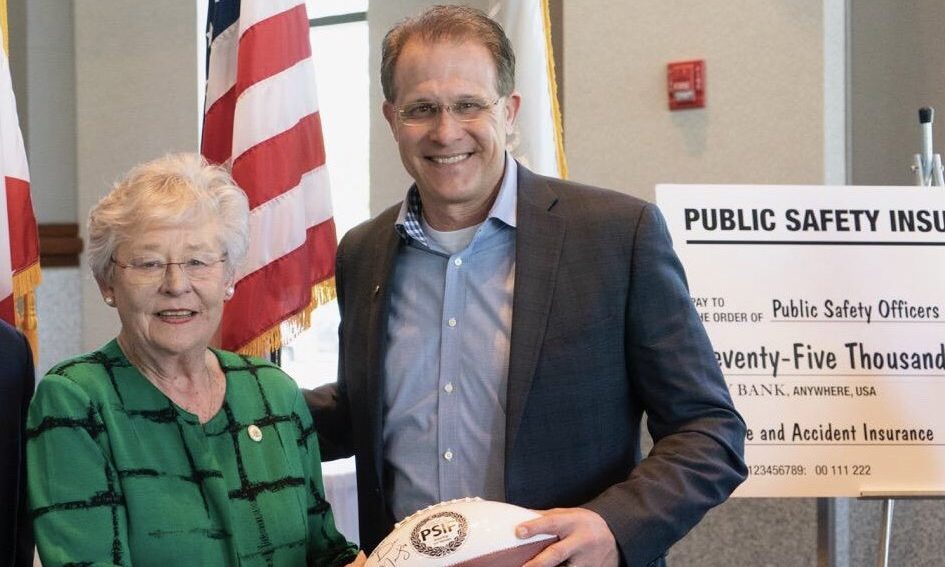 Alabama Gov. Kay Ivey spoke to members of the Public Safety Insurance Fund in Montgomery on Tuesday.
"It is great to be with you today," Ivey said. "I am certainly honored to be here for the 17th annual award luncheon with members of the Public Safety insurance fund."
"Alabama was the first state in the nation to offer a life insurance fund of this kind," Ivey said. "Thank you for what you are doing and what you continue to do."
Ivey introduced Auburn head football coach Gus Malzahn.
"Gus believes in Auburn the same way that he believes in his players," Ivey said. "Coach Malzahn carries great pride and joy for the Auburn players and families and also for the great state of Alabama."
"I am honored to be here," Malzahn said. "My dad was a deputy sheriff in Cleburne County Texas for 22 years and was an undercover narcotics agent for four years."
The audience wanted to know who the starting quarterback would be for Auburn in the fall.
"We have the four guys," Malzahn said. "They had equal time in the spring, and that was by design. You can't keep doing that. We have got to narrow it down, and we are close to doing that."
"We have four guys who can run an offense," Malzahn said. "It is a matter of picking the right guy to be the starting quarterback. That is the biggest decision I will make this year."
"Our offensive line struggled some last year," Malzahn said. "We have six seniors on the offensive line, and five of them are starters. We feel like right now, if you watched our number twos, we have the best depth on the offensive line that I have had since I have been in Auburn."
"I am feeling really good about both lines," Malzahn added. "In this league, it is all about winning up front."
"Derrick Brown — I really think he could be the first player taken in the draft," he said. "Rodney Garner I believe is the best defensive line coach in football. We are gong to be good on the front of the defensive side for a long time."
On the wide receivers, the coach said Seth Williams had an outstanding A-day game, and he's really expecting the receivers group to be good.
"My biggest concern was the linebacker position coming into spring," the coach said. "But after the spring, I really think that position is set."
"We have a real chance to have the best defense in my nine years in Auburn,". Malzahn added. "It all starts up front."
"I need to get control of the schedule," Malzahn added. "We open up with Oregon in Texas Stadium. They have their quarterback back and will be a top 10 team in the country. Last year, we opened with Washington, and they were number four in the country. This year will be the most challenging schedule that we have since I have been at Auburn."
"I decided to take back over the play calling," Malzahn said. "At the end of the day, I am a football coach, and it was offense that got me where I am. We are going to go fast and be very aggressive."
"For the first time, in that bowl game we looked like an Auburn football team," Malzahn said.
Malzahn praised the Auburn men's basketball team and coach Bruce Pearl.
"Five years ago he took over a JV team," Malzahn said. "I got to go to a final four as a fan. That was real special, the run that our basketball team had, I was real proud being an Auburn man."
Mayor Todd Strange presented Malzahn with the key to the city and a painting by artist Don Sawyer of Aubie.
The Public Safety Insurance Fund is the nation's first free life insurance program for public safety officers. The organization endows $60,000 worth of life and accidental death benefits to more than 2,500 public safety officers in the River Region of Alabama.
Since the Public Safety Fund was created in 2002, 25 officers have died, and over $500,000 have been paid out of the fund.
Over 2,500 public safety officers in the River Region and Alabama are currently covered including: Montgomery City fire department, police department, corrections officers, bailiffs and special investigators; Montgomery County Sheriffs Deputies and corrections officers; Wetumpka City firefighters and police; Elmore County Sheriffs Deputies; Autauga County Sheriff's Deputies; Butler County Sheriffs Deputies; Millbrook City firefighters and police; Covington County Sheriffs Deputies; Alabama Department of Conservation and Natural Resources enforcement officers, marine resources and game wardens; Alabama Law Enforcement Agency State Troopers, Marine Police and Capitol Police; the Poarch Band of Creek Indians Public Safety Officers; McKenzie City police; Greenville City police and firefighters and the Georgiana police.
The policy pays $10,000 to the family of a covered officer no matter how, when or where an officer dies. The policy pays an additional $50,000 paid to the family of a covered officer who dies in an accident off duty.
Print this piece
Gov. Ivey launches state guide to COVID-19 relief efforts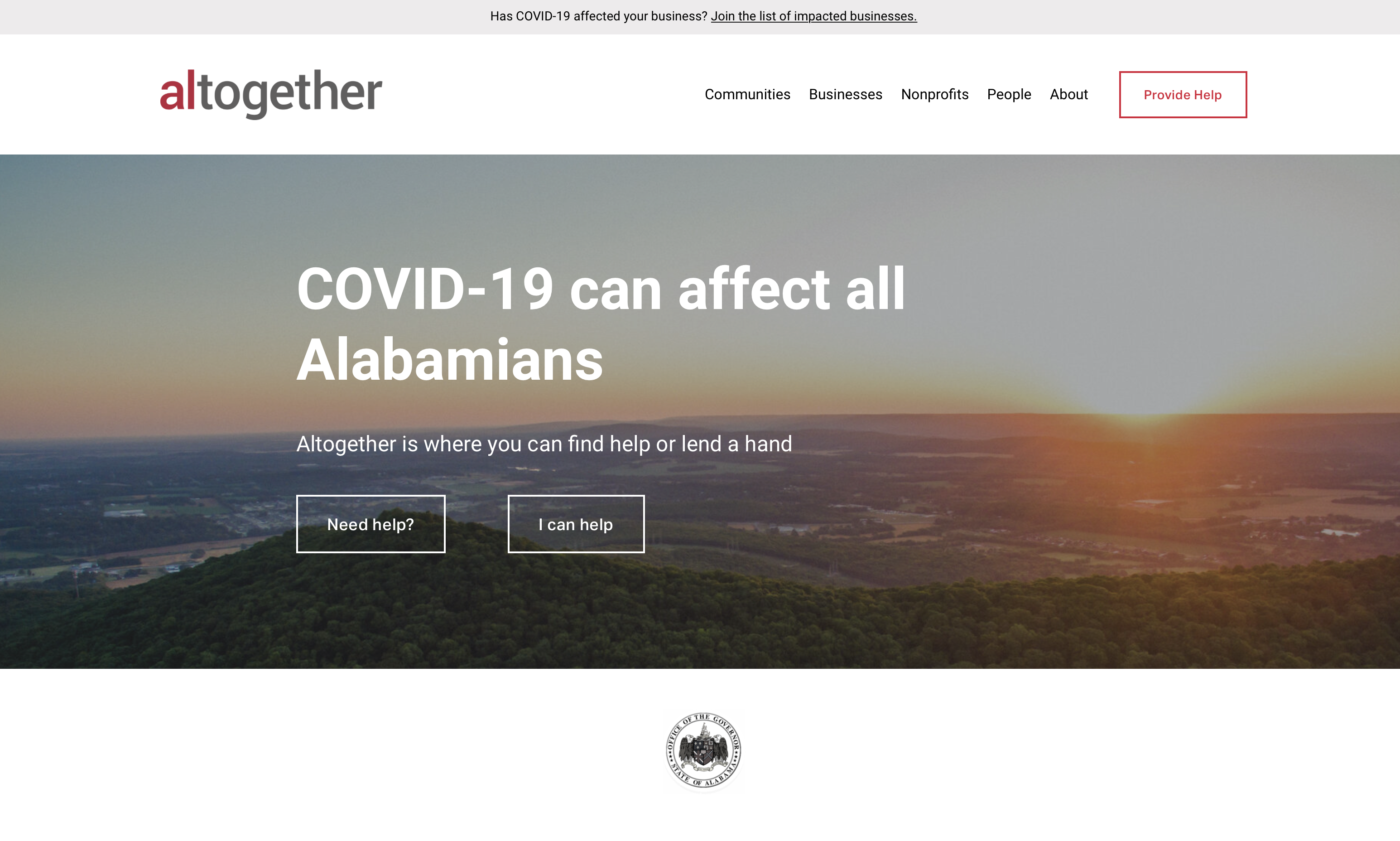 Governor Kay Ivey on Monday announced the launch of altogetheralabama.org, an online resource that will serve as a hub of information for the state's response to the coronavirus crisis.
The site becomes the state's official guide to COVID-19 relief efforts, to help empower those impacted by the outbreak and those who want to offer support.
"We wanted to quickly create a trusted resource that centralizes information, resources and opportunities for businesses and individuals in need of support," Governor Ivey said. "We are all in this together."
The website is designed to be a comprehensive guide to aid in navigating all issues related to the COVID-19 response. Individuals and business owners can seek help and identify state and federal resources that can provide a lifeline in the form of low-interest loans and financial assistance.
Business owners, for example, can learn about the U.S. Small Business Administration's Paycheck Protection Program, which launched April 3 to provide a direct incentive for them to keep their workers on the payroll. Displaced workers, meanwhile, can use the site to learn about enhanced unemployment benefits.
"It's important for Alabama's business owners and its workforce to take full advantage of the resources being made available through the federal government's $2 trillion coronavirus relief package," said Greg Canfield, secretary of the Alabama Department of Commerce. "The site is meant to expedite the process so both employers and employees can get back up on their feet as fast as possible."
At the same time, the site will function as a pathway for Alabama's good corporate citizens and the general public to offer support and solutions that can help spark recovery across the state. It will act as a portal for companies, non-profits and individuals to volunteer, make donations of supplies, offer an assistance program, and even post job openings.
The site was developed in partnership with Opportunity Alabama, a non-profit organization that promotes investment in the state's designated Opportunity Zones. It was facilitated by a partnership with Alabama Power.
"Over the last two years, Opportunity Zones have allowed us to build a network of stakeholders that care deeply about helping distressed places," said Alex Flachsbart, Opportunity Alabama founder and CEO. "We hope this site will provide a gateway linking our network to those businesses and communities in economic distress, no matter where they are in Alabama."
"These are challenging times," added Governor Ivey. "We needed a place to efficiently and rapidly post and disseminate information – as soon as it's available – for all affected parties. Thank you for your support and partnership in helping bring Alabama together."
Any business, program or individual who would like to join ALtogether as a resource in COVID-19 response and relief can register at altogetheralabama.org/join.
Print this piece