UAB gets new single port robot
The University of Alabama at Birmingham School of Medicine recently added the new da Vinci SP Single Port Surgical System by Intuitive Surgical, making UAB one of only 15 medical sites in the country with the single port robot. UAB was already a leader in robotic surgery.
The da Vinci SP system provides surgeons with robotic-assisted technology designed for deep and narrow access to tissue in the body. The ability to enter the body through a single, small incision helps surgeons perform more complex procedures.
The next generation robotic surgeon allows surgeons to enter the body through one small abdominal incision before deploying the robot's surgical instruments. This improves patient outcomes and recovery time. This is particularly noticeable in cancer cases, where surgeons can now access more narrow spaces without compromising precision.
Currently, the SP robot is only FDA approved for urological surgeries.
"To be able to add the SP robot as an option for our urologic patients here at UAB cements us as a premier provider of surgical care," said Dr. Jeffrey Nix.
Nix is an assistant professor in UAB's Department of Urology and director of robotic surgery-urology and associate scientist in the O'Neal Comprehensive Cancer Center.
"We are beyond proud that this unique surgical approach is available in our hospital," Nix added. "We believe the SP robot will help us continue to better our patients' health outcomes."
Nix and his team first used the robot in January, the first the SP robot system has been used in the Southeast.
Brothers Bob Agee of Auburn and Rick Agee of Muscle Shoals both underwent a prostatectomy on the same day.
"Prostate cancer runs in our family. What makes our case interesting really is that my dad is one of six boys, and it was like checking them off the list, each and every one had prostate cancer," Bob Agee said. "We kind of knew that it was something we would have. I think when my cancer was found, it got more important for Rick to see if he was at risk, too."
The health and medical field is very important to Birmingham's economy. The quality of healthcare is also one factor companies look at when evaluating moving into a market.
"During the site selection process, companies often place access to quality and specialized health care for employees and their families as a top priority," said economic developer Nicole Jones.
"The cutting-edge technologies available for our surgeons and our patients demonstrates the pillars of UAB's strategic plan — forging the future through patient care, innovation, education and community engagement," said Dr. Selwyn Vickers, dean of UAB's School of Medicine. "We have set the bar high for ourselves at UAB, and advancements such as surgeries with the SP robot exemplify our commitment to being one of the country's leading academic medical institutions."
UAB's urology department is ranked 20th in the country by U.S. News and World Report. UAB's Department of Urology is the only ranked urology program in Alabama.
Intuitive anticipates pursuing further regulatory clearances for da Vinci SP, including transoral, transanal and extraperitoneal applications, which will broaden the applicability of the SP platform over time.
"The da Vinci SP is the latest in our integrated product family that shows our commitment to improving minimally invasive surgery with technology that can positively impact patient outcomes," said Gary Guthart, chief executive officer for Intuitive. "Our da Vinci SP complements da Vinci X and Xi systems by enabling surgeons to access narrow workspaces while maintaining high quality vision, precision and control that surgeons have come to trust from da Vinci systems."
The da Vinci SP system includes three, multi-jointed, wristed instruments and the first da Vinci fully wristed 3D HD camera. The instruments and the camera all emerge through a single cannula and are properly triangulated around the target anatomy to avoid external instrument collisions that can occur in narrow surgical workspaces. The system enables flexible port placement and excellent internal and external range of motion, for example, 360-degrees of anatomical access, through the single SP arm. Surgeons control the fully articulating instruments and the camera on the da Vinci SP system, which uses the same surgeon console as the da Vinci X and Xi systems.
"Intuitive continues to bring tomorrow's surgery today by addressing surgeon and patient needs, as well as working closely with hospitals to systematically improve the overall experience in the operating room," said Salvatore J. Brogna, Intuitive executive vice president and chief operating officer.
The SP robot received its first U.S. FDA clearance in April 2014. Intuitive has since invested in important platform refinements. Intuitive launched the da Vinci SP surgical system in the United States in a measured fashion with customer shipments beginning in the third quarter of 2018.
There are several models of the da Vinci surgical system. The da Vinci surgical systems are to help surgeons perform minimally invasive surgery. Da Vinci systems are not programmed to perform surgery on their own. Instead, the procedure is performed entirely by a surgeon who controls the system. Da Vinci systems offer surgeons high-definition 3D vision, a magnified view and robotic and computer assistance. They use specialized instrumentation, including a miniaturized surgical camera and wristed instruments, like scissors, scalpels and forceps, that are designed to help with precise dissection and reconstruction deep inside the body.
The da Vinci SP Surgical System currently may be used in the following procedures: Radical prostatectomy, pyeloplasty, nephrectomy and partial nephrectomy, but that list is expected to expand.
Original reporting by UAB's Savannah Koplon contributed to this report.
Print this piece
As cases surpass 1,100 in Alabama, still no "stay-at-home" order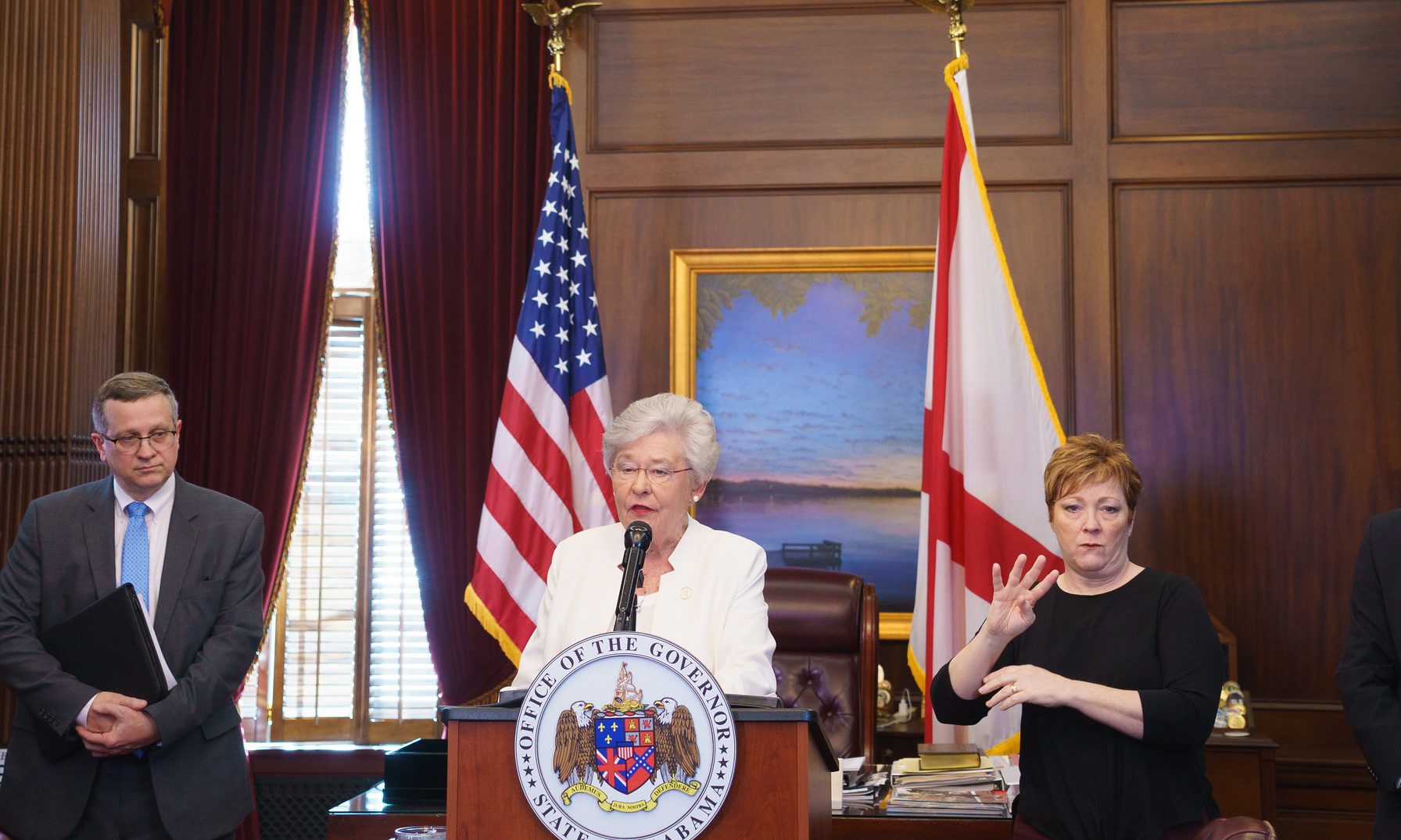 The number of positive novel coronavirus cases in Alabama rocketed past a thousand Wednesday, but the state still has no shelter-in-place order — and Gov. Kay Ivey's office says she is not ready to implement one.
"The governor remains committed to exploring all options and has not ruled anything out, but she hopes that we do not need to take this approach," Ivey's spokesperson said Wednesday.

By 6 p.m., there were 1,108 confirmed cases of the virus and at least 28 deaths statewide related to COVID-19. Cases grew by triple digits again after a brief lull in new cases Tuesday. But the infections are also widespread. Cases have been reported in 62 of the state's 67 counties — and not just in the more urban ones.
Only one city in the state, Birmingham, has issued a shelter-in-place order. The city is in Jefferson County, which, in coordination with the city, has taken a stricter approach to handling the coronavirus outbreak because it has the most cases in the state.
The cities of Montgomery and Tuscaloosa have also implemented curfews, but they have far fewer cases per capita than many other areas of the state. (No. 30 and 31 out of 67 counties in per capita cases.)
But some of the hardest-hit counties in the state are outside of Jefferson County, and the health departments in those counties do not have as much authority to issue their own directives as Jefferson County and Mobile County do. They're the only two health departments in the state that are independent with the legal authority to act autonomously from the state health department.
Cities and counties in some of the hardest-hit areas like Lee and Chambers counties have also not issued shelter-in-place orders by municipal ordinance as has been the case in Jefferson County.
Lee County and Chambers County in East Alabama have the highest infection rates in the state, and the highest per capita number of cases, yet the cities and counties there are following a statewide order that is less restrictive than the measures in place in Birmingham, Tuscaloosa or Montgomery.
Lee County has 83 cases, and Chambers County has 45. But per capita, Chambers County has 135 cases per 100,000. (For comparison, Jefferson County, where there are 302 cases, has only 46 cases per 100,000 people.) Chambers County also has the highest number of deaths per capita in the state, at 12 per 100,000 people.
The hospital that serves Lee, Chambers and the surrounding counties — East Alabama Medical Center — is currently treating 30 patients with a confirmed diagnosis of COVID-19. It has already discharged 16 other COVID-19 patients, and there are 12 more in the hospital with suspected cases of the virus.
While the hospital says it is currently stable in the number of ventilators and other equipment it has available, it is still asking for donations of some needed supplies like latex-free gloves and bleach wipes.

Aside from UAB in Birmingham, EAMC is currently treating the most COVID-19 patients, according to data APR collected over the past two days. As the state continues to avoid issuing a statewide stay-at-home or shelter-in-place order, East Alabama Medical Center is urging the residents in the area to act as if there has been an order issued.
"While there is not yet a mandate to shelter in place, EAMC encourages it as the best way to stop the spread of COVID-19," the hospital said. "Community leaders, city officials and the media have shared this important message, but there are still reports of groups gathering, children playing in neighborhood parks, dinner parties, bible studies and other events."
All of Alabama's neighboring states have issued shelter-in-place orders. Mississippi, Georgia, Florida and Louisiana have done so. The governors of Mississippi, Florida and Georgia all decided to issue orders today after balking at the idea for weeks.
Ivey has taken steps to curb the spread of the virus. She and the Alabama Department of Health issued an order on March 19 that closed the state's beaches and limited gatherings of 25 or more people. She's also closed schools for the remainder of the academic year.
On Friday, March 27, Ivey ordered closed a number of different types of businesses including athletic events, entertainment venues, non-essential retail shops and service establishments with close contact. The state has also tightened its prohibition on social gatherings by limiting non-work related gatherings of 10 people or more.
Ivey's order Friday is not that far off from a shelter-in-place order, but it lacks the force of telling the state's residents to stay home if at all possible. A number of businesses and manufacturing facilities are also allowed to keep operating, though they have been encouraged to abide by social-distancing guidelines as much as possible.
But Ivey has said she doesn't want to issue a shelter-in-place or stay-at-home order because she doesn't want to put more stress on the economy.
"You have to consider all the factors, such as the importance of keeping businesses and companies open and the economy going as much as possible," Ivey said on Friday.
Ivey's spokesperson Wednesday said the governor has taken appropriate action thus far.
"In consultation with the Coronavirus Task Force, the governor and the Alabama Department of Public Health have taken aggressive measures to combat COVID-19," her spokesperson, Gina Maiola, said. "The governor's priority is protecting the health, safety and well-being of all Alabamians, and their well-being also relies on being able to have a job and provide for themselves and their families. Many factors surround a statewide shelter-in-place, and Alabama is not at a place where we are ready to make this call."
Print this piece