UAB gets new single port robot
The University of Alabama at Birmingham School of Medicine recently added the new da Vinci SP Single Port Surgical System by Intuitive Surgical, making UAB one of only 15 medical sites in the country with the single port robot. UAB was already a leader in robotic surgery.
The da Vinci SP system provides surgeons with robotic-assisted technology designed for deep and narrow access to tissue in the body. The ability to enter the body through a single, small incision helps surgeons perform more complex procedures.
The next generation robotic surgeon allows surgeons to enter the body through one small abdominal incision before deploying the robot's surgical instruments. This improves patient outcomes and recovery time. This is particularly noticeable in cancer cases, where surgeons can now access more narrow spaces without compromising precision.
Currently, the SP robot is only FDA approved for urological surgeries.
"To be able to add the SP robot as an option for our urologic patients here at UAB cements us as a premier provider of surgical care," said Dr. Jeffrey Nix.
Nix is an assistant professor in UAB's Department of Urology and director of robotic surgery-urology and associate scientist in the O'Neal Comprehensive Cancer Center.
"We are beyond proud that this unique surgical approach is available in our hospital," Nix added. "We believe the SP robot will help us continue to better our patients' health outcomes."
Nix and his team first used the robot in January, the first the SP robot system has been used in the Southeast.
Brothers Bob Agee of Auburn and Rick Agee of Muscle Shoals both underwent a prostatectomy on the same day.
"Prostate cancer runs in our family. What makes our case interesting really is that my dad is one of six boys, and it was like checking them off the list, each and every one had prostate cancer," Bob Agee said. "We kind of knew that it was something we would have. I think when my cancer was found, it got more important for Rick to see if he was at risk, too."
The health and medical field is very important to Birmingham's economy. The quality of healthcare is also one factor companies look at when evaluating moving into a market.
"During the site selection process, companies often place access to quality and specialized health care for employees and their families as a top priority," said economic developer Nicole Jones.
"The cutting-edge technologies available for our surgeons and our patients demonstrates the pillars of UAB's strategic plan — forging the future through patient care, innovation, education and community engagement," said Dr. Selwyn Vickers, dean of UAB's School of Medicine. "We have set the bar high for ourselves at UAB, and advancements such as surgeries with the SP robot exemplify our commitment to being one of the country's leading academic medical institutions."
UAB's urology department is ranked 20th in the country by U.S. News and World Report. UAB's Department of Urology is the only ranked urology program in Alabama.
Intuitive anticipates pursuing further regulatory clearances for da Vinci SP, including transoral, transanal and extraperitoneal applications, which will broaden the applicability of the SP platform over time.
"The da Vinci SP is the latest in our integrated product family that shows our commitment to improving minimally invasive surgery with technology that can positively impact patient outcomes," said Gary Guthart, chief executive officer for Intuitive. "Our da Vinci SP complements da Vinci X and Xi systems by enabling surgeons to access narrow workspaces while maintaining high quality vision, precision and control that surgeons have come to trust from da Vinci systems."
The da Vinci SP system includes three, multi-jointed, wristed instruments and the first da Vinci fully wristed 3D HD camera. The instruments and the camera all emerge through a single cannula and are properly triangulated around the target anatomy to avoid external instrument collisions that can occur in narrow surgical workspaces. The system enables flexible port placement and excellent internal and external range of motion, for example, 360-degrees of anatomical access, through the single SP arm. Surgeons control the fully articulating instruments and the camera on the da Vinci SP system, which uses the same surgeon console as the da Vinci X and Xi systems.
"Intuitive continues to bring tomorrow's surgery today by addressing surgeon and patient needs, as well as working closely with hospitals to systematically improve the overall experience in the operating room," said Salvatore J. Brogna, Intuitive executive vice president and chief operating officer.
The SP robot received its first U.S. FDA clearance in April 2014. Intuitive has since invested in important platform refinements. Intuitive launched the da Vinci SP surgical system in the United States in a measured fashion with customer shipments beginning in the third quarter of 2018.
There are several models of the da Vinci surgical system. The da Vinci surgical systems are to help surgeons perform minimally invasive surgery. Da Vinci systems are not programmed to perform surgery on their own. Instead, the procedure is performed entirely by a surgeon who controls the system. Da Vinci systems offer surgeons high-definition 3D vision, a magnified view and robotic and computer assistance. They use specialized instrumentation, including a miniaturized surgical camera and wristed instruments, like scissors, scalpels and forceps, that are designed to help with precise dissection and reconstruction deep inside the body.
The da Vinci SP Surgical System currently may be used in the following procedures: Radical prostatectomy, pyeloplasty, nephrectomy and partial nephrectomy, but that list is expected to expand.
Original reporting by UAB's Savannah Koplon contributed to this report.
Rep. Sewell leads 83 members of Congress to push for $86 billion for broadband expansion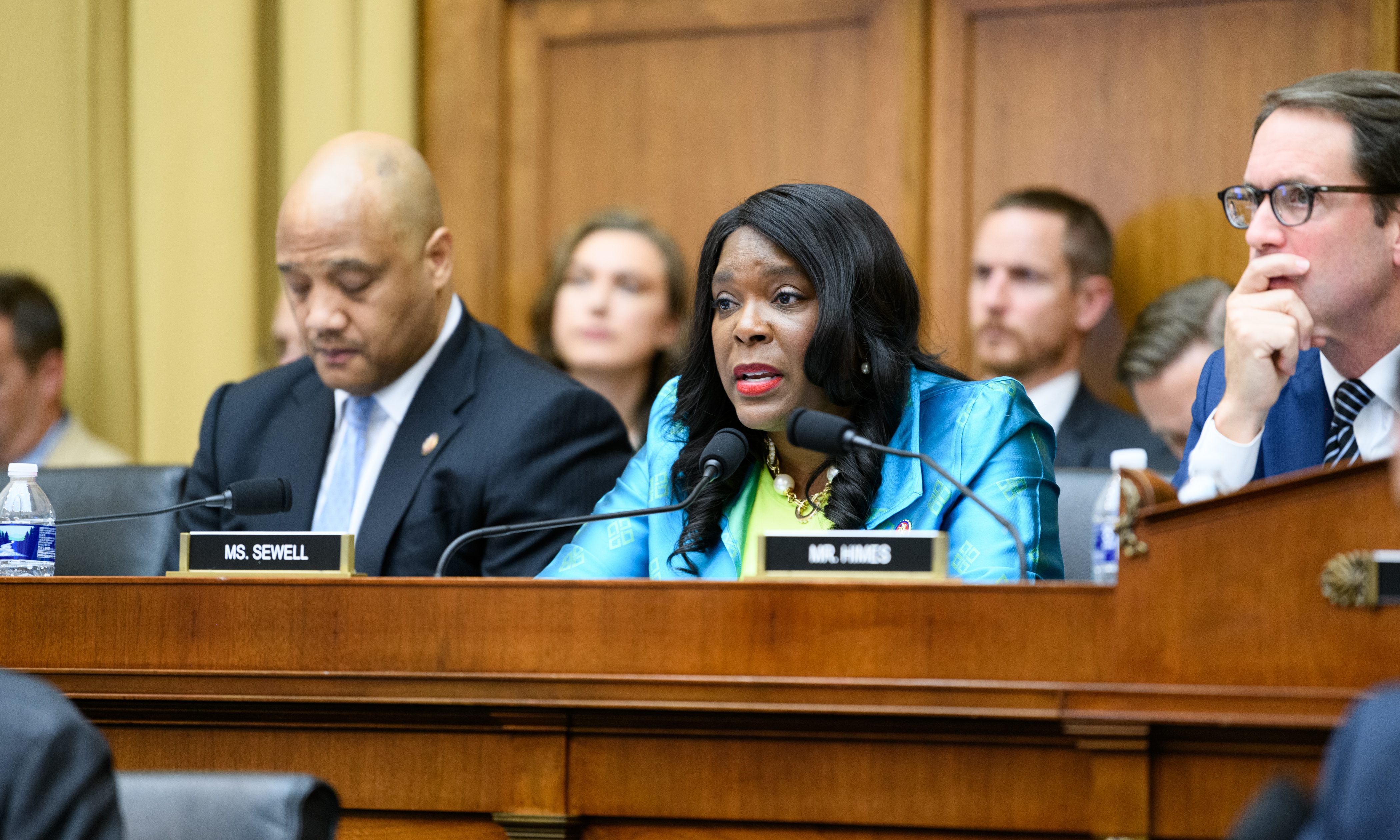 U.S. Rep. Terri Sewell, D-Alabama, and David Trone, D-Maryland, led 82 of their colleagues in sending a letter Tuesday to leaders of the House and Senate urging them to include in any future COVID-19 relief package at least $86 billion for the deployment of high-speed broadband internet.
Sewell and Trone sent the letter to House Speaker Nancy Pelosi, House Minority Leader Kevin McCarthy, Senate Majority Leader Mitch McConnell, and Senate Minority Leader Chuck Schumer.
"The coronavirus has only further highlighted the importance of high-speed, affordable internet, as lack of access has made it more difficult for Alabamians to learn from home, access telehealth service and telework during the pandemic," Sewell said. "It is beyond time that high-speed internet is treated as a basic utility and rolled out to every community across the country. The letter provides the framework for a future relief package that acknowledges just how critical broadband access is and calls on leadership to make a significant investment in its implementation."
"The coronavirus pandemic has shown that swaths of this country are being left behind by insufficient broadband infrastructure," Trone said. "It's time to invest in digital highways to bring the entire country into the 21st century and global economy. I want to thank Congresswoman Sewell and Whip Clyburn for joining in the effort to ensure this critical infrastructure is included in the next Congressional stimulus package."
According to Microsoft, about 25 million Americans lack access to reliable, high-speed internet and about 3.3 million Alabama residents do not have the minimum broadband speeds needed for video conferencing or streaming at home. The divide disproportionately impacts rural residents — with 19 million of the 25 million Americans without broadband living in rural areas.
"Future stimulus packages should support the deployment of secure and resilient broadband, provide hotspots for students to close the homework gap and allow for distance learning, and expand access and affordability for unserved and underserved communities with sufficient speed and data that reflects American families' increased reliance on internet access," they wrote in their letter. "We cannot wait to invest in high-speed broadband deployment necessary to reach every unserved and underserved American family, hospital, school and small business. … If we fail to invest now, millions of American will be disconnected from the economic recovery on the other side of this crisis."
Racial disparities also exist between which Americans have access to broadband and which do not. According to a 2017 Joint Economic Committee report, 82 percent of white households have access to high speed internet while just 70 percent of Black households do. Seventy-four percent of Hispanic households do and just 65 percent of Native American households do.
"We believe that in the response to the COVID-19 crisis an overall investment of $86 billion is needed," the letter continued. "This would expedite high-speed broadband deployment and expand funding to ensure that Americans who need broadband service can remain connected during this public health crisis and recovery. This includes expanded service for low-income consumers that meet the demands of telework, telehealth and telelearning. For instance, two tools ready to address these issues are the Federal Communications Commission's (FCC) existing Lifeline and E-Rate educational connectivity programs."
"The COVID-19 pandemic has made it increasingly clear that having access to high speed broadband is a necessity," the letter said. "We must invest in expanding affordable and reliable high-speed Internet access in the next emergency relief package. We thank you for your attention to this critical issue and looking forward to working in tandem to bring broadband to communities that are in desperate need of this essential tool for life in the 21st Century."
There is wide bipartisan support for increasing broadband access.
"COVID19 highlights the need for more broadband access in America," Congressman Mo Brooks, R-Alabama, said. "According to the Federal Communications Commission, 31 percent of rural Americans do not have broadband access at home. During the pandemic, school children without broadband access have been unable to attend classes digitally or complete online homework assignments. Adults have been similarly hamstrung in an increasingly digital economy."
Sewell is in her fifth term representing Alabama's 7th Congressional District.