UAB gets new single port robot
The University of Alabama at Birmingham School of Medicine recently added the new da Vinci SP Single Port Surgical System by Intuitive Surgical, making UAB one of only 15 medical sites in the country with the single port robot. UAB was already a leader in robotic surgery.
The da Vinci SP system provides surgeons with robotic-assisted technology designed for deep and narrow access to tissue in the body. The ability to enter the body through a single, small incision helps surgeons perform more complex procedures.
The next generation robotic surgeon allows surgeons to enter the body through one small abdominal incision before deploying the robot's surgical instruments. This improves patient outcomes and recovery time. This is particularly noticeable in cancer cases, where surgeons can now access more narrow spaces without compromising precision.
Currently, the SP robot is only FDA approved for urological surgeries.
"To be able to add the SP robot as an option for our urologic patients here at UAB cements us as a premier provider of surgical care," said Dr. Jeffrey Nix.
Nix is an assistant professor in UAB's Department of Urology and director of robotic surgery-urology and associate scientist in the O'Neal Comprehensive Cancer Center.
"We are beyond proud that this unique surgical approach is available in our hospital," Nix added. "We believe the SP robot will help us continue to better our patients' health outcomes."
Nix and his team first used the robot in January, the first the SP robot system has been used in the Southeast.
Brothers Bob Agee of Auburn and Rick Agee of Muscle Shoals both underwent a prostatectomy on the same day.
"Prostate cancer runs in our family. What makes our case interesting really is that my dad is one of six boys, and it was like checking them off the list, each and every one had prostate cancer," Bob Agee said. "We kind of knew that it was something we would have. I think when my cancer was found, it got more important for Rick to see if he was at risk, too."
The health and medical field is very important to Birmingham's economy. The quality of healthcare is also one factor companies look at when evaluating moving into a market.
"During the site selection process, companies often place access to quality and specialized health care for employees and their families as a top priority," said economic developer Nicole Jones.
"The cutting-edge technologies available for our surgeons and our patients demonstrates the pillars of UAB's strategic plan — forging the future through patient care, innovation, education and community engagement," said Dr. Selwyn Vickers, dean of UAB's School of Medicine. "We have set the bar high for ourselves at UAB, and advancements such as surgeries with the SP robot exemplify our commitment to being one of the country's leading academic medical institutions."
UAB's urology department is ranked 20th in the country by U.S. News and World Report. UAB's Department of Urology is the only ranked urology program in Alabama.
Intuitive anticipates pursuing further regulatory clearances for da Vinci SP, including transoral, transanal and extraperitoneal applications, which will broaden the applicability of the SP platform over time.
"The da Vinci SP is the latest in our integrated product family that shows our commitment to improving minimally invasive surgery with technology that can positively impact patient outcomes," said Gary Guthart, chief executive officer for Intuitive. "Our da Vinci SP complements da Vinci X and Xi systems by enabling surgeons to access narrow workspaces while maintaining high quality vision, precision and control that surgeons have come to trust from da Vinci systems."
The da Vinci SP system includes three, multi-jointed, wristed instruments and the first da Vinci fully wristed 3D HD camera. The instruments and the camera all emerge through a single cannula and are properly triangulated around the target anatomy to avoid external instrument collisions that can occur in narrow surgical workspaces. The system enables flexible port placement and excellent internal and external range of motion, for example, 360-degrees of anatomical access, through the single SP arm. Surgeons control the fully articulating instruments and the camera on the da Vinci SP system, which uses the same surgeon console as the da Vinci X and Xi systems.
"Intuitive continues to bring tomorrow's surgery today by addressing surgeon and patient needs, as well as working closely with hospitals to systematically improve the overall experience in the operating room," said Salvatore J. Brogna, Intuitive executive vice president and chief operating officer.
The SP robot received its first U.S. FDA clearance in April 2014. Intuitive has since invested in important platform refinements. Intuitive launched the da Vinci SP surgical system in the United States in a measured fashion with customer shipments beginning in the third quarter of 2018.
There are several models of the da Vinci surgical system. The da Vinci surgical systems are to help surgeons perform minimally invasive surgery. Da Vinci systems are not programmed to perform surgery on their own. Instead, the procedure is performed entirely by a surgeon who controls the system. Da Vinci systems offer surgeons high-definition 3D vision, a magnified view and robotic and computer assistance. They use specialized instrumentation, including a miniaturized surgical camera and wristed instruments, like scissors, scalpels and forceps, that are designed to help with precise dissection and reconstruction deep inside the body.
The da Vinci SP Surgical System currently may be used in the following procedures: Radical prostatectomy, pyeloplasty, nephrectomy and partial nephrectomy, but that list is expected to expand.
Original reporting by UAB's Savannah Koplon contributed to this report.
Prisoners quarantined at formerly closed prison kept in unconstitutional conditions, groups say
Conditions are so bad that inmates have been forced to urinate and defacate on themselves because restrooms are not accessible, the complaint alleges.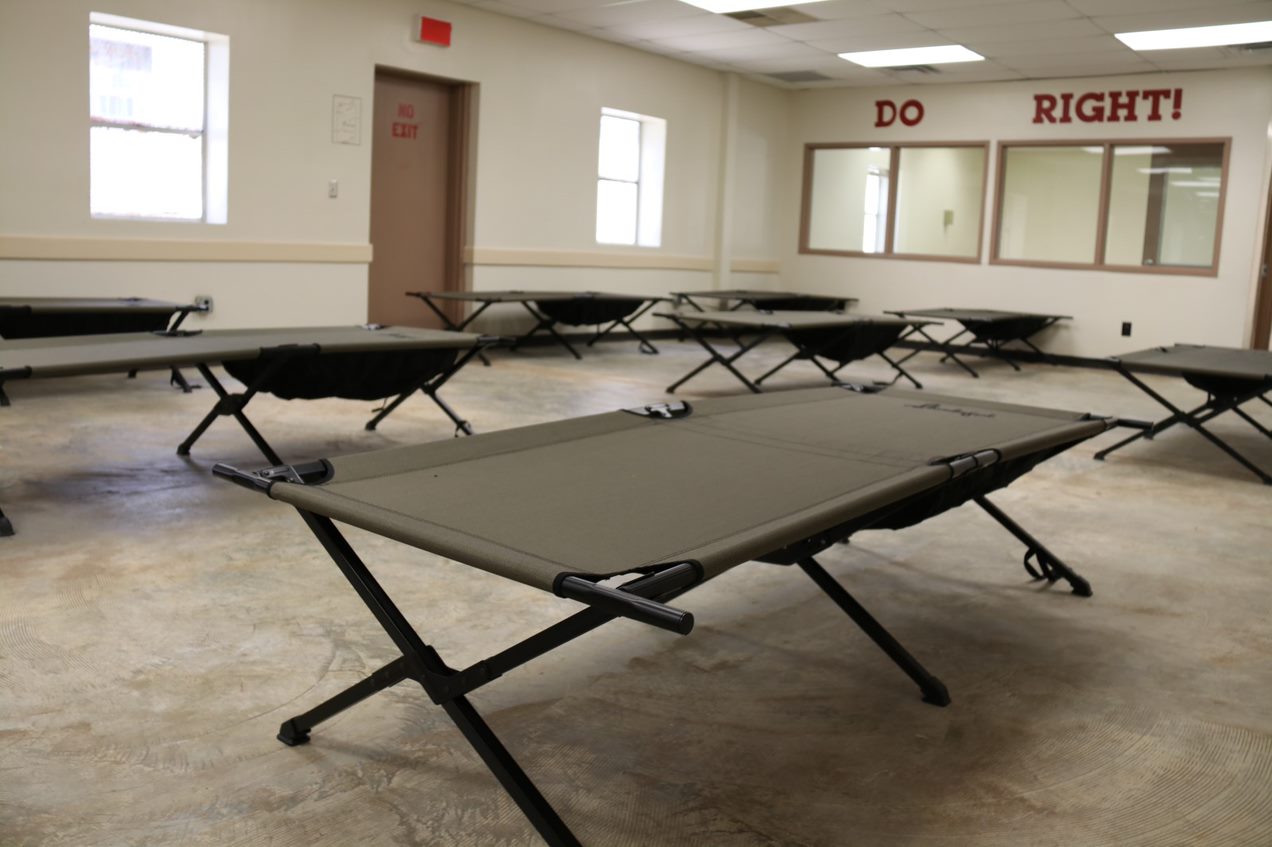 The Alabama Department of Corrections is violating the constitutional rights of inmates being quarantined in deplorable conditions in the previously decommissioned Draper prison, several civil rights groups wrote in a letter to the state's prison commissioner.
The ACLU of Alabama, the Southern Center for Human Rights, Alabama Appleseed and other groups in a letter to Alabama Department of Corrections Commissioner Jeff Dunn on Thursday detail those conditions, which include no indoor toilets or running water, repeated power outages, deprivation of regular showers and the requirement of incarcerated men to urinate in "styrofoam cups and plastic water" bottles.
"These conditions fail to meet the most basic constitutional standards and present a substantial risk of serious harm to people already suffering from a potentially fatal disease," the letter reads. "We therefore request that you immediately cease using Draper to house and/or quarantine COVID-19 patients, and instead house them in medically appropriate settings in accordance with Eighth Amendment standards."
The groups note that Draper was closed after the U.S. Department of Justice, during its investigation of violence in Alabama prisons, noted Draper as exceptionally "dangerous and unsanitary" with "open sewage" near the entrance, rat and maggot infestations and "standing sewage water on the floors."
In October 2017, the Justice Department informed ADOC of the department's shock at the state of the facility and a month later ADOC's engineer concluded that Draper was "no longer suitable to house inmates, or to be used as a correctional facility," the letter states.
ADOC reopened a portion of Draper earlier this year to house incoming inmates from county jails being quarantined amid the COVID-19 pandemic, but the civil rights groups note in the letter that ADOC failed to indicate plans to also use a classroom without bathrooms, running water or adequate medical care at Draper to house COVID-19 patients from other state prisons.
The groups allege in the letter that approximately 15 cots are located in the approximately 500 square feet former classroom, where at any given time between 5 and 15 inmates are being kept. The only restroom facilities the men can use are portable bathrooms outside, and the men have to "bang on the classroom windows to get officers' attention."
"Though officers sometimes escort the men when asked, they decline at other times and fail to maintain a schedule; thus, the men do not have access to bathroom facilities when needed," the letter reads, adding that the men aren't allowed to use the outdoor restrooms between 10 p.m. and 6 a.m.
"We have further reason to believe that one man was permitted to use the bathroom only three times during a 13-day quarantine. Another man was not taken to the bathroom until his third day at Draper, while another was forced to urinate on himself on multiple occasions after being denied bathroom access," according to the letter. "One man suffering from diarrhea was forced to wait hours to use the restroom to defecate. Many others could only relieve themselves into styrofoam cups, plastic bottles, portable urinal containers, or trash cans."
"They had to hold onto urine-filled bottles for hours at a time until they were allowed to leave the classroom to empty them. It is also our understanding that some men held in these conditions did not receive bottles at all; correctional officers simply told these men that they were 'out of luck,'" the letter continues.
The letter also details instances of alleged inadequate medical care, including a man who was sent to a local hospital with heart attack symptoms after not receiving his heart medication for several days.
The groups are also unaware of any Inmates leaving Draper who were tested for COVID-19 before being returned to Elmore and Staton prisons, the letter also states.
"We also have reason to believe that many of the symptomatic men at Staton and Elmore have not reported their symptoms to prison staff for fear of being held at Draper in the deplorable conditions described above," the letter continues.
APR has learned from several sources in recent weeks, who asked not to be identified because they have loved ones in Alabama prisons and are fearful of retributions for speaking out, that many inmates who have symptoms of COVID-19 aren't reporting those symptoms to prison staff for fear of being quarantined. Those family members are concerned that the disease is spreading much more broadly in Alabama prisons than is known as a result, putting their loved ones at greater risk of contracting the deadly disease.
Many of the concerns expressed in the letter were first reported by AL.com reported on Sept. 13, which found that access to medical care in Draper is limited and the conditions unsanitary.
In a response to AL.com's questions for that article, an ADOC spokeswoman wrote that inmates at Draper have access to "medical and mental health care, telephones, law library, mail services, and showers."
"Please remember — Inmates remanded to our custody have been convicted of a crime and handed a sentence to serve time as determined by a court. The unfortunate reality is that he or she, as a result of the crime committed and subsequent conviction, loses his or her freedoms," ADOC said in the responses.
"This response is unacceptable as a matter of principle, and inadequate as a matter of law," the letter from the civil rights group states.
"As ADOC knows, the fact of a criminal conviction does not strip incarcerated people of their rights under the Eighth Amendment, nor does it relieve ADOC of its constitutional obligations to the people in its custody, which are to provide them with 'humane conditions of confinement,' 'adequate food, clothing, shelter, and medical care,' and 'reasonable safety,'" the letter continues.
On Sept. 16, ADOC reported that there have been 403 confirmed COVID-19 cases among inmates, 21 deaths of inmates after testing positive for COVID-19, and 375 cases among prison staff. Two prison workers have died from COVID-19, ADOC previously said.
As of Sept. 14, there had been 1,954 inmate tests for coronavirus, out of the approximately 22,000 state inmates, according to ADOC.
ADOC on Sept. 16 said that on Thursday the department was to begin rolling out a plan to provide free COVID-19 tests to ADOC staff and contracted healthcare staff using fixed and mobile testing sites.
"In addition, we will test all inmates in facilities that house large numbers of inmates with high risk factors as an enhancement to our current testing protocols," ADOC said in a press release.