Civil War Living History event today with a skirmish on Saturday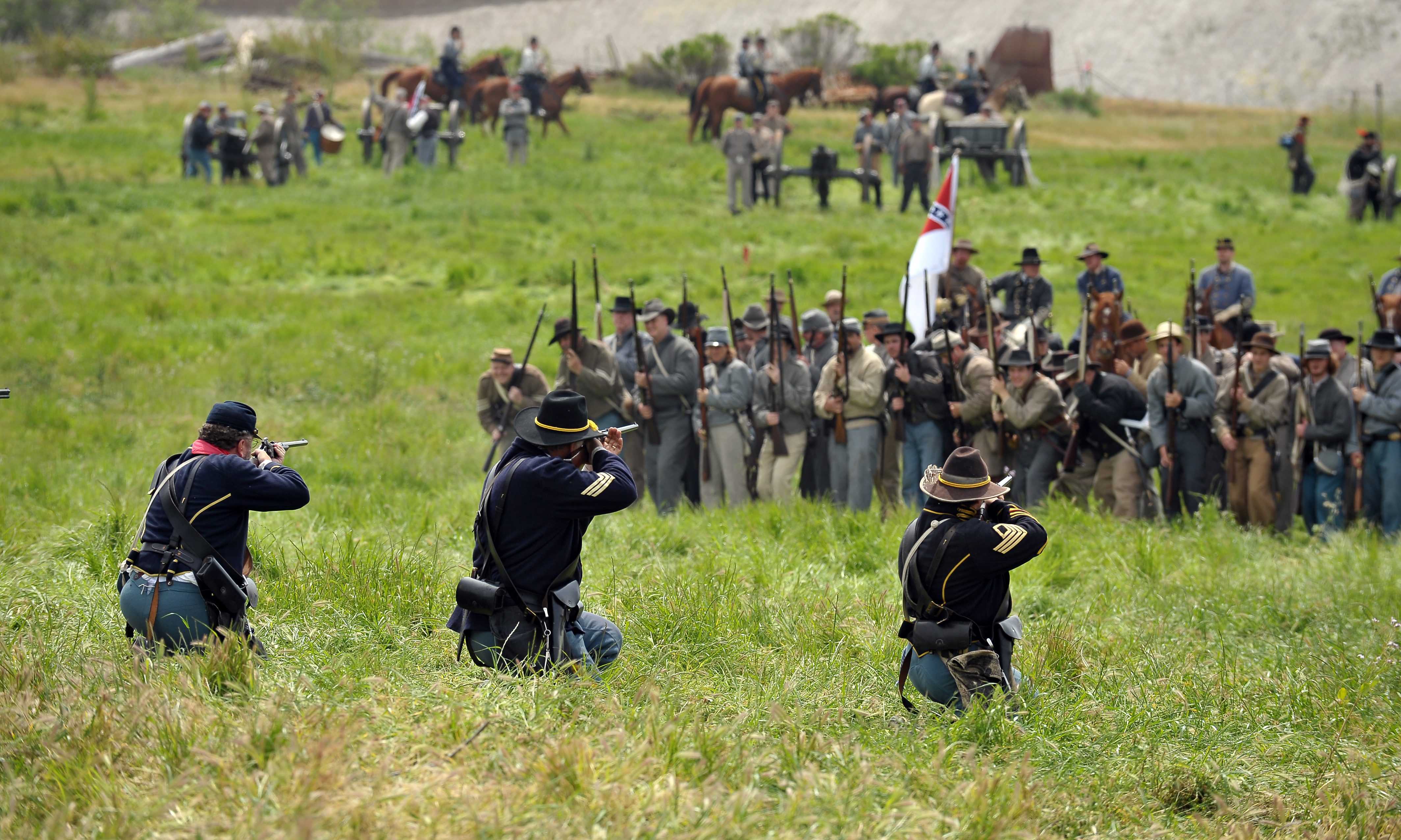 The Alabama Historical Commission and the Confederate Memorial Park are hosting their Annual Civil War Living History and Saturday Skirmish on Saturday,
Today's event begins at 9:00 am today and lasts until 1:00 pm. Saturday's event will be from 10:00 am to 3:00 pm on Saturday. Both will be held at Alabama's Confederate Memorial Park in Marbury. The Park is in Chilton County and is convenient to I-65.
At Friday's event, students and the general public will experience outdoor living history demonstrations performed by authentically uniformed and equipped Union and Confederate reenactors.
The Civil War Living History demonstrations and activities include: infantry drill and firing; cavalry horses and equipment; artillery firing; commissary and wagon; soldier's equipment; uniforms; music; flags; civilian life; infantry drills with student participation; and a Civil War Camp of Instruction including barracks, officers' quarters, commissary, and guard house.
On Saturday, April 27 from 10:00 am to 11:30 visitors will experience additional living history demonstrations, a cemetery ceremony, and a skirmish between Union and Confederate reenactors starting at 1:00 pm.
Admission to all outdoor activities is $2.00 per person each day and admission to the state-of-the-art museum is an additional $2.00 per person each day. Souvenirs, drinks, snacks, and hot dogs will be available for purchase. Students on school tours are encouraged to bring their own lunches.
The park also offers self-guided tours of the site of Alabama's only Home for Confederate veterans including two cemeteries where 298 veterans rest along with 15 veteran's wives and widows. The site showcases a nature trail that combines an Alabama "Treasure Forest" with features from the Soldiers' Home.
The Confederate Memorial Park is a historic property of the Alabama Historical Commission.
The Civil War was fought from 1861 to 1865 and was the costliest war in American history as measured by the number of Americans killed and wounded.
Alabama is celebrating its bicentennial as a state this year.
For more information, museum reservations, souvenir purchases, or other details contact the Park at 205-755-1990.
Ainsworth returns to work after testing positive for COVID
Ainsworth's office on Sept. 21 announced he had tested positive earlier that week, having been tested after someone in his Sunday school class tested positive for the disease. 
Alabama Lt. Gov. Will Ainsworth on Wednesday announced that he was returning to work that day and had met public health requirements for quarantining after testing positive for COVID-19 some time last week.
Ainsworth's office on Sept. 21 announced he had tested positive earlier that week, having been tested after someone in his Sunday school class tested positive for the disease. 
"While many have battled with coronavirus, my symptoms never progressed beyond some mild congestion that I usually experience with seasonal allergies," Ainsworth said in a statement. "During the quarantine period, I participated in several Zoom calls, caught up on some office work, spent some quality time with my family, and completed a number of overdue projects on my farm."
Members of Ainsworth's staff who were in close contact with him haven't tested positive for COVID-19 but will remain in quarantine for a full 14-day period as a precaution, according to a press release from Ainsworth's office Wednesday. 
"Ainsworth once again urges all Alabamians to practice personal responsibility, which may include wearing masks, maintaining social distancing whenever possible, and taking other precautions to lessen chances of exposure to COVID-19," the press release states.
Ainsworth still disagrees with Gov. Kay Ivey's statewide mask mandate, he said. According to the release, he considers such orders "a one-size-fits-all governmental overreach that erodes basic freedoms and liberties while removing an individual's right to make their own health-related choices." 
The wearing of cloth or medical masks has been proven to inhibit the spread of COVID-19 and the more people who wear masks, the better. While not perfect, masks limit the spread of respiratory droplets that may contain infectious virus shed from the nose and mouth of the mask wearer.
It is possible — even likely — for symptomatic, pre-symptomatic and mildly symptomatic people to spread the virus. That's why it's important to wear a mask even when you're not sick.
Cloth masks offer only minimal protection from others who are not masked, meaning that masks are not simply a matter of personal safety but safety of others. Masks are also only effective when worn over both the mouth and the nose. [Here's a guide on how to wear masks properly.]
Dr. Deborah Birx, coordinator of the White House's coronavirus task force, told Ivey after she announced the statewide mask order that it was a "brilliant" idea. The order has been credited by Alabama infectious disease experts as having dramatically reduced the number of cases, hospitalizations and deaths in the weeks after the order went into effect. 
Dr. Don Williamson, president of the Alabama Hospital Association, told APR on Tuesday that from personal observation he is seeing more people not wearing masks, or wearing them improperly, and said the state could dramatically reduce the risk of COVID-19 if the public regularly wore masks and wore them properly.
Hospitalizations of COVID-19 patients in Alabama on Monday crossed the 1,000 mark for the first time since Aug. 31 — a sign that Alabama may be headed for another peak in hospitalizations as the state prepares for winter and flu season.