Zeigler starts Facebook group opposing toll charges on new I-10 Bayway bridge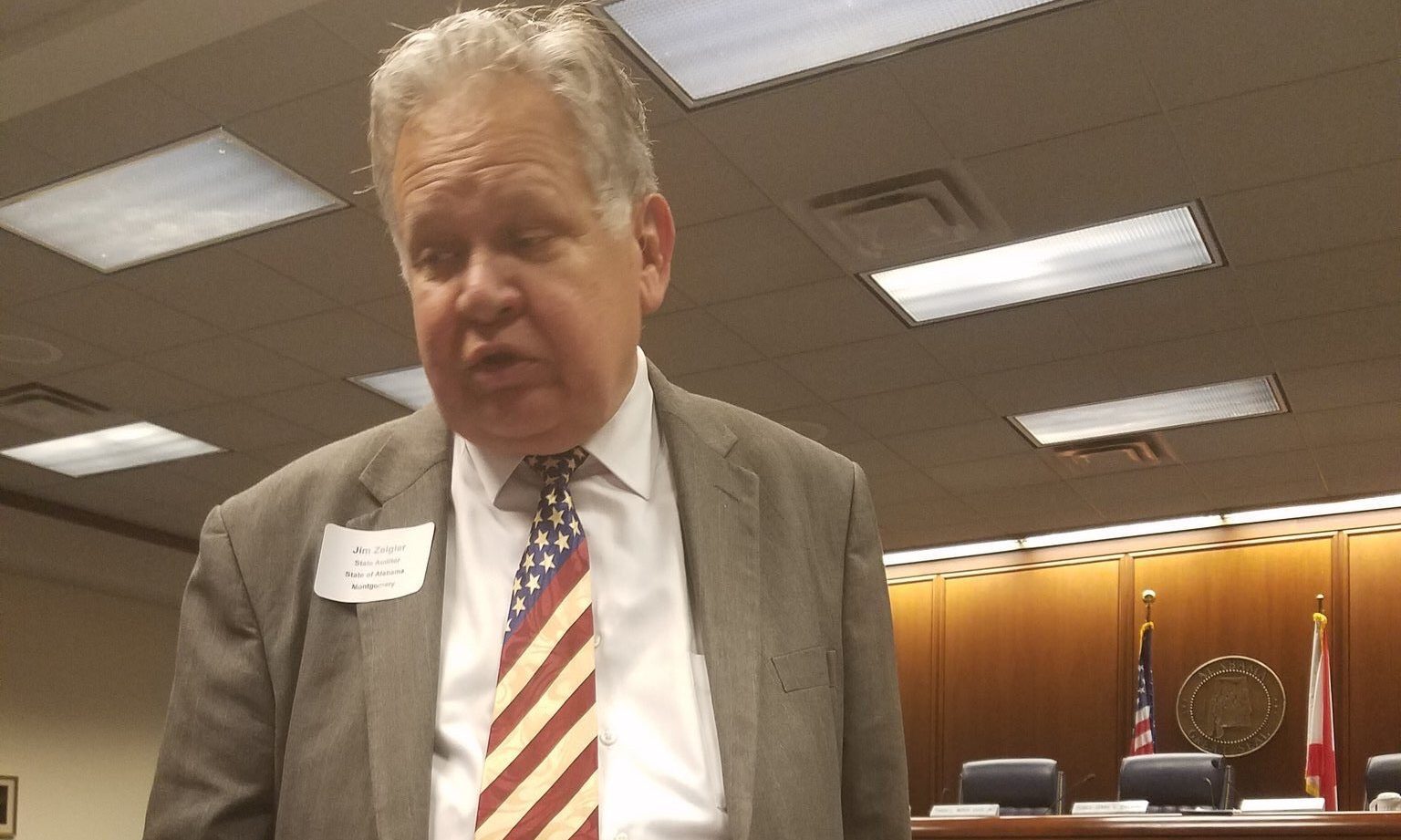 State fuel taxes will rise on Oct. 1, but motorists visiting the greater Mobile area may also experience tolls to use the new I-10 Mobile Bay bridge under a proposal by the Alabama Department of Transportation. ALDOT has proposed a toll charge of $3 to $6 each way to fund the new bay bridge and expanded I-10.
State Auditor Jim Zeigler says the proposed tolls are "irresponsible and economically dangerous." On Sunday, Zeigler created a Facebook group to wage a campaign against the toll charges. The page is named, "Block the Mobile BayWay Toll."
"The proposal to charge folks $2,500 a year (or more) to cross the Mobile BayWay is irresponsible and economically dangerous," Zeigler said in a statement. "$6 to $12 a day is a severe burden. The site "Block the Mobile BayWay Toll" is your campaign headquarters. Join this site and spread the word to others. We will post steps to help block the toll."The proposal for a new I-10 bridge is supposed to solve safety problems at the I-10 tunnels that go under the Mobile River and relieve traffic congestion.
ALDOT is accepting public comments on the proposal online.
Zeigler posted this information on the new Facebook site:
Zeigler says that he is researching options to pay for the bridge without a toll.
Zeigler promises that he will submit that research before the May 23 comment deadline.
"There is no way I can forget to get this done. May 23rd is my birthday," Zeigler added.
Zeigler's Facebook campaign quickly signed up over 100 members.
According to ALDOT, "The Mobile Bridge and Bayway will use all-electronic tolling  – allowing drivers to travel through the facilities without stopping to physically pay a toll. Electronic toll gantries will span the roadway and initiate the toll collection process via transponder or license plate image. Drivers are encouraged to maintain normal travel speeds. With no toll booths, there is no stopping."
"A public private partnership (P3) provides up-front funding for projects like the Mobile River Bridge and Bayway and helps bring them to reality," ALDOT explained on their webpage. "Tolling is often used in P3 projects to help the private partner support ongoing operations and maintenance to improve and ensure the flow of traffic and support the goal of congestion mitigation. A P3 delivers innovation, efficiencies and design excellence. Forming a P3 allows ALDOT to use private sector technical, managerial and financial resources to build the project and achieve-long term objectives like increasing capacity and facilitating free flowing traffic. Tolling provides funds to make costly improvements to the regional transportation infrastructure efficiently."
"ALDOT is dedicated to researching and studying all facets of the project to determine toll rates," ALDOT writes. "ALDOT brought together industry experts to study toll rates for the project. Factors influencing toll rates include traffic volumes; existing travel conditions; forecasted travel conditions; and costs for construction, operations and maintenance. ALDOT is exploring frequent user discounts and will maintain free alternative routes, which include the Causeway, Bankhead Tunnel and Cochrane-Africatown Bridge."
Zeigler was easily re-elected in November and is term limited from running again for Auditor. He has formed an exploratory committee to study running for U.S. Senate in 2020. Congressman Bradley Byrne, R-Montrose, former Auburn football coach Tommy Tuberville and businessman and former televangelist Stanley Adair have also announced that they are running for the Republican nomination for U.S. Senate. Senator Doug Jones (D) has expressed confidence that he will defeat any Republican challenger.
Alabama GOP chair: "We expect our elected officials to follow the law" after Dismukes arrest
"Will Dismukes matter: We expect our elected officials, regardless of Party, to follow the laws of our state and nation," Alabama GOP chair Terry Lathan said on Twitter.
Alabama Republican Party Chair Terry Lathan said Thursday that Alabamians expect their leaders to follow the law. Her comments came in response to news that an arrest warrant had been issued for State Rep. Will Dismukes, R-Prattville, on the charge of felony theft.
"Will Dismukes matter: We expect our elected officials, regardless of Party, to follow the laws of our state and nation," Lathan said on Twitter. "No one is immune to these standards. It is very disappointing to hear of these allegations. This is now a legal matter and it must run its course."
Will Dismukes matter:
We expect our elected officials, regardless of Party, to follow the laws of our state and nation. No one is immune to these standards. It is very disappointing to hear of these allegations.This is now a legal matter and it must run its course. #alpolitics

— Terry Lathan (@ChairmanLathan) August 6, 2020
Speaker of the House Mac McCutcheon, R-Monrovia, said Friday in a statement that Dismukes will get his day in court.
"As a former law enforcement officer, I have faith in the criminal justice process and trust that he will receive a full and fair hearing," McCutcheon said. "Both Democrats and Republicans have been accused of similar crimes in the past, and we cannot tolerate such behavior whether the lawmaker involved has a D or an R beside their name."
Dismukes has been charged by his former employer, a custom flooring company, of felony theft charges. Dismukes left that employer and started his own custom flooring company.
Dismukes, who is serving in his first term and is one of the youngest members of the Alabama Legislature, has been heavily criticized for his participation in a birthday party for Confederate Lt. General Nathan Bedford Forrest in Selma. Forrest was also the first grand wizard of the Ku Klux Klan.
The party in Selma occurred the same week that Congressman John Lewis's funeral events were happening in Selma. Dismukes resigned his position at Valley Baptist Church when the Southern Baptists threatened to disassociate the Prattville Church if they retained Dismukes. He has defiantly refused to step down from the Legislature, but if convicted of a felony, he would be automatically removed from office.
Both Democrats and Republicans have called for Dismukes to resign from the Alabama House of Representatives over his being the chaplain of the Prattville Sons of Confederate Veterans and his Facebook post lauding Forrest. The investigation into the theft predates the controversies surrounding Dismukes's glorification of the Confederacy and Forrest.
Republican State Sen. Clyde Chambliss, who also represents Prattville, has called on Dismukes to resign.
"Since first being elected in 1996, I've had a policy of not publicly criticizing other elected officials, but at this time I am making an exception since Rep. Dismukes is MY state representative. He does not represent my views or the views of the vast majority of people of District 88," Chambliss said. "The post is bad enough, the timing is even worse, but the real problem is that an elected official in 2020 would attend a celebration of the life of someone that led a group that terrorized and killed other human beings. He has had 24 hours to understand why people are so upset, but his interview on WSFA a few moments ago confirms that he is lacking in understanding and judgment — he should resign immediately."
Alabama Democratic Party Chairman State Rep. Chris England, D-Tuscaloosa, has repeatedly called for Dismukes to resign from the Alabama House of Representatives.
The Alabama Democratic Party recently said in a statement, "Will Dismukes is morally unfit for office. Republicans and Democrats statewide seem to agree. Unfortunately, despite the mounting calls for his immediate resignation, Will intends to stay in office and seek re-election without penalty from the Republican Party."
"While Alabama Republicans hope this will be a distant memory when Dismukes runs for re-election in 2022, we are not going to let him off the hook," the ADP wrote. "The Alabama Democratic Party is going to leverage every tool we have to send Will packing when he comes up for re-election in two years."
"In our darkest hours in life there is still light in Christ!" Dismukes wrote on social media Wednesday. "As the storm continues to blow with heavy force, there is yet a peace that this too shall pass. I guess sometimes we find out if we have built our house on sand or the solid rock of Christ. Psalm 23."
When Speaker of the House Mike Hubbard, R-Auburn, was indicted on 21 charges of felony ethics violations, he did not resign and actually remained speaker until a jury of his peers in Lee County convicted him on 12 counts.