Sewell attends congressional field hearing in Birmingham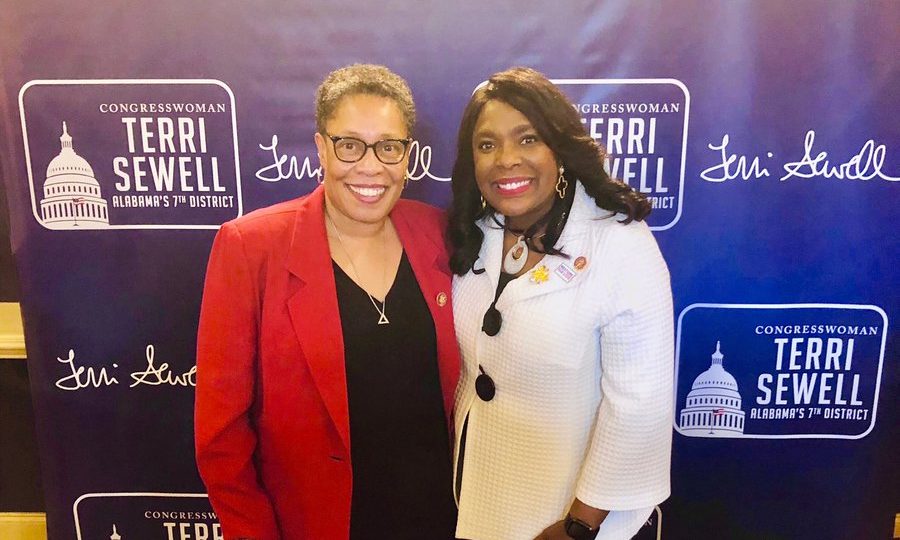 A congressional hearing was held in Birmingham Monday investigating reports of voter suppression. Congresswoman Terri Sewell, D-Selma, joined members of the House Administrative Subcommittee on Elections at an official meeting in Birmingham's City Council Chambers as they heard from voting rights activists.
Two members of the House of Representatives joined Sewell for a field hearing in Birmingham after a series of stops in North Dakota, Brownsville, Texas and other places.
"This is a very important issue," said Birmingham Mayor Randall Woodfin to the committee. "I thank you for taking on this issue."
The hearing was chaired by Congresswoman Marcia Fudge, D-Ohio, the chair of the House Elections Committee. Fudge said that six years after the landmark U.S. Supreme Court decision Shelby v. Holder, several states, including Alabama, have made it harder to vote.
"Alabama has been slow to restore the voting rights of felons," Fudge said.
She was also critical of Alabama's photo ID law.
"This is not a political rally," said Congressman George Kenneth "G.K" Butterfield, D-North Carolina. "This is an official congressional hearing of the U.S. House of Representatives."
"The 1965 Voting Rights Act — it was a very powerful piece of legislation," Butterfield said. "It eliminated the literacy test and gave minority groups a right to bring suit. Section five, the preclearance section was limited to several Southern states. Alabama was one of those."
"Southern elected officials have resisted Section 5 for generations, but we always prevailed until Shelby versus Holder," Butterfield said. "That is why we are here today, to gather evidence."
Justice Roberts ruled that the formula for Section 5 was outdated. We are going to decide how to build Section 5. He said this is not just a feel good exercise; they are building evidence.
"We are under siege in this country," Fudge said.
"We need federal oversight in the state of Alabama," Sewell said in her closing statement. "You learned today that Alabama has a more restrictive voter ID law now than it did before the Shelby v. Holder case. You learned today that the problem disproportionately affects minorities, rural communities, the elderly and the disabled. … The cost of freedom, we know, is never free. It is paid by those who have fought for this right that we have and for us to sit where we sit in Congress to do the right thing."
Former Congressman Earl Hilliard Sr., D-Birmingham, was there. He was the first African-American to serve in Congress from Alabama since the Reconstruction era. Federal Judge Hugh Clemons also attended the event.
"What we have seen with the Shelby decision is a rolling back of voting rights," Fudge said. "People have a right to know what happened across this country due to Shelby v. Holder."
"It seem innocuous that you have to show a photo ID to vote, but the disabled used to be able to show a social security card." Fudge said. "It is unfortunate that we are making it harder to vote in Alabama."
Calera City Councilmember Earnest Montgomery addressed the committee.
Montgomery was at the center of a battle between Calera and later Shelby County with former President Barack Obama administration's Justice Department Civil Rights Division. Calera said they could not draw a majority-minority council district.  The DOJ disputed that and cited the city for annexations of majority white, new subdivisions. The challenge of the preclearance section went all the way to the U.S. Supreme Court leading to a Shelby County win in the landmark Shelby County v. Eric Holder ruling.
"Our government must commit to assuring that every citizen be included, every barrier destroyed, every election, from our local schools all the way to our federal elections, be fair," Montgomery said. "I hope our elected leaders in Washington, D.C. can come up with some solution to protect every person's right to vote by some formula or preclearance. For we all know, it has been said that one ounce of prevention is more valuable than a pound of cure."
"I was elected in 2010," Montgomery said. "Like many of my friends and associates, I knew very little about the Voting Rights Act of 1965. I learned about the states and jurisdictions that were covered and why. I could clearly understand how after Reconstruction had ended and how it disenfranchised African-Americans."
Montgomery said he has had not problems in Shelby County since Shelby v. Holder, but it has been a little more challenging in other places. He said the light has shined on Shelby County and the city of Calera.
"I have been litigating voting rates issues for years," said Voting rights attorney James Blackshear.
"Blacks constitute 26 percent of the population," Blackshear said. "Latinos are 4 percent of the population. … Alabama's motto has been, 'We dare defend our rights. Throughout history, Alabama has used its states rights to defend white supremacism."
"Immediately after Shelby County v. Holder was handed down, Alabama proceeded to implement and enact new racially discriminatory restrictions on the ability of its citizens to register and vote, including a photo ID law, closure of driver license offices in the Black Belt and a request for authorization to require proof of citizenship in the federal voter registration form," Blackshear said. "At least 66 polling places have been closed, and the city of Evergreen in Conecuh County has been bailed in under Section 3c of the VRA following litigation challenging a number of discriminatory voting practices."
"What still remains is what I call the architecture of white supremacism," Blackshear said. "That is embedded in the 1901 Constitution."
"The purpose of the convention was to establish white supremacy in the state," Blackshear testified. "The state of Alabama has taken as much advantage of Shelby County v. Holder to reclaim as much of that architecture as possible."
Jenny Carroll is the chair of the Alabama State Advisory Committee to the U.S. Commission on Civil Rights.
"The days of a sheriff standing in the doorway of the polling place may be a thing of the past, but current voting regulations may produce the same effect on minority and poor populations in our state," Carroll said. "The method may be softer, more subtle, but the results are exactly the same."
"From voter identification laws to curtailed polling places to limited polling hours to lack of early voting to no-excuse absentee balloting, Alabama election laws disproportionately affect the voters in our state even as they claim to improve election integrity," Carroll continued. "Such laws create barriers to voting in their reliance on either a one-size-fits-all notion of Alabama voters in which every citizen interested in casting a ballot has access to the required identification and documentation, transportation and the resources necessary to realize the right to vote, or they rely on the noting that small impediments to voting are tolerable."
"I don't understand why they purge an inactive voter," Butterfield said. "An inactive voter has as much right not to vote as they do to vote."
"How much would it cost to sue if your voting place was moved?" Butterfield asked.
"Hundreds of thousands of dollars," Blackshear answered.
"I have got four cases going on right now," Blackshear said. "Those cases are brought with the aid of the ACLU and the SEIU. Those organizations are needed to bring the resources forward just to get a case started."
"The greatest democracy in the world must not regress," Fudge said. "We must recognize our faults and continue to move forward; we must progress."
"When the SCOTUS handed down its decision in 2013 in the Shelby v. Holder case, Alabama legislators worked extremely hard to ensure that it is more difficult to vote and register to vote," said Alabama NAACP President Benard Simelton. "First and foremost, Alabama implemented the photo ID law. That ID law prohibited lots of individuals from being able to vote. It is estimated that at that particular time, there were approximately 118,000 people who were immediately disenfranchised because they didn't have the photo ID required."
Nancy Abudu is the deputy legal director for voting rights at the Southern Poverty Law Center.
"We see that as a result of this voter ID law, people continue to be disparately impacted, and those individuals, by coincidence, happen to be voters of color and low-income individuals, which results in depressing voter participation in the state," Abudu told the committee.
Scott Douglas is the executive director of Greater Birmingham Ministries.
"Money is obviously a burden, by definition, for low-income people," Douglas said. "Even obtaining the 'free' state-issued photo ID requires people to draw on scarce funds to compile the underlying documents. The list of accepted documents required to obtain a voter ID card is limited and includes, for example, a birth certificate, hospital record, census record, military record, Medicare or Medicaid document, social security document, certificate of citizenship or official school record or transcript. Many of these must be requested from a government agency and may include a fee. … Alabama's photo ID law is the new poll tax, but the reason for its existence is the same as the old one."
Isabel Rubio is the executive director of the Hispanic Interest Coalition of Alabama.
"The legislation that we have seen, the attitudes and the environment here is explicitly geared at continuing to oppress, marginalize and further alienate people who want to be included in our community and who make really important contributions every day," Rubio said.
Rubio mentioned HB56, the state's anti-illegal immigration bill that was designed to encourage undocumented immigrants to "self-deport."
Sewell has introduced legislation earlier this year to restore the Voting Rights Act of 1965 by developing a modern-day formula to determine which states must preclear election changes with the Department of Justice.
To see a video of Sewell speaking to the subcommittee:
CDC confirmed expanded "close contact" definition to Alabama officials in August
It is unclear why the CDC waited until late October to update or clarify its public-facing guidance on its website.
New federal guidance on how a person is determined to have been in close contact with someone infected by COVID-19 won't impact how Alabama works to mitigate the disease, said the state's top health official. That's because the state was already aware of the expanded definition in August before the change was made public last week.
It is unclear why the CDC waited until late October to update or clarify its public-facing guidance on its website when it was giving more precise definitions to at least one state health department and receiving questions from public health officials about the definition.
The delay in announcing the change is raising questions about how state health officials nationwide have been determining the public's possible exposure to the deadly disease and if contact tracing and mitigation efforts will be made more time- and resource-intensive with the more inclusive definition in place.
The CDC on Wednesday expanded the definition of "close contact" to mean a person can be at risk of contracting COVID-19 if that person is within six feet of an infected person for a period of at least 15 minutes over a 24-hour period.
The previous definition stated a person should quarantine if they were within six feet of an infected person for at least 15 minutes. Alternately, in other areas of the CDC's website, the language stated "a total of 15 minutes" in the definition of close contact.
"What they changed their definition to is something they had verbally confirmed to us months ago, and we have always been using that definition," said Alabama State Health Officer Dr. Scott Harris, speaking to APR on Friday.
Harris said a support team from the CDC was in Alabama in July as the Alabama Department of Public Health was preparing plans to reopen schools. Harris said the question was asked of CDC staff because his department was getting questions on the definition of close contact from school officials.
APDH staff took the definition then of "a total of 15 minutes" to mean that there could be several exposures over a period of time equaling that 15 minute threshold, so they asked CDC to clarify that assertion.
"When those folks were here we asked the CDC people directly. Can you confirm for us what that means, and they said, it adds up to a total of 15 minutes in a 24-hour period," Harris said. "And we even got somebody to commit to that in an email somewhere."
Melissa Morrison, CDC's career epidemiology field officer working at the ADPH in Montgomery, in an Aug. 13 email to ADPH's director of the office of governmental affairs, quotes a statement Morrison attributes to her CDC colleague, CDC public health advisor Kelly Bishop. Harris shared the email with APR.
"Yes, I did get a response from the contact tracing team. The 15 minutes for a close contact is cumulative, and they said 'The time period for the cumulative exposure should start from 2 days before the cases' illness onset (or, for asymptomatic patients, 2 days prior to positive specimen collection date) until the time the patient is isolated," Morrison quotes Bishop in the email.
In the August email, Bishop goes on to say, as attributed by Morrison, that "as of now there is no established upper limit on the time period (i.e. 48, 72 hours etc)."
The CDC's expanded definition was reflected in an Aug. 20 statement from the Alabama Department of Public Health.
"The 15-minute time is a cumulative period of time. For example, a close contact might be within 6 feet of a COVID-19 positive person for 5 minutes each at 8 a.m., noon and 5 p.m. This is a standard based on guidance from the CDC," the statement reads.
In an email to APR on Friday, Harris said he'd discussed the matter with Morrison on Friday who "emphasized that the guidance this week from CDC was NOT a change but rather a clarification. They simply used the MMWR corrections story as a convenient time to make the point."
Harris was referring to a CDC's Morbidity and Mortality Weekly Report released Wednesday that detailed findings by Vermont health officials showing that a prison worker contracted COVID-19 during an eight-hour shift in which the worker had 22 close contacts with an infected inmate totaling 17 minutes.
The CDC in statements to numerous news outlets, and to APR, cite that Vermont study in connection to Wednesday's definition change.
"That's kind of why they said it out loud," Harris said of the study and the Wednesday announcement. "But I have to say, when I saw that updated guidance I thought, 'I can't believe anybody ever thought otherwise.'"
Different pages on the CDC's website on Saturday defined close contact as both being "a total of 15 minutes or more" and "a total of 15 minutes or more over a 24-hour period," confusing the matter further, and numerous other state health departments had not yet updated their websites Saturday to reflect the CDC's expanded definition.
A CDC spokesman in an email to APR on Wednesday noted the Vermont study on the prison worker and said "CDC clarified the amount of time it would take for someone to be considered a close contact exposed to a person with COVID-19."
"The CDC website now defines a close contact as someone who was within 6 feet of an infected person for a total of 15 minutes or more over a 24-hour period. Previous language defined a close contact as someone who spent at least 15 minutes within 6 feet of a confirmed case," CDC spokesman Scott Pauley told APR by email Wednesday.
Pauley didn't respond to APR's question on Friday asking why the CDC waited until Wednesday to update its guidance online, given that ADPH had confirmed the definition of close contact in August. He also didn't respond to a request to verify the statement Morrison attributed to her CDC colleague in the August email.
"To us, we thought if it says a total, that means you must be adding up smaller amounts to get to 15 minutes, or you wouldn't use the word total," Harris said. "When they changed it this week, I don't know the details of why that happened, but I think, obviously, everybody didn't have the same message everywhere."
Dr. Bertha Hidalgo, an epidemiologist and assistant professor at UAB's Department of Epidemiology, told APR on Friday that her understanding prior to Wednesday's expanded definition was that a contact was defined as someone who was exposed to the COVID-19 positive individual for at least 15 min or more at a time and explained that the updated guidance complicates how public health officials will engage in contact tracing.
"This means significant efforts for contact tracing moving forward, in effect needing to identify every person that person came into contact with during the possible exposure timeframe," she said.
It was unclear Monday how the definition change impacts Alabama's Guidesafe COVID-19 exposure notification app, which notifies a user if they come into close contact with an infected person. The app was developed by ADPH and University of Alabama at Birmingham, thanks to a partnership between Apple and Google's combined development of the technology, and alerts users to possible exposure while keeping all users' identities anonymous.
Sue Feldman, professor of health informatics, UAB School of Health Professions, in a message to APR on Friday said that due to the anonymity of the app, it would be difficult, but not impossible, to update the app to take into consideration the CDC's expanded guidance.
"We are taking this into consideration for our next update," Feldman said in the message.
Also unclear is how many other states that have similar exposure notification apps, also using Google and Apple's technology, aren't yet using the expanded definition of a "close contact." Colorado is to roll out that state's app on Sunday, and according to Colorado Public Radio News the app will notify a user that they've been exposed if they come "within six feet of the phone of someone who tested positive for at least ten minutes."
New York's exposure notification app also appears to use the old CDC guidance, and will alert users if they come "within 6 feet of your phone for longer than 10 minutes," according to the state's website.
The updated definition, which health departments refer to when conducting contact tracing, is likely to have a serious impact on schools, workplaces and other group settings where personal contact may stretch over longer periods of time including multiple interactions.
It greatly expands the pool of people considered at risk of transmission. "It's easy to accumulate 15 minutes in small increments when you spend all day together — a few minutes at the water cooler, a few minutes in the elevator, and so on," Johns Hopkins Center for Health Security epidemiologist Caitlin Rivers told The Washington Post. "I expect this will result in many more people being identified as close contacts."
The clarification comes as cases and hospitalizations are rising both in Alabama and nationwide. Alabama's 14-day average of cases has increased 41.2 percent over the past two weeks. The percentage of tests that are positive has increased from roughly 13 percent to more than 20 percent over the past 14 days. The U.S. average of new daily infections is now at its highest point of the pandemic, with 481,372 cases reported in a week, according to CNN and Johns Hopkins University.