House passes "hands free" bill
On Tuesday, the Alabama House of Representatives voted to ban motorists from driving a motor vehicle with a cell phone or other handheld device in their hands.
House Bill 404 is sponsored by State Representative K.L. Brown, R-Jacksonville.
Brown told members of the House, "This is the third time I have stood before you on HB404."
"This is the distracted driver bill," Brown said. It would ban the use of cell phones or cameras in your hand while driving.
Motorists who wish to receive or make a call on their cell phone would either have to go park their car someplace or use "hands-free" devices. Most new motor vehicles come equipped with hands-free capability.
The bill has been substituted since its introduction. Several changes were made.
The bill, "Would not allow law enforcement to search a vehicle if the stop was made solely for this offense," Brown said.
There is also a requirement in the substitute version of HB404 requiring that law enforcement officers maintain a database of all the stops for this law, including the race and gender of the people being stopped.
State Representative Merika Coleman, D-Midfield, said that she introduced legislation last year requiring that law enforcement keep a database like this on all traffic stops. She chastised legislators for not supporting her bill last year.
"There is no more important piece of legislation that you will vote on in this chamber," State Representative Alan Farley, R-McCalla, said. "When I got started on this in last July, 16 states ending with Georgia had passed the 'hands free' bill," now 18 have.
"Under federal law if a trucker is caught driving with a cell phone they can be fined $2500 and the trucking company fined $11,000," Farley said.
"We have an addiction problem in this country," Farley said referring to cell phones and other handheld devices.
Farley said that this bill has got ten different exceptions to it. They include law enforcement, first responders, a doctor on an emergency call, utility workers, and a person phoning in an emergency situation to the authorities.
The bill passed on a 77 to 9 vote.
It now goes to the Senate, where it has been assigned to the Senate Judiciary Committee.
On Wednesday, the Senate Judiciary Committee amended the bill to state that, "No court costs shall be imposed solely in connection with the prosecution of a violation of this act."
The committee is scheduled to vote on whether or not to give the bill a favorable report in a meeting on Tuesday.
Alabama is among 48 states that have already banned texting while driving.
Alabama lawmaker pre-files legislation to allow removal of Confederate monuments
If passed, the measure would permit counties and cities to relocate historic monuments currently located on public property.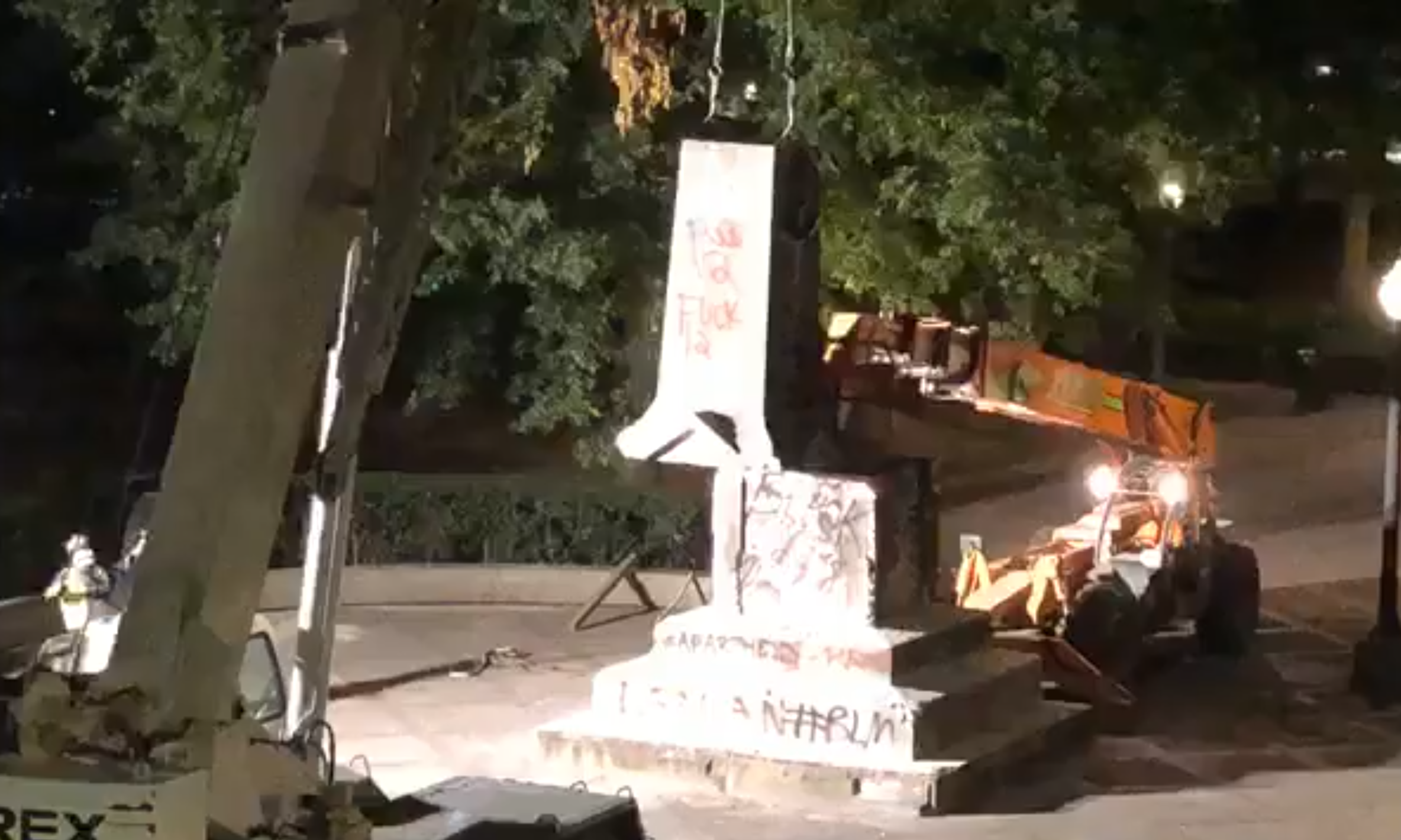 Alabama State Rep. Juandalynn Givan, D-Birmingham, introduced legislation this week in advance of the 2021 legislative session that, if passed, would permit counties and cities to relocate historic monuments currently located on public property. Givan's bill, HB8, would also provide for the relocation of historic memorials to sites appropriate for public display.
"Across the state of Alabama, citizens are calling for the removal of prominently placed statues and monuments that are insensitive or offensive to the communities that surround them," Givan said. "City and county governments must be able to address the demands of their citizens. This legislation provides a tool for local governments to safely remove these artifacts so that they can be moved to a site more appropriate for preserving or displaying the historical monument."
Removing the monuments and historical markers is currently illegal under Alabama's Memorial Preservation Act, which the state Legislature passed in 2017. Givan has been an outspoken opponent of that Republican-sponsored legislation. In 2018, Givan introduced a measure to repeal the bill that barred the removal of monuments.
"I believe HB8 can achieve bipartisan support," Givan said. "My bill seeks to balance the wishes of the people. It respects the will of communities that want the monuments removed. It also respects those who wish to preserve history. With this legislation, Confederate monuments could be relocated to a public site, like Confederate Memorial Park, whose purpose and mission is to interpret and tell these stories. When the Legislature convenes, I hope to have the support of both the House of Representatives and the Senate."
If enacted, HB8 would permit county and municipal governments to remove memorial monuments, including permanent statues, portraits and markers, located on public property in their jurisdictions. It would require a transfer of ownership of the removed monuments to the Alabama Department of Archives and History or the Alabama Historical Commission. Finally, the bill would instruct Archives and History or the Historical Commission to maintain and display monuments removed by local authorities in a location accessible for public display.
The Southern Poverty Law Center, which keeps track of Confederate monuments and memorials across the country, released an update to its Whose Heritage report, which tracks symbols of the Confederacy on public land across the United States. They report at least 30 Confederate symbols have been removed or relocated since George Floyd's death on May 25, 2020.
These include 24 monuments removed, 5 monuments relocated and the Mississippi state flag replaced. Since the Charleston church shooting in 2015, 115 total symbols have been removed from public spaces. These include 87 monuments that have been removed or relocated from public spaces. At least 78 monuments were removed and nine were relocated.
SPLC says there are still nearly 1,800 Confederate symbols on public land, and 739 of those symbols are monuments. The SPLC has prepared an "action guide" to help community activists target Confederate historical markers and memorials for removal.
President Donald Trump has denounced what he calls "cancel culture" that seeks to remove historical monuments and statutes.
"There is a growing danger that threatens every blessing our ancestors fought so hard for, struggled, they bled to secure," Trump said. "Our nation is witnessing a merciless campaign to wipe out our history, defame our heroes, erase our values, and indoctrinate our children."