Jefferson County constable honors deputies during appreciation, awards dinner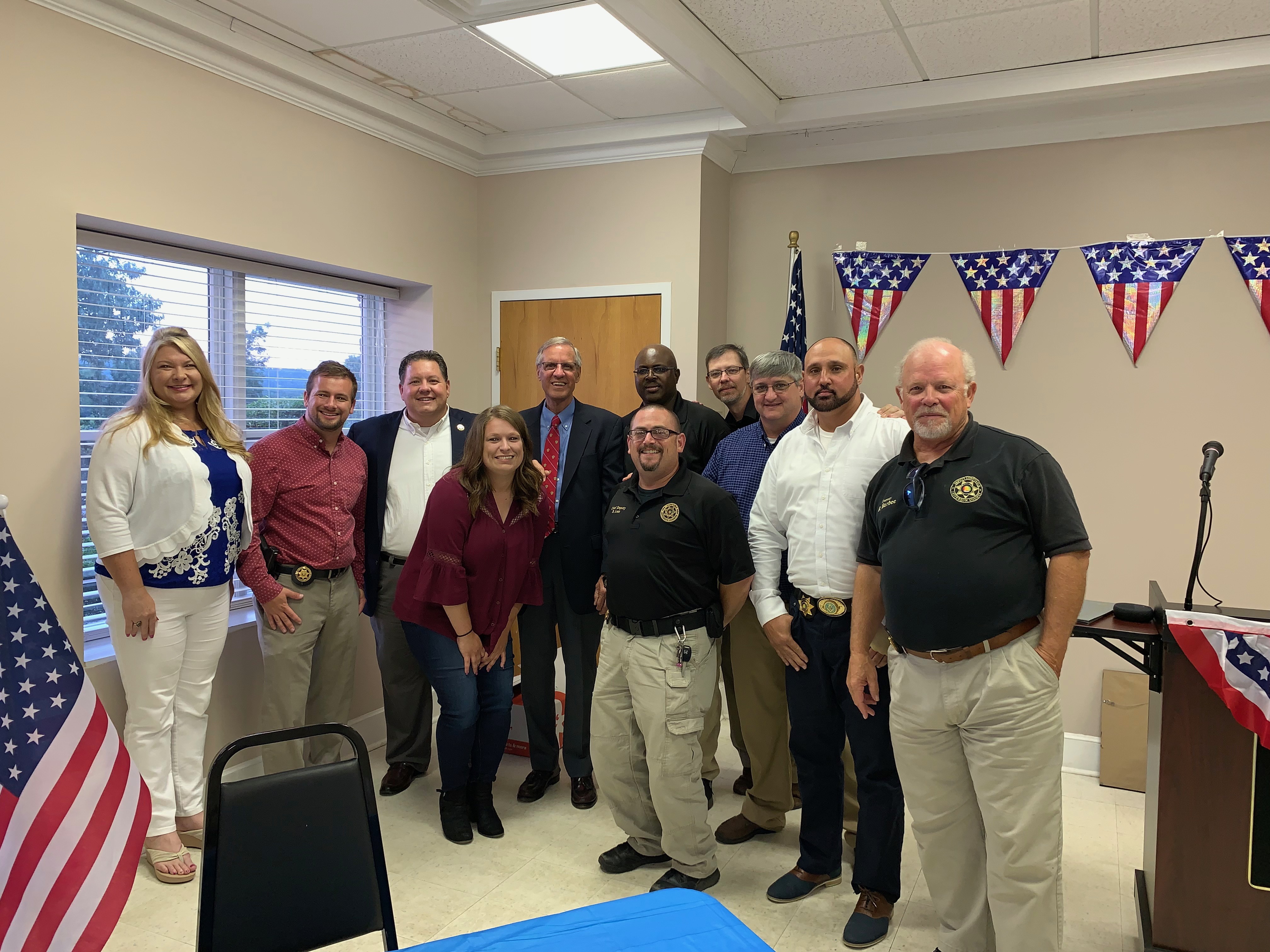 Jefferson County District 48 Constable Jonathan Barbee hosted an appreciation dinner and awards ceremony Thursday evening.
The dinner, sponsored by Martin's BBQ Joint in Cahaba Heights, honored Deputy Constables who have been serving their community.  The event was held at the New Merkel Community Center in Vestavia Hills. Vestavia Hills Mayor Ashley C. Curry was the featured speaker of the evening. Mayor Curry spoke about his years as an FBI agent and the experiences he learned from. He also applauded the Deputy Constables for their volunteer efforts in the City of Vestavia and throughout the county.
"Volunteers are so important to a community. I've seen many of you out working in Vestavia and other cities. What you are doing is so important to the people of Jefferson County. On behalf of Vestavia and its citizens, I want to thank you for all your efforts," said Mayor Ashley Curry.
Constable Barbee spoke about the history of Constables and how District 48 has grown in the last several years. He then presented awards and promotions to 11 Deputy Constables.
"This night is about honoring the members of our team who have shown outstanding service to our community. We want to make sure they are recognized for the great job they are doing," said Constable Jonathan Barbee
Deputy Constables are volunteer community court officers that are mostly responsible for delivery of court documents, but also provide assistance with traffic control in construction zones or at the scenes of traffic accidents. Deputy Constables also provide assistance with security at events and are visibly seen patrolling neighborhoods when they are serving court documents.
District 48 covers Vestavia Hills, Cahaba Heights, Mountain Brook, and South Birmingham's 280 Corridor. Constables were first in law enforcement in Alabama, even before county Sheriffs. Constables are elected officials and are elected by state House districts in Jefferson County.  Only 24 of Alabama's 67 counties have Constables at the present time. Jefferson County has one of the most active programs in Alabama.
Here are some of the Awards and promotions given out during the evening:
Chief Deputy Brian Less received an Award of Excellence for dedication and service.

Assistant Constable Ronald Barbee received an Outstanding Service Award.

Deputy Robert Colvert received an Outstanding Service Award, a Proclamation from Homewood Mayor Scott McBrayer for assisting a motorist who had a seizure and was promoted to Lieutenant of District 48.

Deputy Chase Sims received an Award of Excellence and was promoted to Sergeant over Special Services.

Deputy Joanne Sellers Barbee received an Outstanding Service Award and was promoted to Sergeant over the Civil Court Services.

Deputy Daniel Bates received a Service Award for being an active Reserve Deputy.

Deputy Terry Perry received a Perfect Attendance Award for always being on time and never missing a day of work or volunteering.

Emile Courtney and Ron Dieterich were sworn in as a new Deputy Constables.
For more information, contact District 48 Chief Deputy Brian Less at (205) 422-1596 or
[email protected]
Print this piece
State files lawsuit against Birmingham for removing Confederate monument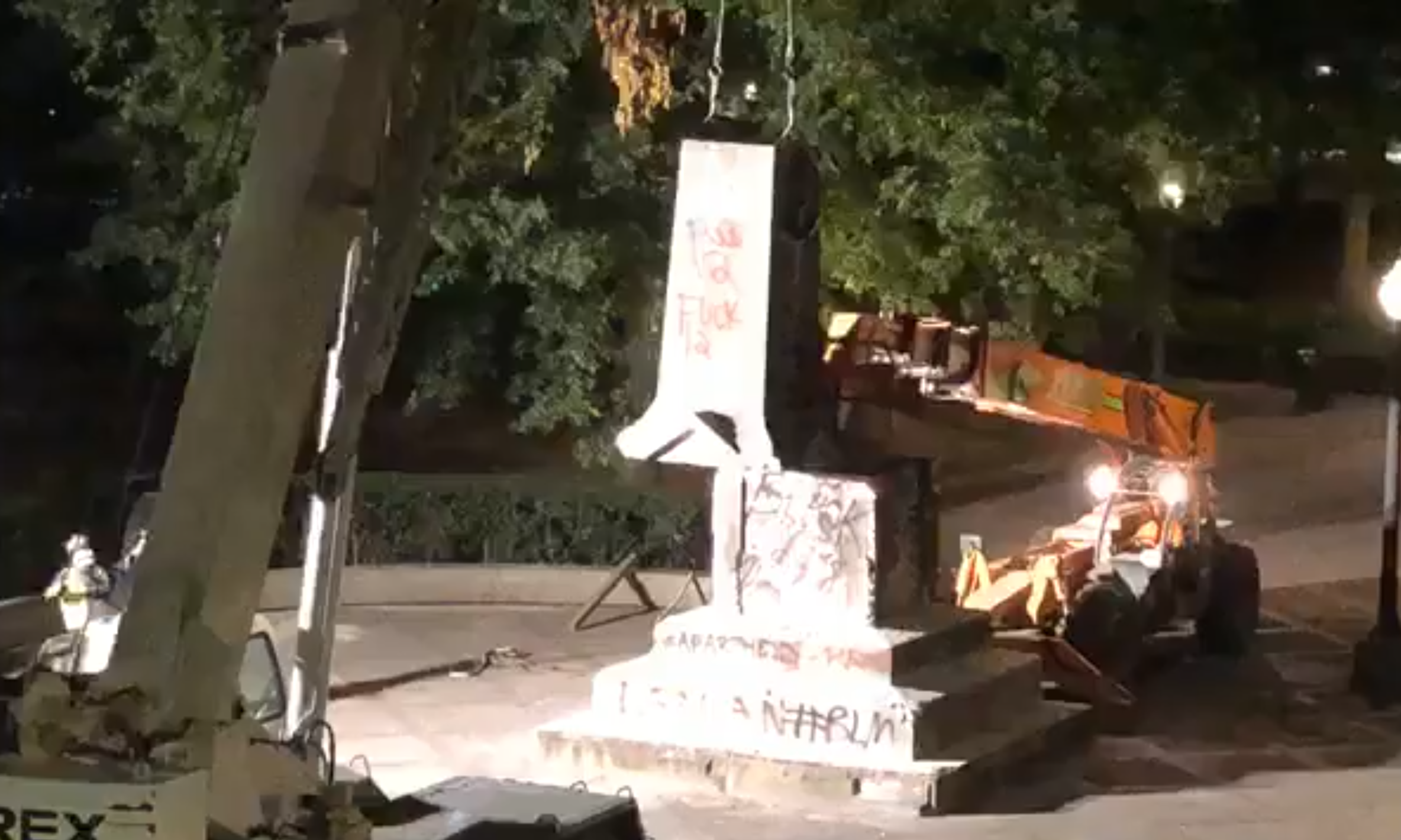 Alabama Attorney General Steve Marshall filed a new lawsuit against the city of Birmingham Tuesday for removing a Confederate monument in Linn Park.
Local officials in Alabama's largest city, which has a majority black population, removed a 115-year-old Confederate Soldiers and Sailors monument in the city's Linn Park after protestors and demonstrators vandalized it Sunday.
Birmingham Mayor Randall Woodfin ordered the monument removed during the waning hours of Jefferson Davis day Monday, a state holiday honoring the Confederate leader.
"This action is a very, very powerful symbol of our city's desire to move beyond the pain of the past and uniting into the future," Woodfin said Tuesday, adding that the city would not disclose the monument's new location due to security concerns and to protect it from further vandalism.
The city paid $1 to remove the monument, Woodfin said, adding that the city council would need to vote on whether to accept public donations to pay off any fines imposed by the state for removing the monument.
One public fundraiser has raised more than $60,000 in a day to support the city in removing the monument.
The monument has been at the center of a years-long legal battle between Alabama's majority-white, GOP-led Legislature and predominately black local officials in Birmingham.
Marshall filing the lawsuit seeking the $25,000 fine, if imposed, would effectively end the legal showdown over the monument.
"In balancing between the costs of civil unrest versus the costs of a civil fine, I think most would agree with me: the city should pay the cost of that civil fine to make sure that there is not any more unrest in our city," Woodfin said.
Marshall filed the lawsuit against Birmingham for violating the state's Memorial Preservation Act, which prohibits the removal of historic monuments including Confederate monuments.
This is the second lawsuit filed by the Alabama attorney general against the city of Birmingham over the Linn Park monument.
The lawsuit seeks additional penalties after the city lost a similar lawsuit filed by the state in 2017.
The Memorial Preservation Act was passed in 2017 by the Alabama Legislature to protect architecturally significant buildings, memorial buildings, memorial streets and monuments located on public property for 40 or more years.
The law effectively prohibited municipalities from removing Confederate monuments.
"The State of Alabama first filed suit against the City of Birmingham in 2017 after the City erected barriers around the monument in Linn Park. In November 2019, the Alabama Supreme Court sided with the State and determined that the City of Birmingham had violated the law and was subject to the Act's penalties. However, the Court held that any violation of the Act was punishable only by a one-time fine of $25,000 per violation," Marshall said in a statement.
Woodfin, amid nationwide protests, demonstrations and unrest over the killing of George Floyd by a Minneapolis police officer, said he was willing to pay the fine to remove the monument, directing city workers to remove it Monday evening.
Legislation was filed in the 2020 session that would have amended the penalties provision of the act in response to the court's ruling, but that legislation failed to become law.
"On Monday, I advised Mayor Woodfin that the removal of the 115-year-old Confederate Soldiers and Sailors monument in Birmingham's Linn Park would violate the law and that I would fulfill my duty to enforce it," Marshall said.
Print this piece