Legislature to address education reform this week
For decades, Alabama state government has largely deferred decision making on educational matters to the elected state school board. The governor and legislature prepared budgets and the state school board and their appointed superintendent largely did things their way without a lot of interference.
This week the legislature is considering a broad spectrum of bills entirely changing that policy. With time running out on this session the legislature is pondering a host of bills to transform education in Alabama as we know it; while most of the rest of Alabama is focused on their summer vacation.
First is legislation completely toppling the elected state school board itself.
Senate Bill 397 is sponsored by State Senator Del Marsh, R-Anniston. Marsh is the President Pro Tem of the Senate.
SB397 is an amendment to the Alabama Constitution of 1901. It changes the composition of the State Board of Education from an elected board to an appointed board. The position of Superintendent of Education would be changed to the Secretary of Education. The board would be renamed the Alabama Commission on Elementary and Secondary Education. The members of the commission would be appointed by the Governor and be subject to confirmation by the Senate. The Governor would also appoint a team of local educators and other officials to advise the commission on matters relating to the functioning and duties of the State Department of Education.
The new Commission is directed to "adopt all of the following: "a. Course of study standards that ensure nationwide consistency and the seamless transfer of students from within and outside of the state, in lieu of common core. "b. A comprehensive educator certification program. "c. A comprehensive professional development program for educators. "d. A comprehensive assessment system. "e. A comprehensive accountability system.
SB397 has been passed by the Senate. Speaker of the House Mac McCutcheon, R-Monrovia, has said that this will be a priority of the House this week.
House Bill 423 orders all parents to send their children to kindergarten.
HB423 is sponsored by State Representative Pebblin Warren, D-Tuskegee. The bill makes kindergarten attendance mandatory. Rep. Warren said that homeschooling is allowed; but the child must be in an approved home school program. HB423 easily passed the House on Thursday and will be taken up by the Senate this week. Presently, 92 percent of five year-old children are in compliance. This orders the other eight percent of parents to get in line with the state.
Senate Bill 14 makes Bible education an elective subject across Alabama's public school systems.
SB14 is sponsored by State Senator Tim Melson, R-Florence. The bill passed the House on Thursday with amendment. It now goes back to the Senate for them to concur or non-concur. If they non-concur it would go to a conference committee and the conference committee version would have to be voted on by both Houses.
House Bill 566 sets up a system of apprenticeships by which high school students can earn a certificate to work in a trade field while still in high school.
HB566 by State Representative Terri Collins, R-Decatur. The bill passed the House on Thursday. It provides that an individual who completes an apprenticeship may be granted an occupational license in that trade if the individual also meets other requirements, including completion of any required examination with a passing score, and provides that if a licensing authority requires an examination for a license, the authority may not impose higher testing standards upon that individual than it does for any other applicant. This bill also provides incentives for employers to hire in-school youth apprentices by allowing children from 14 years of age through 17 years of age to participate in apprenticeship programs certified by the Alabama Office of Apprenticeship. The bill now going to the State Senate for their consideration.
HB566 now goes to the Senate.
Senate Bill 222 wipes out all of the elected school superintendents in the state.
SB222 is sponsored by State Senator Tom Butler, R-Madison.
SB222 would replace all of the elected county school superintendents with appointed superintendents. That bill has already passed the Senate. On Thursday, Speaker McCutcheon told reporters that passing the bill in the House would be a priority this week.
The Alabama Literacy Act, House Bill 388, would require that all third grade students who have not shown competency in reading be required to repeat third grade.
HB388 is also sponsored by Rep. Collins, who is the Chairwoman of the House Education Policy Committee.
HB388 implements steps towards improving the reading proficiency of public school kindergarten to third grade students and ensure that those students are able to read at or above grade level by the end of the third grade by monitoring the progression of each student from one grade to another, in part, by his or her proficiency in reading. Collins said that this bill is based on a model that has been adopted with some success by Mississippi.
HB388 was passed by the House on Wednesday, May 15 and is now being considered by the Senate.
The legislature has already passed a bill requiring that every public school classroom begin each day with the Pledge of Allegiance.
The legislature also has to consider the education budget. It has passed the Senate and on Tuesday was passed out of committee in the House of Representatives. The $7.1 billion education trust fund budget (ETF) is the largest investment in education in the history of the state.
Print this piece
South Alabama medical residents work alongside Orange Beach first responders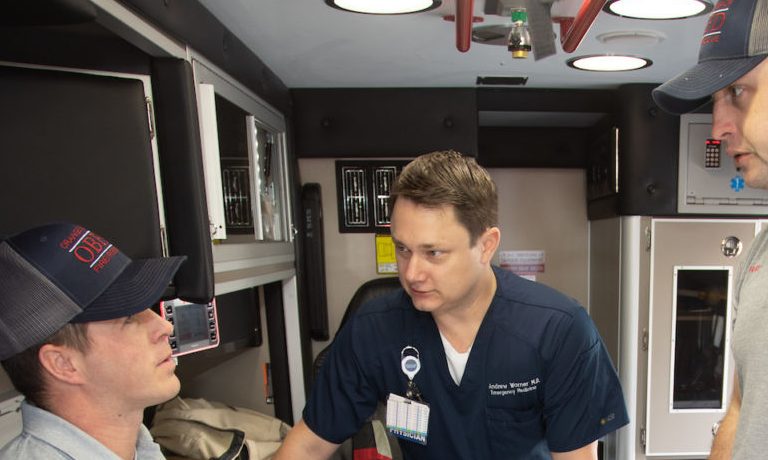 Residents in USA Health's Emergency Medicine Residency Program are given the opportunity to rotate with emergency medical services (EMS) in Orange Beach. The residents are stationed at the Orange Beach Fire Department giving resident physicians the experience of responding to emergency calls alongside paramedics and firefighters.
Paul Henning, M.D. is the associate program director of the Emergency Medicine Residency Program at USA Health and medical director of Orange Beach Fire/Rescue.
"The expertise that a patient gets in the field can determine outcomes," Henning explained. "It bridges the gap between the physician and the paramedic. Seldom, if ever, do physicians have this kind of exposure to prehospital emergency services. It also gives the physician more perspective of what the paramedics are doing in the field. If we have an opportunity to improve the prehospital scope of practice, then we have accomplished our goals."
Henning also serves as an associate professor of emergency medicine at the University of South Alabama College of Medicine.
He said that it is vital that physicians understand what happens in the prehospital stage of care.
The innovative program was established in July 2019.
Andrew Warner, M.D., took a nonlinear path to emergency medicine. Dr. Warner is a former Green Beret, who served with the U.S. Army 5thSpecial Forces Group on tours in Iraq and Afghanistan.
Following his military service, he went on to earn his medical degree from the University of Cincinnati College of Medicine. He completed his residency training in family medicine at USA Health and started in the emergency medicine program as a second-year resident.
Warner expressed his great respect for the Orange Beach first responders, who "epitomize true dedication to patient care and outcomes."
"I have further learned to appreciate just how critical those precious seconds in the prehospital setting are for patient survivability," Warner added.
Justin Thomas, M.D. is a second-year emergency medicine resident and was the first USA Health resident to rotate in Orange Beach. Thomas said that the experience opened his eyes to the constraints paramedics endure while working in the field, particularly when responding to calls in rural areas of the county.
"There are locations they respond to that may be in the middle of the woods, or down a dirt road someone only goes down once every couple of weeks," Thomas said. "They have to lug their supplies and the stretcher to the house, assess and care for the patient, and then bring them to the ambulance."
The medics are limited by the supplies and tools they have with them, Thomas said. "It's much different being at a hospital with all the resources at your disposal versus working from an ambulance with limited capabilities."
Thomas earned his medical degree from the American University of the Caribbean. He took a nontraditional route to emergency medicine. As a resident in USA Health's Family Medicine Residency Program, he rotated in the emergency department at University Hospital and was attracted to the field.
After graduating from his family medicine residency in June 2019, Thomas was offered a spot in the new Emergency Medicine Residency Program. Dr. Thomas was given approval from the American Board of Emergency Medicine to start as a second-year because of his months of training in emergency medicine during his family medicine residency.
Economic developer Dr Nicole Jones told the Alabama Political Reporter, "Response time is critical, especially in rural areas and areas that have longer distances to medical facilities than urban counterparts. The partnership between USA Health emergency medicine residency program and Orange Beach paramedics and fire rescue is a win-win situation. Both parties learn from one another and gain a deeper understanding of the pre-hospital setting, and most importantly, having professionals available in emergency situations with unique skill sets can ultimately save more patients' lives."
The partnership is mutually beneficial for USA Health's emergency medicine residency program and Orange Beach's paramedical and fire-rescue services. By adding the resident physicians the paramedics are able to provide a higher level of care to patients.
"I love to hear the interaction between our staff and the residents," said Orange Beach Fire Chief Mike Kimmerling. "Even when they're not running calls, there is a tremendous amount of knowledge being transferred in their conversations."
The residents gain more diversity of exposure in Orange Beach than in a larger city like Mobile, Henning said. "Most fire and rescues in large cities are close to hospitals, so the transport time is usually 10 minutes or less, whereas in Orange Beach the time could be significantly longer. When they are able to render care for a longer period of time, they have the chance to sharpen their skills and have more patient exposure."
Dr. Henning said that Orange Beach also gives the residents the unique experiences of working on fire and rescue boats.
Henning said that before starting the EMS rotation, the residents are required to be fully licensed by the state and to have completed an online medical direction course. If any questions or concerns arise, Henning and other emergency medicine attending physicians with USA Health are always available to provide their medical direction. Residents cannot start the EMS rotation until their second year. As the first class of residents graduate to their second year, six residents will rotate throughout the academic year. Third-years have the option to do an additional EMS rotation.
(Based on original reporting by USA Health's Lindsay Lyle.)
Print this piece