Sex trafficking expert says House bill that shames buyers is an effective tool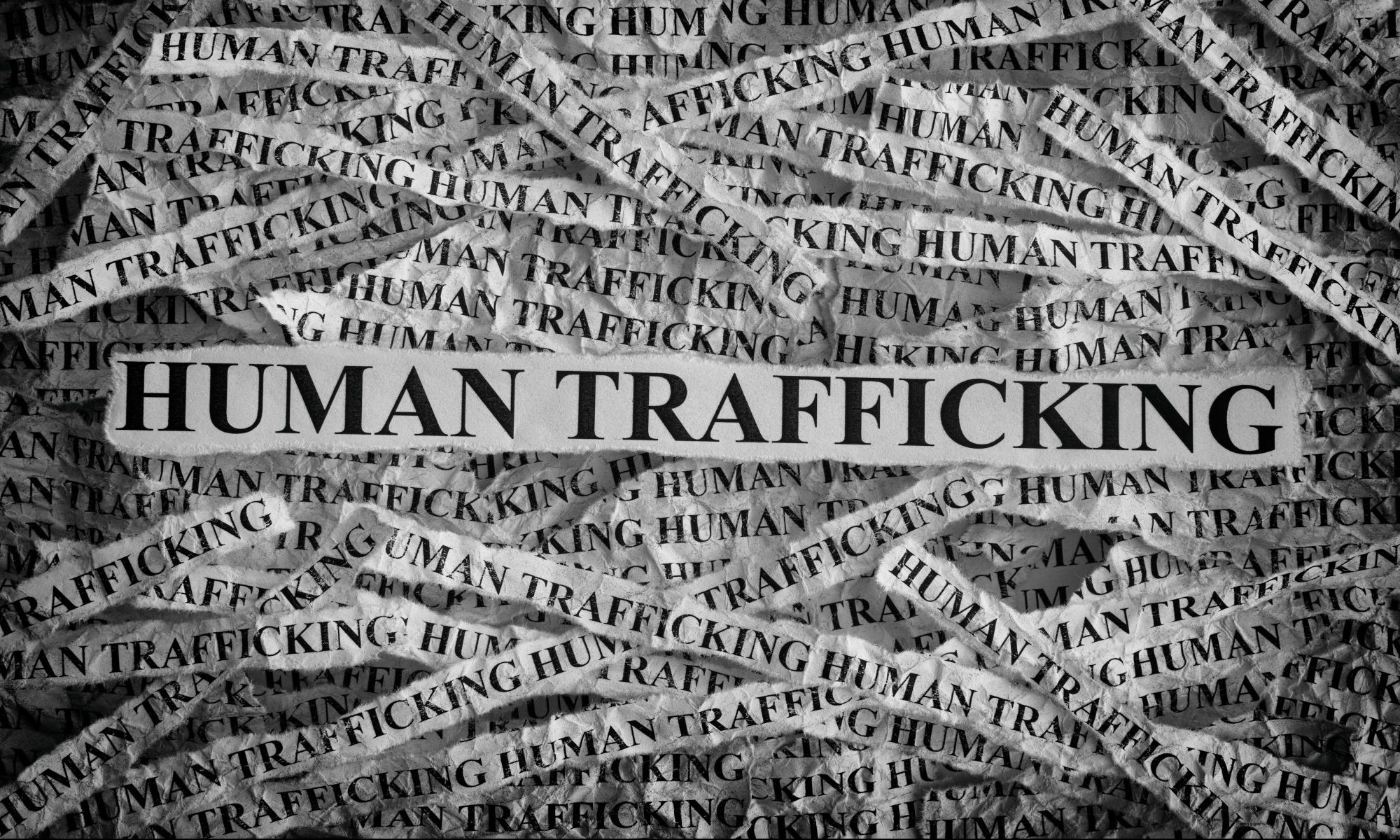 Friday, the Alabama Political Reporter spoke to Geoff Rogers, the CEO and co-founder of the U.S. Institute Against Human Trafficking (USIAHT) about the growing human trafficking problem in our society and the best methods to combat the booming sex trafficking industry.
The USIAHT fights sex trafficking and seeks to end trafficking through education and by pressuring men who purchase sex into stopping the habit.
On Wednesday, the Alabama House of Representatives passed a bill that would allow authorities to publish the pictures of men who have been arrested for solicitation of sex.
House Bill 262 is sponsored by Assistant Minority Leader Merika Coleman, D-Midfield and Terri Collins, R-Decatur.
HB262 clarifies existing law to prohibit publishing photos of those charged with the act of prostitution; while allowing for publishing photos of those charged with soliciting or procuring prostitution. This bill is aimed at deterring "John's" from purchasing sex and supporting human traffickers, while protecting potential victims of human trafficking from public identification.
The Alabama Political Reporter asked Rogers if legislation allowing the publication of the identities of sex buyers is an effective method of combating trafficking?
Rogers said that when they have surveyed sex buyers, having their friends and families find out what they are doing with their free time is their biggest fear and is what they say would most motivate them to stop.
APR asked, "Some people have suggested that men are always going to want sex, and there are women who are willing to provide it for $200 or so. They suggest that what two consenting adults do on their own time is their business so why not just legalize and regulate prostitution?
"There are almost waves of legalization efforts across the country," Rogers said. The Institute will never be in favor of legalization of prostitution.
CEO Rogers said that Germany tried legalization and now they have trafficking problems all over the place.
"There are more men wanting to buy sex, than there are people willing to sell it," Rogers said. Supply could never keep up with demand.
Rogers said that some people have recognized this "as a business opportunity" and they will use coercion, fraud, or force to provide that supply. That is trafficking. They get girls or boys, 35 percent of trafficking victims are now boys, under their control to provide that supply. Most victims of trafficking experience early victimization and first enter this world as children.
"In many cases the buyer is not even aware that the woman is being trafficked," Rogers said, She has a quota she has to meet or terrible things are going to happen to her.
Rogers said that, "Demand is skyrocketing," which is why we are never in favor of legalization of prostitution.
Rogers said that most people are not aware of how many boys are now being trafficked. The Institute has built a group home for boys, who were rescued from traffickers and are planning on building a second home soon.
Rogers credited pornography with the rising numbers of men who are actively in the market to purchase sex. It is accessible for free on their computers and phones. Boys are starting to watch hardcore violent porn typically around age 11, and it is free. As they age, they want to experience what they are viewing; and they go to web sites where they see ads for women (or boys) who are being sex trafficked and they click on what they want and a porn addiction leads to a sex addiction.
"Many men who buy sex want to stop," Rogers said. "They feel terrible afterwards, but after a while they have that urge again and act on it. They have a sex addiction.
Rogers favors restricting access to pornography.
APR asked: freedom of speech and freedom of expression are protected by the U.S. Constitution, and certain individuals have built successful businesses around exploiting those freedoms for their benefit. How can you limit free speech?
"I am not attorney, but obscenity is not free speech," Rogers said.
The U.S Institute Against Human Trafficking (USIAHT) is a national non-profit organization who's combating sex trafficking across America. They are using technology to combat this issue and have took best practices from across the country to create Trafficking Free Zones, a county-wide initiative focused on reducing the demand for sex-trafficked victims.
APR asked: what can government do to crack down on sex trafficking and end this?
Rogers said that you will never be able to end it through law enforcement.
Rogers told APR that in Seattle, which has good sex trafficking enforcement they estimate they have 22,000 active sex buyers. Only 300 to 600 of those will be arrested for solicitation this year.
Roger said that many states have passed strong laws to punish sex trafficking of children; but as long as the rewards are so great some people will still take the risk.
Rogers said that we must do more to attack the problem from the demand side. The USIAHT has has created fake sex ads on sex marketplace sites. Using artificial intelligence, a robot enters into communications with a sex buyer. After corresponding for a while, the robot tells the buyer that we know who you are, where you live, and you need to go get yourself some help and then refers the sex buyer to information about treating a sex addiction.
The USIAHT has also developed curricula for children, to teach them how not to become trafficking victims, by recognizing the grooming behaviors that traffickers use to gain control of children.
Rogers said that parents should get informed as to how pornography and sex sites are recruiting kids as customers and trafficking victims. Rogers said that there is software that can be installed on computers and phones that will block out the porn and the sex marketplace sites.
The USIAHT is also in favor of public shaming of sex buyers, like the efforts in HB262.
HB262 and the other sex trafficking bills have passed the House, but still need to be addressed by the State Senate.
"Human trafficking is one of the most pressing issues facing our nation. There are more slaves
today, an estimated 27 million, than at any point in our nation's history," stated Rep. Merika
Coleman. "This startling fact shows why the Alabama Legislature must act to combat human
trafficking and educate the public about the harsh realities of this growing business."
To learn more about the USIAHT, click here.
Alabama lawmaker faces sharp criticism over celebration of former KKK leader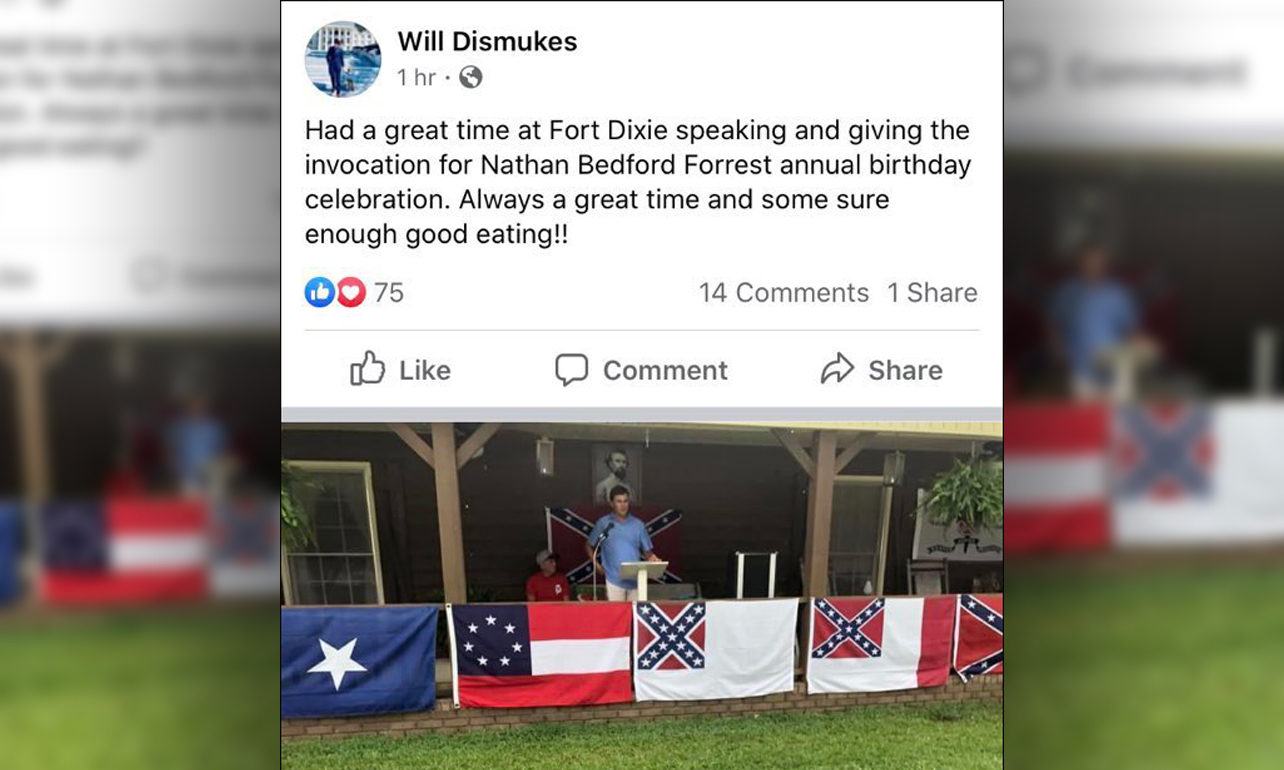 State Rep. Will Dismukes, R-Prattville, is again facing calls to resign over a social media post he made about his participation in an event honoring Confederate heritage.
Dismukes posted a photo of himself on Sunday speaking at Fort Dixie the day before, where a yearly event was held celebrating the birthday of Nathan Bedford Forrest, a Confederate general and first Grand Wizard of the Ku Klux Klan.
"Had a great time at Fort Dixie speaking and giving the invocation for Nathan Bedford Forrest annual birthday celebration. Always a great time and some sure enough good eating!!" Dismukes wrote above a photo of himself speaking on a porch adorned with a portrait of Forrest and several Confederate flags. The post is no longer visible.
Criticism was swift on social media as word spread that Dismukes attended the celebration on the same weekend that the late Congressman and Civil Rights hero, Rep. John Lewis, was honored in Selma, where Lewis was nearly beaten to death in 1965, during the march for voting rights that crossed the Edmund Pettus Bridge.
Alabama Democratic Party Executive Director Wade Perry called for Dismukes to resign.
"Will Dismukes has demonstrated yet again why he is unfit to hold public office," Perry said in a statement. "Americans don't celebrate racists or traitors. Nathan Bedford Forrest was both. And a founder of the Klan. The Alabama Democratic Party renews our call for Dismukes to resign. It's 2020 and it's time for racial extremists like Will Dismukes to go away."
Dismukes posted a statement on Monday addressing the criticism: "First and foremost, my post yesterday was in no way related to disrespecting the passing of Rep. John Lewis. That wasn't even a thought in my mind. That is not who I am as a person.
"I am a transparent person. To the point that as a public official I lay it all there for the people to see for better or for worse at times. My post yesterday was as usual me sharing a previous days events. The post was in no way intended to seem as if I was glorifying the Klan or any party thereof. The very atrocities and actions they committed are a disgrace to our country.
"Also, we are all individual members that make up our legislature. I made a post independent of my colleagues. My regret is that I have allowed them to be put in a negative light. If you disagree with me and my beliefs do not hold them under the same umbrella. I can live with a dislike for me, but not fellow members, or members of my own personal family. Our body as a whole is made up of some of the finest people I have ever had the honor of knowing and working with, both Democrat and Republican.
"I close by reiterating that my post was in no way glorifying the Klan or disrespecting the late Rep. John Lewis."
Alabama Republican Party Chairman Terry Lathan issued a statement addressing the post:
"While Rep. Dismukes has released a statement attempting to clarify his actions as a private citizen attending a celebration of the first Grand Wizard of the Klu Klux Klan, Alabamians hold their elected officials to a high standard of actions. So does the Republican Party.
"Rep. Dismukes offered no explanation for why he participated in a birthday celebration of Nathan Bedford Forrest. Additionally, I find his statement to be shallow in understanding why his activities are deeply offensive to so many Alabamians. His constituents will be the final decision-makers of his political future.
"The Alabama of today was on full, honorable display as we paid humble tribute this weekend to the life of Congressman John Lewis. That is the Alabama that we are proud of – showing the nation and world that we are one in the common goals of equality for all of our citizens.
"It is one thing to honor one's Southern heritage, however, it is completely another issue to specifically commemorate the leader of an organization with an indisputable history of unconscionable actions and atrocities toward African-Americans. I strongly urge his constituents to contact Rep. Dismukes to articulate and share with him their thoughts on his personal actions."
House Majority Leader Nathaniel Ledbetter, R-Rainsville, issued a statement saying that the beliefs of one member don't reflect the beliefs of all, and that several Republican Caucus members expressed concern to him about the content and timing of Dismukes' post.
"We live in a nation that guarantees each citizen the right to express the ideas they wish to share, and in the case of a public official, voters will ultimately decide if they agree with those ideas."
Speaker of the House Mac McCutcheon, R-Monrovia, on Monday issued his own statement:
"The Alabama House cannot police the beliefs, statements, and activities of its members outside the Legislature as that is a job best assigned to voters in each House district across the state.  
"It is important to note, however, that I and many other members of the House devoted our weekend toward honoring an Alabama native and civil rights icon who dedicated his life to securing freedom, liberty, and equality for all Americans."
Rep. Danny Garrett, R-Trussville, tweeted a stern rebuke on Sunday: "I cannot fathom why anyone in 2020 celebrates the birthday of the 1st KKK Grand Wizard. And while the body of a civil rights icon beaten by the Klan lies at state Capitol being honored by GOP/Dem leaders from all over the state. This mentality does not rep my party or my faith."
Another GOP colleague, Rep. Allen Farley, R-McCalla, responded to a constituent about the matter in a tweet: 
"Scott, As a Christian, Conservative, member of the Republican Party, I was proud of the comments of my colleague Rep. Danny Garrett. Rep Will Dismukes' actions were also unfathomable to me. I believe it will take the voters in House Dist. 88 to remove Rep. Dismukes from office," Farley said.
While fellow Republican officials said that Dismukes' constituents should decide if he remains in office, the College Republican Federation of Alabama issued a statement on Monday calling for him to resign.
"Representative Dismukes's Facebook post of him at an event that celebrated former KKK Grand Wizard Nathan Bedford Forrest is unacceptable and has no place in the State Legislature or the Republican Party," the statement said.