Sen. Mike Lee endorses Arnold Mooney in U.S. Senate race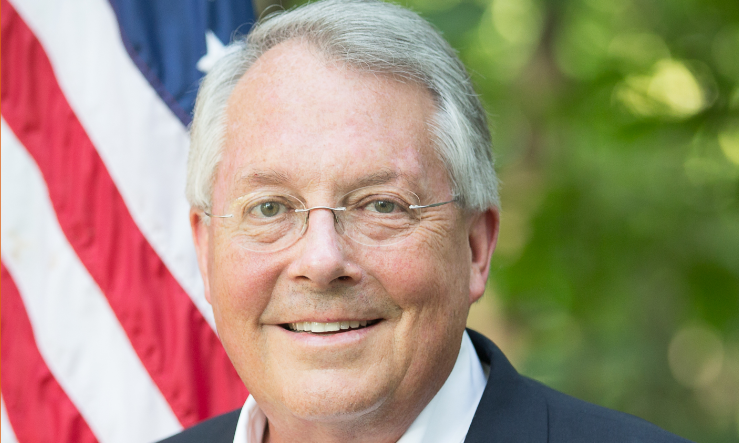 U.S. Senator Mike Lee, R-Utah, publicly endorsed State Rep. Arnold Mooney, R-Indian Springs, for the Republican nomination for U.S. Senate in Alabama on Wednesday.
"I am proud to endorse Arnold Mooney for U.S. Senate," Lee said. "Arnold is a strong constitutional conservative and the best candidate to beat (U.S. Sen.) Doug Jones. He has a proven record of taking on the Establishment in Alabama, and will do the same in DC."
Lee is one of the most conservative members of the United States Senate. He won his first race in an upset in 2010. He has a long record of endorsing successful conservative outsiders for Senate, including Sen. Ted Cruz, R-Texas.
"I am deeply grateful to Sen. Lee for his support," Mooney said. "He is one of the strongest constitutionalists in the Senate and one of the few in Washington with the courage to stand on conservative principles and stick to his guns. He's exactly the kind of senator I plan to emulate in Washington."
Mooney is a state representative from Shelby County.
"I am not a career politician," Mooney wrote on his website. "I'm a conservative and an outsider. But I look around and see a rising tide of socialism on the left and feel like if we don't do something to turn this ship around, we are going to leave our children and grandchildren a country we don't recognize. Freedom isn't transmitted through the bloodstream. It has to be taught, and it has to be protected for each new generation. That's why I am doing this."
Mooney co-sponsored the Human Life Protection Act, HB314, that passed the Legislature and was signed into law by Gov. Kay Ivey. HB314 is one of the strictest abortion bans in the country. Mooney has also sponsored the Right to Work and Ten Commandments amendments.
Mooney is serving in his second term in the Alabama House representing District 43.
Mooney has sponsored a number of pieces of legislation in the current session. Conservative bills sponsored by Mooney include HB56, which would allow Alabama taxpayers to donate their tax refunds to Build the Wall Incorporated; HB561, which would establish term limits for Alabama legislators; and HB535, which would extend stand your ground principles to Shelby County Churches.
Mooney worked for U.S. Sen. Jim Allen and was the long-time campaign chair for State Rep. Mary Sue McClurkin (R), who held the House district 43 seat prior to Mooney's election.
Mooney has over 40 years of experience working in commercial real estate outside of his State Legislature experience. He has lived in Alabama for over 28 years. He and his wife Kelly have been married for 31 years. They have three children and two grandchildren. Mooney is 68 years old.
Other candidates in the field include State Auditor Jim Zeigler, who is exploring the position; Congressman Bradley Byrne; former Auburn football Coach Tommy Tuberville; and businessman and former television evangelist Stanley Adair.
The Republican primary is March 3, 2020.
Sen. Doug Jones won't support SCOTUS nominee before Nov. 3 election
"Certainly, power grabs are not uncommon in our political system, but few are accompanied by such blatant hypocrisy as we are witnessing now," Jones said.
Sen. Doug Jones, D-Alabama, on Friday said he would not support any nominee to the U.S. Supreme Court before the outcome of the Nov. 3 election is determined. 
Speaking during a livestreamed briefing, Jones said that while Republicans appear to have enough votes to replace the late Justice Ruth Bader Ginsburg, he will not be a party to denying the people a voice in the process in the election of the next president "in just under 44 days." 
President Donald Trump said Saturday that he plans to nominate Amy Coney Barrett to replace Ginsburg, who on Friday became the first woman, and first Jewish person, to lie in state at the U.S. Capitol. 
Several Republicans who voiced opposition to President Barack Obama's nomination of Judge Merrick Garland to the Supreme Court more than 10 months before the 2016 election have reversed course, and now say they support Trump nominating a selection with election day just a little more than a month away. 
"Certainly, power grabs are not uncommon in our political system, but few are accompanied by such blatant hypocrisy as we are witnessing now," Jones said. "In fact, I believe that the level and intensity of hypocrisy being displayed by Senator McConnell and the president, with regard to the rush to confirm Justice Ginsburg's successor, is unmatched in the history of our constitutional government." 
Jones said what McConnell and other Republicans should be focusing on instead is getting another round of much-needed COVID-19 aid to small businesses and people impacted by the pandemic. 
"Rather than pushing this confirmation to the top of the Senate calendar, the majority leader should turn his focus instead to protecting the lives and livelihoods of the American people. We should pass a new bipartisan COVID-19 stimulus package to give Americans and businesses the relief that they desperately need, and that economists say if required to shore up the economy now," Jones said. 
Jones expressed concern as well for what medical experts are warning could be a new spike in COVID-19 nationwide. 
"There could be an even greater urgency, if our health care professionals' warnings come to pass," Jones said. "And that is as temperature drops and people go indoors that this virus spikes, and we see another surge." 
Asked why his opponent, Tommy Tuberville, won't debate Jones, he said, "It's pretty simple. He doesn't know what he's talking about."  
"He has no clue. He is Coach Clueless," Jones said. 
Jones noted that when asked recently on his thoughts on extending the John R. Lewis Voting Rights Act of 2020, Tuberville stumbled through an answer that indicated he wasn't sure what the Voting Rights Act was.
"He had no earthly idea," Jones said. 
Jones said Tuberville isn't going to debate him because Tuberville doesn't want to talk about issues.
"He doesn't want to talk about a plan. His plan is simply this: Whatever Donald Trump says, I'm good," Jones said, "and if Donald Trump says or does something that is not good, it's crickets coming from Coach Tuberville." 
Jones noted that after multiple news outlets, including Fox News, confirmed reporting that Trump had said disparaging things about veterans who died in combat, Tuberville has not spoken out against Trump's comments. 
Jennifer Griffin, senior national security correspondent for Fox News, reported that she has spoken to senior U.S. officials who backed up reporting by The Atlantic, and said Trump said of the Vietnam War "anyone who went was a sucker." 
"He has not said a thing about what was confirmed by Fox News about the president's comment," Jones said of Tuberville. "That's just disgraceful."