U.S. Supreme Court likely to overturn "flatly inconsistent" Alabama Supreme Court ruling in Poarch Creek immunity case
The U.S. solicitor general has recommended that the U.S. Supreme Court overturn an Alabama Supreme Court ruling in a case that challenged the reaches of sovereign immunity for the Poarch Band of Creek Indians after the tribe promised to waive its immunity in some cases.
The solicitor general recommended that the high court not grant a full review of the case, which stemmed from a 2015 car crash involving a tribal employee, noting the Alabama Supreme Court's ruling was a particularly poor one that badly misinterpreted existing case law. Instead, the government recommended the justices wait to see if the Poarch Creeks carried through with a promise to waive the tribe's sovereign immunity in certain cases, and if so, simply reverse the Alabama Supreme Court decision and remand it for further review.
According to Poarch Creek Attorney General Lori Madison Stinson, PCI has now adopted an act, known as the Torts Claims Act, that would indeed waive its immunity in certain cases, but only if the complaints are filed in tribal court.
"Tribal law has long provided a limited waiver of the tribe's sovereign immunity that allows those injured in the tribe's gaming facilities to bring suits in Tribal Court," Stinson said in a statement to APR. "The Tribal Council decided that expanding that limited waiver so that it also applies in other places was the right thing to do."
Stinson said if the case progressed now, as recommended by the solicitor general, it would be dismissed from state court and could be refiled in tribal court. She also noted that the tribe has, for several years, allowed civil lawsuits for parties injured in a tribal casino or on tribal lands, but the new Torts Act expands that to incidents off tribal lands.
The case, Poarch Band of Creek Indians v. Wilkes, originated from a New Year's Day 2015 car crash in which an employee of the tribe's Wind Creek Casino in Wetumpka was driving a company vehicle while intoxicated and crashed into a car driven by Casey Wilkes and her boyfriend. Wilkes, who was in high school at the time, suffered a traumatic brain injury, and it was later learned that the employee, Barbie Spraggins, had an extensive history of drinking on the job.
Wilkes and her boyfriend sued Spraggins and the tribe, but an Elmore County Circuit Court judge tossed the lawsuit against PCI on the grounds that the tribe's sovereign immunity shielded it from lawsuits. On appeal, the Alabama Supreme Court overturned that ruling, citing a thin caveat in Supreme Court precedent and determined that the tribe could be sued. PCI, of course, appealed that decision to the U.S. Supreme Court.
Numerous legal scholars have speculated that the justices want a case in order to better define the court's stance and limitations on tribal sovereign immunity, and many have wondered if the Wilkes case might get the court's full treatment. But the Alabama Supreme Court's tendency to disregard precedent and write legally suspect opinions will prevent it.
In a brief filed in the case, the solicitor general described the Alabama Supreme Court's opinion as a "novel holding" and said it was "flatly inconsistent" with legal precedent. Even worse, the solicitor general said even if the opinion was wrong, it was so poorly constructed that the court couldn't take it up, calling the opinion a true "outlier."
As for the Poarch Creeks, Stinson said the decision to allow non-tribal members to file civil lawsuits for incidents such as the Spraggins and Wilkes crash will open the tribe up to more litigation.
"It absolutely will do that," she said. "But the Tribal Council determined it was the right thing to do to allow those with legitimate claims against the tribe to have an avenue to bring those claims."
Print this piece
Andrew Brasher confirmed to 11th Circuit Court of Appeals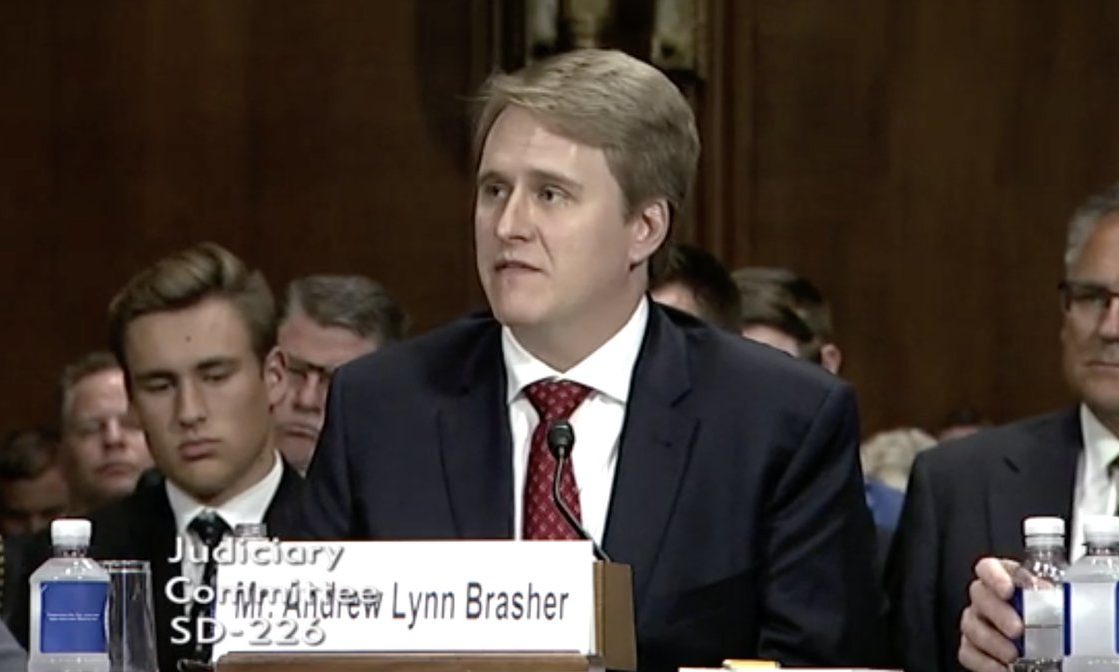 Tuesday, the U.S. Senate voted to confirm former Alabama Solicitor General Andrew Brasher to the United States Court of Appeals for the 11th Circuit Court. U.S. Senator Richard Shelby, R-Alabama, voted for Brasher's confirmation; but Sen. Doug Jones, D-Alabama, voted against.
"Andrew Brasher's confirmation to sit on the U.S. Court of Appeals for the Eleventh Circuit is a testament to his vast legal ability and commitment to upholding the rule of law as it is written," said Senator Shelby. "I believe Judge Brasher has served with impartiality, integrity, and purpose as a district judge, and I am confident he will continue to do so in this new capacity. I commend President Trump on his decision to nominate Judge Brasher to the Eleventh Circuit and know that his dedication to justice will contribute to the respected standards of our nation's judicial system."
Brasher was nominated by President Donald J. Trump (R) in November 2019.
Alabama Attorney General Steve Marshall (R) praised the U. S. Senate for its confirmation of Judge Brasher.
"The Senate's confirmation of Judge Andrew Brasher to the U.S. Court of Appeals is a victory for the rule of law," said AG Marshall. "Judge Brasher's deep record of public service, combined with his impeccable legal credentials, more than qualify him for a seat on the 11th Circuit Court of Appeals. I am especially proud of his contributions as Solicitor General for the State of Alabama, where he successfully argued cases before the Alabama Supreme Court, the 11th Circuit Court of Appeals and the U.S. Supreme Court. Without a doubt, Judge Brasher will bring a renewed focus to upholding the law as he assumes his new position on the federal appeals court."
U.S. Senator and former Texas Solicitor General Ted Cruz, R-Texas, said, "One of the most important legal developments of the last quarter-century is the rise of state solicitors general. State attorneys general are recruiting top-tier legal talents and empowering them to have a significant impact on major constitutional issues being litigated across the country. Unsurprisingly, that top-tier legal talent is more and more being looked to for judicial nominations."
Brasher's confirmation raises the number of former state attorney generals appointed to the federal bench by Pres. Trump to 26.
"They're all outstanding lawyers with remarkable academic records and were distinguished practitioners long before they came to the attorney general's office," Marshall said. "But beyond that, solicitor generals were involved in the most significant constitutional cases around the country, which is, I think, a perfect training ground for individuals who ultimately make those decisions."
Republican Attorney General Association (RAGA) Chairman and Louisiana Attorney General Jeff Landry saod, "If you really want to impact policy—which is kind of sad when you think about it—really, AGs have been able to impact policy greater than anybody of the legislature right now, because of the litigious nature of our [political] environment. So it's been a great way to actually get some things done."
RAGA Executive Director Adam Piper added, "When you have folks who for eight years were the last line of defense for our nation and the rule of law, it's a pretty good predictor [that] these folks are rock solid, making them one heck of a farm team and a pretty easy call-up. It's not a risky move as we saw with frankly a lot of the Bush judges. You were taking folks up and kind of like shaking a Magic 8 Ball hoping they're gonna be conservative judges."
Brasher has served as a district judge for the Middle District of Alabama since May 2019, having been first nominated by President Trump in April 2018. Prior to his time as a district judge, he served as the solicitor general of the state of Alabama. In this capacity, he argued cases in front of the U.S. Supreme Court, the U.S. Court of Appeals for the Eleventh Circuit, and the Alabama Supreme Court. Brasher tried cases in Federal and State courts, during which he won two "Best Brief Award" honors from the National Association of Attorneys General. Before his appointment as Solicitor General in 2014, he served for several years as Deputy Solicitor General.
Prior to joining the Alabama Attorney General's office, Brasher practiced in the litigation and white collar criminal defense practice groups in the Birmingham office of Bradley Arant Boult Cummings LLP. Brasher also served as a law clerk to Judge William H. Pryor, Jr., of the U.S. Court of Appeals for the Eleventh Circuit after earning his Jaw degree from Harvard Law School, where he graduated cum laude. During his time at Harvard, he was a member of the Harvard Law Review and winner of the Victor Brudney Prize. He was also the first of his family to graduate from law school. Judge Brasher received his Bachelor of Arts with honors from Samford University in Birmingham, where he graduated summa cum laude and currently serves on the Board of Overseers.
Brasher's confirmation was opposed by many in the Senate.
U.S. Senator Chris Coons, D-Deleware, said in opposition to Brasher's confirmation, "Voting rights are at the very foundation of civil liberties and civil rights in our society, and we should be doing everything possible to protect and defend them. I'm gravely concerned that Judge Andrew Brasher, if confirmed to the Eleventh Circuit, would only continue the efforts to roll them back. Judge Brasher's record and lack of candor during his confirmation hearing show that he is unfit for this appellate judgeship in the Eleventh Circuit, and I will be voting no."
Andrew Gillum is a former Mayor of Tallahassee and was the 2018 Democratic nominee for governor of Florida and is a fellow at People For the American Way.
"I am deeply, deeply disturbed about the nomination of Andrew Brasher to the Eleventh Circuit Court of Appeals," Gillum wrote in opposition. "This nomination is being engineered by the Trump White House and Senate Republicans with a very specific agenda in mind. This nomination is a very deliberate nail in the coffin of voting rights in the Eleventh Circuit, at a very deliberately chosen time in our history."
Benard Simelton is the President of the Alabama State Conference of the NAACP.
"From Selma to Shelby County, Alabama is ground zero for voting rights," Simelton said. "Andrew Brasher has been on the wrong side of every voting rights case he has touched. His nomination is a slap in the face to African Americans, and in particular to our heroes like John Lewis and Dr. Martin Luther King, who risked their lives to get us the vote. As we celebrate the 55th anniversary of Selma, we call upon every senator to honor those who marched by voting against Brasher's confirmation."
U.S. Senator Doug Jones, D-Alabama, was a "No" vote on Brasher's confirmation.
Sen. Jones said recently, "In To Kill a Mockingbird, Atticus Finch said, "The one thing that doesn't abide by majority rule is a person's conscience." All along, my conscience has been my guide. But voting my conscience does not require courage — it simply requires doing what I know is right."
"Another good, solid conservative judge has been confirmed, yet Doug Jones voted no. Just the latest reminder that we MUST #DumpDoug!" Senate candidate Congressman Bradley Byrne, R-Montrose, said on social media. "In the Senate, I'll vote to confirm President Trump's judges and work to make sure our Constitution is protected against activist judges."
Print this piece