Jones urges placement of a new Space Command headquarters in Huntsville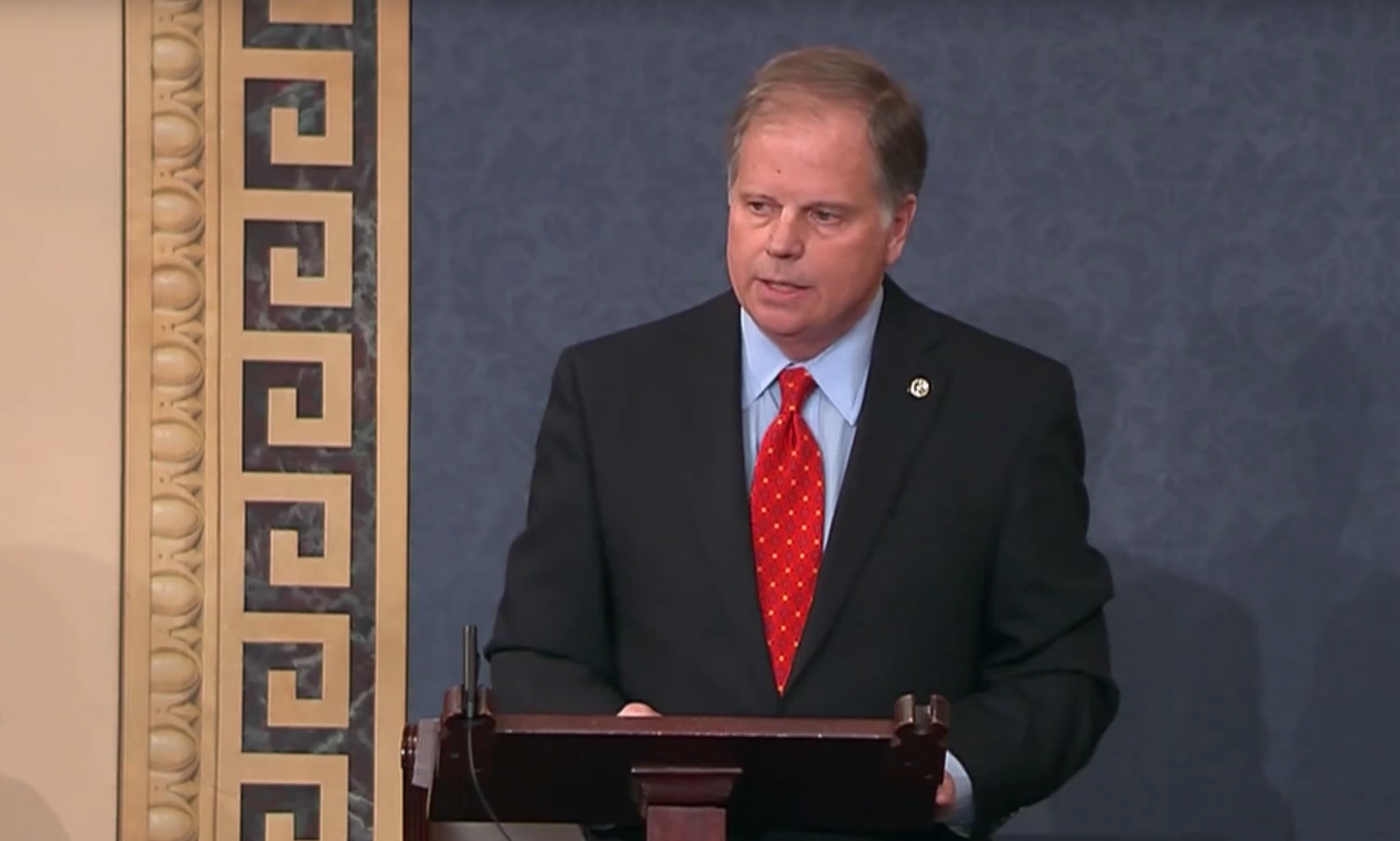 Sen. Doug Jones sent a letter to Secretary of Defense Patrick Shanahan urging the Department of Defense to select Huntsville as a new location for the U.S. Space Command headquarters.
The department is currently determining where the U.S. Space Command will be headquartered. They recently conducted site surveys at Redstone Arsenal, a U.S. Army post near Huntsville.
"The Huntsville, Alabama area clearly fulfills – and surpasses – all of the criteria for Space Command Headquarters," Jones said. "The state of Alabama would welcome Space Command to join Redstone's renowned and first-rate installation. I strongly recommend the selection of Huntsville as headquarters for Space Command."
Jones recently meet with Shanahan in Washington D.C. before sending this letter pushing Redstone Arsenal as a potential new headquarters.
"Redstone Arsenal is already home to a number of Defense Department and civilian space entities," Jones said. "Proximity to these existing DoD and civilian facilities would be an incomparable advantage to Space Command. Additionally, Redstone Arsenal has ample space, capacity, connectivity, and support for SPACECOM, and the Redstone airfield, as well as Huntsville International Airport, can easily accommodate C-17 aircraft. Moreover, the Huntsville area provides unmatched quality of life and low cost of living in one of the most military-friendly regions of the country."
Potential locations for the headquarters will be evaluated based on mission requirements, capacity, environmental impact and cost.
A preferred location for the headquarters is expected to be chosen sometime during the summer of 2019.
The Space Command was approved by Congress in 2018 after direction from the president.
Mark McDaniel reappointed to NASA Human Exploration and Operations Advisory Committee
Congressman Mo Brooks, R-Huntsville, announced Thursday NASA administrator Jim Bridenstine's reappointment of Huntsville's Mark McDaniel to a two-year term on the Human Exploration and Operations Committee of the NASA Advisory Council.
Brooks initially recommended McDaniel in 2018 to Bridenstine. Bridenstine is a personal friend and former House colleague of Brooks. Brooks cited McDaniel's past record of exemplary service on the NASA Advisory Council. The NAC is NASA's highest civilian advisory board.
"Mark McDaniel has done an exemplary job advising NASA on its future missions as a member of NASA Advisory Council's Human Exploration and Operations Committee," Brooks said, praising the decision. "Mark's past service and qualifications make him an excellent choice for reappointment to another term on the committee. I congratulate Mark on his reappointment."
"I greatly appreciate my friend NASA Administrator Jim Bridenstine for his thoughtful consideration in reappointing Mark McDaniel," Brooks continued. "Jim's leadership at NASA has been exemplary, and I am glad he recognized Mark's contributions to this important NASA advisory committee."
"Mark McDaniel has been a dedicated member of the NAC for several years, and we look forward to him continuing to provide his expertise to the Committee," said Bridenstine. "As we prepare to go forward to the Moon and beyond, it is critical that NASA has top experts like Mark on our team. His wealth of knowledge is a great benefit to the Artemis program, as well as our mission to send human explorers to Mars."
"Congressman Mo Brooks has provided great leadership to our nation, state and NASA," McDaniel said. "I thank Congressman Brooks for recommending my reappointment to the NASA Advisory Council- Human Exploration and Operations Committee."
"I am confident that under the leadership of Administrator Jim Bridenstine and the tremendous team he has put together, our nation will put the first woman and next man on the Moon by 2024," McDaniel added. "Under Administrator Bridenstine's leadership NASA is setting the stage for human exploration of Mars and the heavens beyond."
Then-NASA administrator Daniel Goldin appointed McDaniel to the NASA Advisory Council in October 2000, and then-NASA administrator Sean O'Keefe reappointed McDaniel to the council in November 2002 and November 2004. During McDaniel's tenure on the NAC, President George W. Bush announced the "Moon, Mars, and Beyond Initiative," which set the nation on a more aggressive pace for space exploration.
On Jan. 26, 2007, McDaniel received the NASA Public Service Medal for his "Leadership and Council to America's Space Agency, his advocacy of Human Space Flight and Exploration and dedication to the Aerospace Community at large."
Brooks is in his fifth term representing Alabama's 5th Congressional District. NASA and its contractors are a major employer in the 5th District.